Once upon a time, nearly more than two decades ago, marketers used to routinely send emails to a hefty number of potential customers, who had not willingly subscribed to the brand or business. The inboxes of email users were flooded with irrelevant emails from random brands, which they hardly followed. Most email users including you and me still receive emails from brands that are spam or no longer useful.
These days, email marketers constantly struggle to achieve decent open and click metrics out of their email campaigns. Let us say you have been observing a downfall in your email open rates for the past few months. On looking at detailed analytics, you come to know that this decrease is due to an increase in the number of subscribers who have not opened your emails in a long time.
This happens because users choose to subscribe to your brand's email list in the first place due to some amazing offers, news, or content you offer. Over time, your campaigns change and your emails might no longer be useful to some subscribers. They stop engaging with your brand's emails and often ignore, delete, or mark your emails as spam. These users become disinterested in your emails, but do not go to the extent to unsubscribe from the email list. This leads to lower engagement rate, a decrease in email opens and hampers your brand's reputation.
There are two ways to deal with this- first, track down all the inactive users and delete them from your email list. While this is the easiest method, it is not recommended as there is a risk of losing potential customers, who were once interested in your emails. The second and most effective way to look at it is implementing an email sunsetting strategy.
What is email sunsetting?
Email sunsetting is the process of identifying inactive subscribers who have not engaged for quite a while with your emails, and building a strategy that would either reengage or delete them from your email list.
Running a well-planned sunsetting strategy can bring the following benefits to your email campaigns:
Have an active email list with users who are really interested in your emails
Get improved open rates, click rates and overall engagement for your campaigns
Send more targeted and relevant messages to your users
Maintain your reputation by sending messages to only those who want to hear from you
So, how to run an effective email sunsetting strategy?
It is important to clean your email list regularly, and to execute it, you need to have a well-thought-out strategy. An effective email sunsetting strategy includes the following key stages:
Stage 1: Identify inactive users
First, define inactivity for your business. Determine how long a user needs to be disengaged to be called inactive. Once you decide that, collect the data of inactive users from your email analytics data. Though inactivity will vary from business to business, to start with, the users who have not opened a single email from you in the past six months can be considered inactive.
Stage 2: Segment users
Once you identify your inactive users, segment them based on two major criteria
1. Users who have never purchased from you
These are users who signed up for your brand's emails, but never made a purchase. Moreover, they have not opened any of your emails for the past six months. Here is an example of the email that can be sent to such users:
Source: Really Good Emails
2. Users who last purchased a long time ago
These are the users who have bought from you once or more, but not opened your emails for the past six months. You can send them emails with relevant content related to their past purchases, or give them enticing offers for the next purchase to win them back. Take a look at one such example: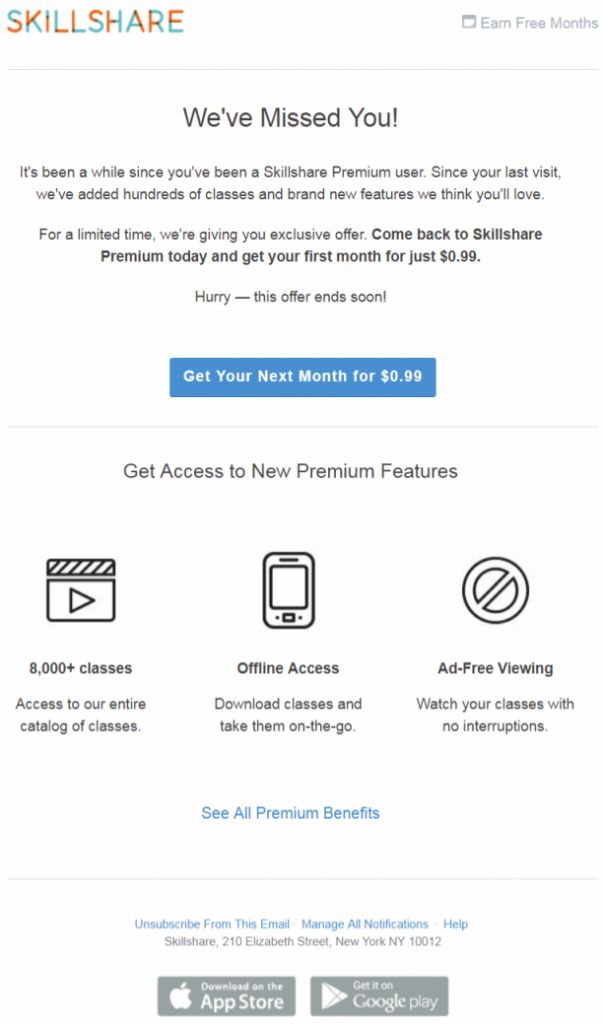 Source: Really Good Emails
Stage 3: Edit the segments based on their activity
You can further divide your users from the segments based on their past behaviour and engagement with your brand and emails. Build different custom lists on the basis of last purchase, last engagement date, last open rate, past activities with your brand, engagement on your website, social platforms, shop, etc. This will give you a more filtered list of potential users you can re-engage.
Stage 4: Run a re-engagement campaign
Your last resort is to run a re-engagement campaign. Make sure your email copy, design and subject lines are attractive and enticing enough for the users to open and engage with. Your re-engagement emails must give the users the options to manage settings and preferences and have prominent CTA to help them stay connected. Also, make sure there is an option to unsubscribe in each and every email of your sunsetting strategy, to make it easy for both you and the subscribers. Here are three kinds of re-engagement emails that you can try sending as a last try.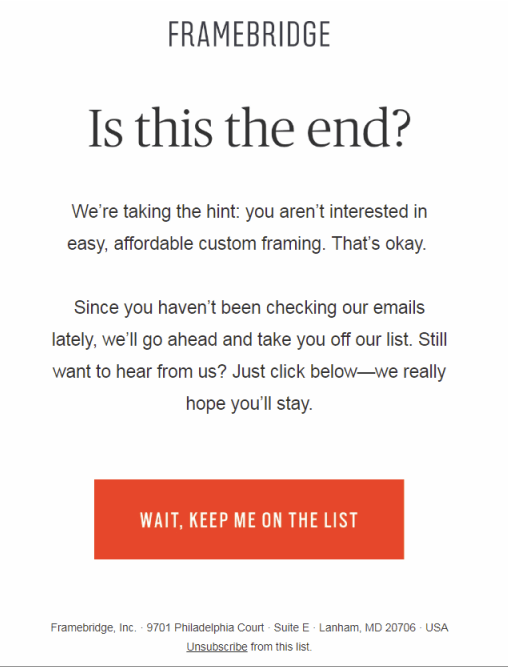 Source: Really Good Emails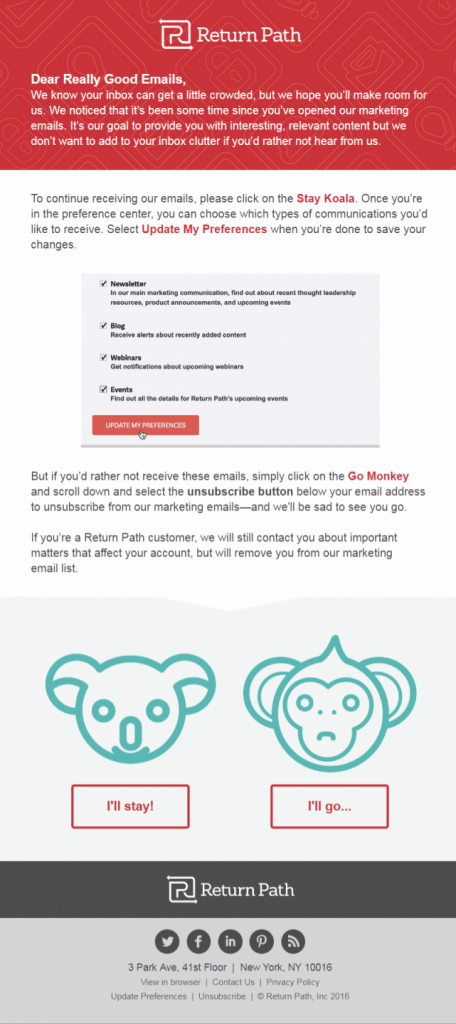 Source: Really Good Emails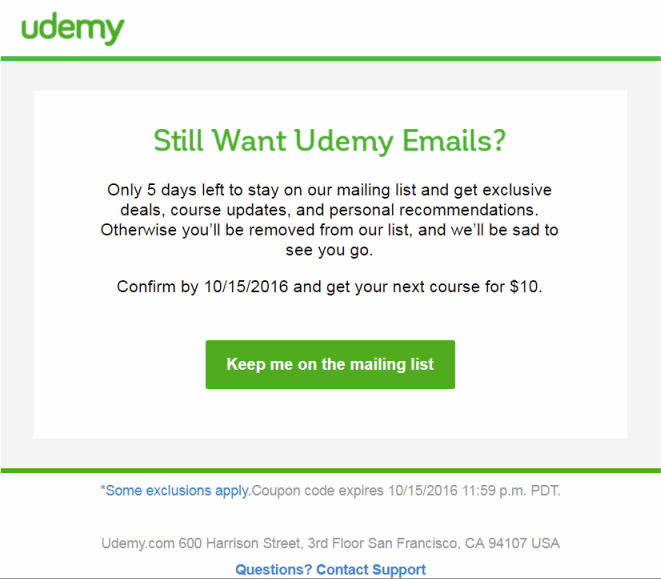 Source: Really Good Emails
Not sure where to start?
If you are new to email sunsetting, this might be too overwhelming for you. A very simple way to start is to follow the below checklist.
Analyze engagement rates and deliverability of your email campaigns.
Define inactivity or disengaged users for your business or brand.
Find out how long you have been sending emails to your inactive users.
Filter out subscribers who have not opened more than 10 emails from your brand or who have not engaged with the last 15 consecutive emails.
Decide what method to follow- delete all disengaged users right away, or implement the sunsetting strategy.
Create attractive, engaging emails to lure your inactive subscribers.
Monitor response metrics, and update your list by deleting users who still do not engage.
Wrapping up
Remember that it is always better to try selling to an existing customer base, than finding new people to buy from your brand. Therefore, it is important to try hard for users who are worth fighting for. But, at the end of your sunsetting strategy, make sure you remove all the users who are no longer interested in your emails. This will help in improving your email click-throughs and in turn enhance your ROI.
Need help with designing and coding awesome emails for your sunsetting campaign? Get in touch with us.