What is the ultimate purpose of your marketing email? You want your subscribers to shop on your website or download an eBook, sign up for a webinar, or fill up a survey form.
But we have all been there. We design an exemplary email template, write an interactive copy, and even A/B test before sending but the landing page to which the subscribers are directed to from the email shows a high bounce rate or a low conversion rate.
It's such a nightmare!
So, why does this happen?
Well, this usually happens when you fail to match the message, visuals, and design in your email with the landing page of your ecommerce website.
There are two types of landing pages, depending upon the purpose they solve:
Lead generation landing page, where you collect personal information about your subscriber and create as many leads or prospects.
Click-through landing page, which serves as a warm-up stage before your ultimate goal of selling a product/ service.
Now that we know the types of landing pages, let's understand why a landing page is so important for an ecommerce business.
2 prime reasons why you should use a landing page with your ecommerce email campaign
# Unambiguous message delivery
The sole purpose of a landing page is to move prospects down the sales funnel. A landing page creates an opportunity for a marketer to communicate with clarity. It can help to reach the aimed conversion goals for any campaign. When someone clicks on the CTA in your email and finds out that the offer or promo is nowhere to be seen on the landing message, or if they find out that the offer is limited to a particular color or size, there are chances the customer might get frustrated and lose their trust in you. Therefore, make sure the message you give out in your email and your ecommerce landing page go hand in hand.
You can check out the email featuring Top Deals by Best Buy and their landing page elaborates the offer.
# Drive Sales
Sale is the ultimate goal of any marketing campaign. And how do you get an email subscriber to make a purchase? You take them to the landing page, which acts as a touchpoint in their journey towards making a purchase.
Although most marketers know that landing pages work wonders in ecommerce, there is one aspect that is frequently overlooked. Just like one email does not strike a chord with all the customers, the same landing page too will not. For instance, someone who clicks on your email offer is specifically interested in the email offer. But this wouldn't be the case when it comes to someone who is new to your brand and has just seen a few of your product pages; they would not really be enticed by your offer. So, if multiple landing pages are created based on the customer journey, you might have a better chance at it.
Advantages of a landing page
# Lead Generation
You can capture and nurture the traffic that comes to your landing page from your email campaign. A lead generation landing page's main objective is to collect personal information such as first and last name, email address, and telephone number, so that you can use this information as you nurture these leads to finally convert them into customers.
# Promotion
Landing pages can be a great way to exhibit your products, encourage visitors to interact more, inform or just tell them a little more about an offer or your brand. Promotions through emails are fine, but when the same is done with landing pages, it drives more conversion and generates business for you.
You can display all your featured offers on the landing page just like Best Buy does.
# Engagement
Your landing page has to grab the attention of your audiences right from the start and provide reasons to engage with your product or service. You can always use elements like videos, links to your best blog posts, social sharing buttons, an interactive copy to keep them hooked.
# Data Collection
Landing pages are a great way to get your customer to fill up a survey or a form through which you can collect some really useful information about them. You not only get to know who visited your landing page by clicking on the CTA in your email but also get a better idea about which customers make more purchases or what kind of products they are interested in.
Here's how you can nail your ecommerce landing page.
# Match your message
You have to remember that visitors are coming to the landing page from an email campaign generated action. So, it is important that the same message is communicated on both the platforms. In fact, the landing page of an ecommerce website should be informative, maybe provide reviews or a 360 degree exhibit of the product you are promoting. If the email subject line says 50 percent off then that message should also reflect in your landing page.
Here's an email example from Walmart that demonstrates perfect sync in the email as well as the landing page.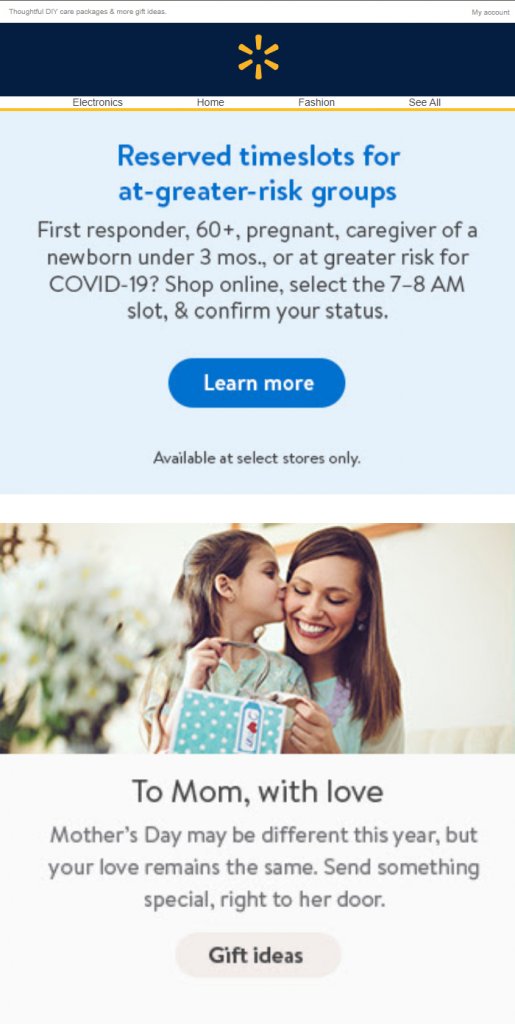 – Test generously
The key to a high delivering landing page is to repeatedly test multiple times. Optimizing your ecommerce website landing page again and again will make your ROI much better than without testing. One should always keep in mind that the product, the target audience, the rival brands will continue to change, and your landing page should also be dynamic to that change. So constantly evaluate your email campaign and landing page compatibility and test it till you know it cannot get any better.
– Focus on a good copy
To put it simply in three words, I would say the copy in an ecommerce landing page should be Consistent, Crisp and Compelling. The 3 Cs. We have already discussed how you can make your message consistent with your email and directed landing page. The second point is to keep the copy crisp. Short yet effective copies will enable the reader to not spend much time on a single action and therefore speed up the transaction.
In this landing page by Uncommon Goods, they have explained the preparation of the birthstone glass in such a compelling manner that the user would be tempted to complete the purchase.
How to make your copy more compelling
– Use words which create curiosity – evoke, secret, decoded, discover and so on.
– Use words which create urgency and trigger action- limited, now, simple, easy etc.
– Use active speech – For example "They loved our summer dress sale. We know you will too" instead of "Our sale was loved, Join them."
– Try avoiding negative words.
Wrap Up
So we have discussed almost everything that falls under this area of expertise. As said earlier, for a successful ecommerce campaign, the bottom line is to make sure that the email pushes the user to the custom landing page and the landing page is good enough to push them to actually buy the products.