From snacking on candy canes and ginger cookies to cream-filled chocolate eggs and marshmallow Peeps, it almost always feels like the transition from snowy Christmas to Easter, with a hint of spring in the air, happens too quickly. As a marketer, you may still be recovering from the hectic two-month-long holiday season promotional run. However, with over $18 billion of potential spending at stake, Easter is a gold mine of marketing opportunities you just cannot afford to overlook.
According to the National Retail Foundation, in the US alone, 8 out of 10 people celebrate this holiday, with average individual spending pegged at $151. It is the fifth most lucrative holiday for businesses, ranking just behind Christmas, Back to School, Valentine's Day, and Mother's Day. In the UK, it is the second-highest spending holiday after Christmas.
You know what that means: trying your hand at a stellar Easter-themed campaign makes for a sound marketing strategy.
10 Egg-Xemplary Easter Emails to Inspire Your Campaigns
The question now is how to create Easter emails that strike a chord with your audience. If you are a brand selling products or services that can cater to your customers' holiday needs, you already have an edge. Even if your business doesn't seem like a natural fit for Easter-centric promotions, using subtle references to the holiday can be far more effective in engaging with your audience than completely overlooking it.
To help you get started, here are 10 easter email ideas for inspiration:
1. Gift ideas and a discount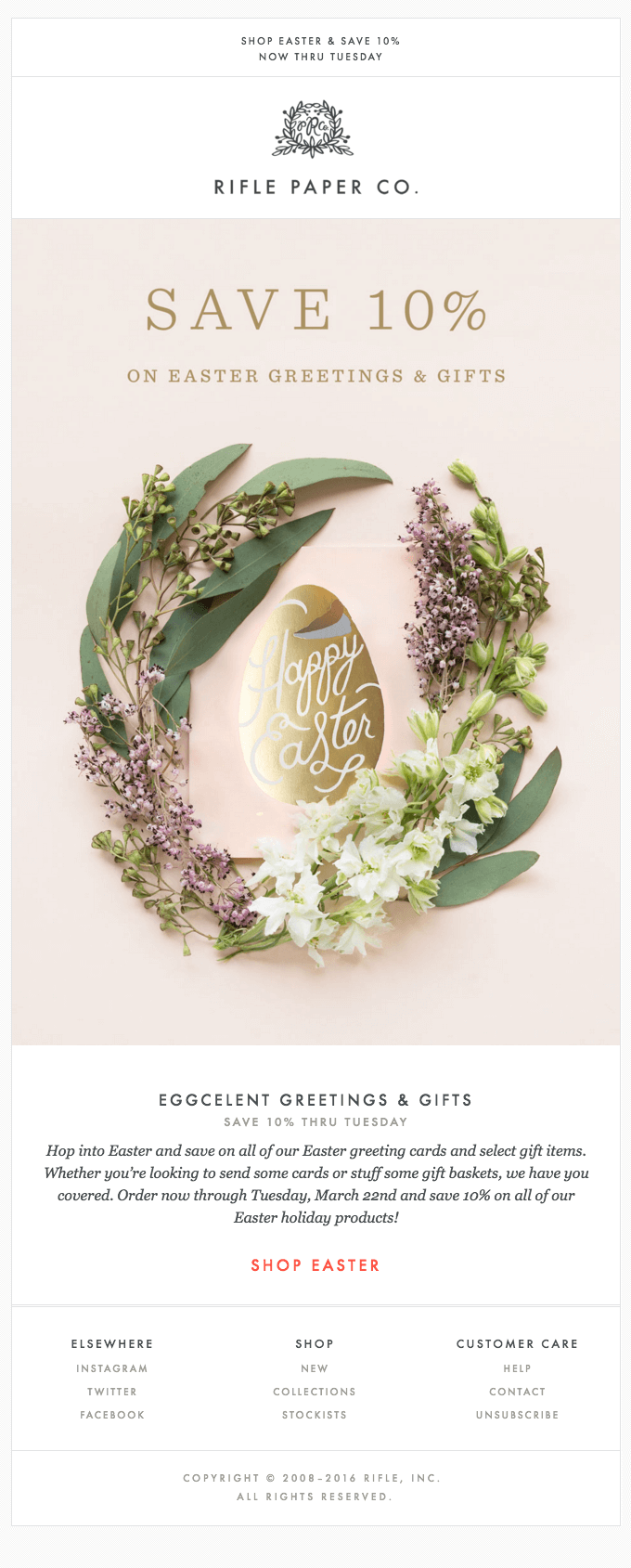 It's Easter, and that means anyone who celebrates the holiday is likely to go shopping. Why not create an email campaign to pre-empt your subscribers' shopping needs well before these start to weigh on their minds.
Stationary and accessory brand Rifle Paper does exactly that by offering gift suggestions, and a 10% early bird discount for users who complete their Easter purchases a couple of weeks in advance. The clear messaging and aesthetically pleasing design enhance the appeal of this email, making it reverberate with the Easter spirit perfectly.
2. Egg them on to make a purchase

No Easter celebration is complete without some delectable and cute-looking chocolate eggs. If you're a confectioner, Easter has got to be the most important holiday for your business. Given that every other business in the niche will be competing for your audience's attention, the key to scoring some sales is in making your design and messaging stand-out.
Bockers & Pony nails this Easter promotional email on both counts. Those irresistible eggs in a basket are calling out to the reader to be picked up and brought home! And that 'every bunny' pun is smart and funny at the same time.
With an email like this, you can be sure that your subscribers will engage and perhaps even act on your CTA.
3. Get them hunting

Another great way to make your email stand out is to use long-standing holiday traditions to get them to engage. Cookware Brands email is also a classic lesson in how your business doesn't have to be a direct fit with Easter for you to be able to cash in on the holiday spirit.
This company is using the occasion to dole out some exciting discounts to its subscribers. Not only is the rebate lucrative enough to get the audiences excited but also the interactive nature of the hunt is a smart way of getting them to actively engage with the brand's website.
The messaging is clear, concise, and simple with a CTA that stands out unmistakably, making it a great example of how to keep your promotional messaging simple yet appealing.
4. Early bird campaigns

Eclectic, colorful, and vibrant – this Easter email captures the mood of the holiday. It also plays to the gallery of its target audience – parents of young children with always some extra room for cuddly soft toys in their cabinets. To keep the quintessential Easter bunny company, there are equally adorable chicks and ducks up for grabs.
Apart from the eye-catching design, this email from toy brand Stuffed Safari is also on point in terms of catching their subscribers before the Easter fervor peaks. The campaign has been launched more than a month before Easter, with a special discount for early birds on the entire range of Easter toys.
5. Keeping it contextual
Your email messaging can seem extremely tone-deaf and somewhat insensitive if it is not in line with the prevalent mood. As the world was grappling with the first big hit of COVID-19 around Easter 2020, any email with a festive, cheerful tone would have seemed so out of sync with reality.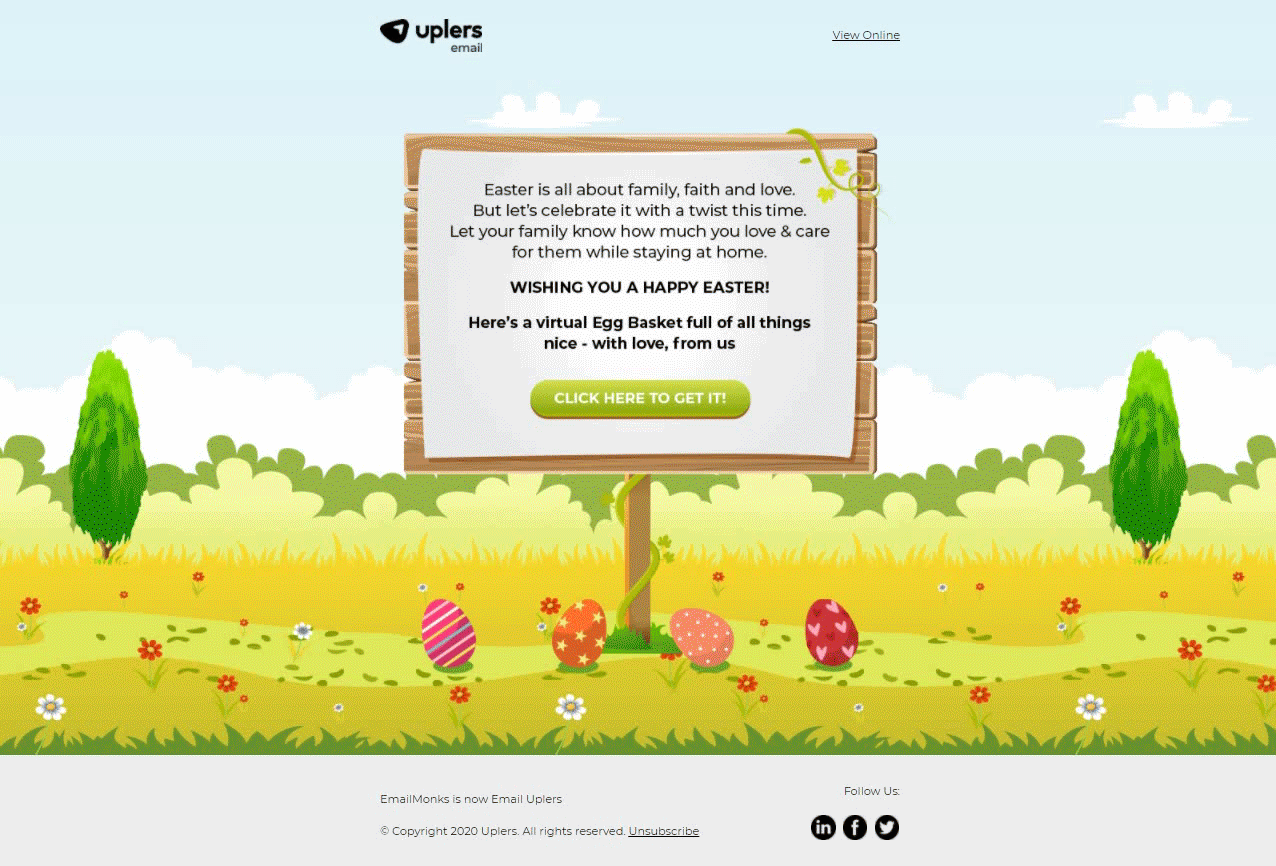 In contrast, this interactive Easter email from Email Uplers that promotes Easter celebrations with a twist, asking its audience to stay home and bond with their families truly hits the nail on its head. The virtual gift basket is also an interesting addition that truly captures and reflects the mood of the time.
6. Carve your place

If your business doesn't cater to traditional Easter needs, think out of the box and carve your place by creating a need. Power product company My Generator, for instance, is running this campaign on Easter Essentials to peg their portable appliances and camping gear.
Now, camping and Easter aren't things one would typically consider as complementing one another. However, for camping enthusiasts, the long week combined with Good Friday makes for a perfect opportunity to take off for some time in the woods.
Creating great campaigns is all about understanding your audience, your niche and catering to their subconscious needs and desires with an awesome email design.
7. Aim for the long haul

A discount, a special offer, an ongoing promotion – these can be the perfect tools to establish a long-term association with your target audience. Your brand's offers needn't be limited to product-specific discounts aimed at making sales. By making subscriptions lucrative, you can tap into the potential of turning at least a segment of your audience into recurring customers.
This email by Solo does exactly that by offering readers a special discount on year-long subscriptions. It is a great way to target people in your marketing funnel who are at the cusp of conversion and just need that little nudge to get off the fence and into the playing field. The bright and colorful email design helps to engage the audience especially on an occasion like Easter.
8. Unveil what's in store

Given that Easter is falling right at the beginning of the month this year, it presents the perfect opportunity to get your audience excited about the things you have lined for them in the days ahead. Or even weeks or months for that matter. Whether it's a new line of products or a special clearance sales offer, use this holiday to offer your customers a sneak peek into your offerings and get them excited.
Be careful not to reveal too much. The idea is to pique their interest and keep them hooked. While you're at it, it doesn't hurt to throw in a special subscription discount in the mix.
9. The feel-good factor

This Kentucky Fried Chick email from last Easter brims over with a much-needed feel-good factor, much like its deep-fried chicken. At a time when just about everyone was grappling with uncertainty, this email reassuring them that something that has been an integral part of their lives is still accessible surely created some semblance of normalcy.
While the email doesn't offer any discounts or special deals, it still resonates with the audience because of its reassuring tone, tenor, and vibe.
10. Make it different

Speaking of contextual emails that perfectly capture the prevalent mood and cater to relevant needs, this email by temporary tattoo brand Tattly is a total knockout. In keeping with the fact that a lot of people may not be able to step out of their homes to buy Easter eggs and other décor material, Tattly ran an innovative campaign pitching its tattoos as a DIY egg designing tool. With step-by-step instructions, a soothing design, and displaying a genuine intent to help, this email is a master class in marketing genius!
Wrapping Up
With close to a month left for Easter, your email campaign needs to be in the works yesterday! Are you still waiting for a breakthrough in ideas to get things rolling? Get in touch with an email marketing company like Email Uplers to get your Easter emails designed and coded to perfection!