How many emails should you send per week?
How many emails are too many emails?
What frequency can get too much to overwhelm your subscribers or too low to make them forget you?
The answers to all these questions lie in the trial and error method… But the key is that if you mess up with the email sending frequency, it will affect your sender reputation, email deliverability, and result in poor open rates, click-through rates, and conversions. That's what "cadence email marketing" is all about.
Defining Email Cadence
The process of establishing the optimum sending frequency to increase subscriber engagement and overall email performance is known as email cadence.
Of course, there are no said email cadence guidelines as such. The type of business, your target audience, and subscriber behavior determine the number of emails to be sent, when to send a follow-up email, or a reminder email.
Email cadence varies between different subscriber segments. So, a preference center can make things easier for you as the subscribers themselves will let you know how often they wish to receive your emails.
Some Data to Ponder About
A HubSpot survey carried out on 300 marketers revealed that 95% of them found email marketing effective in 2021. Here're the salient points deduced in the survey: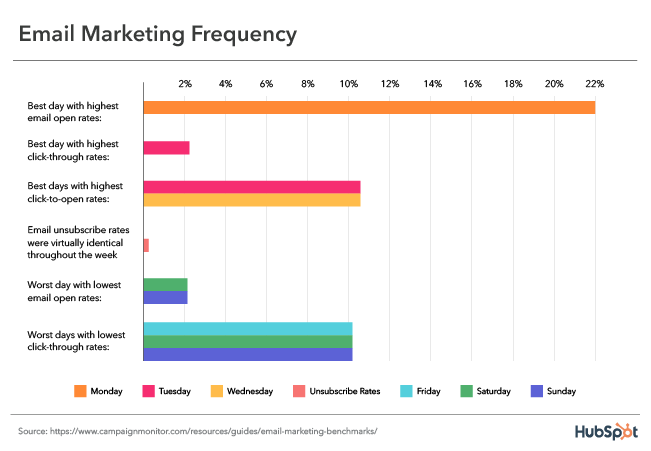 1. Emails get maximum engagement on Monday, Tuesday, and Wednesday. 
2. 9 AM to 12 PM, Tuesday works the best for marketing emails. The same time on Monday and Wednesday comes close second.
3. Sending emails on Friday, Saturday, and Sunday is like digging out a grave for your email performance. It performs the worst in terms of open rate and click-through rate. 
A study by Databox concluded that 33% marketers prefer sending weekly emails. 26% send emails multiple times in a month. 63% revealed that they change the send frequency according to the subscriber engagement.
All these facts and figures show that email marketing cadence is as important as its content and design.
Now, let's understand the best practices to be considered for cadence of emails.
1. Figure out your goals
Why are you sending emails?
It could be to drive sales to your eCommerce store, bring people to your blog, schedule meetings, or get downloads for your content resources. Some marketers even send emails just to engage their subscribers or inform them about a new update. According to the objective you wish to achieve, you must set the right email cadence. For example: If you are an eCommerce store, sending emails twice a week is a good idea to start with. However, it is just a suggestion. You can change it based on how your target audience engages with the emails.
2. Put yourself in the customer's shoes
Suppose a SaaS company emails you every day with their content resources. Wouldn't it get a bit too overwhelming for you? Instead, how about receiving a monthly or quarterly newsletter with a curation of the best articles? Sounds good, right?
Relevance is the key when it comes to choosing the right email cadence. Consider the buyer's journey and target the users accordingly. As an example: The email cadence for welcome series will be spread over a period of 24-72 hours. On the other hand, you can send lead nurturing emails and follow-up emails over a period of a month. These emails will help in getting the prospects closer to conversions.
Once a prospect has made the purchase, you can follow up with weekly emails to ask them if they need any help and request for feedback.
3. It's okay to email the subscriber (if it's in their best interest)
Many marketers shy away from sending emails as they fear invading the reader's personal life. That's not the right way to go about it. If you are talking about the user's best interest, your emails will be useful for the reader and they might convert. There is a thin line between gentle reminders or nudges and annoying emails that come off as spam. Sometimes, consistent communication is all you need to close a deal. It's a lot like dating. You have to text and speak on call everyday before making it official, right?
4. Use the power of personalization
No matter how many emails you send — whether it is one or many, make sure that you personalize the content according to the user's preferences. Personalization is not a good-to-have strategy anymore. It is a must-have strategy and best practice. Just like you expect people to respect your preferences and interests, your subscribers do so too.
5. Analyze what your competitors are doing
Evaluate the businesses from your industry and figure out how they are reaching out to their customers. Are they following a weekly or monthly regime? What kind of emails are they sending out? However, remember that what's working for others in your industry might not work for you. So, test the email cadence and establish what performs the best for you.
6. Ask for feedback from customers
Every once in a while, send out a feedback email to understand whether your send cadence is in line with the subscriber's expectations. You can follow the same tactic for your unsubscribers too. Ask them for the reason for opting out — whether the email frequency was too high or did the content not resonate with them. Based on the responses, you can set your email marketing cadence and revamp the content of your emails.
7. Keep tabs on the number of emails your customers receive
Often, there are two email workflows running simultaneously. One is your promotional emails and another is the automation workflow you have set in response to the triggered events. Whenever you send out the promotional emails, make sure that it does not overlap with the automation emails. Segment the lists mindfully to avoid sending any unwanted communications to the subscribers. Refrain from automatically resending emails to non-openers. This has become all the more important with the launch of MPP by Apple. It does not record the open rates correctly. So, think through it well if you wish to resend any email campaigns to the non-openers.
8. Monitor the email metrics
Tracking the email metrics is necessary to understand how your emails and their cadence are resonating with your subscribers. Monitor the open rate, click-through rate, conversion rate, unsubscribes, and reasons for unsubscribes. Advanced CRM tools like HubSpot give you a detailed insight into your email marketing health. Accordingly, you can keep optimizing your email marketing strategy.
Let's Understand Email Cadence With an Example
Let's take a look at the cadence followed by Calendly for their email campaigns.
1. On 30th November 2021, I signed up on their website. They immediately sent me a welcome email with a thank you note.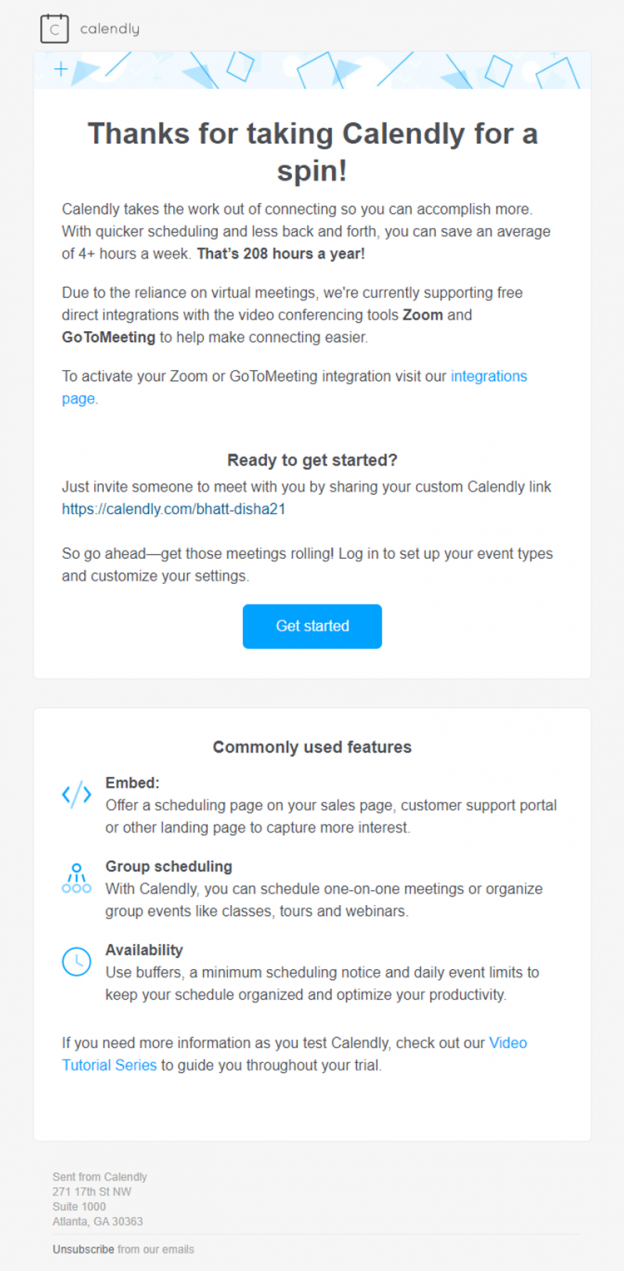 2. A day later (on 1st December), I received an informative email to help me make the most of my Calendly account.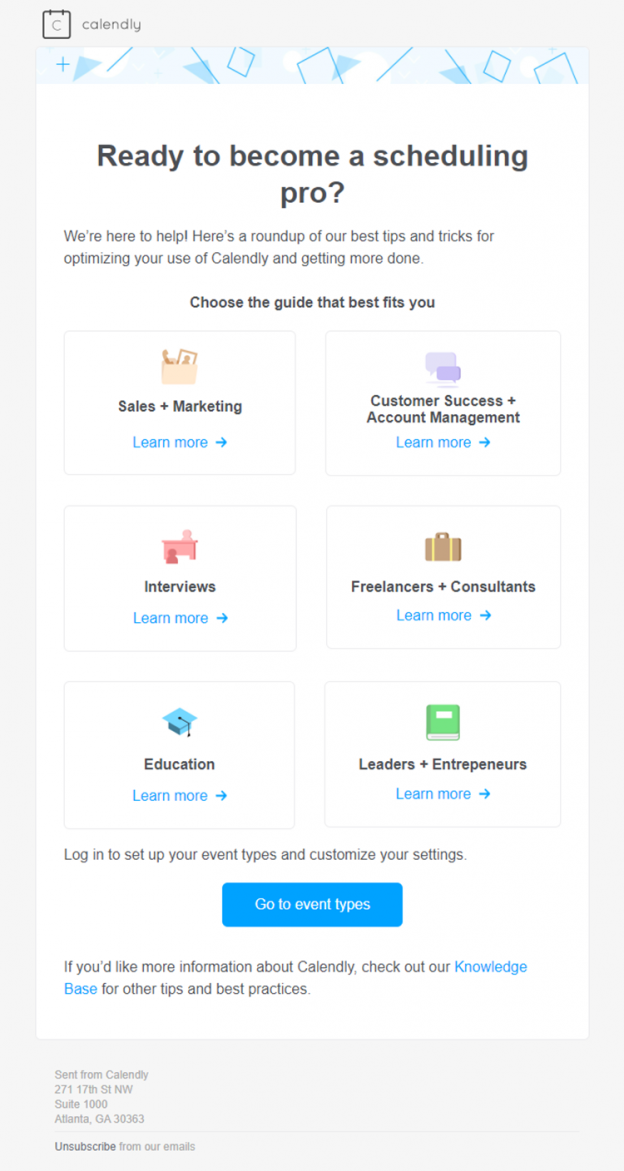 3. Then, I received the 3rd email on 4th of December to inform me about their mobile application.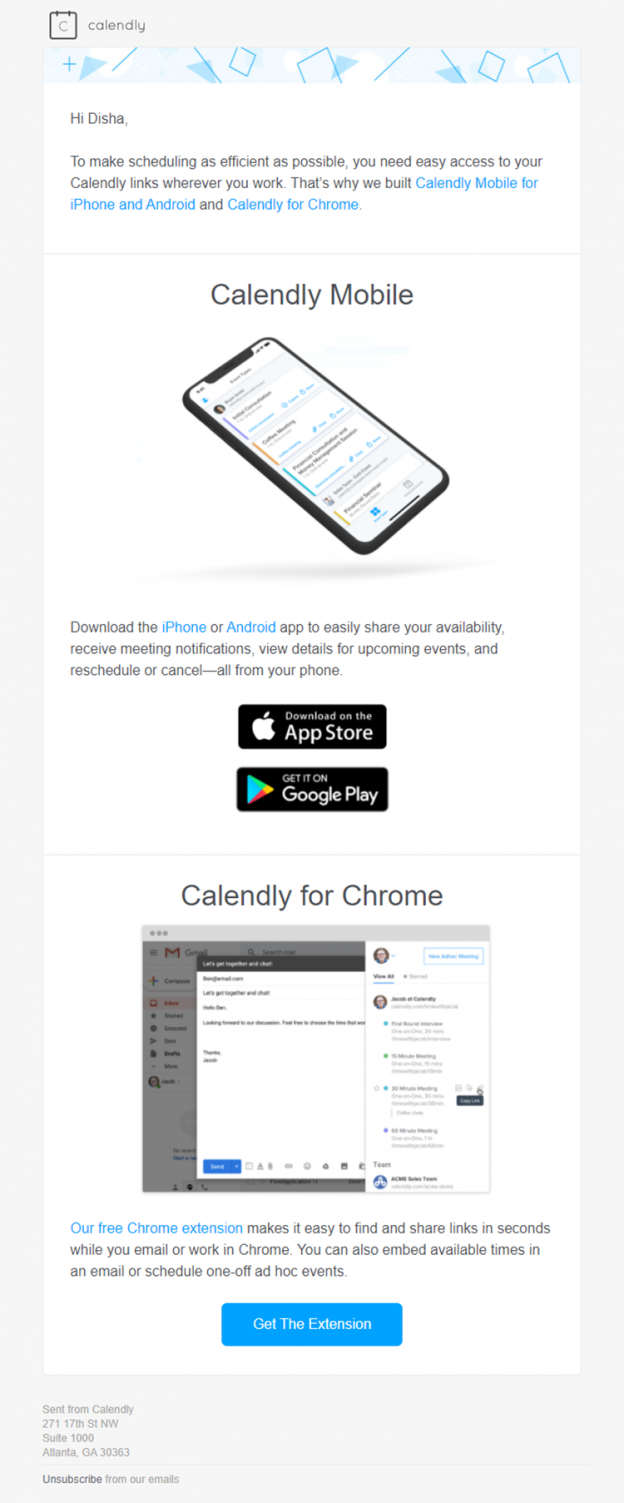 4. On 6th of December, they sent me an email to share some exclusive benefits I could access through the free trial.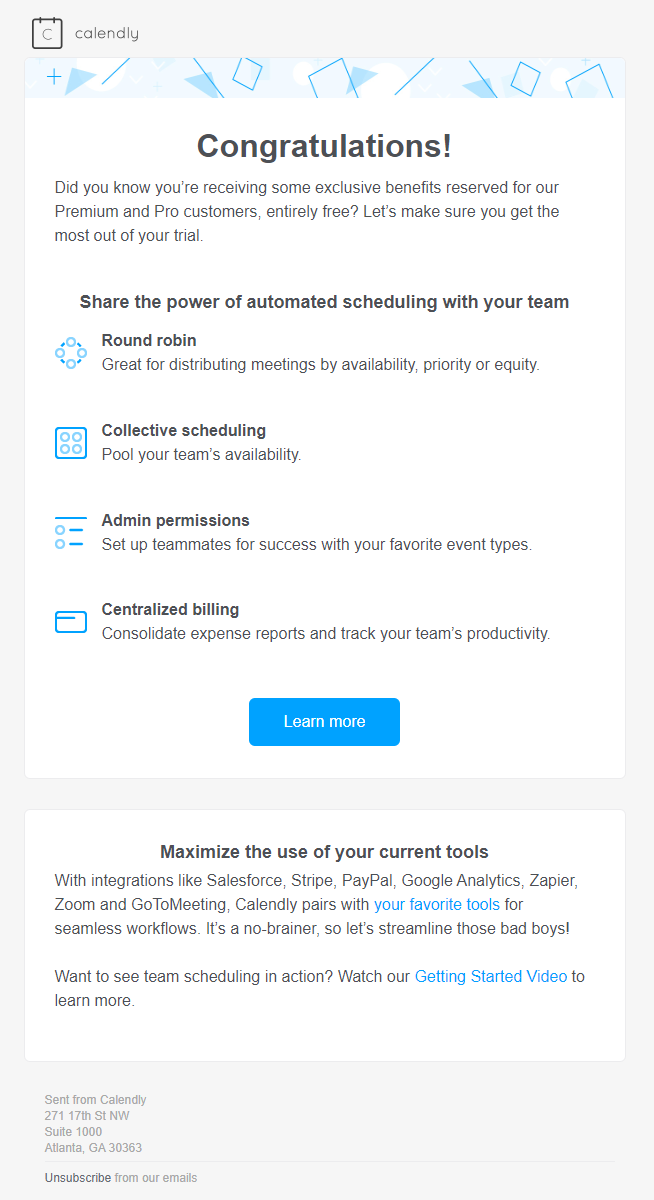 5. I received the fifth email on 12th December that reminded me that my free trial was going to end the next day.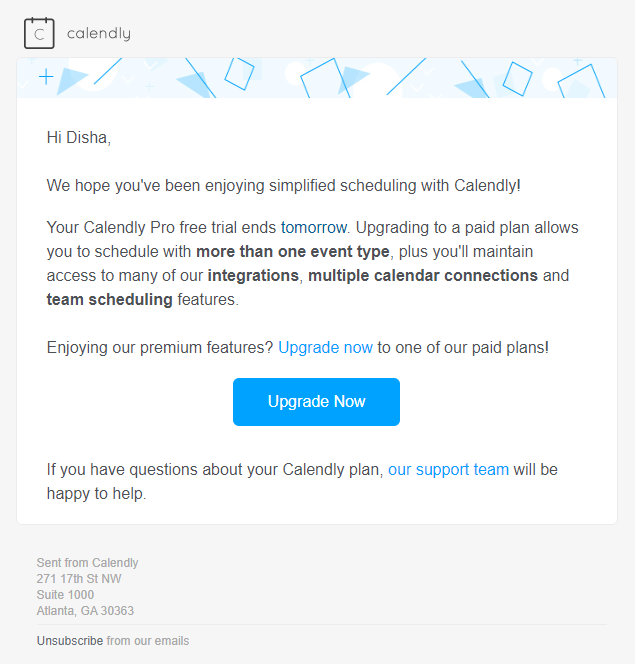 After that, I received one email over a period of a week. The emails got quite infrequent as I was an (almost) inactive customer. Needless to say, had I been an active customer, the email cadence would have been different.
The same applies to the sales emails you send to your leads.
If you are sending the first outreach email on Day 1, wait for three to five business days before you follow up with them with another email. Send the second follow-up email on Day 7, followed by the third follow-up email on Day 9. If there is no response even after all these emails, you can send one last email on Day 11. Let the user know that you will not send any more emails to them.
Hang on! You don't have to do this manually. Set an automation workflow so that you can easily scale it even for a large subscriber base. It will not only improve your efficiency but also give you in-depth insights into how people are responding to your emails. According to the engagement level, you can change the email copy and cadence.
Summing it up
The email marketing cadence is not a regular entity. It does not mean a daily, weekly, or monthly deployment of emails. It's more about creating a strategy that works for you. Another important point to remember is to define a purpose for your emails. Your sending cadence will be meaningless without a definite aim.
If you need help with setting up automation workflows or email campaign management, Email Uplers can certainly help. We can also design visually aesthetic emails for you that your subscribers will love receiving.