Email marketing automation can bring a host of benefits for any e-commerce business, ranging from consistency in creative content to improved efficiency, reduced costs, and better accountability. To be able to achieve these end goals, you need a marketing automation platform that captures and stores data to help you evolve your marketing strategies in line with the target audience's expectations. You also need simplified workflows to achieve efficiency and the option to generate e-commerce reports to assess what's working and what isn't.
With these clearly defined goals and functionalities, you may think that zeroing-in on a platform that aligns with your requirements will be a walk in the park. But with more than 7,000 options to choose from, as of 2019, the journey to automating your e-commerce email marketing initiatives won't be as nearly as straightforward as it may have seemed at the onset.
Let's take a look at how you can simplify this decision:
Factors to Consider When Choosing an Email Marketing Automation Platform
To choose an email marketing automation platform that'll help your e-commerce business flourish, you need to assess its functionalities vis-à-vis your specific needs before you go shopping. To help you get started, here are some factors that you must take into consideration:
i. Integration
When it comes to augmenting the effectiveness of your email marketing initiatives, your CRM is your most trusted ally. It is imperative to choose an email platform that can be integrated with your CRM, so that the task of sending out emails, managing customer data and content is streamlined and hassle-free. It also provides you with key insights on metrics such as click-through rates and open rates.
Besides, you may be running your e-commerce store on a different platform such as Shopify or WooCommerce. In this case, it becomes essential that your marketing automation platform can natively integrate with these platforms. This will go a long way in leveraging your website visitors' activity for automating lead nurturing campaigns.
ii. Mobile-optimized Templates
According to a 2019 report, 42% of all emails are being accessed on smartphones every day. In a world where fewer people turn to desktops for opening their emails, choosing an email marketing automation that offers mobile-optimized templates is non-negotiable. If your email doesn't render well on mobile screens, the recipients will bounce in a matter of seconds. All your efforts will have been in vain!
iii. Onboarding
You will need assistance to set up and onboard any new email marketing automation platform. However, not all onboarding support is created equal. During your research, pay attention to whether there is an onboarding fee. If yes, how much? This can run into hundreds of dollars for platforms, leaving quite a dent in your bottom line. It also helps to ascertain whether the setting up and onboarding will be done on-premises or remotely.
iv. Pricing
The pricing structures for email marketing automation platforms vary from one service provider to another and also depend on the customer database. Since e-commerce platforms typically have an extensive database, it is crucial to check how much you'd be shelling out for each email marketing campaign.
While you're on the matter, pay attention to their policies about scaling up services. The e-commerce businesses' database can scale up quickly, so choose a platform that will cope best with these changing requirements in the most cost-effective manner.
v. User Interface
Almost all marketing automation platforms lead with the claim of an easy-to-use, intuitive user interface. But it isn't essentially always the case. Of course, any new platform comes with a learning curve. Even so, spend some time on the platform to see how easily you can create emails, how dynamic is the design, and whether you can make sense of the analytics on your own. If you're left jumping through the hoops to finish simple tasks, the whole purpose of using an automated platform for greater efficiency and effectiveness is defeated.
vi. Features
Similarly, different email marketing automation platforms have distinct features and functionalities. Now, features such as visual builders, pre-designed templates, multiple lists for contacts are pretty much baseline expectations. However, some platforms offer additional functionalities such as emojis in the subject line, optimizing sending time for higher open rates, and A/B testing. Pay attention to these extra offerings and assess whether you need them for your e-commerce email marketing. These features should be a means to create stellar emails and not the other way around.


Top 6 Email Marketing Automation Platforms to Choose From
To make sure you're not left navigating the maze of 7,000 options, we've cherry-picked the top five most effective email marketing automation platforms from an e-commerce business standpoint:
a. Mailchimp
With nearly seven million users globally, Mailchimp is one of today's most popular and accessible email marketing automation platforms. Mailchimp allows you to customize emails, automate templates, and play around with additional design elements with ease. It also integrates easily with other platforms, providing you easy access to analytics. As per their email marketing benchmark statistics from 2019, e-commerce emails created with Mailchimp have an open rate of 15.68% and an unsubscribe rate of 0.27%.
b. ActiveCampaign
ActiveCampaign is one of the most straightforward and affordable email marketing automation platforms out there, making it an ideal pick for businesses just starting with email marketing. With their self-learning guides, your marketing team can quickly learn the ropes of creating attractive and effective campaigns using this tool. Its range of functionalities includes contact and lead scoring, site and event tracking, and SMS services, in addition to email marketing. It can be easily integrated with platforms such as BigCommerce, WooCommerce, Shopify, and Square. It's Deep Data integration also gives you an overview of revenue generated from different campaigns.
c. Moosend
Moosend is equipped with a drag-n-drop editor that lets you create dynamic and beautiful emails, backed by fast delivery and detailed subscriber behavior reports. These functionalities help you improve on the creative content and ascertain the most effective time to reach your subscribers. One of the most lucrative aspects of this platform is that it lets you send 2,000 emails free of cost, after which you can either choose a pay-as-you-go plan or monthly subscriptions.
Its e-commerce AI helps you make relevant product recommendations to different segments of subscribers, address cart abandonment, chart customer journeys, and more.
d. SendinBlue
SendinBlue is especially useful from the e-commerce standpoint, as it lets you curate contact lists from almost all major eCommerce platforms. This makes reaching out to a broad audience base easier and hassle-free. Besides, its email designing tools are versatile and user-friendly. There is adequate scope for backend tweaks, giving your developers room to add extra functionalities that bring a distinct character to your email campaigns. You also get detailed analytics on where and on which device the email was accessed. However, using this advanced tool needs some technical know-how and may not be ideal for beginners or self-starters.
e. GetResponse
The scalability you get with this email marketing automation platform adds to its appeal for e-commerce businesses, where rapid and exponential growth in the database is expected. Besides, with user-friendly editing software and 500 pre-designed templates, creating dynamic and interactive emails with GetResponse is a cakewalk for even those with limited technical know-how. It also offers you statistics on metrics such as cart abandonment rates and best-performing emails, allowing you to tweak your email campaigns as you go for optimal impact.
f. Sendx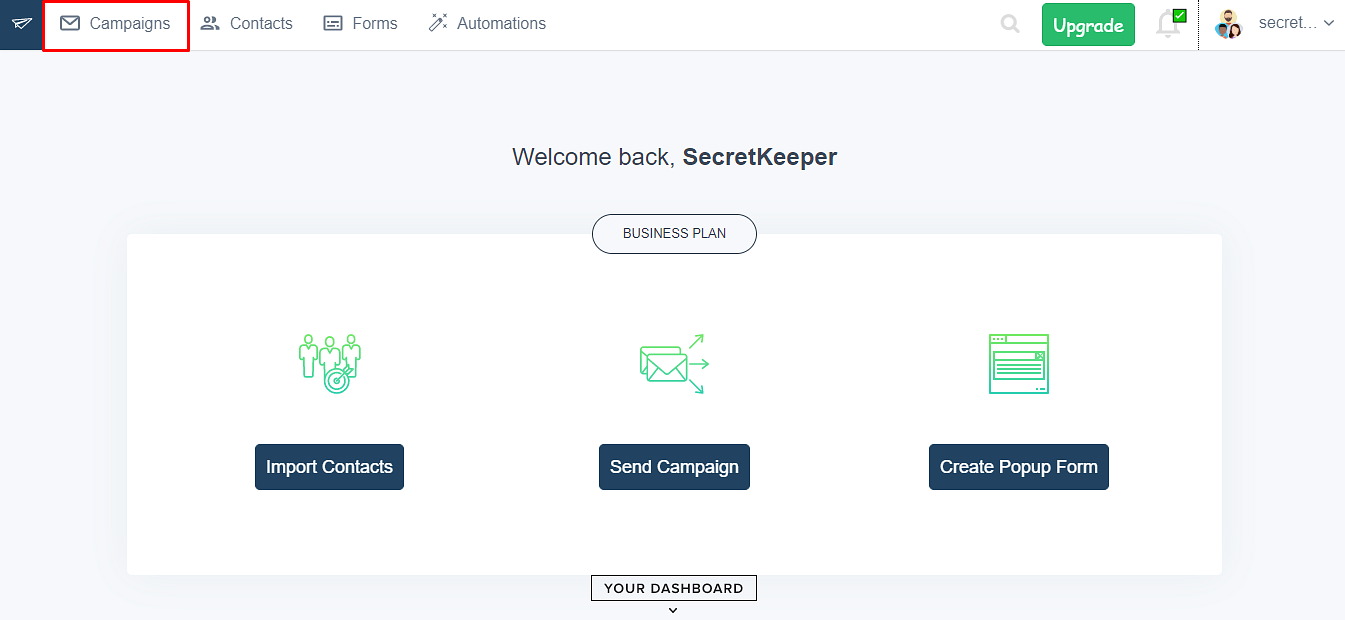 SendX is an Intuitive and affordable bulk email tool. With one of the simplest UIs in the industry, SendX provides unlimited email sends with every plan, powerful automation capabilities, best of breed email deliverability. 3000+ companies worldwide trust SendX for their Email Marketing. They also provide 50 free templates. Plus, SendX has one of the biggest email template collections on the web with 1500+ templates.
To Wrap It Up
With some research and a few smart decisions, you can be in full control of your email marketing initiatives working with any of these platforms. All of them have been designed to drive business growth. What counts most is that you choose the one that's most in sync with your business needs.
At Email Uplers, we provide you with an established ecosystem to help you implement and scale your email marketing campaigns. Visit this link if you need help with email campaign automation that ensures higher ROI.