A deeply curious nature is what has brought us humans to where we are today. What lies behind a closed door, what's inside a wrapped box, what's the climax in a story book… don't we just love to find answers to things?

Flip and scratch effect in email is based on this inquisitive human nature. As these are interactive elements that reveal hidden information/code, they encourage subscribers to engage with your email. And of course, with more of us trying to stand out in the inbox and offer best in class email marketing campaigns, it is necessary that you make your emails interactive.
Advantages of Flip Effect in Email & Scratch Effect in Email
Scratch effect can be amazingly used to reveal attractive discount code and coupons. You can actually allow the users to scratch the coupon and redeem the discount code easily. Scratch effect works best when it comes to engaging users through welcome series or cart abandonment email templates.
Check out this awesome flip effect Easter email by Uplers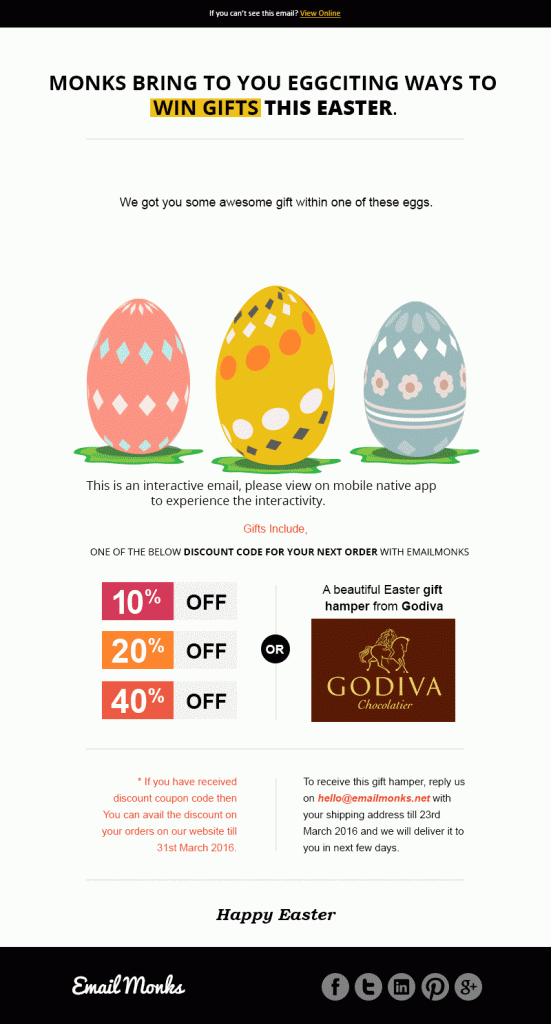 New launch or news showcase
Scratch effect could be used for a new launch or for showcasing news in a progressive manner. Tourism companies can share new amazing destinations with related package details using flip on hover. This helps to escalate the curiosity of the subscribers.
E-commerce emails can be much more fun, especially the ones intending to cross sell and upsell, using flip effect in email. You would be able to showcase the product along with its information on flip. Moreover, through flip, you will be able to provide them add to cart or order options using forms in email with the help of a third party tool.
Some emails, typically newsletters, have a lot of information and at times, by using flip effect, the newsletters could be converted into an interactive landing page. Your recipients will be able to club the information like the product description, team bios, etc. just as a flip to the image.
Time saving for mobile viewers
Like menus or accordions in email, flip and scratch (especially flip) can help engage more mobile users. With flip, you can actually cut down on lengthy content paragraphs and the subscriber can flip flop the cards according to what they want to see.

Limitation
As a constraint, Windows based clients may not be able to render these effects well. Flip and scratch will only work with email systems supporting external CSS. In Desktop, they will work well in Apple Mail & Thunderbird whereas in mobile devices they will work in Native App only. A fallback has to be provided for other email clients.
Compatibility
Flip and Scratch – These effects are compatible across all the leading email clients namely:
iOS Mail (iPhone and iPad)
Apple Mail
Gmail Native
Thunderbird
Applications
Products as usual rank high on our chart wherein e-commerce businesses can send out emails with scratch coupon codes and flip flop product images with information.
Companies wanting to share eBooks or other content with customers can actually share a part of the content in email using flip on hover where they can turn the pages and check the excerpts.
Research companies would be able to utilize flip effect in email to provide stats along with a brief about the research.
Tourism companies can share amazing destinations with related package details using flip. They can likewise also use scratch effects for any coupon or voucher or deals.
Automobile industry can showcase their models with images and features of the model that can be seen on flipping.
Banks and financial institutes can display their investment options through a flip effect. With name of the investment on one side and the details on the other side of the card, subscribers can click on only those options that interest them.
And, there is so much more to the flip and scratch effects – So utilize it and know the difference in terms of engagement.
Example
Here's how a flip and scratch email will look on different devices.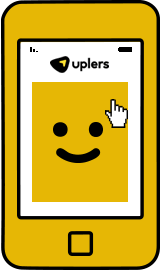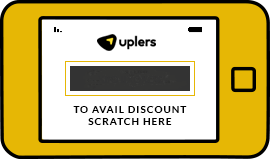 Few Best Practices
Visual cue for flip flop is important else there will be no action.
Timing of the flip and scratch is important else users might feel they're wasting a lot of time waiting for the effect to work. This might decrease the engagement.
Make sure you test the renderability as emails without scratch or flip will be totally meaningless to end recipient, as they will not be able to check the content within.
If it's a hover or touch based flip/scratch make sure you take into account finger targets for the mobile users.