For most of you who have been passionately following the Uplers, you have seen us put forward a lot of proven, vintage as well as new age heavenly email marketing tips regularly. Here for a change, join in to check-out some emails from popular Brands to understand what email design tips we can draw from them.
So, let's dive deep and head our way to the workplace to learn some email design tips from world's 10 smartest companies.
1. Encourage the New Age Email Design
What an amazing email design by Disney! Well, Disney took a step ahead while fashioning this email, and has ditched the conventional email design. They have put in some fresh blood in their email by adding interactivity. The email looks fresh and can accommodate more content in less space with the help of navigation.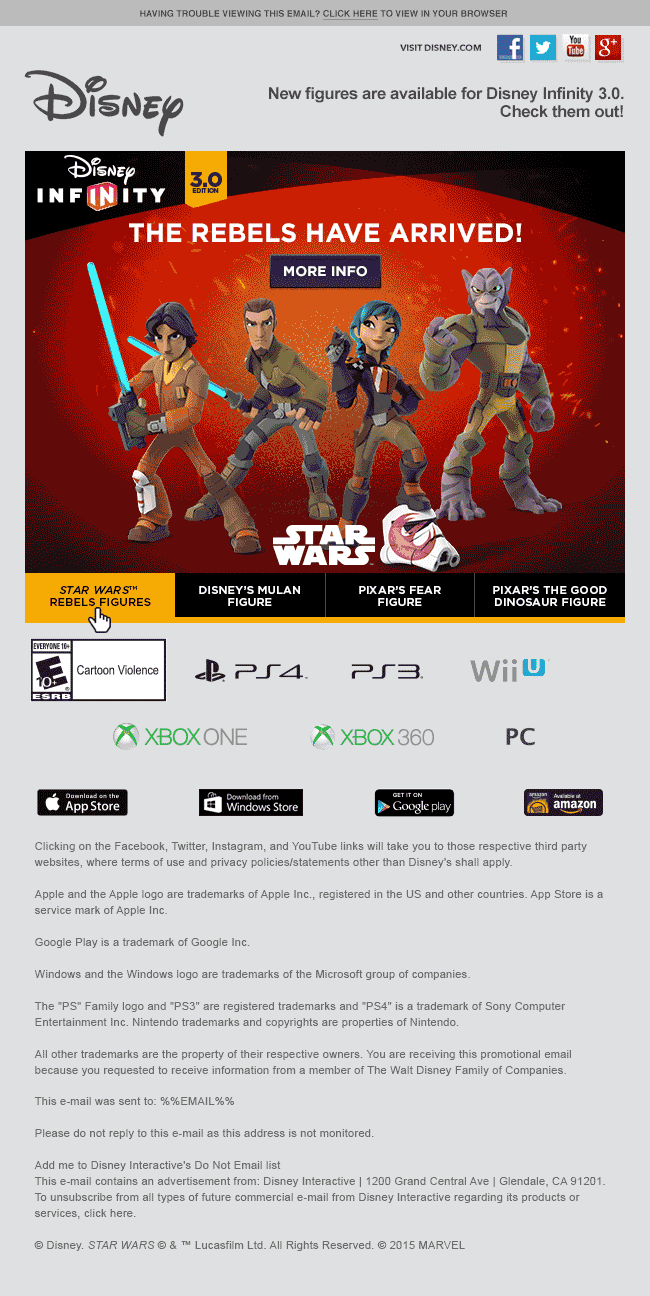 2. Grab Attention With Transactional Emails
Are promotional emails the only type of emails to grab recipients' attention or re-engage? Well, not really! TripAdvisor's purpose to send transactional email is to re-engage with the recipient by sharing some interesting stats about the reviews written by the user. They have skillfully fashioned their email along with a crisp pre-header text to achieve a super open rate.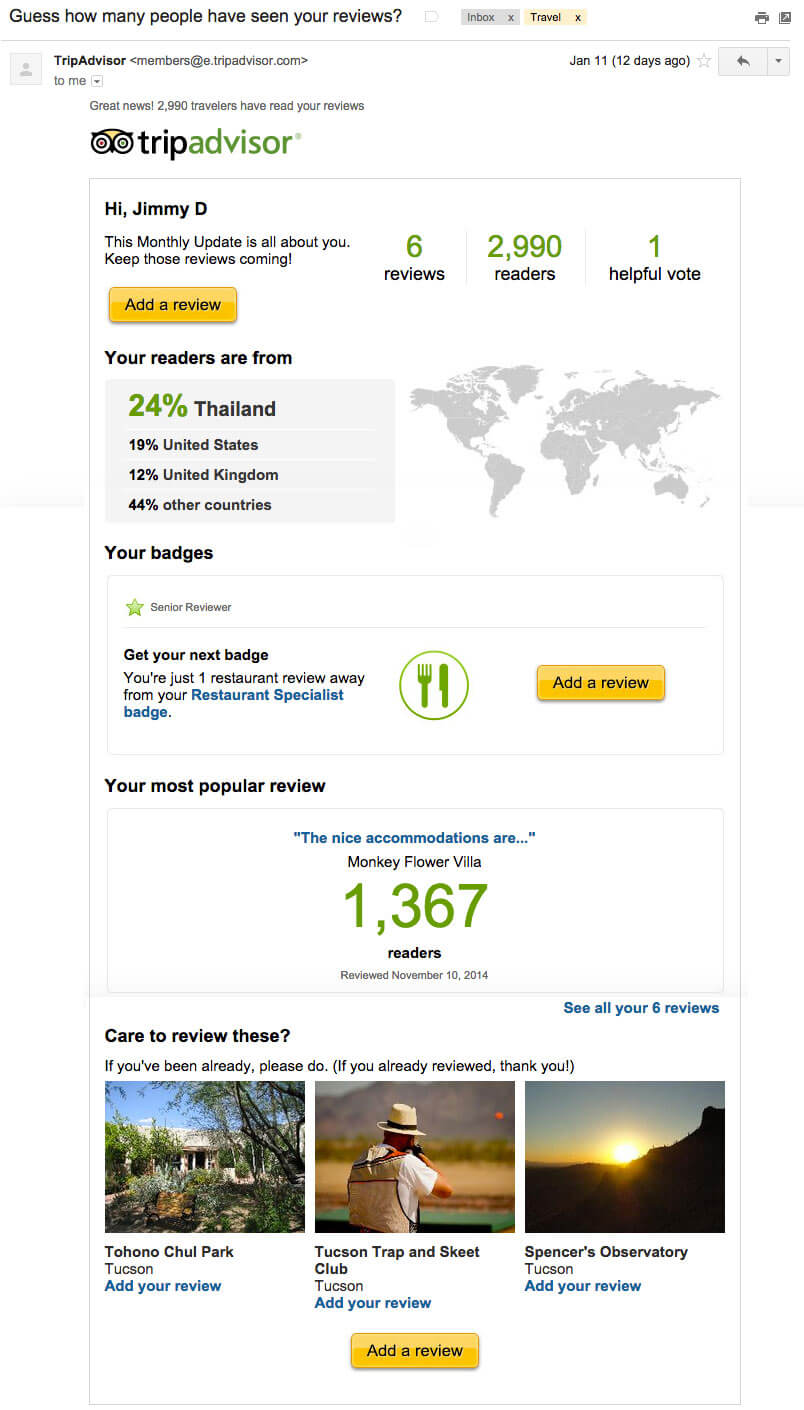 3. Neon CTA For Improved Open Rate
Such a beautiful email design by Adelaide festival. They have hopped the cliché of adding the orthodox 'click now' CTA, and have gone with a neon colored CTA that can instantly and unflinchingly catch a subscriber's attention. When you scroll down the email, the color of the CTA grabs a user's eyeballs making it difficult for him to miss out the CTA.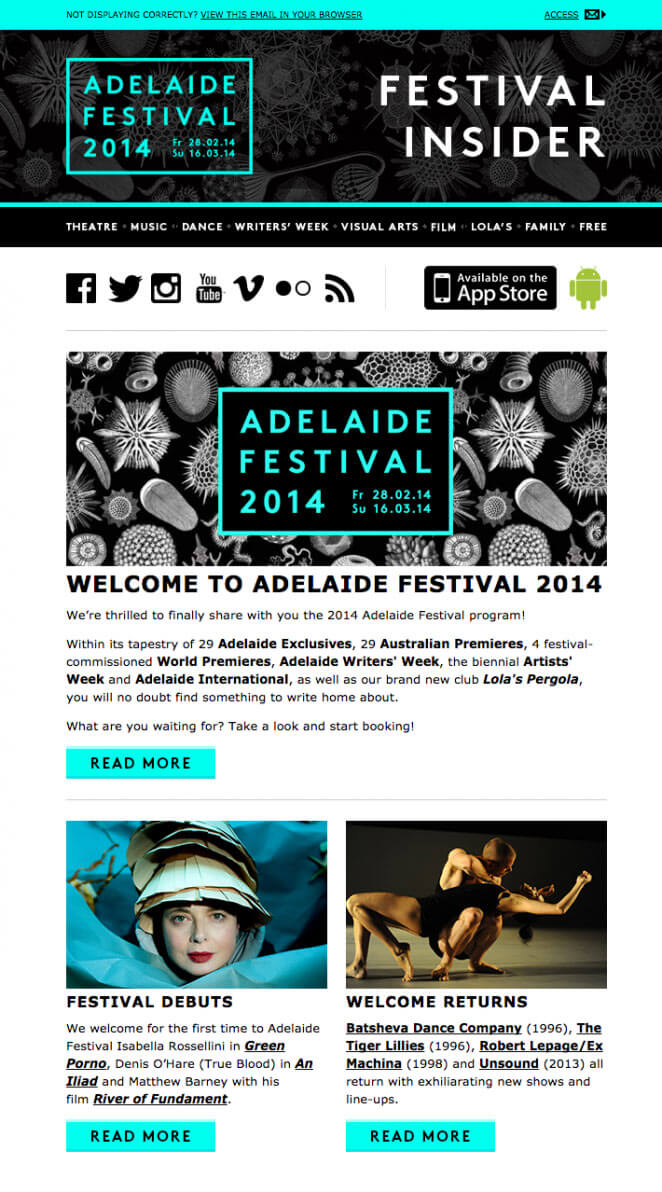 4. Gifs & Videos Can Do Wonders
At times, visuals speak a lot than text, and French connection is bang on here! They wanted to incorporate video in an email; but, as some email clients do not support embedded videos, they created a GIF for email to showcase a brief about the video. A play button on the GIF is provided for users to view the video in the browser. FCUK has magnificently implemented the hybrid coding, and this email certainly stands out.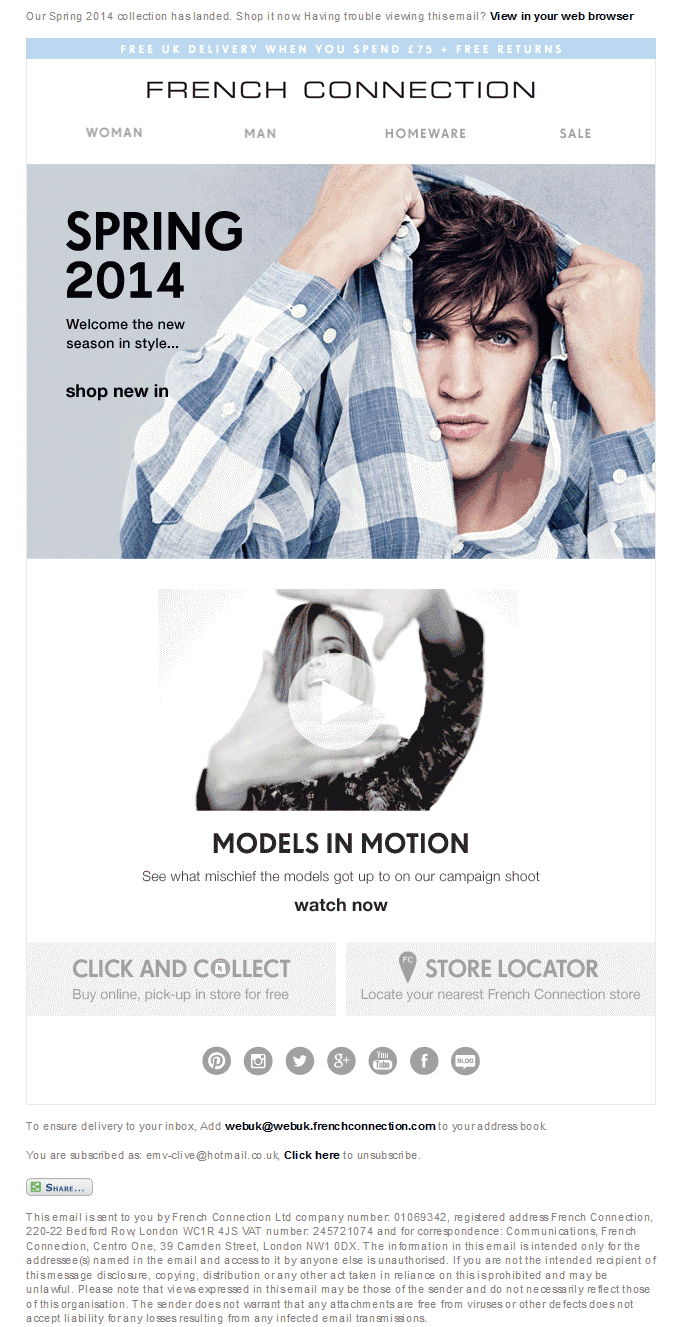 5. F-Shaped Pattern Email Designs
Following F-shaped pattern for designing an HTML email is considered as one of the best practice to make users read what you want them to. And, Old Navy has just done that amazingly well. The top horizontal image as well as the vertical image shouts out loud about the offer making it easy for readers to scan through the email without forcing them to read the entire email.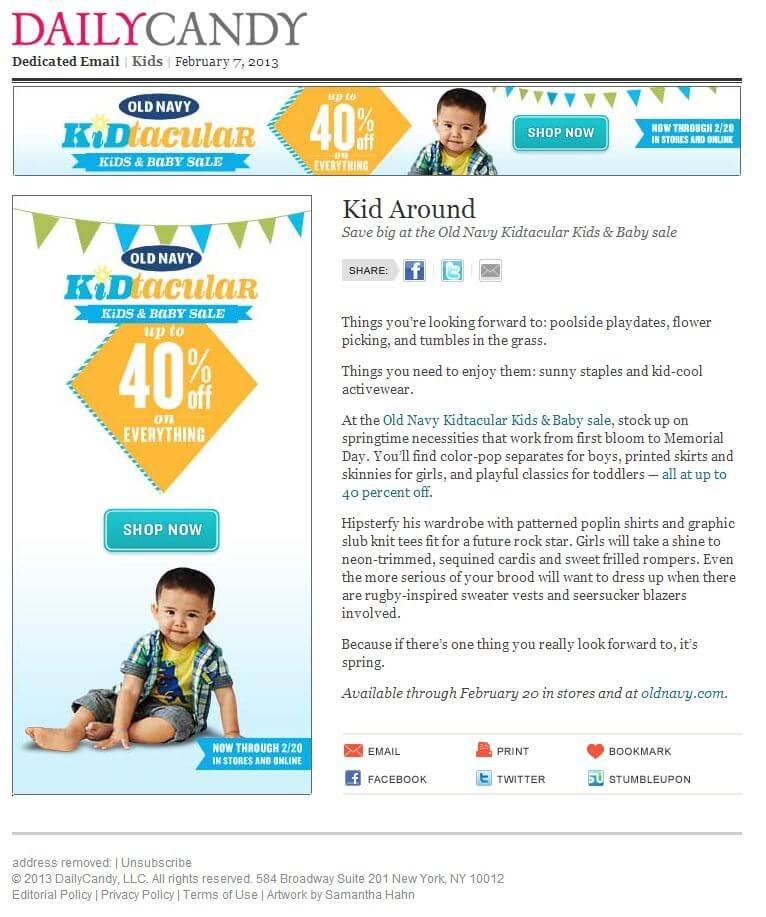 6. Fewer Colors For a Clean Email Design
The fewer the colors you use, the cleaner your email design looks. Apple is promoting its MacBook Pro in this email, and they have adopted a modest and elegant email design. The color used for text in the email is black, and the color of the CTA is blue which grabs immediate attention. Such minimal use of colors surely proves effective.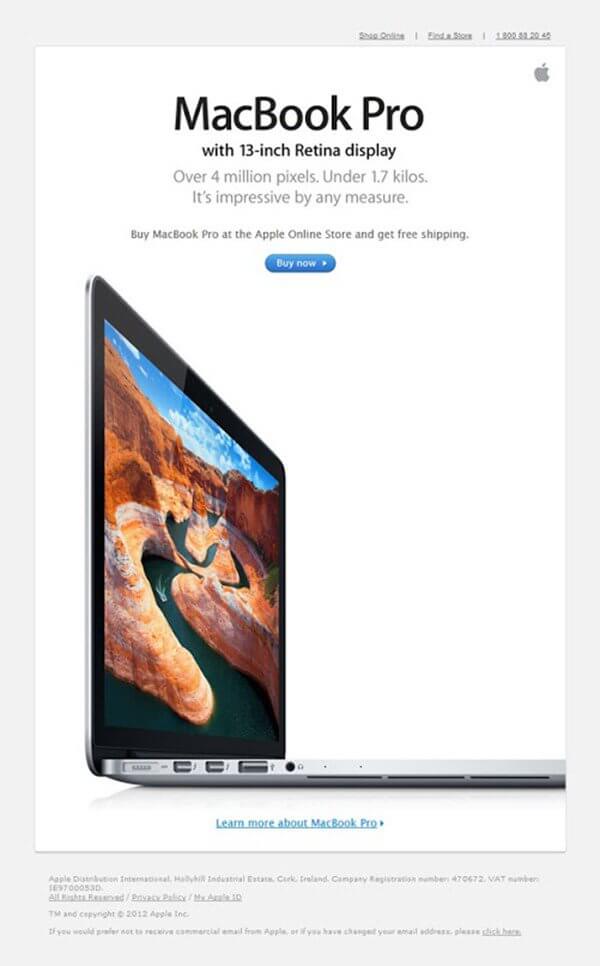 7. Responsive Header and Footer Design
Everybody talks about a responsive email design, but not much has been spoken about the header and the footer of an email design. Browns have designed its responsive email design to perfection. When we compare the desktop view and the mobile view of the email, Browns has adapted the header from desktop view as footer in the mobile view, making it easy for readers to view the email.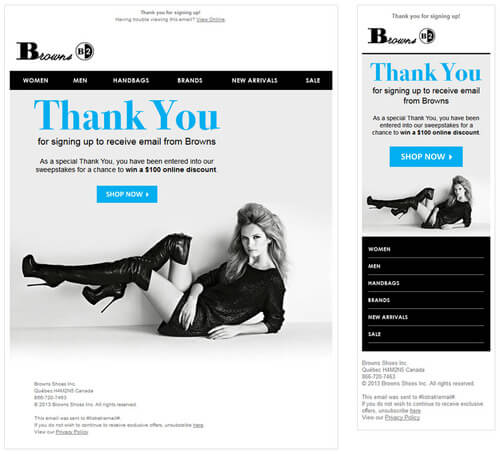 8. Create Urgency with Countdowns
Creating urgency in emails always pays off. Users should be reminded about the validity of the offer for quick action. The same has been done by Boden in its email. The email contains a countdown timer which creates sense of urgency among the readers, influencing them to click on CTAs.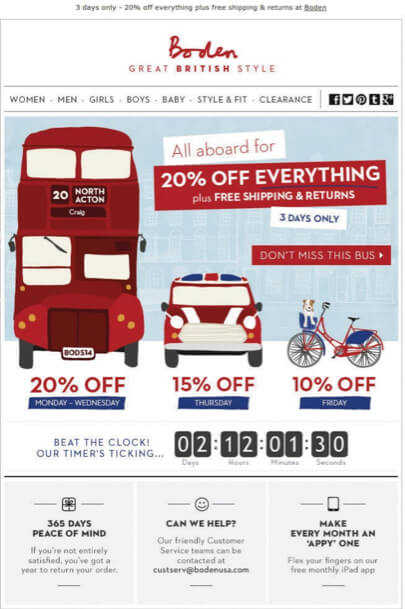 9. Keep Your Text Short and Easy to Scan
J.Crew's email design is a true example of a clean & subtle email design. The copy is short and to the point, making it easy for users to scan through the email. Bold text and background image are perfectly in sync for readers to grab the message at one go.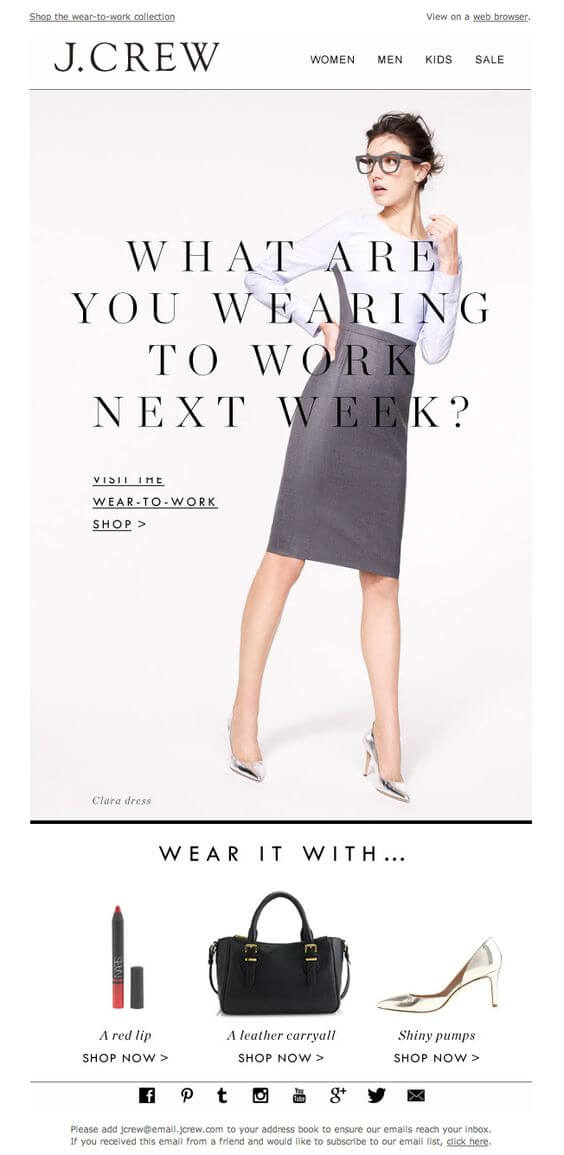 10. Testimonials Can Be Convincing
Placing positive reviews of your products or services from your customers can be really effective. The email design by Ann Taylor displays multiple product along with one testimonial each from its customer. These testimonials can influence the email subscribers to click on the CTAs and try these products.