A landing page, as the name itself suggests, is a web page that you land upon after clicking on a search engine optimized search result, marketing promotion and email or an online advertisement. In fact, a good landing page is a great way of boosting your business's lead generation and click-through rates. In addition, it doesn't only give a good online experience but also gives your customers highly relevant results for every search they make.
Let's take a look at some of the statistics that depict the importance of having an impeccable landing page.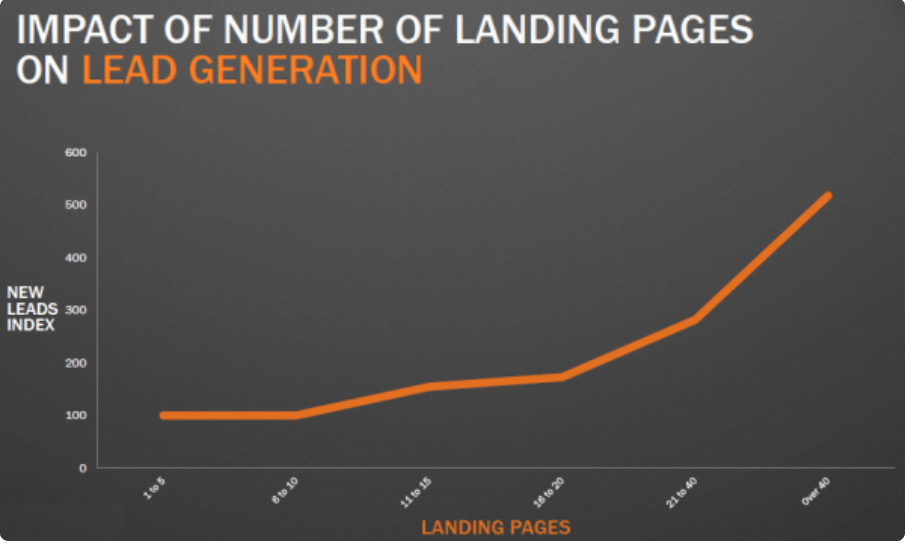 Therefore, it is quite clear that custom landing pages are a great way of capturing the customer's interests, thereby using it for driving your sales and revenue.
However, before you think of leveraging the varied benefits of landing pages, you must know that the same wasn't the case with the landing pages always. Yes, you read that right. It has seen a major transition over the years. Here's a look at its evolution.
The idea of landing pages dates back to the year 2003. It was Microsoft which began it all when its IT department looked for a way to promote the online sales of their core product – Office. However, the whole process of creating a landing page was not only time consuming but boring too. Take a look at how landing pages looked back then.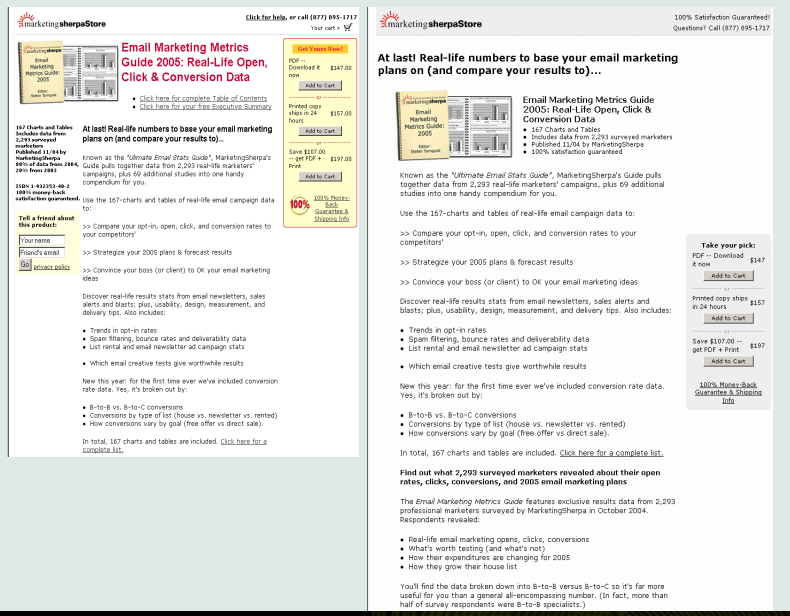 In fact, even the CTAs looked something like this: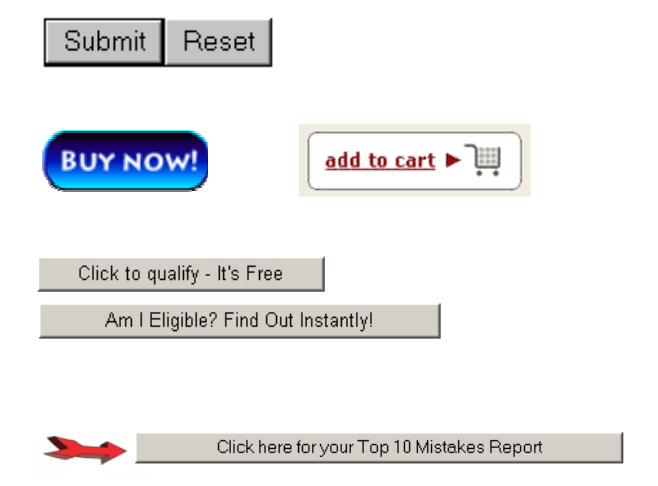 So, you see, these landing pages consist of a headline and a few bullet points and are nothing like the ones we have right now. Take a look at the present age landing pages and comprehend the immense transformation yourself.
Here's a look at its CTA too.

While the former one is a traditional landing page of MarketingSherpaStore, the latter one is a contemporary landing page of Shopify. The transition is crystal clear. From design and layout to relevancy and consistency, landing pages have come a long way. Unlike traditional landing pages that worked in a standalone way, the modern ones have the ability to easily integrate with elements like email marketing tools, lead nurturing and customer relationship management systems etc. In fact, modern-day landing pages are beautiful, clean, simple and have a friendly appeal. With little texts, lots of white spaces and eye-catching images and videos, it has everything to drive prospective customer's attention.
Here's a brief comparative analysis of the landing pages of the past and that of today.
● Catering to specific goals
While the traditional landing pages included a lot of things in a single page, the modern one's are designed to meet a single purpose at a time. This is the reason that an average website has an approx of 10 or 20 landing pages doing its work of addressing specific, segmented markets. To put it in other words, the contemporary landing pages are focused on a single campaign objective. Now it is all about the direct value proposition that a customer can take in a glance. Well, with an average human having an attention span of a mere 8.25 second, having a landing page with precise and clear goals is all you need to convince and convert a prospective customer.
● Smooth integrations
The new age landing pages can easily integrate third party solutions like Aweber, live chats in it and improve its functionality. This certainly wasn't possible with the traditional landing pages.
● Impeccable call to actions
Gone are the days of old school landing pages where all CTAs were made up of boring "submit" buttons that looked unappealing. Now, you can include CTAs that are not only clear and persuasive but also have the ability to accelerate the conversion rates. In fact, CTAs these days stand out on the landing pages instantly by emerging in contrasting colors, resulting in acquiring quick customer attention.
● Emergence of videos
Videos have seen a big jump when it comes to landing pages. In fact, according to research, the global online video platform market has reached a whopping $800.2 million in 2019. Be it YouTube, Instagram or Netflix, the consumer's demand for good video content has only gone high. So, undeniably videos are a great addition to any landing page. It has all the elements to bring forth your message clearly while bringing life to any boring topic. See how CrazyEgg, a heat mapping software company uses video for putting across its message like a pro.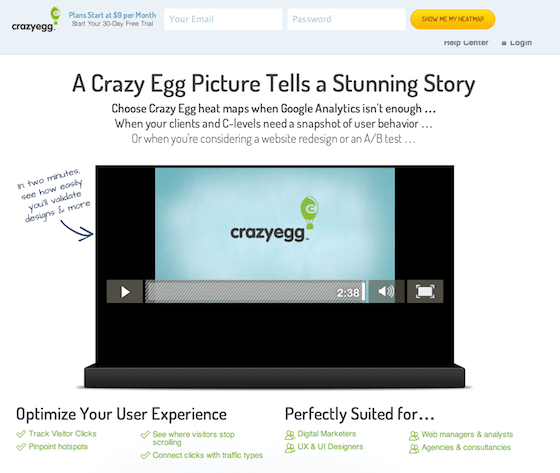 All in all, the ability to plan a storyline and script while including visuals is something that makes videos great not only for driving conversions but for also improving the overall landing page experience, which surely wasn't the case with traditional landing pages.
Now, you know it all how landing pages have evolved over the years and how the modern-day landing pages are benefiting the marketers all around. So, if you want to get a competitive edge over your competitors, it is high time you go for a landing page creation for your business.
Here's everything you need to include for developing a landing page that's par excellence. Take a look.
1. Proper linking strategy
Your linking strategy i.e including links that take customers to other sites should be properly done. Avoid including any such element that distracts customers from the main objective of conversion.
2. Mobile optimization
With the global mobile population amounting to a whopping 4 billion in 2019, it becomes all the more imperative to optimize your landing pages for mobile. This, in turn, will not only display your content clearly irrespective of the device it is being opened upon but also increase your reach.
3. Relevant content
No matter how cliche it might sound but the content is the king always. Nothing else would work if your content isn't good and relevant. From immaculate grammar and clear, concise copy to apt usage of keywords and proper formatting, you should do it all to bring out the best out of your landing page.
Apart from these factors, the ones that are already mentioned above are including strong CTAs and creative visuals within your landing pages.
Wrap up
In conclusion, it wouldn't be wrong to say that the landing pages have evolved for good. It is helping businesses be on the top of their game by installing a sense of brand credibility within buyers while increasing their loyal customer base.
In short, all you need is an eye-catching landing page with a strong CTA and a creative headline to make you stand out.