I am assuming that 331.4 million people of America are already busy thinking about their Halloween costumes and decorating their homes with spooky horror themes or shopping for candy mixes for the big day. 
The shopping season for the Holidays (especially Halloween) starts right from the Fall. 
Let's have a reality check with some facts and figures.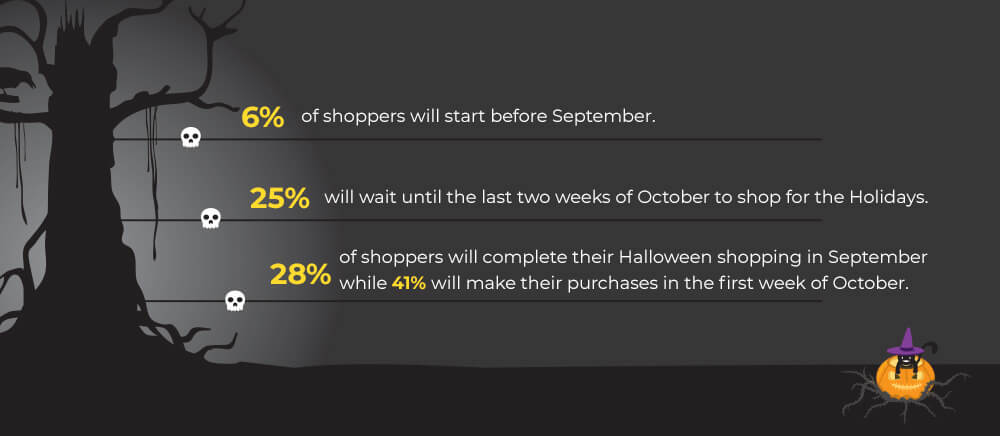 If you have not yet started planning for your Halloween email marketing, now is the right time. Your competitors are all set to woo their customers on 31st October 2020 and you must be too.
In order to make things easy for you, we are here with top 10 Halloween email inspirations that would give you a direction and help you create innovative Happy Halloween email templates.
Let's start the spooky ride!
1. Tokyo Treat
Subject line: ? LAST CHANCE TO GRAB BONUS JAPANESE HALLOWEEN CANDY!

Even with social distancing and all those Covid-19 precautions, your subscribers would not forget to treat themselves to some tasty snacks. Tokyo Treat sends out a tempting email to promote their spooky treats. The email starts with a countdown that taps on the impulsive instinct of the subscriber and compels him or her to make an instant purchase. The theme of the Halloween email template – "LIMITED TIME OFFER" creates a sense of urgency and makes the customer take action. That's exactly what you want from your email, right?
2. PopSockets
Subject line: The PopSockets Halloween Collection is knocking at your door ??

PopSockets has totally nailed their Happy Halloween email template with a scary Halloween collection of some great popsockets. The tagline "THE CHILLS ARE ALIVE" and the copy supporting the images are perfectly in sync with spooky vibes. In addition to Halloween that falls on the last day of October, they have also remembered U.S. Presidential elections that are scheduled three days later, on 3rd November 2020. They have added a GIF to highlight the popsockets for that occasion. Using such ideas would significantly increase the likelihood of conversions. 
3. Claire's 
Subject line: Grab Your Spooky Essentials ?

The visuals of this email are so convincing that it would compel you to purchase the Halloween accessories even if you are not looking. Besides those attractive images, a cute GIF of a truck delivering the orders from Claire's caught my attention when I scrolled the email till the end.
4. Cost Plus World Market
Subject line: Sneak EEK! Our Halloween Shop is OPEN NOW.

Cost Plus World Market has sent out an announcement email that their Halloween Shop is now open. The entire email sets the mood right for Halloween. Moreover, they have shared their autumn decor too. Separate landing pages have been created so that the subscribers can check out the products that interest them more. The email ends with a section "Did you forget something great?" to showcase the best of their products. 
5. David's Tea
Subject line: So many GOODIES: Peek at our Halloween Collection ?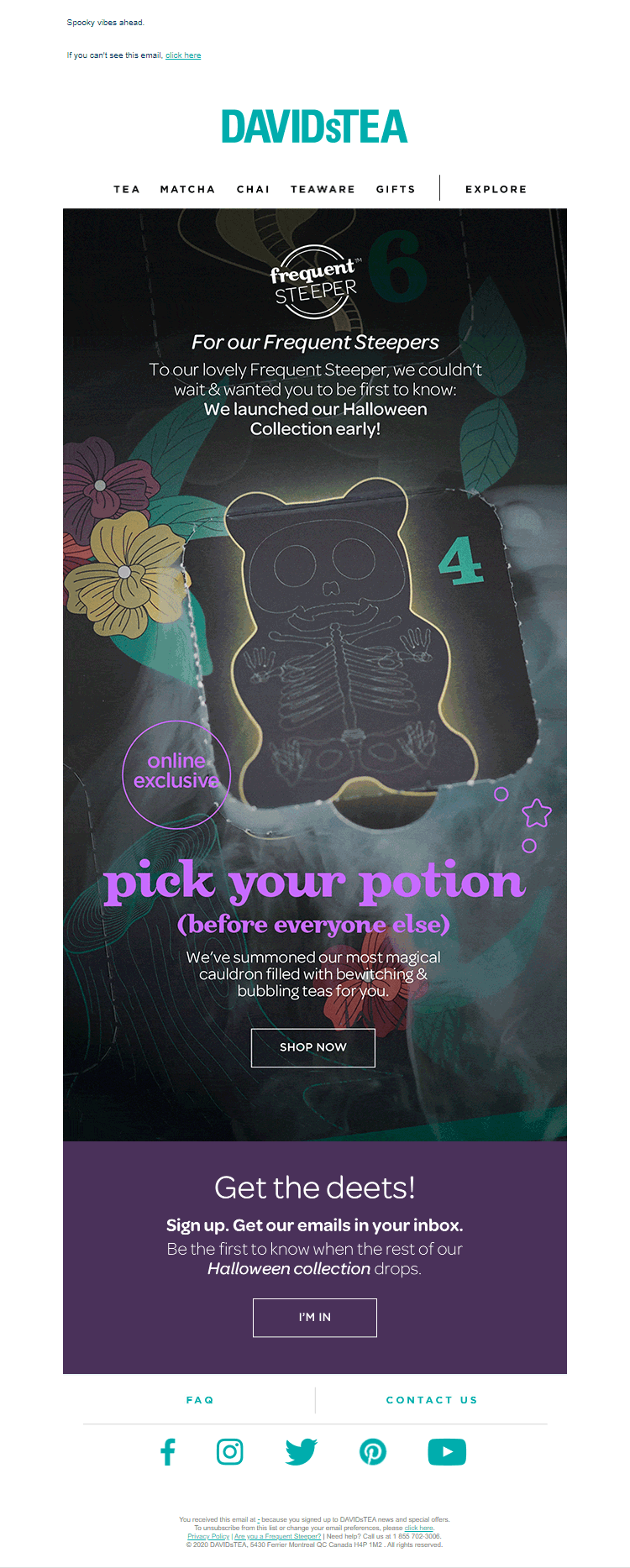 David's Tea does a great job with all their emails. Halloween is not an exception. The copy of the email uses Halloween vocabulary that will draw the subscriber's attention and lure them to click on the CTA. For people who are viewing this email on any other platform apart from the inbox, they have included a link to sign up and get updates regarding Halloween collection right in your inbox. 

6. Lights4Fun
Subject line: Halloween? | Spooky season has arrived!

The Halloween email template by Lights4Fun is cuteness personified. All the images in the email are cutely scary. Also, notice the preheader text "Discover our favourite autumnal lighting..". They have maintained the right text to image ratio at 80:20. Furthermore, they have included Christmas Reindeer lights to encourage more purchases.
7. Uniqso
Subject line: <AD> Blood for Halloween | Wishing stars in your eyes with Western Eyes Qlo Brown.

If you are looking forward to putting on a scariest look this Halloween, Uniqso has sent out the perfect email promoting their blood contacts. To attract more customers, they have even added a video thumbnail redirecting the user to YouTube. The video demonstrates the usage of different contact lenses and gives the users a better feel of the product. 
8. Domestify.com
Subject line: Here's Some Reasons to Be Excited About Fall Baking ?

Foodies out there, brace yourselves. This email would leave you drooling for bakery treats. They have not only added animated ghosts to the hero image but also highlighted the text with a GIF. The entire email has maintained an "F" shaped reading pattern for people just scrolling and skimming through the content. Every product is accompanied with a tempting image that would encourage them to make the purchase and get in the festive vibe. 
9. Paperless Post
Subject line: We're brewing up something spooky…

Paperless Post has used a creative GIF in the header image. The font style of the tagline HERE COMES HALLOWEEN emits a tinge of spookiness. Throughout the emails, they have used relevant GIFs to build on a great visual appeal while promoting their invitation cards. They have ended the email with greeting cards to lift up the spirits of your near and dear ones from far away. 
10.
Paper Source
Subject line: Our Halloween Collection Is Here ?

The animation of Halloween spiders is the best thing that catches your eye when you open this email by Paper Source. It will pique the subscribers' interest and make them scroll the email further. Through the same email, they have promoted their Fall Giveaway and Workshops such as hand lettering, collage card making, and brush lettering. The last section highlights all their USPs like DIY Inspiration of Instagram, quarterly subscription box, virtual workshops, and 130 locations.
Wrapping up 
With these email inspirations at your disposal, I would like to remind you that do not wait for the last moment to design your custom Holiday emails. Start early to make the most of this lucrative time period and get maximum customers for your business. 
Still, if you are facing any challenges or resource crunch, Email Uplers can help you out. Just get in touch with us and we will create the best Holiday,  email templates for you.