What's a spooky season for the rest of the world is a time of great joy and celebration for marketers and brands across the globe. Yes, we're talking about Halloween, of course. With consumer spending expected to reach a colossal $8.48bn this year, Halloween, as usual, continues to be a major cash cow for businesses out there. The best part? Everyone gets a piece of the cake! What we mean to say is that since this occasion ignites the festive spirits of children and adults alike, every business, irrespective of their domain, stands to benefit during this time. While adults busy themselves with costumes and cards, children flock en-masse to card and candy stores- it's a win-win for all. 
Why Email For Halloween?
So, what exactly do brands do to ensure maximum conversions and engagement during this time? They work extra hard to create stellar Halloween email campaigns. At present, the number of daily email users stands at 4 billion, so it's pretty much a no-brainer that every brand wants to leverage this channel for skyrocketing their holiday email revenue. The only time when the horror of Halloween truly strikes business owners is when their email campaigns fall flat on their faces. We admit – Halloween emails can be tricky. Besides having subject lines and content that echo the festival's sentiment, these emails have to look the part as well. Lucky for you, we're here to help you out with both these departments. Today, we'll be walking you through a host of Halloween email templates that absolutely aced their content and design game. Want to be a part of this league? Dive in and find out!
Hanna Andersson
Subject line: Halloween Costumers Are HERE!


Halloween is incomplete without costumes, and that's precisely the sentiment that Hanna Anderson has capitalized on with this downright adorable email. The email is heavy on visuals and makes use of the popular photo grid technique to highlight multiple kids donning a variety of Halloween costumes. The copy is crisp, minimal, and to the point, which perfectly compliments the visual-heavy layout of this email. However, for us, the winning element is the picture of the toddler right at the bottom of the email. Really makes it that much more difficult to ignore the email, doesn't it? Placing the CTA right next to that image is nothing short of a tactical masterstroke.



House Plant Shop
Subject Line: Give your home a creepy touch!

The smartest marketing teams are those that are able to evoke the memory of their brands in the minds of their audience irrespective of the occasion that they're celebrating. Something that the House Plant Shop has done flawlessly over here. When you think of Halloween, what's the first thing that comes to your mind? Candy? Spooky costumes? Jack-o-lanterns? No matter what pops into your mind, we're pretty sure that plants would have never made it to that list, right? But that wasn't going to stop the team at House Plant Shop from sending out this email. Over here, they have cherry-picked all the weird and silly-looking plants from their nursery and created a "Creepy Plant Bundle" collection out of them, a nomenclature that aligns very well with Halloween. The content in the email body efficiently highlights the connection of the collection with the festival. Further, the use of soft background colors in design does a great job of accentuating the foreground elements. If there ever was a masterclass in brand placement, this is it.

CLEAR
Subject Line: Your scary good deal is here 👻

Humor is not typically something that people would associate with Halloween. However, if you're smart enough to integrate it into your emails, just as CLEAR has done over here, then you're sure to get solid returns for it. The solitary candle placed amidst the dark background renders a spooky vibe to the template, and the smartly written copy seals the deal fair and square. To be fair to them, airport lines are pretty horrifying indeed. What makes this email worth bookmarking, though, is the design of its CTA. The light background and the bold typography of this section allow it to contrast sharply against the remaining portions, making it the most prominent visual element of the email in the process. Even if the readers are in a hurry and are only able to see it at a cursory glance, the CTA would still manage to register itself in their memory.

Email Uplers
Subject Line: 🎃😈 Enjoy this Halloween Party! 😈🎃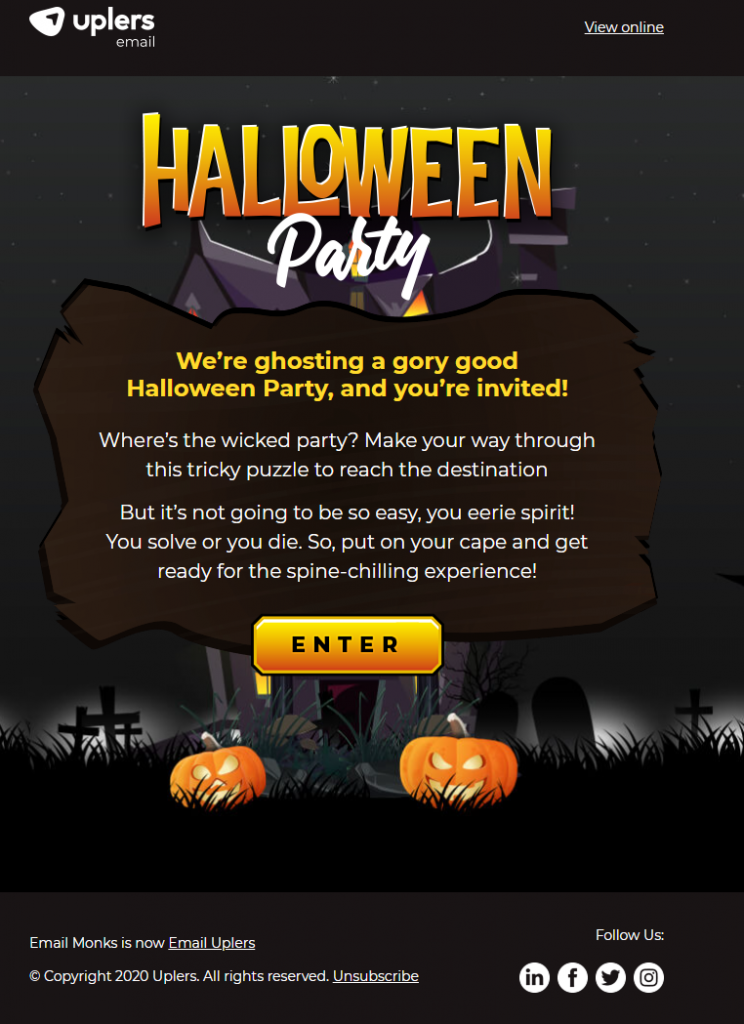 What are holiday emails, if not a little fun? And the best way to make emails fun is by making them interactive. That's exactly what we attempted to do with our 2020 Halloween email. Scripted in the form of an invitation, this email invites readers to join our Halloween party. But, it also informs them that they have to first solve a puzzle in order to earn their entry.
Upon clicking on the CTA button, they are lead to this: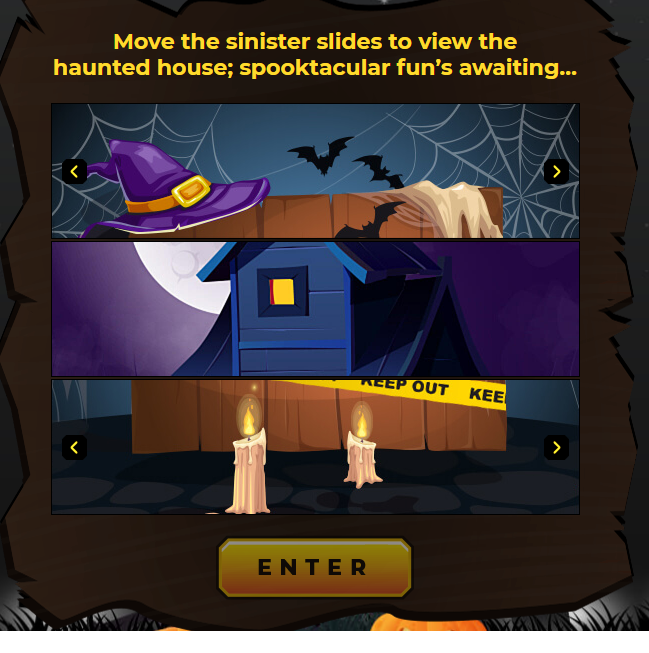 Here, they're supposed to rearrange the tiles till a complete castle is formed on their screen.
The final result looks something like this:
As soon as the castle is formed, the "Enter" button on the screen becomes clickable as well. Now, when the reader clicks on it, they're lead to this:
As you can see, the reader is now presented with two options and a single line that serves as the hint.
Upon opening the right door, they're lead to the scene of the party, which looks something like this:
Using story-based interactive emails is an excellent means of ensuring your readers' engagement. That's not all; such emails also motivate them to spread the word of your brand among their circles.
You can see the live emailer here.

ModCloth
Subject Line: Don't let Halloween sneak up on you!
A single look at this email, and you already know what's special about it, don't you? The wordplay in the email stands out a mile and is sure to grab the attention of its readers. The content throughout the email adheres endearingly to the Halloween vocabulary. The design is exceptionally minimal and uncluttered, which enhances the visual appeal of the template by leaps and bounds.

Unique Vintage
Subject Line: How Frightful Universal Monsters x Unique Vintage Is Here!


The use of dark and moody tones in email is always a risky design choice because there's plenty of scope of these going awry. However, if you can be as masterful with them as Unique Vintage has been in this template, you have nothing to worry about. The presence of orange, purple, and green shades completely nails the Halloween aesthetic. In this template, they've used GIFs to showcase their Halloween collection, which we reckon is a good call; GIFs are any day more visually engaging over a photo grid or a collage. They've included the latter in this template as well, but by placing the GIF above the fold, they've increased the probability of their subscribers interacting with the email.
Dashing Diva
Subject Line: Have you seen our NEW Halloween collection?
If you're thinking of launching a new product line during Halloween, you will do well to borrow a trick or two from this email template by Dashin Diva. The copy is crisp and precise, and the design includes generous use of white space, which allows the displayed products to be the centerpiece of this email. While you'll definitely come across templates that are relatively more embellished, this template is compelling proof of the fact that simplicity will never go out of vogue.

DogVacay
Subject Line: 🎃 Halloween costumes for dogs
When the entire family is gearing up to brace for the Halloween festivities, why should your pets be any different? DogVacacy takes this school of thought a step further with this sweet, sweet email.
If at all you are able to peel your eyes off of the dogs-in-Halloween costumes photo gallery, you'll find yourself greeted by an email copy that is just the right balance of quirky and friendly. Anything that has a dog (or, in this case, dogs) on it can't really go wrong, can it?
Wrapping It Up
The greatest thing about the holiday season (besides the festivities, of course) is that it gives you immense scope to explore your creative boundaries. Use an interactive game, a GIF, a cinemagraph, bright colors, geometric shapes, bar graphs & pie charts- whatever you feel is the right fit for your audience and let your imagination run amok. Remember, you've to have a thousand tricks up your sleeve to be eligible for the wonderful treats that Halloween and Holiday email marketing has in store for you!