Make no mistake. Customers have certain expectations when dealing with a business. And it doesn't matter if it is just a simple inquiry or a service request.
In every company, two departments responsible for direct customer communication and engagement are marketing and customer service.
The issue is that in many cases, they act independently of one another. Still, many companies have started to realize that they can achieve new heights in customer satisfaction and increased revenue with the combined efforts of both marketing and customer service.
This article will describe and provide examples of how email marketing supports the customer service team to benefit both the business and its customers.

Importance of email marketing
Customer interaction is on the rise. The communication barrier between consumers and businesses have thinned considerably at the advent of social media. Companies continuously look for new and improved ways of how to communicate with customers.

With all innovations coming our way, it is easy to dismiss email marketing as a practice of old. In reality, the opposite is the truth. The method of email marketing is still one of the best ROI out there. Sure, many alternative platforms ranging from social media to chat solutions have gained popularity in the digital era. Nevertheless, email content marketing consistently tops the lists of preferred communications channels for numerous B2B and B2C businesses.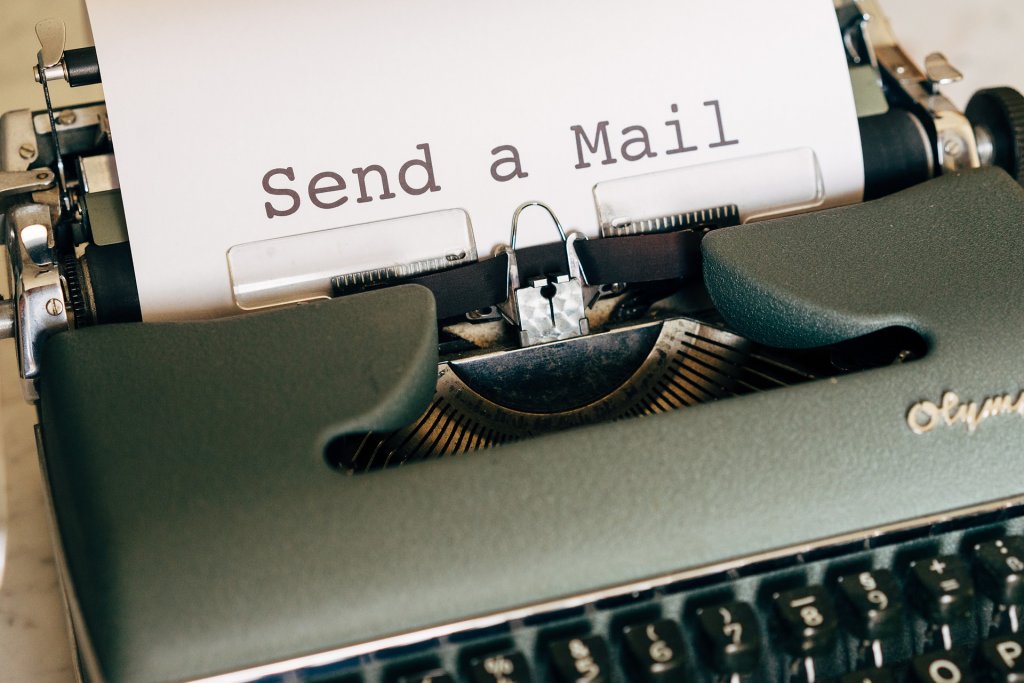 Seven examples of how email marketing supports customer service
1. CRM software
The role of customer service is to satisfy and delight customers using their skills and abilities. Customer service is related to the service team's skills and abilities to deliver a satisfactory customer experience. For business, the benefit of satisfied customers results in a revenue increase. Email marketing can support customer service to turn converted customers into loyal customers.
Email marketing is not only instrumental for customer acquisition but the post-conversion stage of a customer's life cycle. CRM is essential for a positive customer experience as it provides marketing and customer services valuable insight into customers' habits or behavior. Sophisticated email communication improves brand image and delights customers.

A significant part of the user experience is choosing the best email service provider to give a business an advantage over the competition.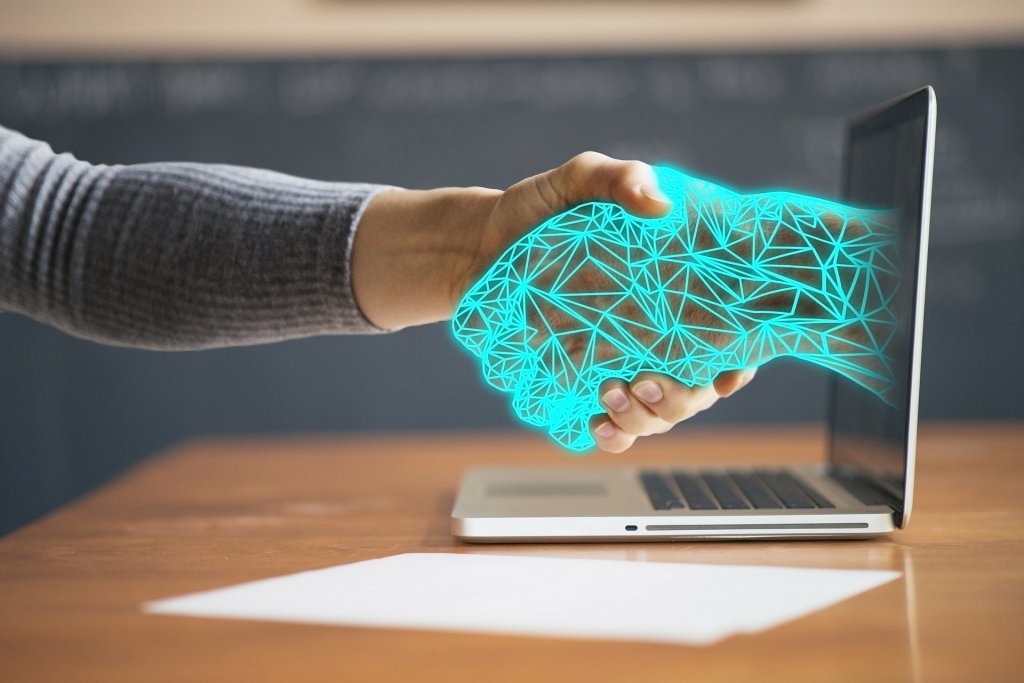 Customer support relies on the most reliable technology to expertly meet the service KPIs and SLAs. Dealing with the massive volume of email can be overwhelming. The focus fades, the professionalism and courtesy slip, leading to frustration, anger, or the ultimate price, losing customers.

Email service providers should be in line with your customer support working hours or at least by automatically responding with relevant information outside of business hours.

Here are the top features of a great email service providers:

Cost
Automation 
User friendly
Reporting and monitoring 


2. Audience segmentation and analysis
Segmentation of the target audience is the best practice for understanding customers' journeys. Segmentation is a process of collecting data from leads and prospects and constructing a buying persona for each segment.

The process of segmentation is not over when the lead is captured. It continues during the customer's journey through the sales funnel.

Segments can be based on characteristics tied to the buyer's age, demographic, location, etc. In simple terms, the more characteristics marketing can attribute to each persona, the more precise image of the consumer they can share with customer support. The marketing team can then start targeting each segment with an email campaign more efficiently, and customer service will have a more comprehensive understanding of the company's customers.
Cross-departmental information and profile exchange significantly improve day-to-day task resolution and increases internal team communication.
3. Personalized email campaigns
As much as customer service teams receive hundreds upon hundreds of emails daily, the same goes for the customers.

So what to do to stand up and ensure the click-through rate?

Notwithstanding the type of email or campaign, the subject line should always be modified to grab the attention of your intended target audience. Captivating subject lines have a much higher chance for a greater click-through rate than the dull and uninteresting ones. The long subject lines are generally not well optimized on mobile devices, so it's best to keep it short.

One of the most popular subject lines designed to elicit curiosity are numbered lists, for example "5 reasons this works".

Short and appealing preview text with an optimized and encouraging call-to-action so customers can have an idea of the email content.

Acknowledge the customer by name, if possible. If they have not provided their name and details, an optimistic-sounding "Hello There" is sufficient as well.

No one wants to read pointless emails. No matter if it's a single email to an individual or a mass email newsletter, personalized emails based on the segmented contacts from the customer email list will always be received by the intended audience.

People appreciate when they're allowed options, and by giving them that choice, companies can show that they value their decision to unfollow.

Example of a personalized, recommendation email is from Songkick, an online company designed for music fans to track and buy tickets for their favorite artist concerts. By sending this type of email, customers are not compelled to contact customer support directly and inquire themselves.

An email delivers the digital image of a brand into each inbox. The key component of a strong brand personality is consistency across the board.

4. Email marketing templates to speed up responses
The need for automation is evident as more and more customers turn online for their buying and service needs. The contact response time is at an all-time high, and failing to meet the customer's expectations results in negative feedback.

The use of a template or predefined emails aids in an improved speed of service. The majority of consumers expect an answer within 24-48 hours. Straightforward, composed, and prepared reply saves time and effort. Context is what matters, and when the response is tailored for a specific request, reps don't have to be afraid to lose the correct tone or style.

The design of the email is the company's digital business card. The combination of feedback from customer services and marketing can produce email templates specifically designed for the brand. This results in consistency across departments and elevates the company's public image. Disorganized or "untrustworthy" emails can end up in the spam inbox, harming the open rate.

An increasing number of customers use mobile devices as their primary platform, so having emails optimized and accessible to this segment of a client base is critical. 


5. Regular feedback and survey emails
Follow-up emails are that little something that adds to customers' experience. They ensure that customers are satisfied with the service and have sufficient knowledge of interacting with the company and their website.

For example, retail store Debenhams uses feedback request emails to get first-rate responses about their service and as an engagement tool, offering a chance to win shopping vouchers.

The perfect time for sending your emails is vital as it directly impacts the open rate. The time to send emails is directly tied to the company's segmentation list. The method of dispatching the right emails at the right time is motivated by measuring the target audience to obtain a clear understanding.

Collecting customer feedback allows businesses to review email marketing strategy and recognize its potential flaws.
6. Keeping the engagement flowing with deals and rewards
To elicit customer engagement, discount offers or rewards campaigns can produce positive results and possibly even referrals to acquire new leads.

For instance, Canva's offer to upgrade and receive access to premium content for the price of one.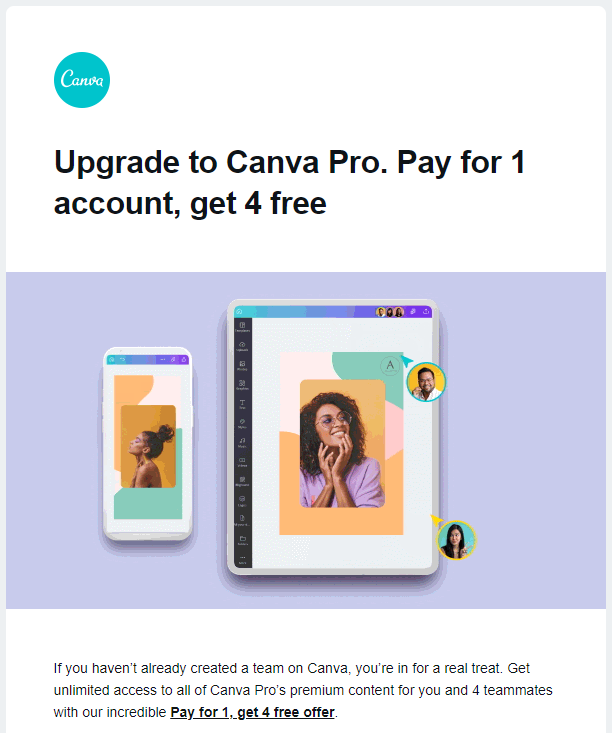 The implementation of a reward email marketing campaign brings with it a flair of exclusivity. Marketing and customer support can collaborate, share, and promote similar initiatives through their respective channels to boost their client base's positive reaction and enhance loyalty.

7. Builds credibility with testimonials
One of the most critical aspects of a B2B/B2C relationship is trust. Testimonials are an excellent way to showcase the transparency of your brand.
The marketing team can implement testimonial emails to promote in-house customer support and their achievements.

Conclusion
In the world of commerce, teamwork equals success. Customer satisfaction rests not solely on the quality or price of the product. It's the experience when dealing with a company that ultimately converts customers. There is no odd man out in a prosperous company. For that very reason, the unity of email marketing and customer support is vital in achieving positive results.