Does your email app icon look like this?
Well, that could be the case for most of your email subscribers too.
With email emerging as the most prominent marketing channel, brands are using it to promote their products and services. Not only that, they are using emails for many other purposes like:
Launching a new product
Making announcements
Sending newsletters
Carrying out occasion-based marketing
Acquiring new customers with referral marketing
Now, how will you make sure that your email marketing helps you achieve these objectives?
The shortest answer is – "Make the subscribers read your emails."
Amidst all the chaos in the email inbox, your subscribers will choose to read only those emails that catch their attention. Through this article, we will discuss all the tips and tricks to create emails that your subscribers will read and click through too.
Let's start with the fundamental thing- the email subject lines and then get to the more intricate elements.
1. Craft an intriguing subject line (with a suitable preheader text)
Work on your subject line before the email copy rather than keeping it as an afterthought. These 50 characters will decide whether your subscribers will open the email or not.
Here are some ideas to inspire you to create an appealing subject line:
a. Current trends
Keep track of the current trends and world affairs. Connect such occurrences with your brand to draft a catchy subject line. For example: During elections, you can write something like – 'Hard on ballot, easy on wallet.'
b. Humor
Incorporate a tinge of humor in your email subject lines that would make your subscribers smile. A good laugh will help to generate high open rates and get people interested in reading your email.
c. 'THE' deal
Let your subscribers know the purpose of the email through the subject line itself. For example: Whether you promote a sale or an article to read, let your subject line say it all.
Along with the subject lines, pay attention to the preheader text too. Draft a preheader text that elaborates the subject line and piques the subscriber's curiosity. When used correctly, the subject line and preheader text work as the most powerful duo to enhance the email performance.
2. Format the email properly
Remember the long and 'difficult-to-read' question papers you had back in school? Your emails should not remind the readers of those examination papers. Format your emails so that your subscribers can figure out what it is about at a single glance.
Enlisted below are some tips that will help you out:
a. Work on a catchy title/ heading
The title of the email should instantly inform the reader about the purpose of the email. For example: if it is a welcome email, the title can be 'Thank you for signing up' or 'Here is your welcome gift.'
Set the font size and color to draw the subscriber's attention and follow the principles of visual hierarchy.
b. Break the content with subheadings
If you have too much to say through the email, make it easy to consume for the subscriber by breaking the content. You can use subheadings and bullet points to do so. This is a good practice for emails with more than four sentences. Format the subheadings with bold and font sizes smaller than the title text. For instance, if you are sending out a lead nurturing email, you can highlight the features and benefits of the product or services with bullet points or numbered listings.
c. Create a visible call-to-action button
Pick a contrasting color for your call-to-action button. Green is the perfect color to get your CTA noticed. Moreover, it is advisable to use the first-person narrative in its copy to get the maximum click-through rate.
Here's a perfectly formatted email by Harry's.
Look at how they have separated the email content with a title at the top followed by a subtitle. The email is then divided into four sections with subheadings, body copy, and respective CTAs. Neat and clean, right?

3. Segment the subscriber list
The most effective way to get maximum readership for your emails is to send the right message to the right person at the right time. This is possible by segmenting your subscriber list according to the most relevant parameters like demographics, past purchases, survey results, and email response rates. To illustrate, you can create one list of frequent buyers and another of dormant subscribers. You can send promotional emails to the active subscribers and re-engagement emails to the inactive ones. Such a strategy ensures reasonable click-through rates and conversions.
4. Automate your email marketing strategy
Sending automated emails based on the subscriber's activity will appeal better to the readers.
Let me explain.
Welcome Email
Send a welcome email within the first two days whenever you get a new sign-up. Inform them about the benefits of using your products or services. You can also incentivize them to make the first purchase.
Lead Nurturing Email
After the welcome email, it is time to nurture the prospects according to their position in the funnel. For the top of the funnel prospects, the lead nurturing email should focus on creating awareness about your products or services. On the other hand, you can send out time-sensitive offers to the prospects positioned at the bottom of the funnel.
Announcement Email
Announcement emails generally have a good open and click-through rate. You must send these emails to let the subscribers know about the new product in the works.
Newsletters
If your website has a regularly updated blog, you can send out newsletters to share the recently added articles and industry updates. It will help you get more readers on your website while increasing the email campaign performance. As a best practice, allow your users to set their preferences and see how many newsletter subscribers you get.
Customer Appreciation Email
Take time to send milestone emails to appreciate your customers. Share how they have used your product or services over time. You can send out emails to wish the subscribers on their special days like birthdays and anniversaries. Occasion-based marketing is also a great way to get maximum people to open and read your email.
Promotional Email
Who doesn't love discounts? Use this natural instinct in your promotional emails to entice people to read your emails and convert. However, make sure you follow permission-based email marketing strategy. Share a link to the preference center so that the email subscribers can set the preferences whether they want to receive the promotional emails or not.
Event Invitation Email
Companies that frequently organize events and webinars must certainly cash in on the opportunity that lies with event invitation emails. Through these emails, you will be able to increase the event footfall by boosting brand visibility.
Re-engagement Email
Just like you lose touch with your college friends or old office colleagues with time, your subscribers might gradually forget about you. This will affect your email readership. You must send out re-engagement emails to get these dormant subscribers to read your emails.
5. Tell a story through your emails
Stories tap on the emotional instinct of your email subscribers and make them keen to engage with the content. Use the power of storytelling to share the vision statement, mission, and brand story. This tactic works the best for welcome and customer appreciation emails. It not only brings freshness to the email subscriber's inbox but also creates an emotional connection with them. An email becomes much more compelling when the copy is backed by a story. It will remain etched in the subscriber's mind much longer than any other email.
Check this email by Moon Juice in which they have shared something about Ayurveda and built an interesting copy around it.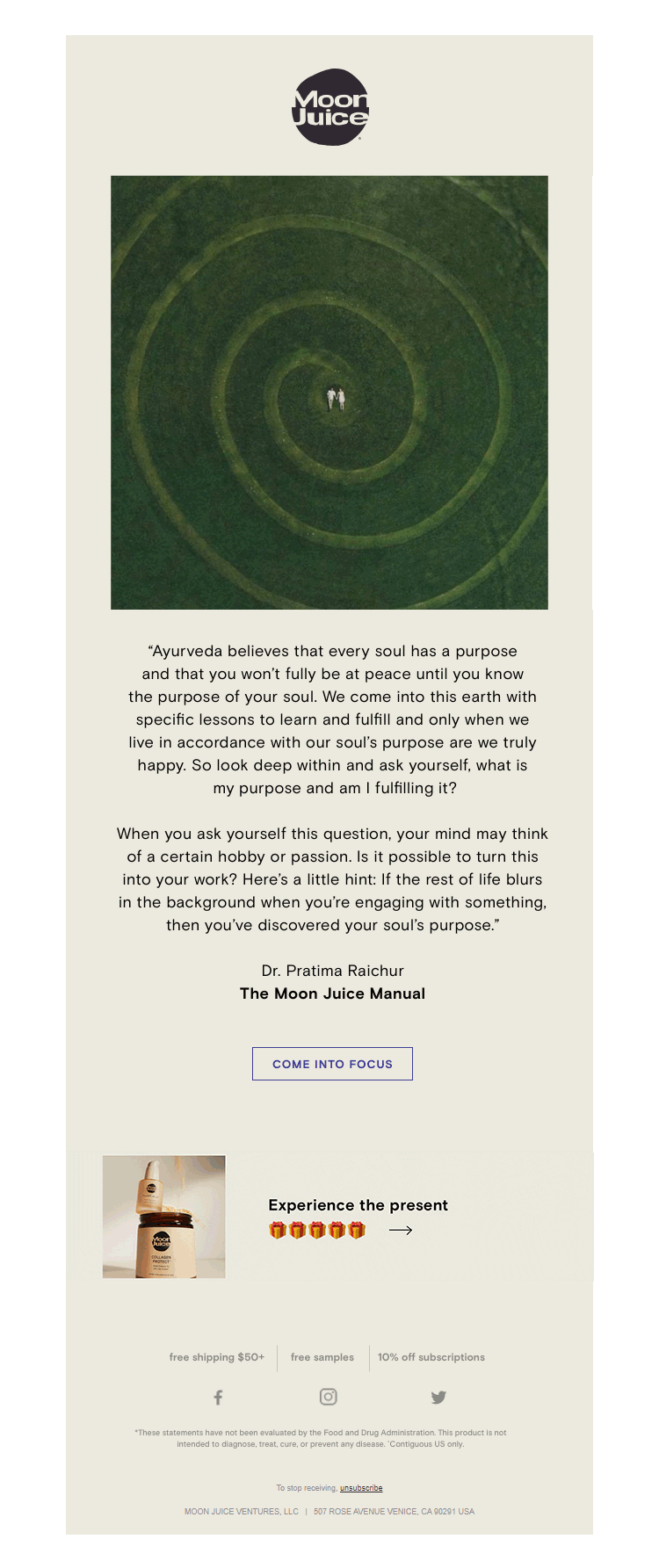 6. Use visuals to support the email copy
Besides storytelling, you can use visuals to bring your words to life. Writing a compelling subject line and email copy is not enough. Your email must look good to make the subscribers scroll through and read it. Using attractive visuals will make your job easy. You can use relevant images, illustrative GIFs, and explanatory videos to explain the purpose of the email. As an instance, you can use images to demonstrate the usage of your product or services. Just make sure that you follow all your branding guidelines while using images and use them judiciously without overwhelming the email subscriber.
Here's an email in which Weezie has showcased their limited edition collection and enticed the buyers to complete the purchase.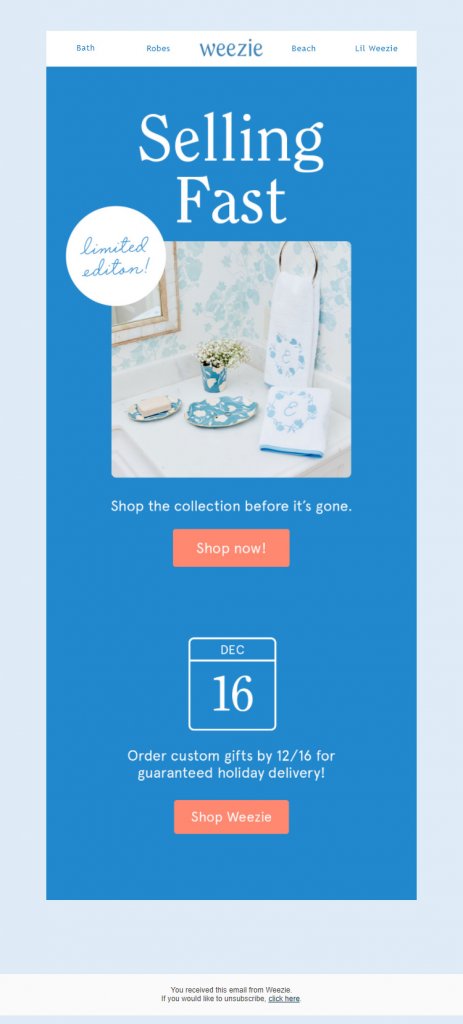 7. Keep track of the email deliverability rate
What if your subscribers are not receiving the email you send? Shockingly, almost 21% of your emails are not delivered to the inbox. In such instances, it will be obvious that your email read rate will be low. As a result, you will end up wasting a lot of time and resources on email subscriber lists that give no returns. To avoid such a scenario, you must monitor the email deliverability rate and ensure no deliverability issues.
In case you notice a low deliverability rate, you must vet your email subscription list and remove all the invalid or duplicate email addresses. In addition, you must also remove the dead leads who have not even engaged with your re-engagement emails. Make this a regular practice so that you do not face the issue of email deliverability. Doing so will help you maintain a healthy email subscriber list and significantly improve the email campaign performance.
Besides the deliverability rate, you must also assess the email open rate, click-through rate, and conversion rate. If any of these parameters are low, you must rethink your email marketing strategy considering the points shared above.
8. Maintain consistency
Consistency works wonders when it comes to email marketing. Whether it is the branding, formatting, the voice of your email, or the sending schedule, use a consistent approach so that people can instantly connect them with your brand. For example, you can send newsletters every Monday and promotional emails on Fridays to follow a consistent strategy.
TOMS sets an excellent example of consistency through its email marketing strategy.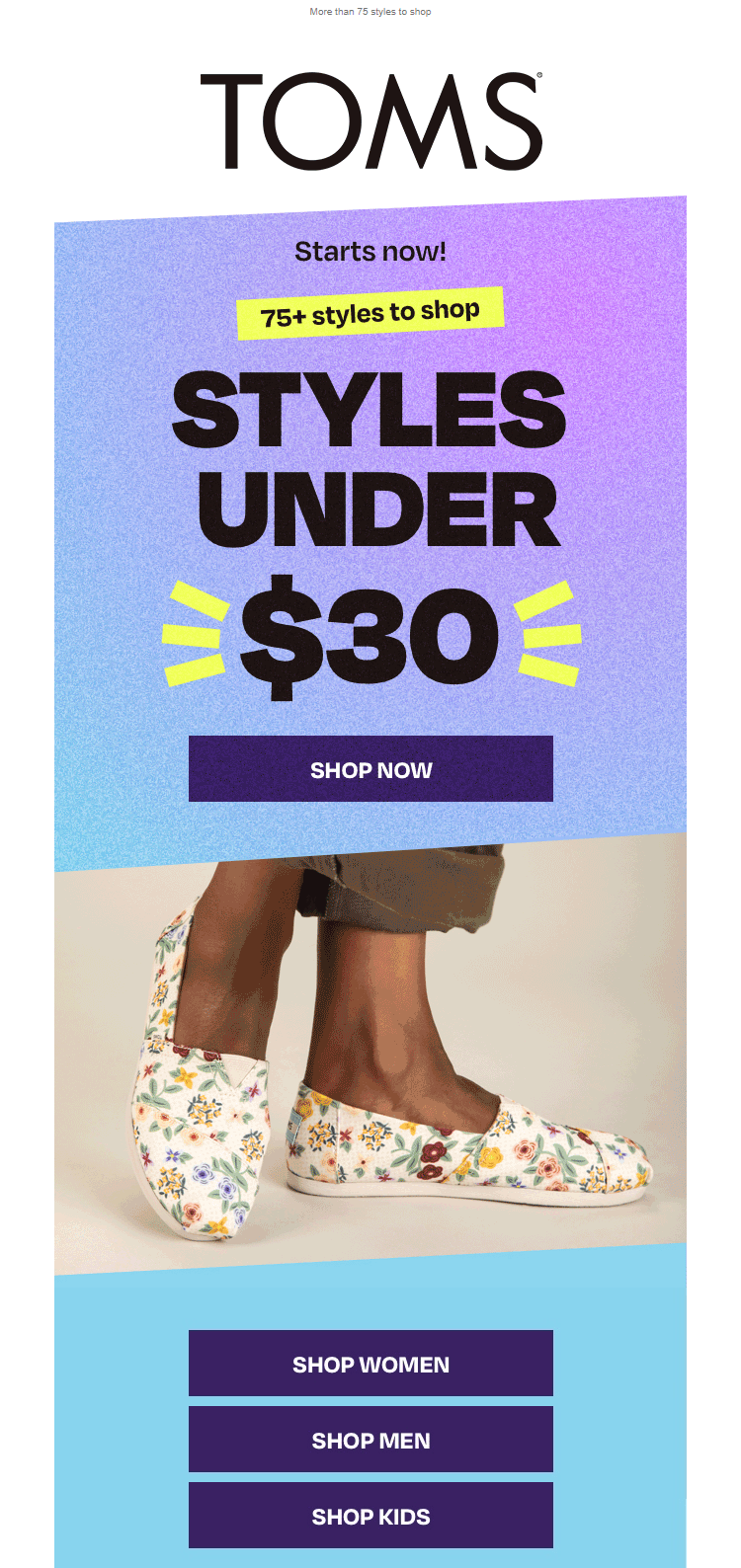 Wrapping up
Making people read your marketing email is both art and science of understanding their psychology and serving them what they like. Just like the buffet at a wedding reception that has something for all the guests, regardless of their age, your email should have something to appeal to a large audience based on their demographics and preferences.
If you find your email open and click-through rate are falling, follow these tips, and things will be sorted.