Email development has become the core of every marketing strategy. That's because marketers no longer wish to send bland plain text emails to their subscribers. Even the subscribers are looking for something new in their inbox. Owing to this, the entire email team, including the marketer, designer, and developer, have to push their boundaries and think out-of-the-box. They have to come up with something creative and interesting for every email campaign that they are planning to send.
Email marketing has proved its effectiveness time and again to drive faster business growth. What was once believed to have an ROI of $44 for every $1 spent now has an ROI of $51 for every dollar spent. Does that give you aspirational vibes?
It is thus imperative to create HTML emails that present a visual treat to the subscribers. Besides being aesthetic, they should serve the purpose too. That's where functional aesthetics come into the picture and email developers can help you exactly with this.
Most of the brands have hired an email developer for building impactful emails. If you are still contemplating the same, now is the right time to take action and have an edge over your competitors.
So, how will you go about hiring an email developer?
Let's answer all the burning questions that may be bothering you before you make the big decision.
How to Determine the need for an email developer
An HTML email developer will take care of coding an email template, testing it for flawless rendering, and troubleshooting in case there is an issue with the HTML code.
To make the right decision, you must consider the following aspects.
1. What kind of emails do you send?
Audit your email marketing strategy and make a list of the emails you send or want to send to your subscribers. For example: While B2C brands and eCommerce stores focus on sending promotional emails and marketing emails to endorse their discount offers, B2B companies mostly focus on creating a solid lead nurturing program with drip email campaigns.
Based on your industry and business type, you must determine the purpose of your emails.
2. How do your subscribers access your emails?
The second point is about your subscribers. Check your email marketing metrics and analyze the devices and email clients that your subscribers are using. You might be aware of the fact that every email client renders the emails in a different way. To impart a pleasant experience to all your subscribers, hiring an email developer becomes quite essential.
3. How frequently do you need to send emails?
Suppose you are an email marketing manager at an eCommerce store. The success of an eCommerce business depends heavily on email marketing. Whether it is the marketing emails or the automated workflows like cart abandonment, stock replenishment, product recommendations, back in stock, and re-engagement emails, it is advisable to hire multiple email developers based on the scope of your business and scalability.
4. Do you have any budget constraints?
Often, small businesses have to work with limited resources and a tight budget. In such cases, you can outsource your email development jobs to an agency. Once you expand, you can either hire an in-house email developer or scale the outsourcing opportunity.
5. Are you looking forward to creating visually appealing and creative emails?
If you are planning to add animations, CSS elements, or embedded videos in your emails, hiring an email developer must be your top priority.
This point brings us to the next question.
6. What kind of expertise should I look for?
In continuation with the previous point, you must hire an expert email developer who is familiar with HTML as well as CSS to design advanced email templates. In case you are not looking for too many technical things in your email designs, you can go for hiring a beginner too.
7. Which email service providers (ESPs) do you focus on or planning to work with?
Some ESPs require special expertise to work with. If you are using advanced marketing tools like Marketo and Salesforce Marketing Cloud, you must hire a certified email developer who is well versed with the technicalities of these tools.
8. Which values and soft skills must the right candidate have?
Dedication, commitment, honesty, and trustworthiness are some of the most important qualities that an employee should have. In addition to the technical skills of coding flawless emails, the developer must also possess some soft skills like effective communication, time management, and teamwork.
---
Considering all these aspects, you must ascertain whether you will need to hire an in-house developer or outsource to an agency. Also, determine the level of expertise you will need in the employee.
Accordingly, you must draft a suitable job description.
Job Descriptions for Different Levels of Email Development Expertise
Entry-level
Experience needed: More than a year of experience in HTML email creation
An entry-level email developer must be familiar with basic tasks like creating editable HTML email templates for popular ESPs like Mailchimp and Campaign Monitor.
He or she must be able to test the email templates and troubleshoot any rendering issues.
Intermediate-level
Experience needed: 2 to 3 years experience in email development and testing
Apart from the expertise mentioned in the previous level, a mid-level or intermediate email developer must be able to think out-of-the-box and bring a solution to complex coding problems without any difficulty. Knowledge of AMPScript and Velocity scripting is a must for these developers.
Senior-level
Experience needed: More than 3 years of experience in email development
A senior-level email developer must have worked with a team of email developers as a group leader. In addition to the proficiencies mentioned in the intermediate-level email developer, senior email developers should be open to working with different departments of marketing and CRM. They must be research-oriented and adept in setting up email automation workflows and journeys in the email marketing platforms.
---
In-house Email Developer versus Email Marketing Agency
Why outsource?
Outsourcing to an email marketing agency can be of great help to businesses who are looking for a cost-effective option to carry out their email development needs. Moreover, you will get access to a HUGE pool of talent, creativity, and a range of different skill sets.
Outsourcing is always a good alternative if you are looking for better scalability and more flexible options.
As an agency has worked with various clients from different industries, they are well aware of the kind of competition in the marketplace.
When should you not outsource?
If your email development jobs need more control of the processes involved, it is not a good idea to outsource. You might not be able to get instant revisions as agencies work remotely most of the time. In such cases, you must hire an in-house developer.
When should you hire an in-house developer?
Business owners and marketers who are looking for ease of communication and quick turnaround time for any last-minute changes or revisions should consider hiring an in-house email developer. As the person is working only with you, he or she will have deep insights into the brand guidelines and values.
Hiring an email developer will warrant added recruitment and training costs, not to forget the overhead costs and infrastructure maintenance with electricity and Internet bills. You will need to allocate some budget for software tools and their regular upgrades. An in-house email developer might not be as versatile as an agency professional and might not be familiar with the latest trends.
For example: If you hire an email developer and want to send out an AMP email, you might have to train him or her in this technology. Outsourcing, on the other hand, spares you from all this extra effort.
Small businesses that cannot afford a full-time developer's salary should drop the idea of hiring and instead, outsource their email development.
"SALARY" – that brings us to our last section of budgeting of email developers.
How to Budget Your Email Developer Needs?
The average base salary of an email developer based in the USA is somewhere around $50,868 per year.
If we talk about the hourly wage of an email developer, it ranges from $23 to $29. As of February 26, 2021, the average hourly wage for an email developer is $26 in the USA.
However, this depends on the education, additional skills, experience level, and certifications that you have.
The budget of an email marketing agency is a lot lesser than hiring costs.
Take a look at this chart. It shows the email development pricing of Email Uplers, according to the delivery time.
If you are simply looking for creating one or two email templates, you can pay for such ad-hoc development tasks.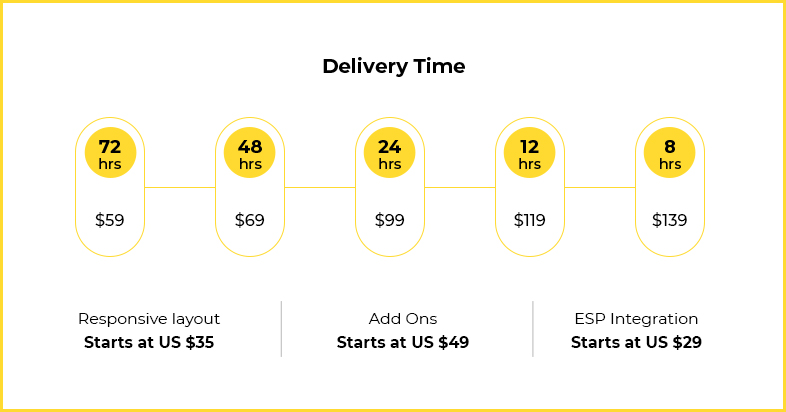 However, if you are a large business sending out several emails to their subscribers, you can go for the dedicated email developer model.
You can hire an email developer according to the level of expertise you are looking for. Take a look at the pricing structure: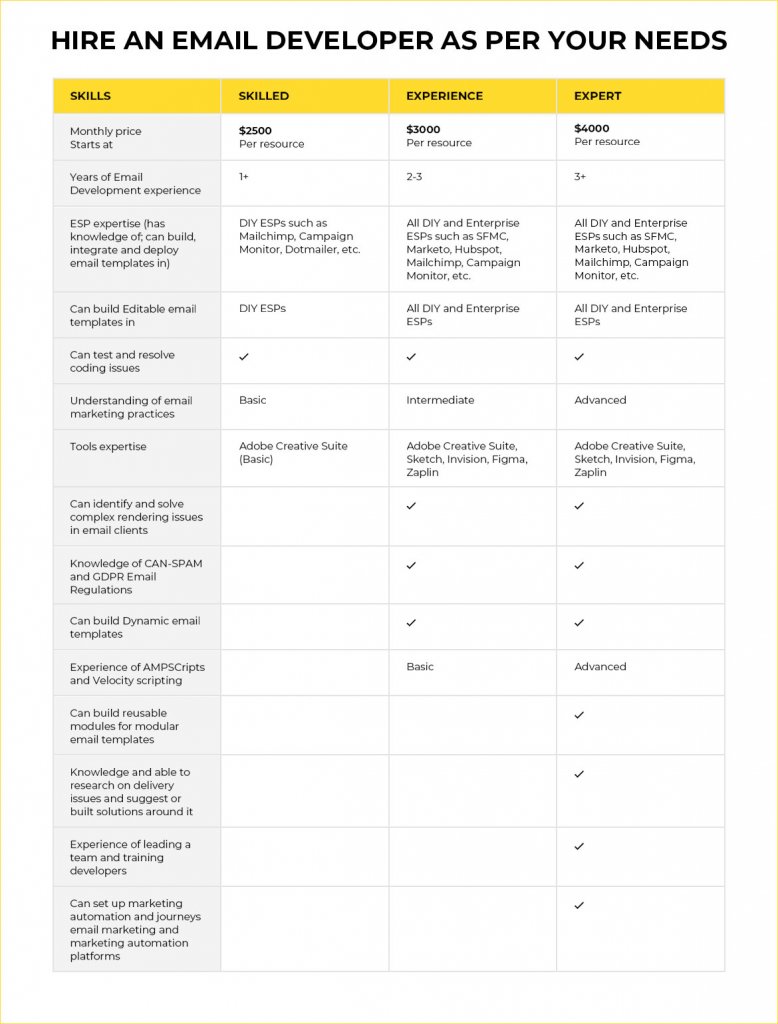 If you compare these prices to the salary of an in-house email developer, it is far more reasonable.
Over to you…
Hiring an in-house email developer comes with too many efforts and takes a lot of investment too. If you want to keep yourself free from all those hiring and maintenance costs, outsourcing is the safest bet for you. Expert email developers at Email Uplers are just an email away.