Customer Relationship Management (CRM) and email marketing— two buzzwords that share a few things in common. For one, they place the customer in focus. Two, separately and together, they facilitate complete marketing automation. According to a 2019 survey, 53% of marketers voted email, CRM, and marketing automation among the most effective kinds of marketing technology invented yet. So, there is a clear link between these two trade tools in the minds of marketers. But, how can they get the most out of integrating them?
Customer Relationship-Building: CRM or Email Marketing?
This is not an either/or question, actually. Both of these marketing techniques are really well aligned to better serve customers. More and more businesses are opting for a CRM-email marketing integration, one that helps frame their communication with customers. And, as the repeat buyers segment is the most accessible and lucrative, marketers invest a significant chunk of time and effort in building, maintaining, and improving relationships with these customers. Seen from the other side, repeat buyers have to feel seen and heard by the brand to continue investing in it. Email marketing comes into play here in a huge way, nowadays drawing data inputs from the CRM system.

Here are four specific ways in which the CRM-email marketing integration aids customer communication:
Personalizing
Segmenting
Following up
Automating
Using the Links of CRM Data to Build Better Bridges
The best thing about a CRM system is that it records and tracks customer interactions at different stages and under different conditions over a period. The result: you're quite spoilt for data and insights on your repeat buyers. Most of these data points can inform and improve your email marketing communication. Let's take a look at some of the ways in which this can happen.
Personal data to Personalize
It kind of goes without saying that a CRM system, first and foremost, records customers' personal data. This is a literal data-mine, the elements of which can be both directly and subtly (and elegantly) woven into your emails. Here are three kinds of emails you can templatize and personalize with customer details.
Birthday / Anniversary Offers
Most CRM forms incentivize the birthdate entry these days—either on the merchant site, through a subscription form, or some other interaction point. This detail is among those you can most easily employ to make your repeat buyers feel remembered. Though big brands like Nike (below) invariably integrate an offer with their email, smaller ones can find quirky ways to celebrate the customer's day, with or without rewards.
Source: Reallygoodemails.com
Milestone Celebrations / 'Thank You' Notes
Everyone loves a bit of nostalgia. It's become extremely pertinent to record and remember a customer's journey with the brand. Their signing-up, the first purchase/service use, the number of months over which they have been buying into the brand—all of these can be looked up on your CRM and cheered on with a simple, sentimentally toned mail. You can choose to celebrate the smallest of things, as Tumblr has done here.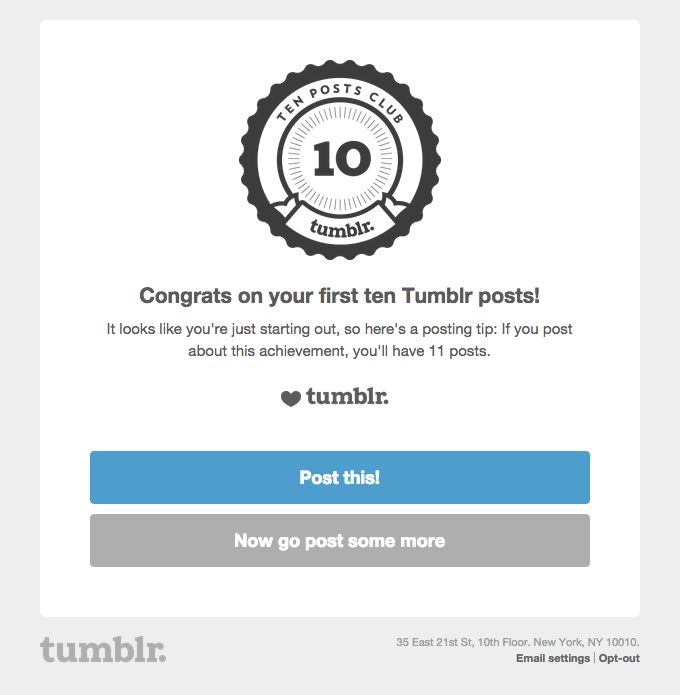 Source: Reallygoodemails.com
Customized Recommendations
Apart from personalization, customization is the other big draw of customer-specific data and insights. Your brand's streamlined communication can be based on repeat buyers' preferences and purchase patterns covering merchandise categories, purchase volume, price ranges, etc. All of these can be recorded and sorted by your CRM system to inform all your marketing efforts, including the most basic and crucial element of emails. Customer preferences are recorded these days typically through a check-off pop-up, mostly on sign-up, as is the case with Meetup.

Source: Reallygoodemails.com


Activity Status to Advocate
How often does your brand track a repeat buyer's activity status? Are they continually engaged or taking an alarmingly long hiatus? How long has it been since they last made a transaction? What's the subscription status of your long-standing customers? All these questions can be answered with some good old automation of your CRM system. An individual customer's dashboard can give you a number of leads on your email marketing to repeat buyers. Below, we describe three kinds of emails you can create from your CRM data to stay engaged with and re-engage customers.
Reactivation Encouragement
Say it's been six months since one of your most loyal, returning customers has made a purchase or recorded a service transaction. It's high time, then, you let them know they are still on your radar as a valued customer. With a subject line that lets them know they are missed, you should reel them back in with an incentive if you can afford to. Or, you can simply include a transactional CTA that would lead them on to an activity/complete an order on your site or app, like the below example.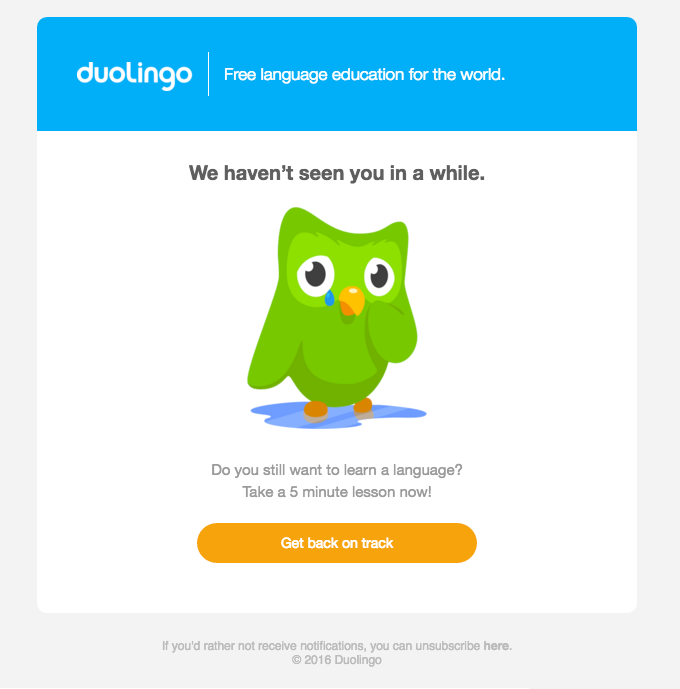 Source: Reallygoodemails.com
Reminder to Renew
One of the easiest ways to ensure a win-win for both the brand and the buyer is to keep your customer continuously engaged in the first place. Do not let them get off the wagon, so to say. With subscription-based merchandise and services continuing to trend, it might mean reminding every individual customer about their subscription status. Instead of shooting off a standard 'Don't miss the last date' communique, you can consider personally addressed, content marketing-based emails, perhaps with a thought-leadership value-add, like YNAB's below.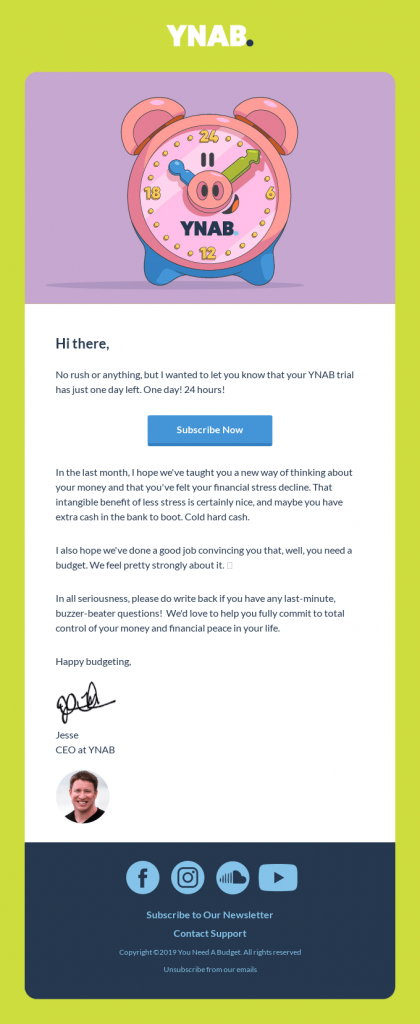 Source: Reallygoodemails.com
Subscription Offer
One of the most obvious tenets to observe as a customer-conscious brand is rewarding your high-value and most-engaged customers a little more. You don't have to dive too deep into your CRM data to draw up this category's spreadsheet. Simply segment, maybe according to current activity and subscription status, and reach out with an offer email. If you can, extend a substantial mark-down to make a proper impact, so they keep coming back. A 50% off, like in the below email, will definitely delight.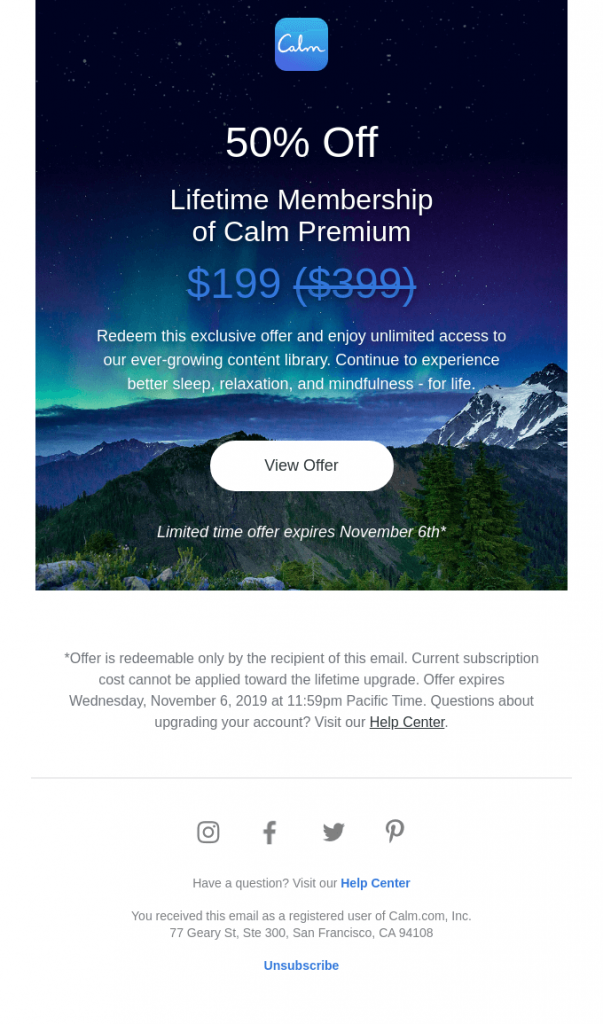 Source: Reallygoodemails.com


Spinning the Social Media Angle
For a few years after social media came into their own, brands were in the dark on how to listen in on their customer's voice on the platforms. With the integration of social media into your CRM software now made possible, it's become easy to track what customers are saying and to gauge if they are tracking what you're saying. Create a unique list of your social-savvy repeat buyers to keep them in the loop. Aptly worded and incentivized, emails to this category can profitably piggyback on their surfing, scrolling, and sharing. Here are three kinds of emails you can consider sending to them.
Influencer Network Building
Influencer marketing is something every digital brand just has to get done these days. You can personalize unique communication to your most engaged customers who have also recorded significant activity levels on their social media pages. If possible, try to incentivize their efforts one way or the other. Otherwise, you can simply applaud, encourage, and also plug in a transactional CTA subtly, as Google Maps has done here.

Source: Reallygoodemails.com
Offers on Review / Feedback
There is no looking beyond the fact that word-of-mouth has never been more important, especially in light of the slants—sunny or stinking—social media can spin on any brand. Customer reviews are definitely a make-or-break thing in the long-term. It's best for a brand to get ahead of the game and solicit reviews. This can be done on the merchant site, social media, or through a survey form. Again, a little incentive will go a long way; it can be a coupon code, early-bird access, or the evergreen 'contest lottery', like that set out in this email.
Source: Milled.com
Content Marketing Sharing for More Shares
Content->SEO->SERP ranks->brand presence->customers and sales.
This flow is a sure-shot way to make the modern marketer's job easier. A majority of online marketers swear by the efficacy of content marketing to keep customers engaged and buying in. You have to keep churning out snappy, relevant content pieces—these could be blogs, videos, or podcasts. One of the easiest ways to promote these for larger reach is through your returning customers. It is particularly lucrative for personal product brands. These, too, can be incentivized, as done in this email.
Source: Reallygoodemails.com


Wrapping Up
So there you have it—just some of the ways in which you can use your CRM data to leverage your email marketing focusing on your repeat buyers. Reflect the essence of every data set and keep the customer front and center in your messaging. A very simple thing to keep them coming back and get bang for your buck on every piece of email marketing.
Want to get expert help on how to spin your CRM data into your retention email marketing templates? Reach out to us.