For many, transactional emails are just something you receive after a purchase. But transactional emails are actually much more than that. You receive this type of emails when you buy your favourite item online, yes, but you can also get one of these when signing up for a new account, or when you need a password reset because sleep deprivation prevents you from getting your logging details right!
Why Should You Love Your Transactional Emails?
Also known as a triggered email, a transactional email is one that is generated after a user takes some sort of action. Because of this, their open rates are up to 8x higher than marketing emails and they keep users engaged for longer. And not only that, but they are also the kind of emails your customers go back to, to check important details and personal information.
There's definitely a great opportunity for marketers to leverage the power of this type of emails to drive even more ROI, but that doesn't mean they are making the most of it. Did you know that 38% of companies are missing out on revenue on their transactional messages?
If you're wondering how you can take your transactional emails to the next level, look no further. We're here to tell you all you need to know.
The Principles Of Marketing in Transactional Emails
Oh, yeah, there are rules for this too. But don't worry, we've outlined them below so you can get started straightaway.
Focus on one marketing goal only
Transactional emails are effective because they have a clear purpose and answer a customer's specific need, so it's important to ensure it's core is not altered. Don't shoot out too many messages and try to drive clients in different directions, or you'll lose their attention completely and they'll master the art of skimming through your emails.
Find a goal, only one, whether that is referral, feedback or upsell, and ensure your marketing message is integrated organically within the rest of your email content. Make sure it flows well and there's a logical reason behind what you're asking your recipients to do, or they'll see right through your forced marketing efforts.
Understand your user's next steps
A big part of finding that one marketing goal and integrating it in your transactional email in an organic way is understanding what your customer's next step will most likely be. Whether this is leaving a review or sharing their experience on social media, renting a car for their upcoming holiday or upgrading to a premium plan, there's always an action you can encourage your users to take to maintain their relationship with your brand. Figure out what that next step is and make it the main marketing goal in your account confirmation, e-receipt or booking.
Encourage sharing
Some of those marketing initiatives that come naturally after a transaction are the referral or feedback strategies. It's sometimes as easy as including a quick message at the end of your receipt that thanks your user for trusting you and encourages your customer to share their experience or recommend you to a friend. Top that with a nice promotion code or discount and you've got a winner. You'll get a nice review or a new user and your recipient will benefit from cheaper price in their next purchase. See? Sharing is caring.
Marketing is not just about revenue
Sure, we all want to use every available opportunity to increase our ROI, but there are other marketing initiatives that might not lead to it directly but help your brand go further. Brand loyalty encourages word-of-mouth, and there's no better way to nurture brand advocacy than ensuring your corporate image and values are present throughout all your email communications.
Remember, transactional emails are not just simple confirmation messages. They need to be consistent and contribute to your overall positioning. There's nothing like telling your company's story when people are paying you the most attention.
Marketing Ideas for Your Transactional Emails
Want to see the principles in action? We've selected our favourite email examples so you can see how these ideas can look like in your own triggered messages.
Encourage engagement
Whether it is by asking users to share their views on social media or by suggesting ideas to get started with your product or service, transactional emails are a great place to encourage users to engage with your brand in different ways.
If you have an ecommerce shop, you might want to ask users to go over to Twitter and share a picture of themselves with their purchased item, providing you with valuable user-generated content (UGC) that you can then leverage in your marketing campaigns. Or maybe, if you provide a service online, you might want to get new users started straight away. Check out how Instagram does it below.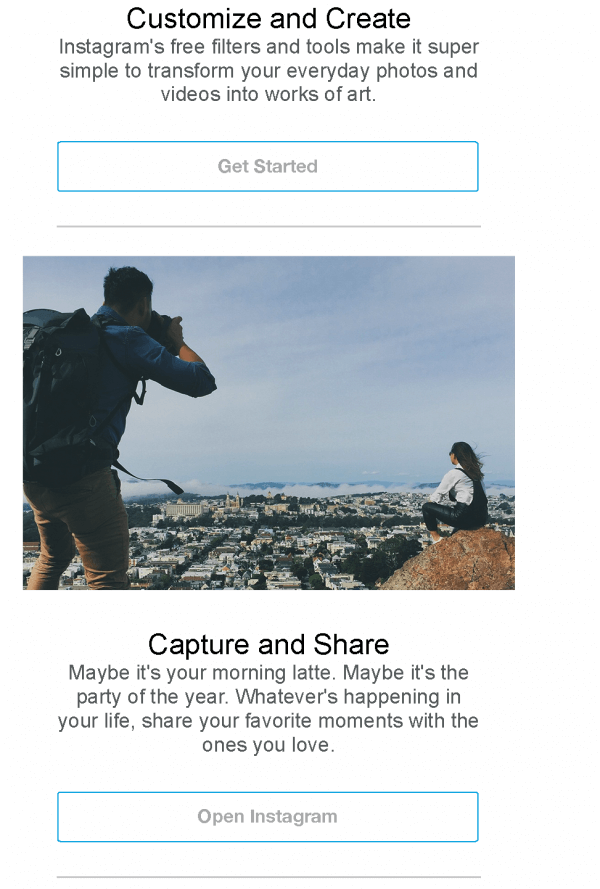 Build brand advocacy
We've already mentioned how important it is for a brand to build loyalty and to turn customers into advocates. Have a look at Buffer's amazing e-receipt, in which they take advantage of your interest to share a great team picture and give you a taste of their company culture. It certainly makes them likeable, doesn't it?

Add a referral campaign
Uber is great at encouraging its users to invite friends over to its platform by adding a call to action at the end of their receipts.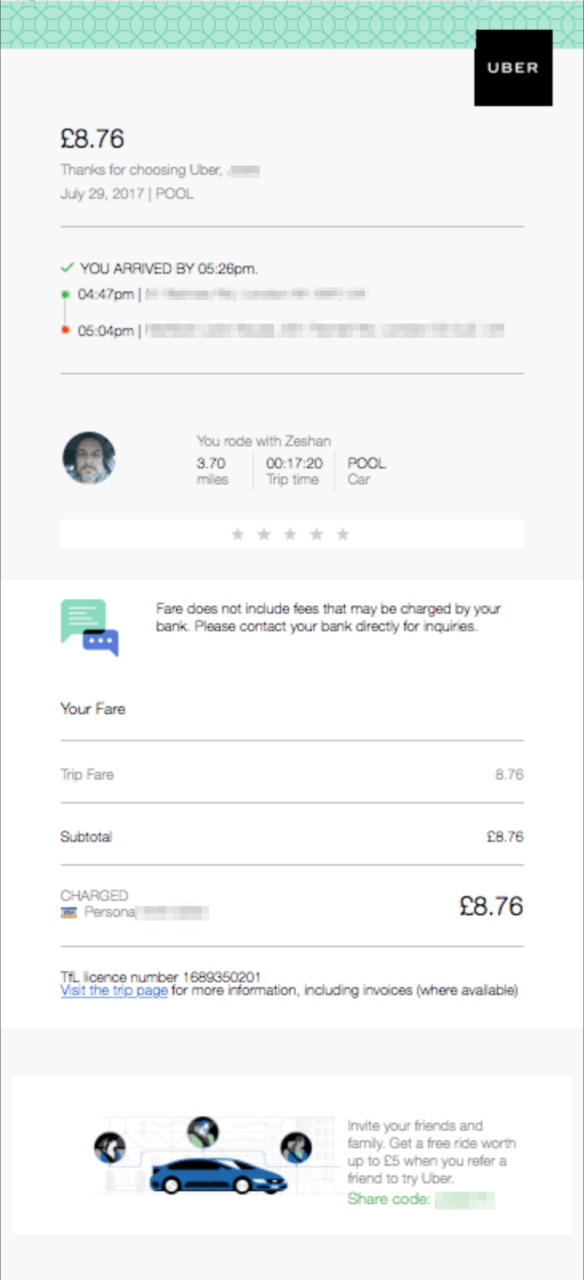 Just keep in mind that this shouldn't be the most important element within your transactional message, but rather a little extra help for happy customers to benefit from. Do you really think your users are going to be willing to share a referral code with their friends if it takes them too long to find the information they're looking for in your confirmation email?
Feature an upsell or cross-sell
Confirmation emails are the best place to offer upsell or cross-sell opportunities. Surely, we've all seen airlines do it when we book a flight. Do we want to choose our seat? Hmmm… maybe closer to the date. What about insurance? Nah, already got one. A special offer on accommodation at my travel destination? That one, I'll definitely use!
There's always an opportunity to recommend related product or services, or to tempt users with an upgrade. Have a look at how Amazon offers cross-sell recommendations based on recent purchases in their order confirmation emails.

Feedback
There's nothing as valuable as a positive customer review. Anyone who has had a bad experience with a product or service before, and wished they would've researched a bit more before buying, knows that detailed reviews are more helpful and trustworthy than the most expensive marketing campaign.
Sometimes, happy customers will willingly click over to your survey or recommended review site, other times you'll need to give them an extra nudge with a promo code or discount. Check out how GoDaddy does it below.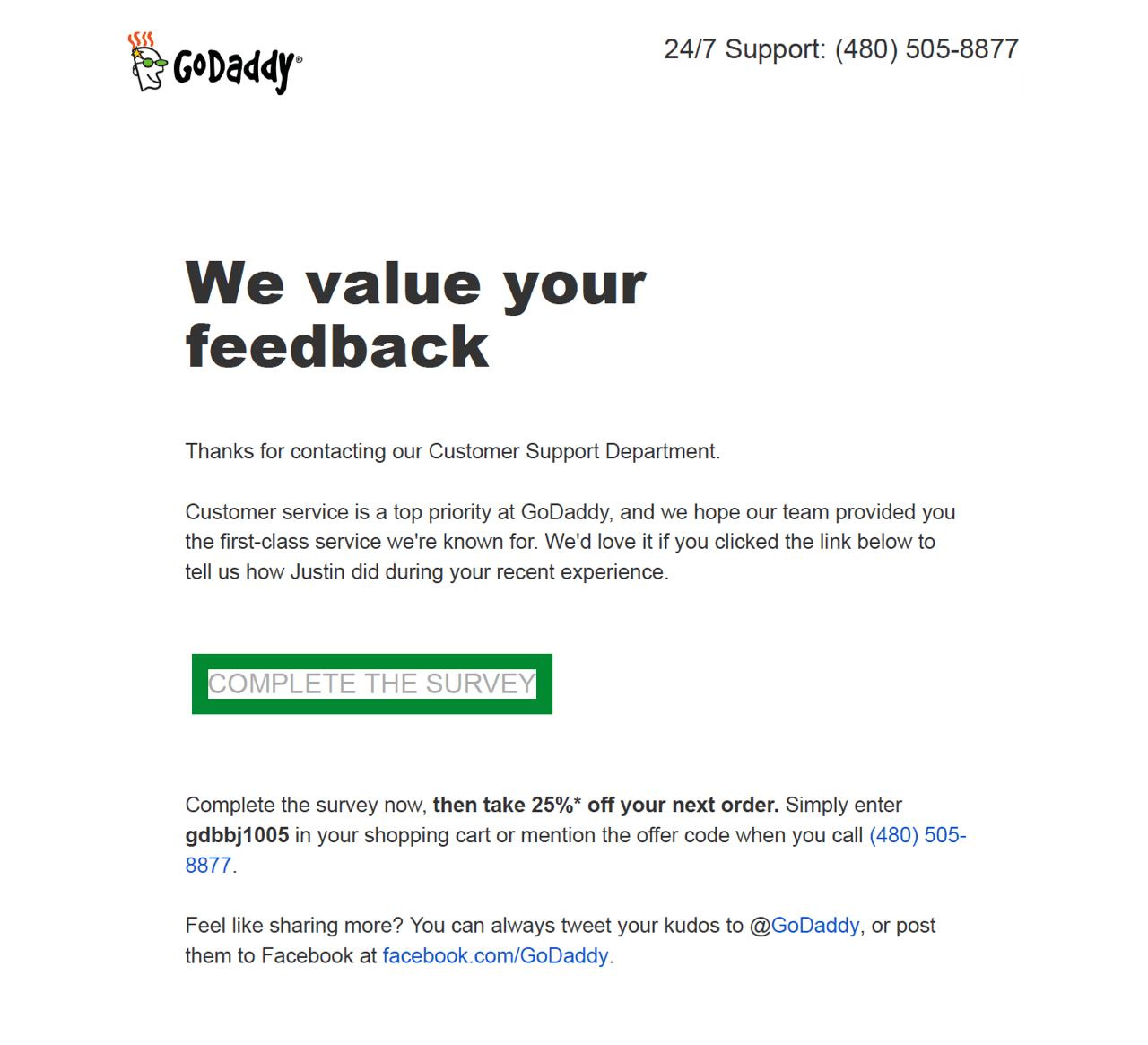 As you can see, the opportunities for transactional emails as a channel for your marketing initiatives are not one to be ignored. Keep the key principles in mind and try some of our ideas to make the most of your triggered messages, but don't stop there. Be creative and think outside the box to find how merging the power of transactional and marketing emails can work best for your company.
About Author:
"Bea Redondo is the Content Manager at Mailjet, Europe's leading email solution provider. Bea spends her time planning, writing and editing, and works with the Mailjet Content team to find new and better ways to spread the email love around the world."