The use of emails is spreading like wildfire among many not-for-profit organizations. It's a leading channel for communication for marketers along with being an ever expanding medium. According to a statistical study by MailChimp, the average open rate for nonprofit email marketing is 25.96%, compared to the universal email open rate of 6%.
However, another study indicated that nonprofit organizations lose out on around $14,000 per year because up to 12% of their emails are categorized as spam.
The Uplers have found divine ways to target, expand and engage the subscribers of non-profit-organizations through emails.
Expand Your List, To Grow Yourself
Make sure to have a budding subscriber list. If subscribers can donate their time, money, goods and services to your organization, then sharing their emails or referring an email wouldn't be a task. If they really like what you do and support your cause, it is possible that they will refer your organization to others. This can help in expanding your list strength.
List Segmentation Is Necessary
Segmenting your list according to age, gender, interests, location, etc. can help you target your subscribers better. This will also help in more engagement as the subscribers are getting content and information that affects and interests them.
Personalization Is The Key
Having personalization as part of your email campaigns can really touch a subscriber's heart. This can help make the subscriber feel in sync with your cause and at the same time make you feel important. Make sure to have your email subject line, opening and body copy as interactive and personalized as possible. Most people think that a Not-For-Profit email is boring and full of requests for donations. You can take a different approach.
Be Mobile Ready for Interaction
According to CampaignMonitor statistics, 53% of emails are opened on mobile devices. Thus this indicates that you need mobile renderability. Having email templates that can be automatically optimized, are easy to read and access on the go.
Be Time Ready
Make sure to have an opinion. Have a cause and time ready approach on recent events. Send newsletters and emails that are engaging and interactive. Have videos in emails that can give a glimpse of the event and keep the subscriber hooked on. Timeliness is a key aspect of being on point.
Here are a few Non Profit Email examples and inspirations to help you achieve what you're looking for:
1> Organization – Give Animals A Voice
Make sure to have a forward button in your email like 'Give Animals a Voice' has done at the footer of their email. They also have a section where the subscriber can tweet their latest updates – thus, making the organization and its work visible in social media. Having a story that the subscriber might be able to relate to can be an added advantage for your organization.

2> Organization – National Wildlife Federation
A great way to get the subscriber involved. National Wildlife Federation's email asks the subscribers to send in images of their children reading a book and if they win their image will get featured in the next newsletter. This is a great tactic to get the subscribers to make a move.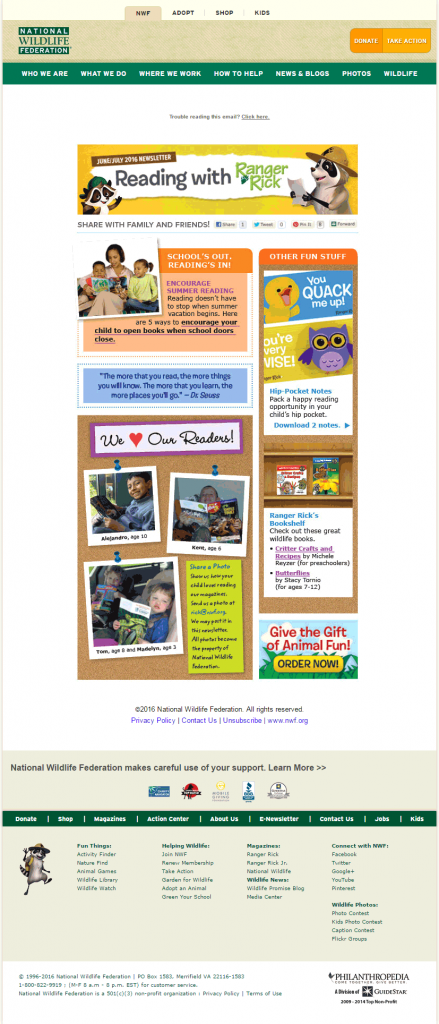 3> Organization – Dogs Trust
An extremely attractive email by Dogs Trust. The invitation email for a superhero run is a catch in itself. The comic effect to the email is giving it a boost of colors in the images and text. The Call-To-Action for registrations is loud and clear.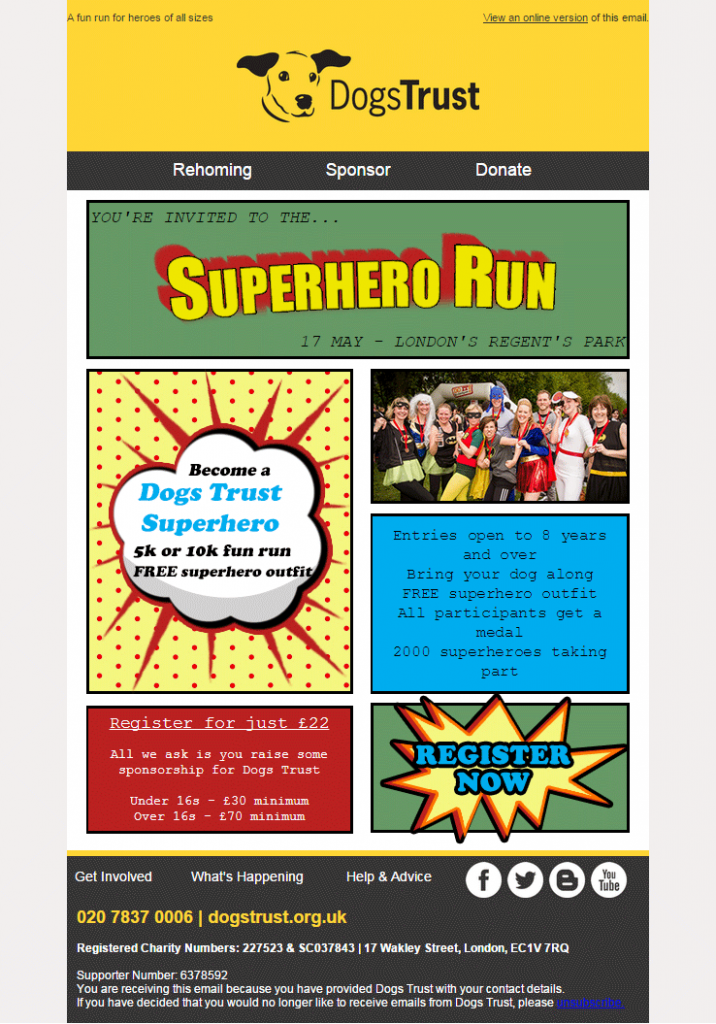 4> Organization – Charity: Water
A video in the email by Charity: Water is a great way to involve the readers for a light and quick walk through your campaigns. This is also a great way to increase clicks and get the subscriber involved in some more events and campaigns.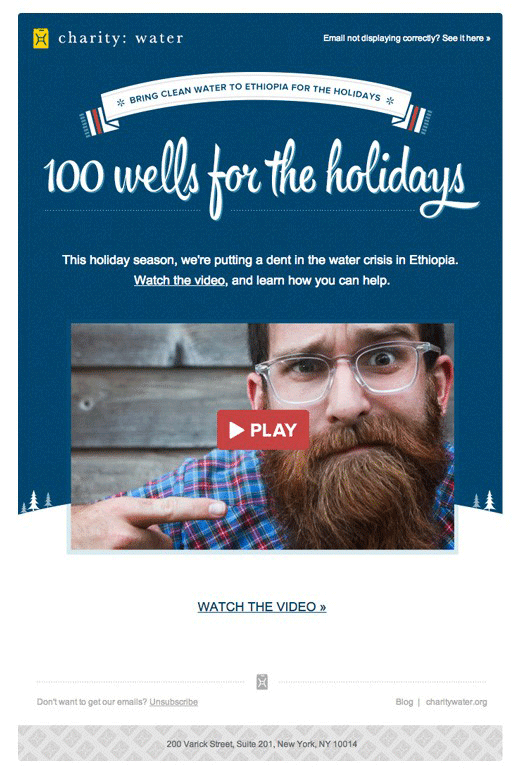 ---
Uplers believe in being charitable
Charity is built on goodwill and so, if you are a non-profit organization, Upler's NGO policy is our contribution to your success
5> Organization: Trickle Up
A very simple yet catchy email by Trickle Up as they start off with a very alarming statistics of their upcoming event. They go to ask the subscriber to join an inspiring conversation on their trending topic. It's a step further where the organization wishes to have a physical interaction with the subscriber and is inviting them for a speech.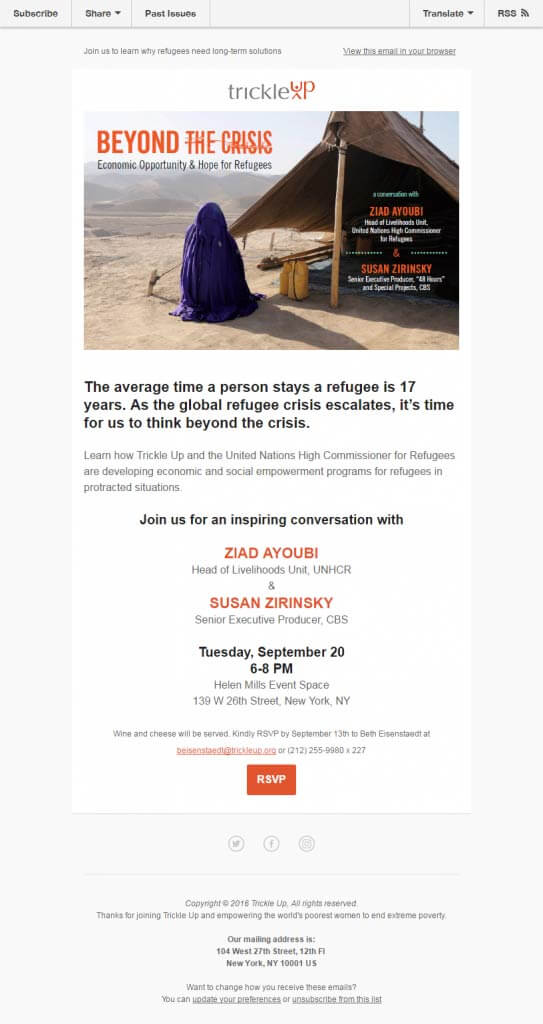 6> Organization: WWF
WWF asks its subscribers to go all over Twitter and make some noise regarding their latest campaign to save the Amazon forest and habitat. They also give a heads up on how the subscribers can help in doing so. This effortless way to involve subscribers is catchy and interesting.

Wrapping Up
Not-For-Profit emails are a great way to create a doorway for interaction, between the organization and subscriber. The above not-for-profit email marketing tactics not only help in improving your reach and audience response, it is also a great way to build trust for your organization.