The 4th of July is one of the most celebrated occasions in the USA as it honors the American glory of Red, White, and Blue. If we look at the 2021 trends, 84% people planned to celebrate Independence Day last year. Out of them, 29% planned to purchase additional patriotic items.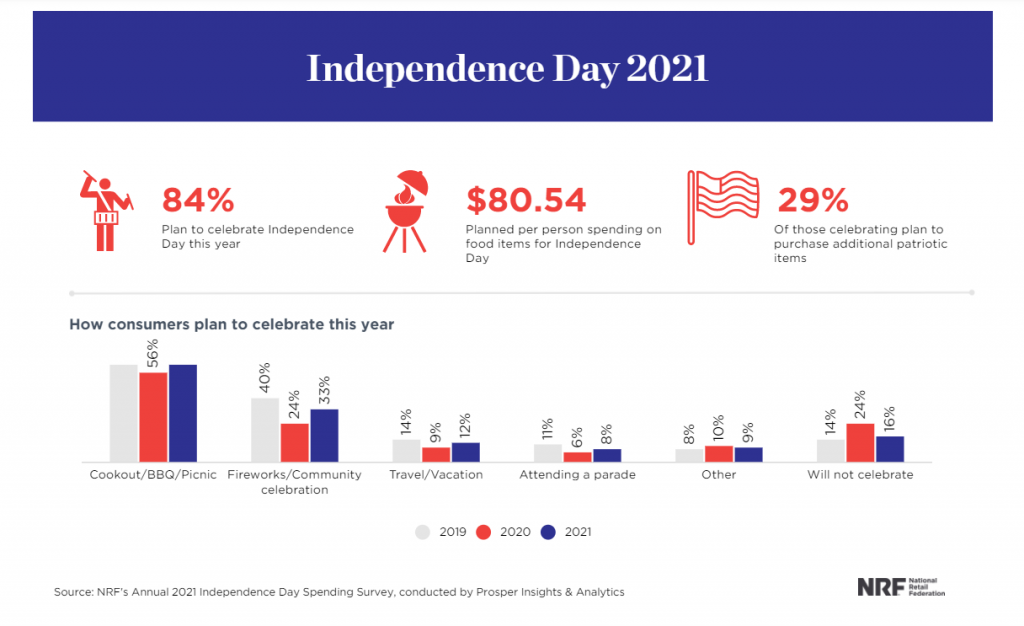 People are looking forward to parties, shopping, and hanging out with their near and dear ones. To keep driving sales during the entire 4th of July week, you must put your best foot forward when it comes to planning the marketing strategies. As emails bring the maximum ROI of $36, marketers must pay special attention to this channel and start planning well in advance.
We have curated 20 of the best email designs that will give you several ideas to plan your campaigns.
Are you ready to get inspired? Let's go… on an email spree….
1. The Foggy Dog
Subject line: Just in: NEW July 4th
People love buying patriotic items for themselves as well as their pets to celebrate the 4th of July. The Foggy Dog has promoted their products with attractive images. The visuals show the usage of those items and entice the readers to make the purchase. The images are accompanied with engaging text that talks a bit about their products. The best part is that they have not overloaded the email with too much information or CTAs.
Toward the end of the email, they have promoted their summer collection too. Also, notice the cute illustration that brings attention to their philanthropic approach.

2. BauBax
Subject line: Surprise! Independence Day Sale Continues
The subject line itself conveys what the email is about. Interested users will surely be tempted to see what's in store for them. The GIF displays their pretty footwear in the hero image along with their promo code. The next fold talks about their extended sale of an extra 20% OFF and creates a sense of urgency by using phrases like "available until midnight" and "before it expires". It would be a good idea to promote their social media handles in the footer to get organic followers.

3. Vavoom Vodka
Subject line: Discount To You Or Your Friends
If you are looking for ideas to acquire customers this Independence Day, check this email by Vavoom Vodka. They have subtly asked the readers to forward the email to 5 friends and promote their 4th of July sale. The fireworks in the hero image set the user in the Holiday vibe.

Pro-tip: Include something like this to make the new users a part of your email list (even if they do not make the purchase).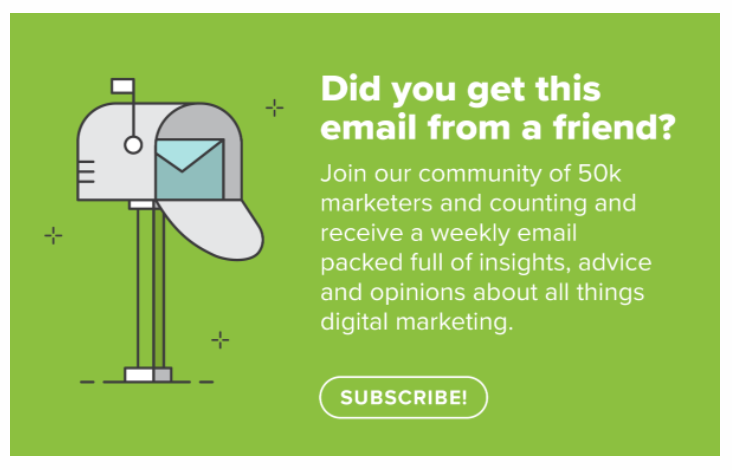 4. EMF Harmony
Subject line: Use code: JULY4-20OFF for 20% OFF
I like such subject lines that do not beat around the bush. It will provide the user with all the required information that can help them decide whether or not to open the email. Every fold in the email has something unique for the reader.
First fold: Gradient with a muted color palette showing an entire family using their products.
Second fold: Countdown timer to drive instant purchases.
Third fold: Reiterating their offer and letting the users know the usefulness of their products. (Also, the subtle gradient again!)

5. Grace and James Kids, LLC
Subject line: RWB 30% Off! Shop Now!
Grace and James Kids, LLC has started promoting their 4th of July sale from May itself. That's what planning in advance looks like!
They have tactfully used a perfect combination of red, blue, and white to promote Memorial Day, 4th of July, and summer patriotic products. They have used a GIF to make sure that the readers do not miss out on the same. In case the user has images blocked on their email client, they will be able to get the message from the copy below it. This is important from an accessibility point of view too. In the subsequent sections, they have added images to endorse the lovely products on sale. The last fold recapitulates the offer to reinforce the customer's impulse to shop.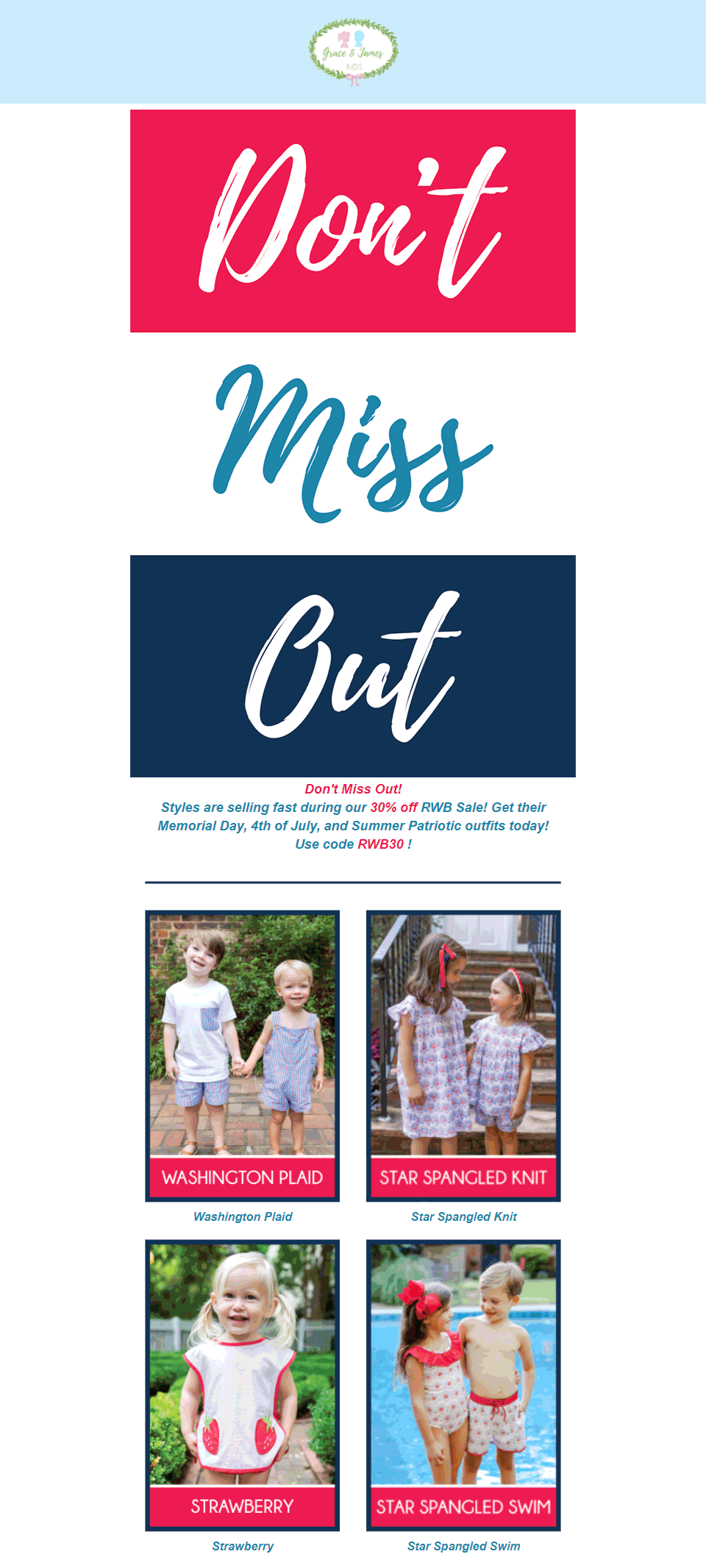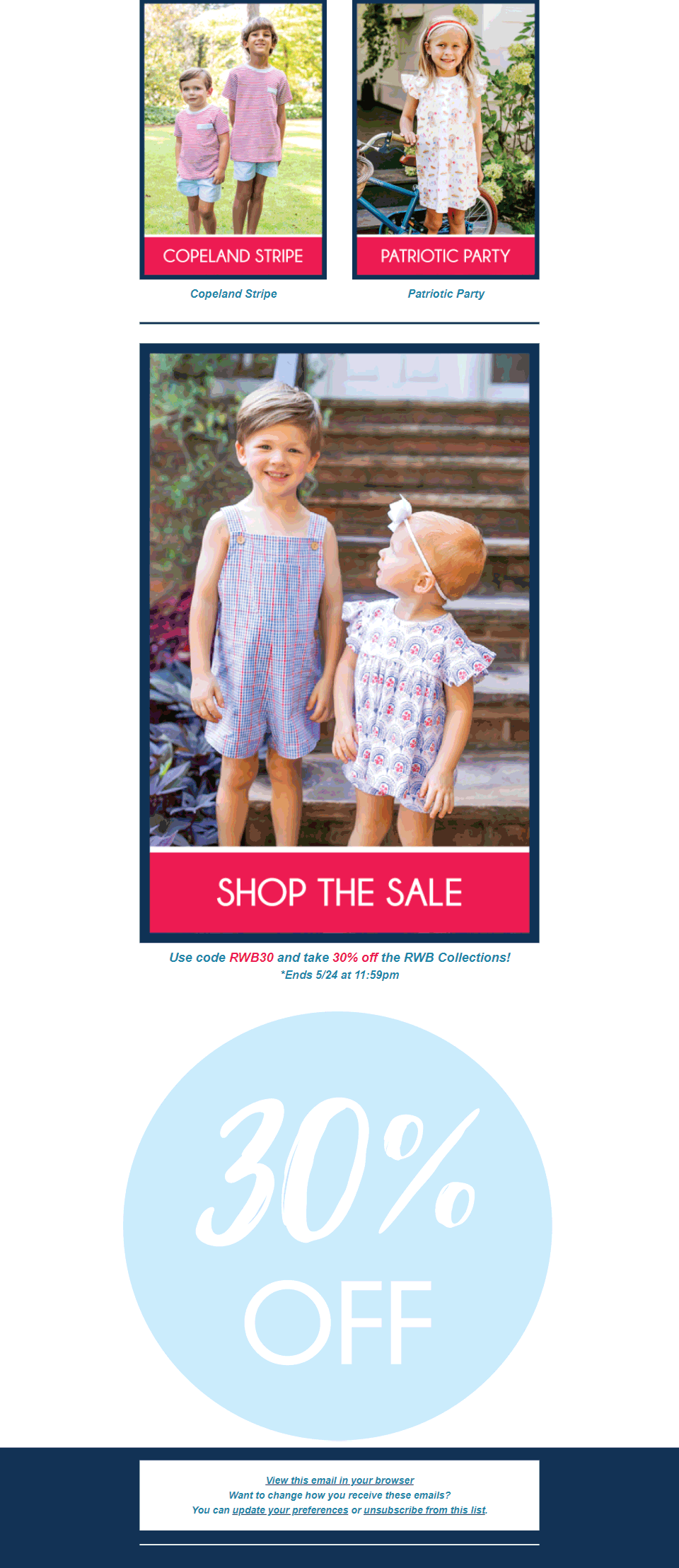 6. Lenox.com
Subject line: The Celebration Ends TONIGHT!
Lenox.com has sent an email to remind the customers about the final hours of the 4th of July sale. The email keeps it simple with a fireworks animation to promote their 25% Off sale. In the next section, they have promoted different types of products (Eat, drink, decorate, gift) available in their store. If your copywriter has left for greener pastures (or is on leave), you can focus on visual marketing as shown in this email.

7. Zak Designs
Subject line: Happy 4th of July
Very few brands focus on bringing attention to their logo. Zak Designs is one of them. They have garnished the logo with clever animation. It is a good way to make people remember your brand. The hero image with red, blue, and white shades conveys the patriotic sentiment. The copy lets the users know about the features and vision behind their products, followed by a clearly visible CTA. The email is short and engaging enough to prompt people to convert.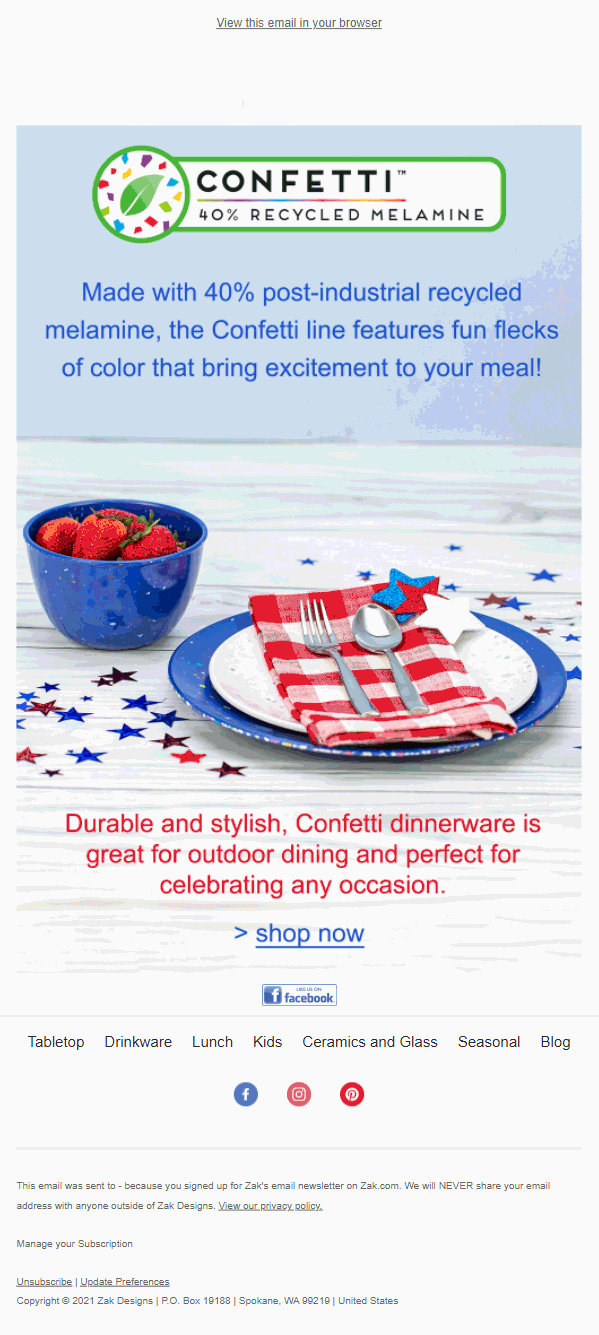 8. Unique Vintage
Subject line: Up to 80% Off > Fireworks & BBQs
Emails are the perfect channel to promote your social media handles. That's exactly what made this email stand out. Besides promoting their summer and 4th of July sale with a starry animation, they have drawn attention to their Instagram handle with a simple GIF that emulates Instagram stories. Furthermore, they have also promoted their rewards program to increase the likelihood of conversion. The entire email offers multiple options to the users to take action. You can either take this approach or go the minimalist way and focus on one thing to promote. It depends on your target audience, the type of business, and the objectives of your email campaigns.

9. L By Miss L-Fire
Subject line: Final call for VIP discount
All images and no text make emails a dull entity. L By Miss L-Fire strikes the perfect balance between visuals and words in their Independence Day email. Rather than using fancy typography, they have formatted the text with a red and blue color font face. The red CTA is prominently placed and in contrast with the remaining email.

10. Pethonesty
Subject line: Was the 4th of July stressful for your pup?
If you are a pet wellness brand, you can use post-Holiday marketing strategy to promote the calming collection. Pethonesty has used an endearing and relatable hero image to endorse their products along with a tagline: Were 4th of July celebrations stressful for your pup? They have chosen the PAS (Problem-Agitation-Solution) formula to present their products and drive conversions. The teal and ochre yellow color combination is easy on the eyes that is in sync with the kind of products they have promoted.

11. Fragrant Jewels
Subject line: Reveal a 4th of July surprise! 💙
Fragrant Jewels has taken an interesting approach to get people to purchase from them on Independence Day. The email simply taps on the inquisitiveness and "FOMO" instinct of the users, to get them to click on the CTA.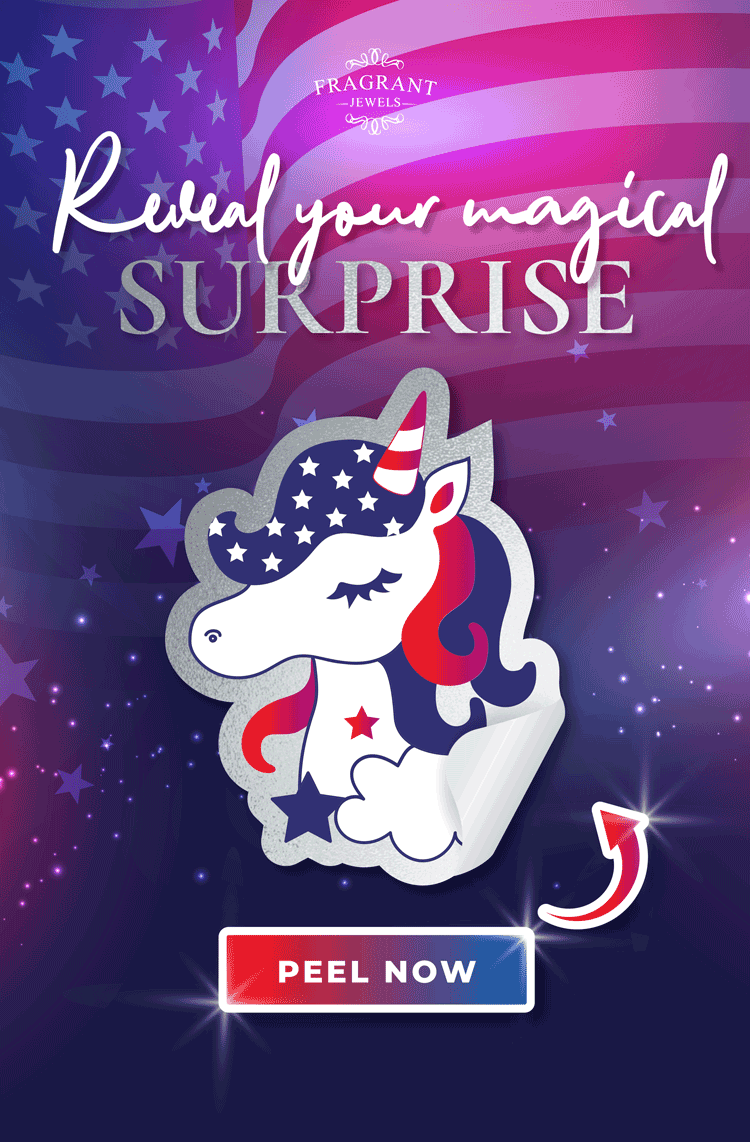 On clicking through, the users will be redirected to a landing page that asks them to pick their ring size. Once the user does that, they will be asked to "click to peel" and an exciting prize will be revealed.
https://www.fragrantjewels.com/lpsrv/671_patriotic_unicorn_peeler_sizes.html
Their Independence Day email campaign is a perfect example of an omnichannel experience in which the email as well as the landing page are perfectly in sync with each other.
In case the user does not open the email, the same email will be deployed with a different subject line – Re: Your 4th of July bonus gift is waiting… 🇺🇸 💙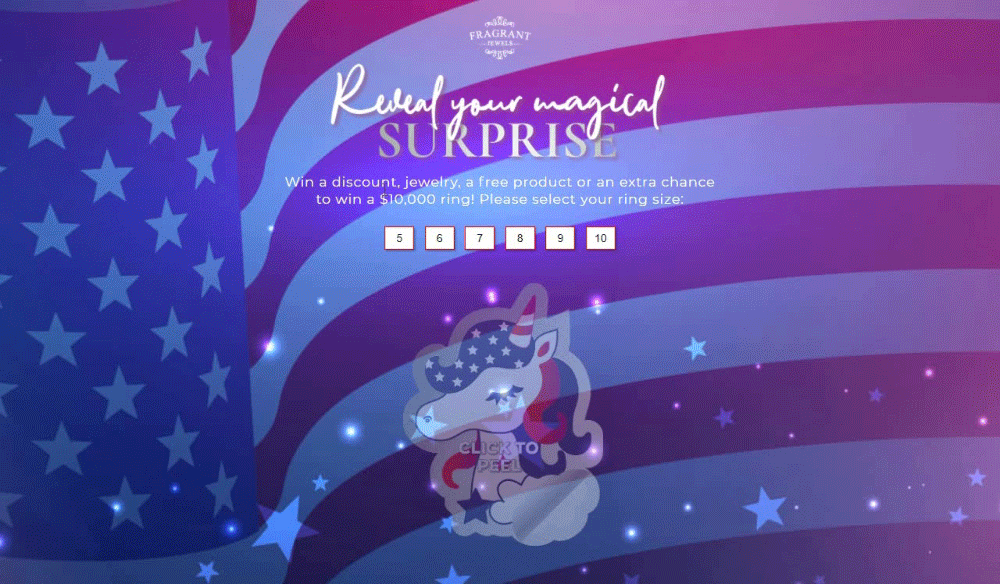 12. Weight Watchers
Subject line: Red, white, and just for YOU
If you are looking for some inspiration for a creative animation, take a look at this email. It is a minimalistic yet visually rich email design. They have chosen the perfect combination of muted and vibrant colors to match the Independence Day mood. The centrifugal type of GIF draws attention to their Holiday offer. The CTA verbiage, design, and placement is perfect to draw maximum click-throughs.

Oh, and did you know how we have been helping Weight Watchers consistently since 2017?
We have created more than 1900 templates for them so far.
Read the case study here: How Email Uplers and its dedicated cross-functional team helped Weight Watchers
Wrapping Up
Animated typography, fireworks GIF, illustrations, aesthetic images, gradients, innovative CTAs, and minimalism are some of the design elements you can use in your 4th of July emails. You can even try out interactive elements like countdown timers, hover effect, and gamification in these emails to enhance the visual appeal and subscriber engagement.
Looking for such stunning email templates and to ace your email strategy like Weight Watchers?
Get in touch with us NOW>>