Over the last couple of years, owing to the pandemic, the recruitment model followed by most businesses flipped on its head. In-house recruitment, which used to be the standard until 2019 and early 2020, found itself, within a few months, to be obscure to no end. Around this time, slowly but surely, the practice of offshore hiring started to peak its head. Cut to the present, offshoring has pretty much become the norm for a large number of organizations out there.
Goes without saying, this convention remains the same when it comes to onboarding email marketing resources too. Whatever your requirement- from email developers to campaign managers to automation specialists- you are highly likely to get it fulfilled by turning to an offshore agency. However, to get the most out of offshoring, there are certain things that you must take into account. In this blog, we delve into those very factors. We'll discuss five crucial things you must take stock of while hiring an offshore email campaign manager. Ready to find out what they are? Let's go!
1. Location Of Agency
One of the first things you should check before approaching an offshore agency is the region in which they're based.
"But aren't offshore agencies present everywhere?"
Sure, they are. But, not every country has access to world-class infrastructure, right? And that plays a big role in determining the quality of service they can deliver. No matter how skilled the personnel of a particular offshore agency is, they won't be able to give you their best if their agency is deprived of top-notch infrastructures such as high-speed internet connection, robust data centre and storage facilities, state-of-the-art software, and the like. Partnering up with such an agency will only lead you to encounter roadblocks at every stage of the developmental process.
Additionally, it is also important to target a region where the individuals have a firm, if not fluent, command over the English language. The lingua franca in several countries, English is also the primary mode of business dealings across the globe. In such a scenario, if the resources provided by your offshore company aren't proficient with the language, it can make life incredibly tough for you (more so when you are hiring for roles in the upper hierarchy, such as email campaign manager).
Lastly, you should always look to approach a region where you have conducted business in the past. Onboarding resources from a place with whose work culture you have a certain sense of familiarity will make things significantly easy for you. Don't hold back if there are certain language and cultural barriers between you and talent from said region. That can always be resolved with a bit of training at either end. But, finding someone whose mode of operation is known to you? That doesn't come easy.
By shaking hands with Email Uplers, you get to onboard skilled and pre-vetted resources from India, a country regarded to be the most attractive destination to offshore business services at the moment. Factors such as abundant availability of staff and skills, financial attractiveness, digital resonance, and the presence of a dynamic business environment contribute to its enviable position.
Take a look at the graph below for further clarity.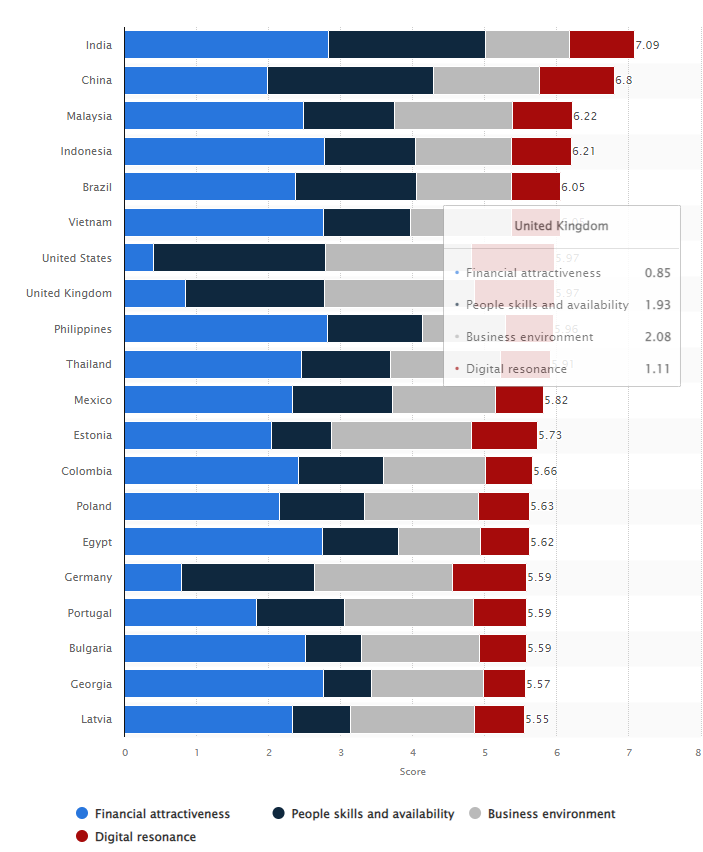 2. Cost Efficiency
Recruiting an email campaign manager from an offshore agency promises to give you a greater bang for your buck than hiring one in-house. The reason behind it is relatively straightforward. When you hire any resource in-house, your costs are not limited to just paying their salaries. You also have to bear infrastructural, maintenance, and operational costs. Not to mention the additional expenses that go toward the skill development of your recruits. And to design and run a successful email campaign, you need a lot of resources (besides an email campaign manager, of course)- designers, copywriters, developers, and automation experts. Should you proceed to recruit all of them in-house, you'll find your budget stretched dangerously thin.
The table below showcases the in-house talent costs of an email campaign manager, and other resources, in the US and UK.
| | | |
| --- | --- | --- |
| Talent | Average in-house talent cost (In US) | Average in-house talent cost (In UK) |
| Email Campaign Manager | $69,418/yr | £36,278/yr |
| Email Designers | $63,822/yr | £27,493/yr |
| Email Developers | $65,861/yr | £26,781/yr |
| Email Automation Experts | $78,188/yr | £37,161/yr |
Now, let's see the cost of onboarding a dedicated campaign manager from Email Uplers. You can avail of our trained campaign managers (who are fluent in 50+ ESPs along with being certified in Marketo and Salesforce Marketing Cloud) starting at $1750/month for Non Enterprise ESP (For your reference, Enterprise ESPs are Marketo, Adobe Campaign, Salesforce, Braze, and Eloqua). That translates to nearly $21,000/yr, which is considerably budget-friendly compared to the prices listed above.
One of the primary reasons behind the rapid growth of offshoring in the past few years is because, in this model, one is charged only for the specialized skills of the concerned resource, sparing them of all the extra costs associated with the in-house model. To cut costs further, you can also try approaching an agency situated in a region where the labour costs are considerably lower than yours.
3. Nature of Requirement
Offshore agencies give you the cushion of onboarding resources with varying levels of expertise depending on your requirement for a specific project. At Email Uplers, for instance, one can choose from 3 levels of Campaign Managers- Campaign Manager, Campaign Specialist, and Campaign Expert.
The scope of each level is presented in the table below.

No two email campaigns you run will ever be the same, so having this sort of flexibility at your disposal is rather handy. Besides, offshoring agencies also allow you to hire resources on both, a full-time as well as a part-time basis. Say you want to run a special holiday season campaign. For the same, you can onboard a campaign manager who has a proven track record of running successful and high-converting holiday campaigns, on a part-time basis, instead of inducting one full-time. This is something that the in-house recruitment model doesn't allow you to do.
4. Credentials Of The Agency
Never ever proceed with signing up resources from an offshore agency unless and until you have conducted a thorough background check on them. With offshoring witnessing a meteoric rise, there now exist several hoax entities in the market. Hence, you must verify the profiles of all the agencies you shortlist before partnering up with them.
We know what you might be thinking- "How can I tell whether someone is the real deal or not?"
Well, there exist quite a few gauging parameters to determine an agency's credibility. The points listed below illustrate the same.
A reliable way to measure an offshore agency's growth is by scanning through its annual financial statements. To get a solid picture, go through their statements for three successive years. While doing so, ensure that you examine both their net income as well as revenue growth.
To gain an idea regarding the company's financial health, investigate its debt/equity ratio.
Look up how long they have been plying their trade in the market.
Try to analyze the tone of their website copy. Counterfeit agencies often tend to oversell themselves by using spammy language and misleading claims.
Search the web for customer reviews and testimonials. They're an excellent way of assessing an agency's reliability and stability.
While approaching them for the first time, request them to share a few customer references with you. It's a perfectly standard practice. There's no better way of gaining clarity regarding an agency's modus operandi than by talking to their past clientele.
Ask if they have worked previously with any clients from your region. As we mentioned before, partnering up with an agency whose work culture you are familiar with (or vice versa) is a huge bonus.
5. Commitment to Data Security
As you begin work with an agency, they'll have access to your market research, plans, trade secrets, and a host of other sensitive data. Therefore, make sure that the agency has a history of unwavering commitment to data security before entrusting them with your project. While drawing out your contract, you must include clauses explicitly stating that the professionals hired from the agency will, at all times, protect your intellectual property and data. Sound them of the consequences that await them, as well, should they happen to violate any agreement. In an offshore setting, one typically exercises lesser control over talent in comparison to an in-house setting. Hence, the importance of a detailed and watertight outsourcing contract can't be overstated.
Wrapping It Up
Embracing the offshoring model can greatly benefit your business, but it all boils down to whether you manage to select the right agency and resource or not. We hope that the pointers shared above make your resource- and agency-hunting a breeze, enabling you to find a skilful email campaign manager who will make your campaigns the talk of the entire town.