The verdict is in: personalization matters.
Salesforce found that 66% of consumers expect brands to understand their needs. Another 52% expect offers to always be personalized. But 66% also say that brands still treat them as "numbers", not unique individuals.
Lack of personalization can have a tangible impact on your brand's performance because:
For 70% of consumers, brand loyalty depends on how well a company understands their needs.
72% will only buy from brands that send personalized marketing messages.
80% consider personalized experiences as important as products and services.
One of the best ways to incorporate personalization into your brand's messaging and content is via email marketing. Fortunately, personalized email marketing is not as difficult as you might think with an Email Service Provider (ESP) like Salesforce Marketing Cloud (SFMC).
This guide will show you how to leverage SFMC to understand customer behaviors, sentiments, and preferences and then to use this data to guide your personalization efforts. Thanks for reading!
Collect the Right Amount and Type of Data
You've probably heard the phrase "data is the new oil". The data you collect about your customers is as precious as oil because it can help you create personalized email campaigns. The right amount and type of data removes the need for guesswork so you can take better decisions that generate desirable outcomes like more email opens, more click-throughs, more subscriptions, and more buys.
Start by first identifying the data you will collect:
Demographic/identity: Location, age, gender, marital status, etc.
Behavioral: Pages viewed, CTAs clicked, emails opened, etc.
Descriptive: Lifestyle, career, family, etc.
Qualitative: Opinions, attitudes, motivations, pain points, etc.
You can collect all this data from customer surveys, interviews, post-purchase feedback forms, and social media engagement. But it's not enough to simply collect data. To understand customers better and to enhance your email personalization capabilities, you need actionable insights.
To garner these insights, you must connect the various data points to create a cohesive picture of each customer. For this, SFMC is ideal. With SFMC and its Customer Data Platform (CDP), you get a 360-degree view of every customer. You can understand their history, interests, and behavioral patterns in order to:
Design relevant email messaging and experiences tailored to their needs
Personalize every moment of their brand journey
Continually assess campaign performance to meet your goals and elevate your brand's value
One way to design personalized experiences in SFMC is via AMPscripts in Email Studio. With AMPscripts, you can automatically clean and format customer data and create personalized commercial or transactional emails based on this information. You can also add dynamic content to emails to impress customers and track impressions to gauge and optimize campaign performance.
Segment Your Audience Based on Behaviors
Behavioral segmentation is a useful and effective personalization strategy. It involves assessing customers' behavioral patterns to improve email marketing personalization. By reviewing how customers have behaved in the past, you can understand what they like, don't like, and prefer. Then you can create a unique profile about each customer which can help you design personalized email campaigns that resonate with them and bring them closer to your brand.
There are multiple ways to implement behavioral segmentation in SFMC:
Occasion-oriented: This is when someone purchases a product for a specific occasion, such as a holiday (Christmas), special event (Black Friday), or a personal milestone (birthday).
Usage-oriented: Observe the number of times a consumer uses your product to guide your personalization strategy.
Loyalty-oriented: Focus on loyal customers to boost your customer retention rates.
Benefit-oriented: Try to understand the benefits that customers are looking for in your product: price, design, variety, luxury quotient, etc.
Behavioral segmentation requires active listening. Why do customers behave a certain way? Are these behaviors determined by their backgrounds or lifestyles? Do behaviors change with the seasons or due to a particular event. Use this information to tweak your campaigns and ensure that consumers' needs are met.
With SFMC, you can use real-time segmentation and its sophisticated Einstein AI engine to inform your behavioral segmentation needs. Thus, you can:
Define segments using user data
Compare engagement levels between audiences to modify your campaigns
Analyze segment membership trends to improve campaign performance
Deliver behavior-inspired and contextually-relevant experiences that move customers to take action
Leverage SFMC Preference Centers
What better way to give customers what they want than by asking them?!
The purpose of your website's preference center is to give control to your subscribers about what kind of emails they want to receive from you and at what frequency. Through the preference center, they can quickly change their subscription details and opt-in or unsubscribe from different email streams.
Use SFMC's subscription center to manage and leverage your subscribers' preferences and to create subscriber profiles. This is important because 74% of them find "living profiles" valuable if they are used to curate the experiences, offers, and products they receive from a brand.
A preference center goes beyond simple profile or subscription centers.
A profile center is a webpage where subscribers provide and update their personal information and basic preferences. A subscription center is also a webpage that identifies which messages a subscriber receives from your brand.
Here's what a profile center may look like: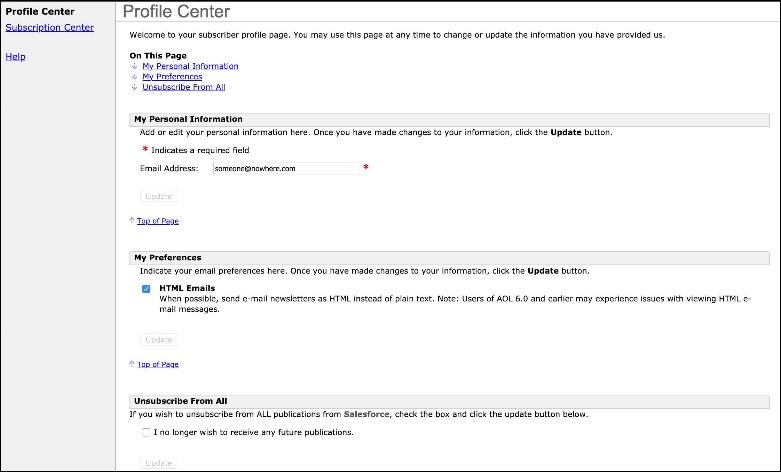 Your subscription center may look like this: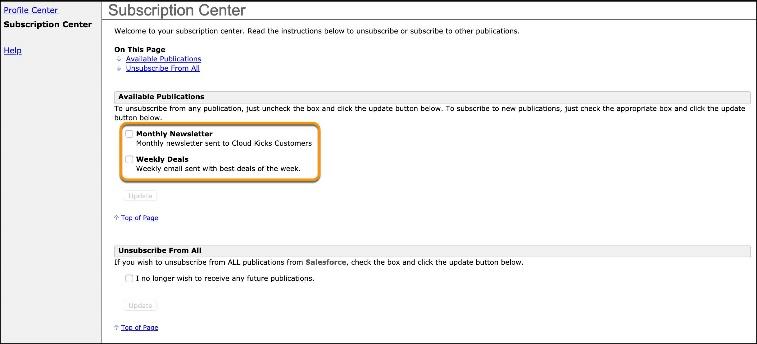 A preference center enables users to provide both profile and subscription information, thus providing you with a one-stop shop for user information and personalization. You can easily build a preference center in SFMC. Make sure it includes an unsubscribe option for compliance (e.g., CAN-SPAM). Apart from this, keep some design considerations in mind to build a preference center that generates useful customer information for your personalization requirements:
Make it mobile-friendly and accessible for all subscribers.
Ask for preferences or personal interests only if they relate to your brand or its email marketing content.
Use this information to guide your communication strategy (why are you collecting it otherwise?)
Clearly state why you are asking for information about their preferences. They should understand what benefit they can expect to get by providing this (precious) information.
The unsubscribe section should be clearly visible and easy to use.
If you provide opt-down options for subscribers who want to receive fewer emails (e.g., a monthly newsletter instead of a daily digest), honor those preferences. If you don't, you will annoy them and may even lose them ("Unsubscribe" or "Mark as Spam").
To manage your communications based on the data collected from the SFMC preference center, you can use publication lists or master data extensions (DE).

With lists, you can either create a custom preference center with SFMC Smart Capture within a landing page OR you can use SFMC Web Collect to add or remove subscribers from lists.
If you use DE, you can create a custom preference center in SFMC CloudPages and use publication lists to manage subscriptions OR create an external page to update subscriber preferences on a DE via an API.
Managing subscriber preferences will help you know your audience and optimize your email personalization strategy. That's why you should take the time to get it right.
Use Sentiment Analysis to Personalize Customer Journeys
Sentiment analysis – also known as opinion mining or emotional AI – is one of the best ways to understand the emotional tone (sentiment) behind a customer's brand opinion, feedback, or attitude. With SFMC and its Einstein AI engine's Sentiment Analysis API, you can understand if a particular customer's words have a positive, neutral, negative, or mixed tone and use these valuable insights to improve your email targeting, segmentation, and positioning.
The API has two complementary Natural Language Processing (NLP) features:
Einstein Intent: Text mining algorithms to understand the global meaning of the text and what your users are trying to accomplish.
Einstein Vision: An image analysis tool, which can recognize and count the objects in a particular picture.
Use these capabilities to:
Understand how subscribers view your email messages
What they say about your campaigns on social media
Ask subscribers who speak positively about your brand to become brand ambassadors
Understand the reasons behind the discontent of a subscriber who speaks negative about your brand and its messaging
You can also use Einstein to create personalized recommendations for each subscriber. With Einstein Recommendations in SFMC, create customer profiles. Then based on their behaviors and intents, design tailored email content and recommendations that makes subscribers happy.
Conclusion
Personalized subject lines can improve email open rates by 26% and CTAs perform 202% better than non-personalized CTAs. Email personalization can bring a lot of tangible benefits to your brand. By understanding your audience, you can garner these benefits and give them the personalized experiences they crave. And for this, Salesforce Marketing Cloud is an ideal partner.
For more such insightful content, explore our blog. And, if you are looking for a trusted partner for your SFMC email marketing, we can help.