Did you know that nearly 81% of marketers believe that email newsletters are the most powerful form of content marketing? But it is important to create engaging and relevant email content for your subscribers to keep them engaged with your brand.
Over 290 billion emails are sent daily; the competition is vast. It is crucial for you to deliver content that boosts curiosity, interest, and loyalty for your brand. Now, we know all of this sounds a little overwhelming, but with SFMC, you have the power of an amazing content management tool – Content Builder.
Content Builder has changed how marketers used to create and deliver content earlier. It is a user-friendly cross-channel content management tool with the help of which you can consolidate any content such as images, blocks, templates, or emails in a single location to use in the marketing cloud. Thus, it allows you to spend less time on creating the content and more on customer retention, engagement, and experience.
Top Benefits of Using The SFMC Content Builder
This smart content management tool has a user-friendly interface that eases the tasks of creating different content and saves time.
Have you got Non-IT teams in your business? Don't worry! Content builder helps you create professional-looking emails without even knowing HTML codes.
You can view the changes made to email content in real-time with the help of the always-present preview.
You can add code-snippets to your emails to add various kinds of links, such as forward to a friend.
Other than that, you can drag and drop the image you want from your computer to an email template, and it would be directly uploaded to the Content Builder.
Besides, you can use this feature to build a new email just by selecting an existing email.
Furthermore, it has the option to Scale and Fit the images in an email and resize the image to its maximum width and height.
If you are willing to know more about how Content Builder helps email marketers create and run engaging marketing campaigns in SFMC, click here.
SFMC Content Builder Best Practices
Keep in mind these best practices for Content Builder so that you can deliver great emails to your subscribers.
#1 Use Content Blocks To Create Responsive Email Designs
Content Builder in SFMC allows you to create responsive emails with the help of Content Blocks. When you fill in the layout box of your email template, you don't need to worry about how your email would look on different devices. Content blocks will automatically adjust the content to different devices and email clients.
With the help of content block drag and drop functionality, you can create emails without even having to know a lot of email development skills.
See how Nike uses Salesforce Marketing Cloud to send 100% responsive emails to their subscribers.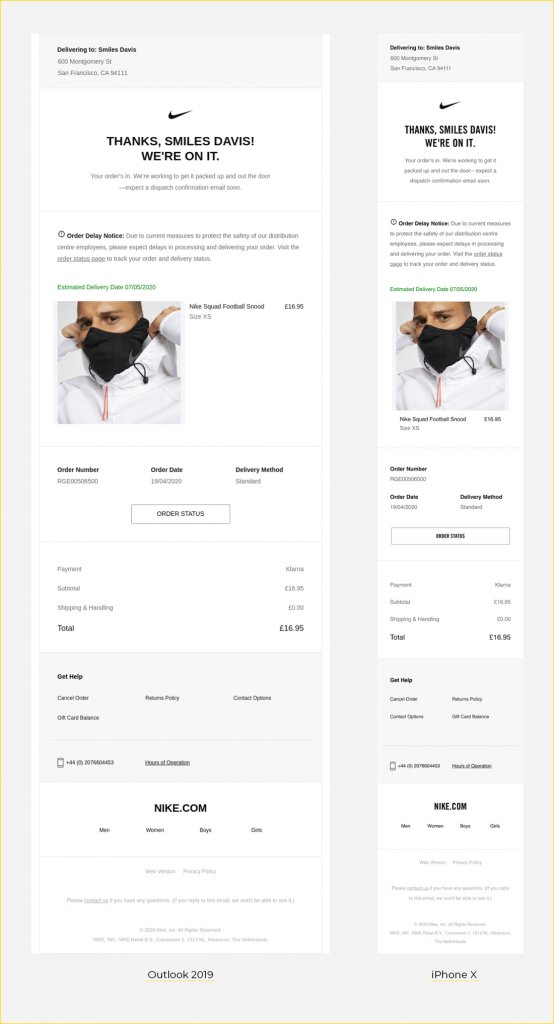 #2 Send Targeted Messages Using Dynamic Content
You know that your subscribers are busy people, which is why you want to share information that is relevant to them. This practice helps you increase the open rate of your future email campaigns. This would also help you reduce the number of unsubscribes, keeping only those contacts on your list that engage with your content or are interested in your brand.
You can use Content Builder to create dynamic content to deliver targeted messages to your audience. Dynamic content is based on the rules that you define on the basis of your subscriber's attributes or data extension column value. Thus, this ensures that you are sending tailored messages to your targeted audience.
Make sure you create rules if you want to create dynamic content based on the attributes of your subscribers.
You need to define the following four elements in the order shown below:
Attribute
Value
Operator
Content
#3 Increase Engagement and CTR with Interactive Email Content
With Interactive content in your emails, you can deliver an even more engaging experience to your subscribers. This, in turn, helps to increase the click-through rate (CTR) of your email campaigns. Also, you can receive subscriber information such as profile data, product reviews, and sales lead directly through embedded forms in an email – all of this without the subscribers having to leave their inbox. Thus, you can increase customer engagement as well as get crucial data without taking your subscriber to an external webpage.
The Email Form Block is available in Content Builder for Marketing Cloud Pro or higher editions.
Please ensure that your users have Data Extension. Go to Create, View, and Update Permissions if they don't have permissions enabled for Data Extension.
How to configure the block?
In the app switcher, hover over your name and click Setup
Now, search for Content Builder Settings
Finally, Enable Email Form under Block Group Configuration
#4 Build The Power of Einstein In Your Content Blocks
You can use the power of Einstein in your content blocks in Content Builder. Add an Einstein Content Selection content block in your messages; Einstein will automatically choose the right asset from the asset pool, which is likely to engage each subscriber better and will help you get the desired action completed from your subscribers.
Note: Before going further, add an asset catalog file so that Einstein can select assets to display. Then, drag the Einstein Content Selection block into your message.
How did this work?
The Einstein Content Selection content block chooses an asset that is personalized for your subscriber from a pool of assets that you upload. Then, it shows that asset in your message. These assets are selected on the basis of how they perform with your subscribers.
Drag the Einstein Content Selection into your message.
Select the asset class from which Einstein Content Selection can choose assets.
If there is no alternate image for assets in this class, then navigate to Einstein Content Selection Settings to add one, if necessary.
Now, save the content block.
Finally, to see how Einstein Content Selection worked, preview your message.
#5 Use Content Builder Approvals To Review and Approve Content
You can use Content Builder Approvals to automate the process of review and approval of various objects. With this, you can submit your emails into a process where it requires the higher management to approve them before they can be sent to the targeted audience.
The Approval process can be launched from:
Email Content Creation
Content Builder Grid
Or the new Approvals Dashboard
Wrap Up
These were some of the best practices that you should keep in mind when using Content Builder in SFMC. By now, you know that content is the key to your successful email campaigns. When done right, it helps you build better relationships with your customers and retain them for a longer period.
Follow our blog for such interesting articles that will help you succeed with the Salesforce Marketing Cloud. Also, if you want to make the most out of SFMC for your email marketing campaigns, then get in touch with our team of SFMC experts.