Email marketing for the education industry operates with several objectives like:
1. Engaging students with news and regular updates
2. Keeping alumni informed of the activities at the institution
3. Encouraging prospective students to enrol into different programs
4. Promoting offers that would entice students to get referrals
5. Communicating with staff and stakeholders
It is different from other B2B or B2C email communications as the audience of these emails include students, applicants, partners of the educational institution, and its employees. There is a huge competition and you need to communicate at several touchpoints on a daily basis.
Marketing for a university, educational institution, or an online learning and teaching marketplace is not just about "promotions". It is about building lifelong relationships and imparting a memorable experience to the recipients.
Advantages of Email Marketing for Education Industry
Of course, social media and moment marketing with memes and GIFs sounds like the most attractive thing for marketing to the young population. But email marketing outshines all these tactics. A report by SendinBlue has revealed that 71% of millennials will take action from an email having the preferred content. It shows that emails are more effective to reach the millennial generation of students.
Millions of students are applying to colleges, universities, and online courses. They compare different programs to determine the one that suits them the best. That's where email marketing can help overcome the competitive bottleneck and persuade students to enrol.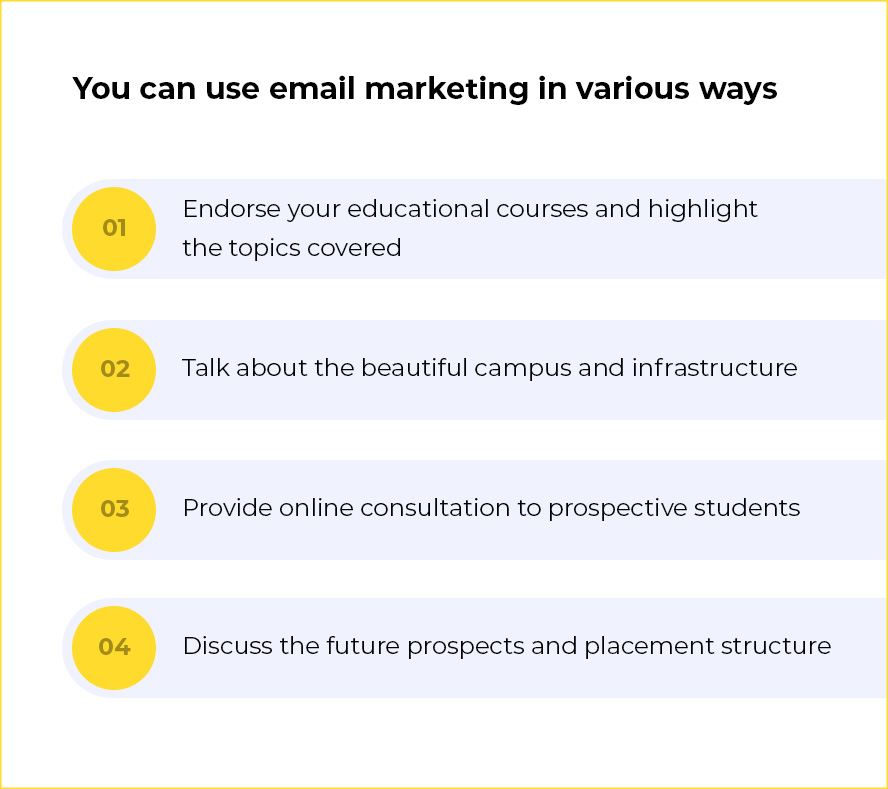 Email marketing not only helps convert the prospective students but also in retaining the enrolled students. If a student is happy with your university, it is quite likely that they will continue their education or take up another course from you.
Points to Remember While Planning the Email Strategy
1. Be consistent in all your communications
Follow the brand guidelines in all the email communications. Whether it is the colors, the mascot or logo, or the messaging tone, keep it consistent throughout.
2. Personalize the emails according to the recipients
Segment your target audience according to their interests and preferences to personalize the emails. In the education industry, you can segment the subscribers based on the courses they have expressed interest in and the degree they are pursuing in your university. Besides addressing the users with their name, incorporate dynamic content in the emails to create hyper-personalized messages.
3. Send interesting content with actionable CTA
Relevance is key if you want to get conversions from emails. Draft engaging content considering the purpose of the email and target audience. Add relevant visuals with an actionable CTA that will prompt the user to take action.
Now, let's explore the email automation strategy for the education industry.
1. Welcome the prospects or students with a compelling email
As soon as someone signs up and expresses interest in your courses, you must welcome them with an introduction email. Through this email, you must talk about your university, the programs you cover, and reasons why students should choose you over other universities.
Take a look at this welcome email by Thinkful.
They have invited the prospect into the Thinkful community and explained the program structure. They understand that the subscriber might not be sure which course to take up. So, they have offered an introductory call to help. The email also encourages the readers to take a look at their offerings and must-read blogs. They have also highlighted their free events and online learnings that will support active learning.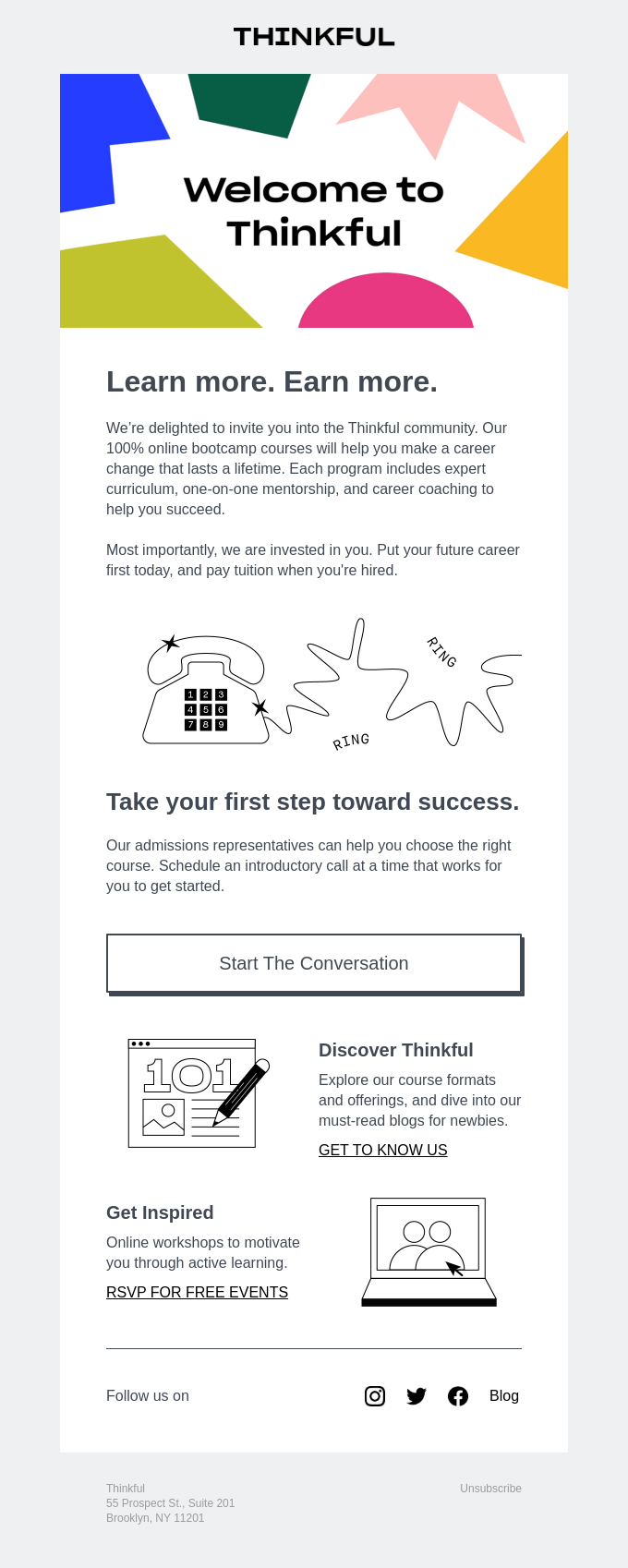 ASU sends out a professional yet aesthetic email to senior year students. It is an informative email that explains how a student can start planning for college. They have asked the students to review their admission requirements and then apply to be a Sun Devil (represented by their mascot).
They have even invited the students to their free event in which they allow the students to visit the campus, get answers to their questions, and explore all the opportunities that ASU has to offer.

2. Inspire the prospects to apply for the course
After the introductory call, you will get an idea about what the prospect is interested in. Then, you can send out an email that thanks the student for their time and recapitulates the discussion. The aim of this email is to gently nudge the prospect to take action and apply for the course.
Take a look at this email by Upgrad. It is the main touchpoint that convinced me to apply for the digital branding and advertising course. They have shared the brochure as well as the contact details of the admission counselor to address any objections that I would have.
3. Keep the students motivated to continue learning
Often, it so happens that the students enrol for your course and then get distracted, busy, or simply disinterested. You must use emails to keep such students motivated.
Duolingo has gamified the entire learning experience by dividing it into various levels and challenging the users.
Take a look at this email that reminds the subscriber to continue learning to reach Level 7.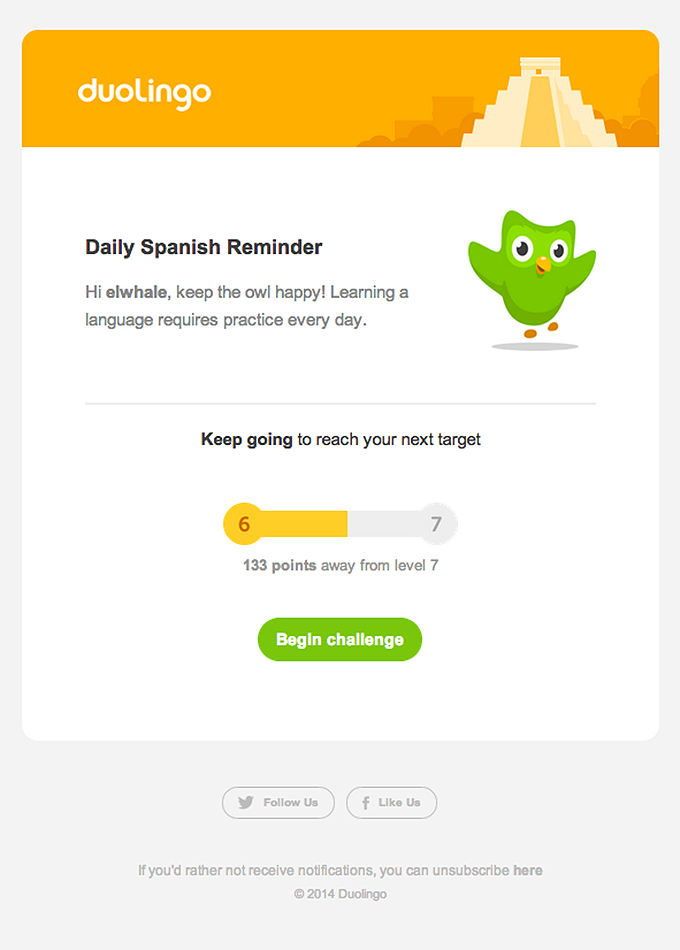 LinkedIn learning also follows the same tactic, without any gamification principle.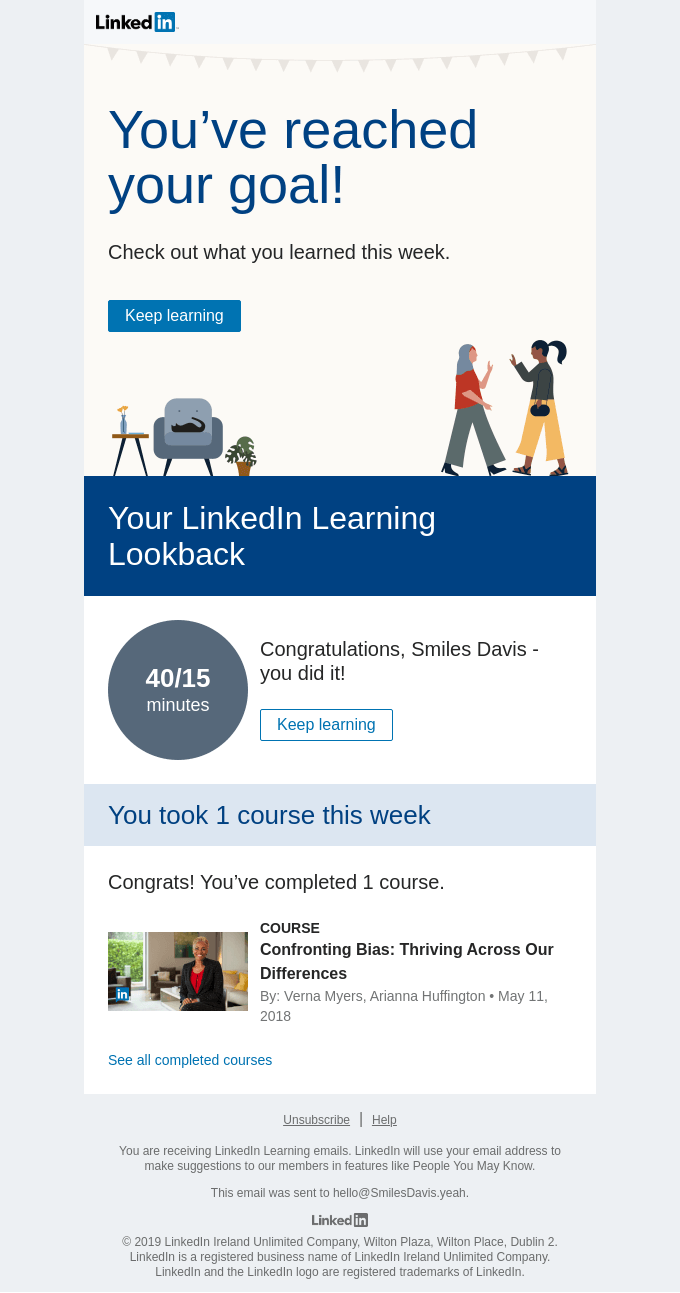 4. Try to retain the existing students
Retention is important for every business. Education industry is no different. You can retain the students by inviting them to start a new course with you like Highbrow has done in this email.

Alternatively, you can also launch new courses to get the students interested and continue learning with you.
Check this email by Foreign Policy Design that promoted their Summer School during the pandemic. It is an off-site program, suitable for young designers as well as seasoned studio owners. The email also covers the different topics included in the program and their instructors. The copy at the outset subtly compels the readers to scroll till the end by mentioning about a "surprise". It is a good way to increase the reading time and subscriber engagement. They have ended the email with a discount code that will entice the readers to register for the program.
5. Keep the alumni engaged
The alumni are your most priceless possession. They are the ones who can bring you new students with word-of-mouth publicity and make the university flourish. You must keep them engaged and informed about the events, updates, and everything that they should know about.
The email by Wharton University of Pennsylvania reflects how much they value their alumni. It shares details about the transforming campus, customized career resources, upcoming events, and other curated content pieces. In addition, they have also offered a 25% discount and invited the alumni to apply for open-enrollment Executive Education programs. Now, that's a great way to get new students and retain the old ones.

6. Send occasion-based emails to (almost) everyone on the list
If you search for "Education industry email templates", you will find many examples from Arizona State University. Here's an email they sent to their subscribers on Valentine's Day.
Given the serious nature of the education industry, it is tough to imagine such visually rich emails with animations, right? But your students are humans too and they would appreciate such fun elements in the email once in a while.
The email has an exclusive Spotify playlist and 6 printable messages for Valentine's Day. It will surely garner click-throughs and engagement from the readers. Take a bow, ASU people!

They never miss out on wishing their students for the Holidays too.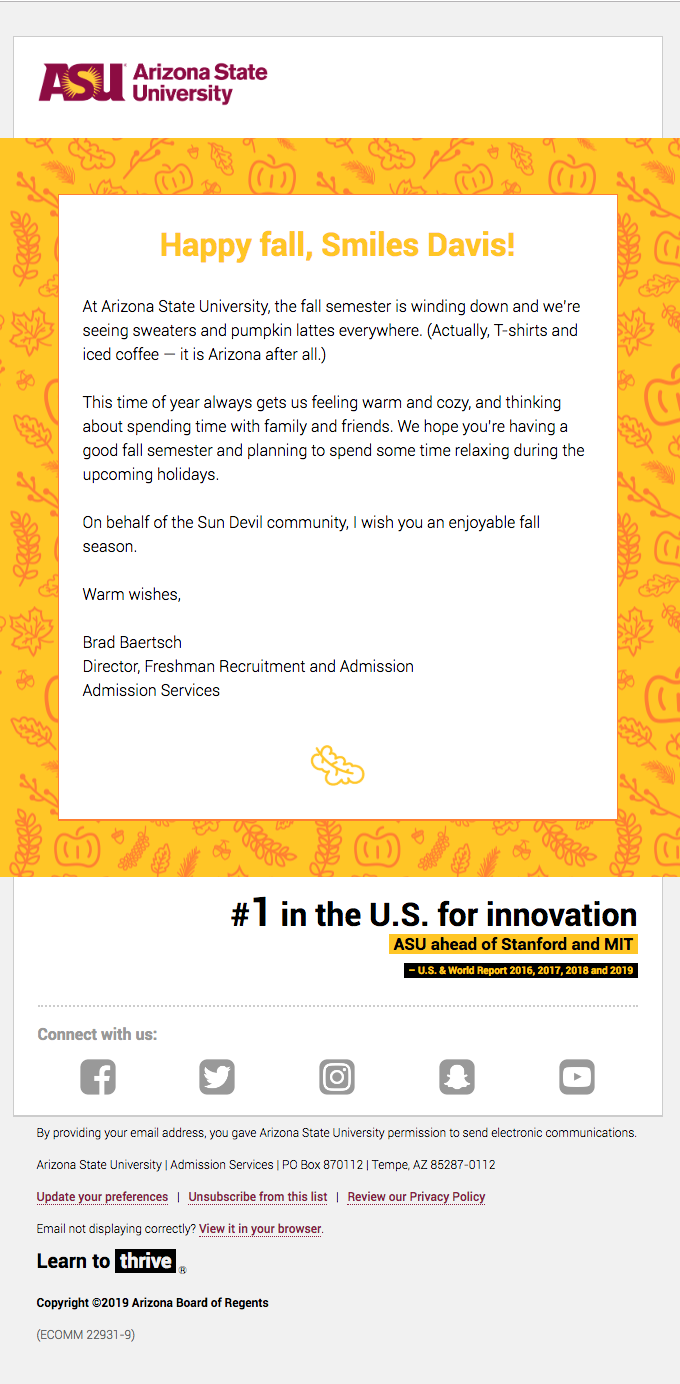 7. Send promotional offers to your subscribers
Promoting discount offers looks like a universal marketing tactic. Do not limit your offers to special occasions like Christmas. Take some inspiration from Americademy Inc. and see how they have offered $200 off their weekly summer camps

8. Automate your referral marketing strategy
Acquiring new customers is difficult… but it becomes easy if you have your old customers vouching for you. That's exactly what referral email marketing is all about. You incentivize the referees and referrals for choosing you over the competitors.
See how Internshala trainings has promoted their referral marketing strategy to get more people to sign up for their courses.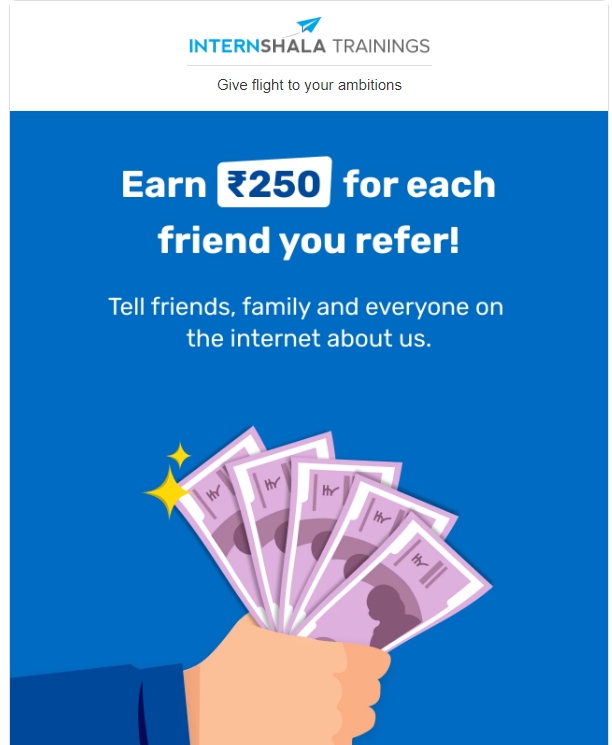 9. Re-engage the dormant students
If you are an online learning portal, people might go dormant over a period of time. You must try to win back such learners by sending a re-engagement email.
This re-engagement email by Duolingo is a nice example of the same. They have not expected much from the reader except a 5-minute lesson. The emotional appeal of the email is likely to draw the subscriber's attention and get them back on track.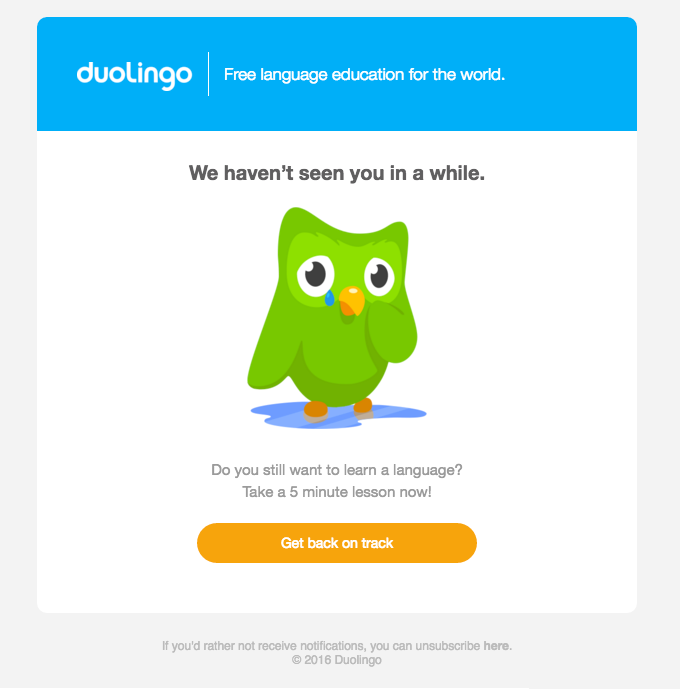 10. Maintain the list hygiene with automated unsubscribe emails
Create an automated workflow for students or prospects who have not engaged with your past communications over 6-12 months.
Udemy sends a simple and straightforward email that informs the readers that they have 5 days to stay on the mailing list. It also incentivizes the ones who click on the CTA and choose to stay on the list. Such emails are good to maintain the list hygiene and ensure an optimum deliverability rate.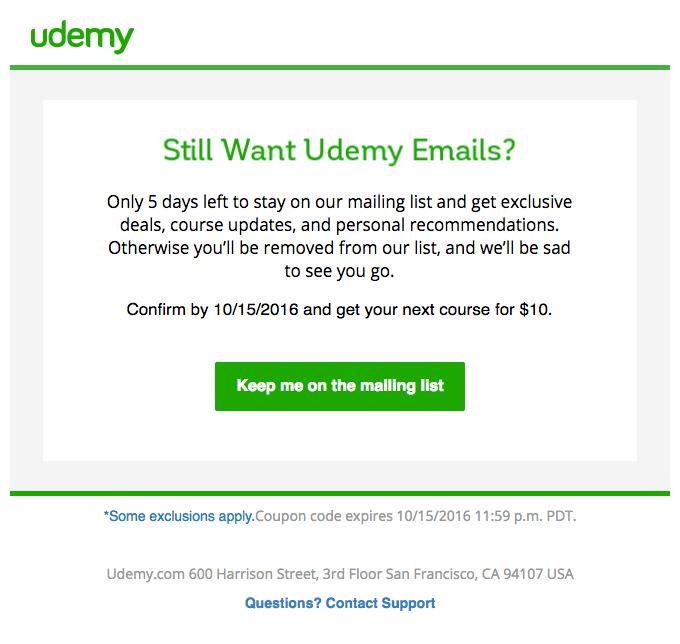 Wrapping Up
If you are an email marketer from the education industry, these examples and tips will surely inspire you to create more impactful emails that will help engage, retain, and acquire students/customers.
Still unsure how to go about it?
Hire our dedicated resources for your university or educational institution and let them execute your email marketing strategy.