Want to try and engage with your inactive subscribers? You have taken all the necessary steps to build and establish a strong email subscriber list. Does your agenda stop with merely building and sending emails to your subscriber list? The answer is No. You need to ensure that your emails are engaging and adding value to your target audience. Another important factor to take into consideration is keeping track of subscribers who have been silent or inactive (not opening emails, low engagement, landing page abandonment, and more). Leverage data to get them back on your email track. This post is a 7-step guide to running a reactivation email campaign that re-engages your inactive subscribers and converts.
What is a Reactivation Email Campaign?
Inactive subscribers are those users who have not clicked or opened your email campaigns for a specific period of time. The time that deems them inactive is specific to each business and the frequency of emails.
Reactivation email campaigns are a powerful tool for rejuvenating broken customer engagement and also driving soft sales. These targeted campaigns aim to rekindle customer relationships, specifically with those who have become inactive or haven't availed your services, or bought from you in some time. The key to winning back subscribers who have gone off-the-radar is running compelling reactivation email campaigns. Before we get into the details of how to re-establish your email relationship with an inactive subscriber, let us understand a few reasons for them to go inactive in the first place.
Generic cookie-cutter style email marketing, with no personalized content.
Subscribers did not find a specific email campaign interesting enough.
Not targeting the right audience
Not optimized for mobile- as most of the people check emails on the go,
And more…
1. Define your audience
Firstly, it's crucial to define your inactive subscriber persona. By identifying your why, how, from where, and how often a subscriber is landing on the inactive side of the list, you will be able to customize reactivation email campaigns to suit your audience and their preferences. You can create a more focused and personalized campaign. Sorting your email list based on purchase history, customer lifetime value, engagement levels, and other demographics can aid in creating relatable and interactive email templates.
Identify inactive subscribers: Leverage your subscribers' data to identify individuals who haven't made a purchase or engaged with your brand in a while. These are the subscribers you want to target with your reactivation emails. Identifying the demographics of your inactive subscribers' data live geographical region, age, education, etc., using plays a crucial role in delivering targeted email campaigns.
Segment your audience: Once you have identified your target subscribers, you can segment your email list based on different factors such as purchase history, time on page, customer lifetime value, or engagement levels. This will allow you to understand how you can re-engineer your email strategy for better engagement. For instance, if you are planning to send out a reactivation email campaign for inactive subscribers who have been searching for/ purchasing fashion accessories, you can curate a fashion accessories sale-themed reactivation email to lure them back.
Understand their needs and preferences: Research your audience's needs and preferences by looking at their past interactions with your brand, their demographics, and other relevant information. For example, What was the category of their most-searched products? What is the price range of their maximum purchases? Do they engage more at the time of a discount or sale? This will help you to create tailored and more effective email campaign management services. For example, Puma identified that subscribers are always inclined to grab products when there is a discount. This customer preference is used to hook dormant users.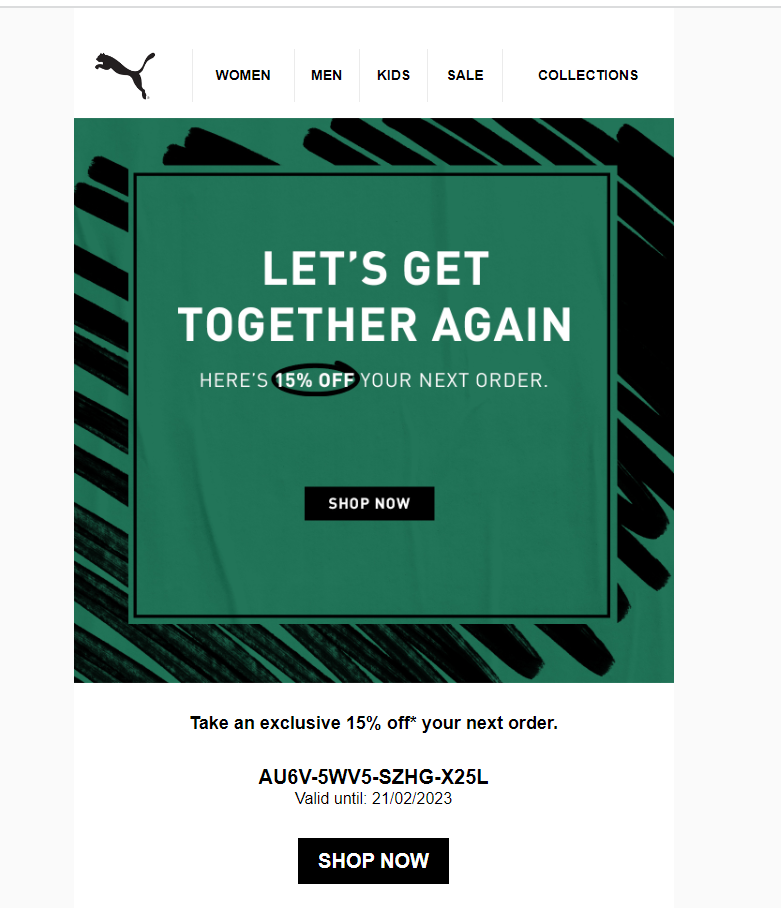 Set clear goals: Define your goals for the re-engagement campaign and make sure they align with your overall business objectives.
Some examples of reactivation email campaign goals could be:
Re-engaging inactive subscribers and increasing engagement.
Driving sales and revenue through targeted promotions and special offers.
Improving retention and loyalty.
Gathering valuable data and insights through tracking and analysis.
Enhancing the overall customer experience through personalized and customized messaging.
Optimizing email campaigns through testing and data-driven decision-making.
Building strong relationships by reaching out and showing them that their business is valued.
This will help you to measure the success of the campaign and make adjustments as needed.
2. Craft a Compelling Message
Whether it is the first time you are emailing your prospective lead or it is a reactivation email, the subject line and the message are always of paramount importance. The subject line and body of the email should be crafted to pique the recipient's interest, get them to connect with your brand emotionally, and entice them to re-engage with your brand. Incorporating elements of urgency and scarcity, such as "you are missing-out offers" or "Just for you!" can be effective in this regard. Additionally, including a clear call-to-action (CTA)- "Buy Now" or "Register", that prompts the recipient to take action is a must.
Use a compelling subject line: The subject line is the first thing that the recipient sees, so it's important to make sure it's attention-grabbing and relevant. Use a subject line that highlights that you have something interesting for that user, that is worth giving a try. Use reactivation email subject lines as a means to continue the conversation, "Don't miss out on our exclusive sale" "We've missed you, come back and save" or "Help us understand why?"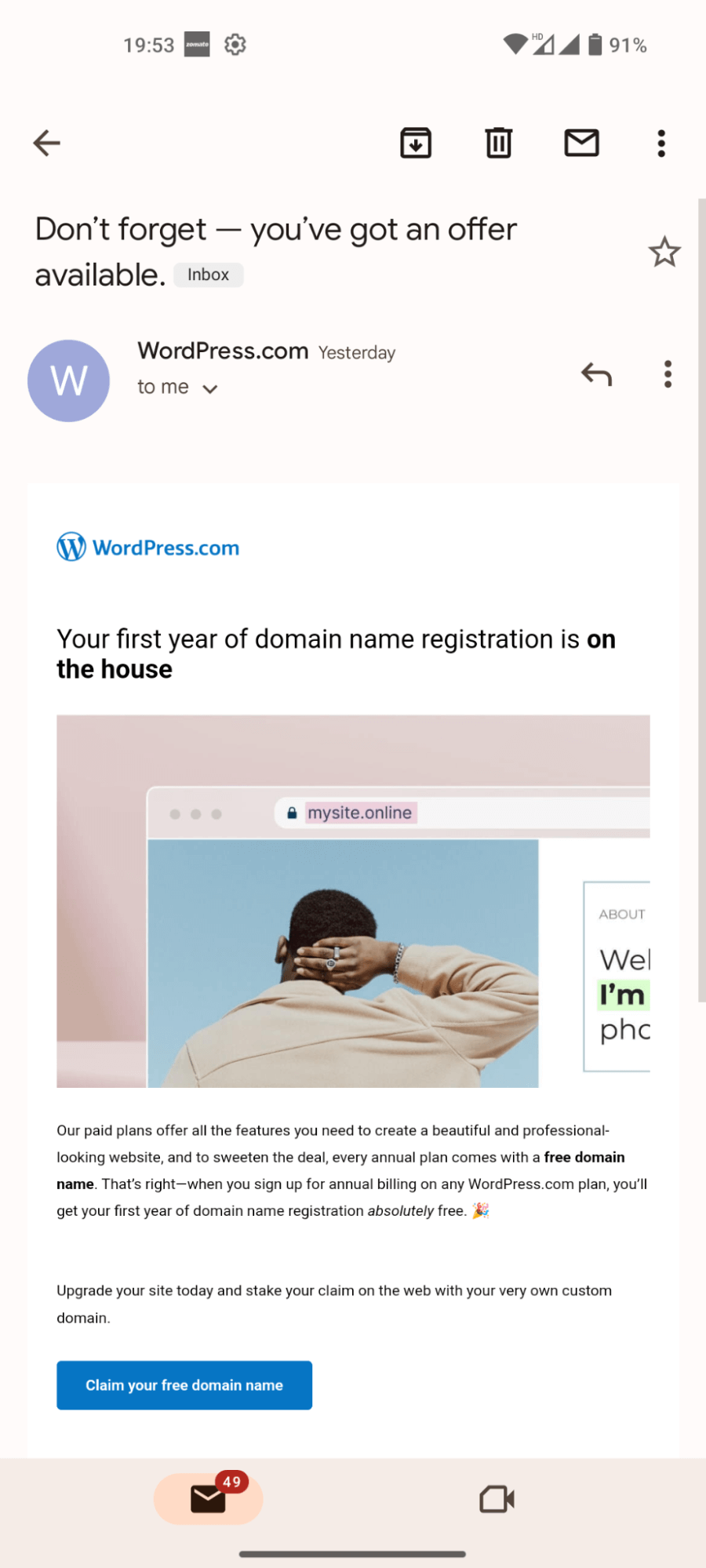 Create a sense of urgency: Tap into the competitive spirit of your inactive subscribers through time-specific, limited quantity, exclusive offerings. Use phrases such as "limited time offer" or "Only for first 10 applicants" to create a sense of urgency and scarcity that prompts the recipient to take action.
Personalize the message: Personalization can make the reactivation email feel more relevant and important to the recipient. Use the recipient's name in the subject line or the body of the email. For example, "We have missed you [Name]!!". Making the content of the re-engagement emails contextual and relatable to the reader helps achieve the desired conversion goals. It will also send out a message that you are considering the specific user's engagement vital.
Use a clear call-to-action (CTA): Make sure the email includes a clear and specific call-to-action that pushes them to re-engage with your brand, visit your landing page, finish that pending purchase, or make an inquiry. You can enable an inactive subscriber to take action through powerful CTAs like, "Claim your discount" or "Click to get $100 off".
Keep it short and sweet: Keep the body of the reactivation email short and to the point. Highly worded and graphic-rich emails can disrupt the user's attention to your email. Use bullet points, images, and clear formatting to make it easy to read and scan. Your re-engagement email is like an elevator pitch to woo the user back again, if it takes more time and effort to read, its going to make them impatient, and hit unsubscribe faster than ever.
In the below, resubscribe email example, Fiverr entices its inactive users with outright discount.
3. Personalize and Customize
Personalization and customization are key to creating a successful reactivation email campaign. Utilizing the recipient's name and other personal information can make the email feel more personal and relevant. Additionally, dynamic content, which allows for email customization based on the recipient's behavior or preferences, can increase the chances of re-engagement.
Use the recipient's name in the subject line or the body of the email, such as "We missed you, so we come bearing gifts, [Recipient's Name]".
A few reactivation email examples/ re-engagement email examples: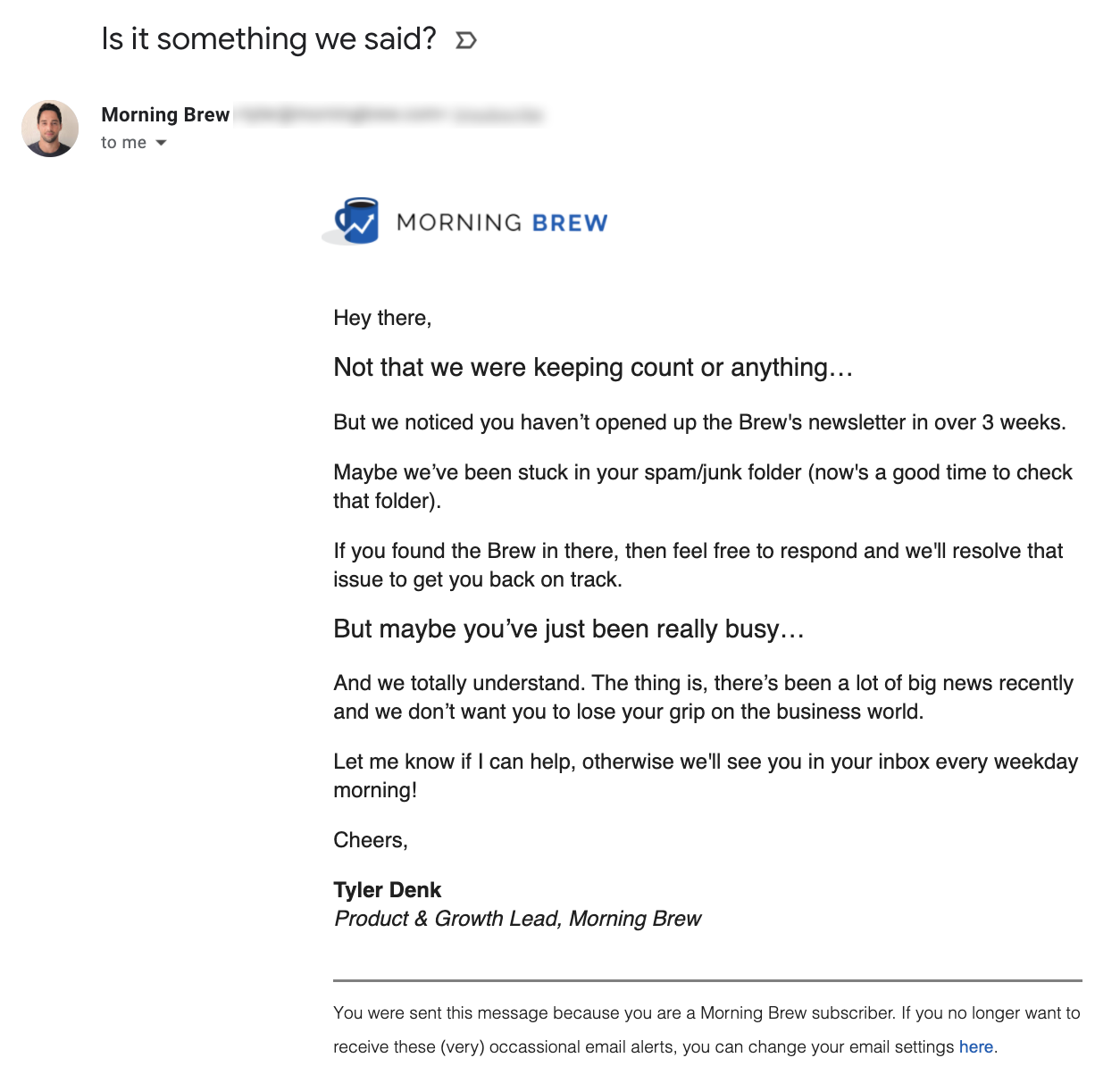 Including previous purchase history, such as "We noticed you haven't purchased from us in a while, here's a special offer just for you"
Using dynamic content to show the recipient's local weather or location-specific events or offers, such as "Enjoy the sunny weather with our new summer collection"
Targeting subscribers based on their engagement levels, such as "We've missed you, come back and save" to inactive subscribers or "Thanks for being a loyal customer" to engaged subscribers.
4. Test and Optimize
Testing and optimization are essential for improving the performance of your reactivation email campaign. Testing if your emails don't have a mail delivery issue solves half the problem in many cases. Optimize your sender name so that it is easy to remember. This helps the user to manually search in case they missed your email in their crowded inbox. Test different subject lines with sample audiences to understand which performs better. Test different CTA buttons and copy them to see which one drives the most conversions. Experiment with different types of incentives or special offers to entice customers to re-engage with your brand.
5. Time it right
Timing and frequency are also crucial considerations. Popular opinion for timing your reactivation email campaigns is a cutoff between 3 and 6 months. The optimal time to send an email will vary depending on your audience, so testing different times is recommended. While it is important to test out the timing and frequency of leveraging your inactive subscribers data, here is an approximate guideline that will help.
Less than 5 emails/month – 9-12 months
5 to 15 emails in a month = 6-12 months
15+ = 3-6 months
Additionally, it's important to strike a balance between sending enough emails to re-engage subscribers, but not so many that they become overwhelmed and unsubscribe.
6. Track and Analyze
Tracking and analysis are vital for measuring the success of your reactivation email campaign. You can also leverage the data to identify riskiest contacts and remove them from your future campaigns. Tracking reactivation email campaigns provides insights on less active subscribers. You can remove them from your campaign sender list after a stipulated cut-off period. Setting up tracking and analysis tools allows you to monitor the performance of your emails and make data-driven decisions to improve future campaigns. Metrics such as open rates, click-through rates, and conversion rates can provide valuable insight into the performance of your campaign.
7. Implement and Monitor
It's important to monitor the performance of your emails and make adjustments as needed. Look for patterns in the data and make changes to improve the performance of your campaign. Keep track of the metrics that matter to you and use that data to improve your reactivation strategy.
Adjust the subject line, messaging, and CTA if needed.
Continuously track and analyze the performance of your reactivation emails and make data-driven decisions to improve the campaigns.
Experiment with different types of incentives or special offers to entice subscribers to re-engage with your brand.
Wrapping Up!
A well-executed reactivation email campaign can help you not only bring back old subscribers but also foster brand loyalty, increase customer lifetime value, and ultimately, drive revenue growth. For example, a clothing retailer might segment their email list based on purchase history, targeting those who haven't made a purchase in 6 months with a special offer. Another eCommerce company might use dynamic content to show the recipient's location-specific events or offers. A creative email strategy tailored to your audience and focused on achieving your business objectives is the secret recipe for convertible reactivation email campaigns.
Need help with managing your reactivation campaigns end to end? You can avail of Email Uplers' reliable email campaign management services.