Tell me what is that one thing which compels you to read an article or email? The title, pictures, or maybe interesting statistics? Well, all these may surely grab your interest but what keeps you glued to the page is the STORY. Don't we all love stories? And don't we remember them for a long-long time? The same power of stories can be used to communicate in autoresponder emails, so as to help it go viral. So storytelling comes as a great tool for email marketers who are running from pillar to post, trying to find a way to engage their subscribers.
Pairing storytelling with autoresponder emails is like pairing the most effective way of engaging readers and one of the oldest and trusted email marketing tools. Aren't we defining a win-win situation for email marketers!
Harnessing the Power of Stories in Autoresponder Emails
According to a research, narratives are much more powerful than messages and facts. Moreover, there is enough research to prove that a narrative is the basic organizing principle of memory.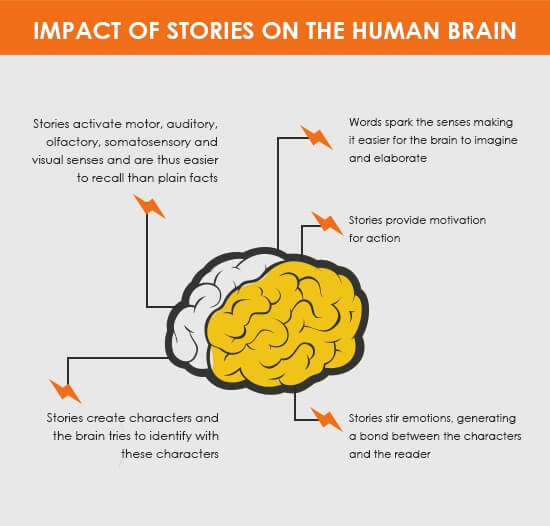 There are some points to jot down in your notebook before you blend storytelling into your autoresponder emails too. But before that…
Autoresponder emails
Autoresponder emails as you know are a series of email messages set up ahead of time. It is considered to be one of the simplest and most profitable types of marketing campaigns, which once scheduled, can run by itself. Autoresponder emails nonetheless is a divine tool for engaging subscribers and converting them into leads for your business. Thanks to list segmentation, autoresponder emails are sent at the right time and to the right people.
Points to Brood While Blending Storytelling & Autoresponder Emails
Focus (statistics and information) is a must, but put forward your point with a broader narrative
Make sure you send the right story to the right kind of subscribers- list segmentation will help.
Break up your story into parts. Tease the subscriber with a glimpse, evoking curiosity at the end of each part.
Script it like that
Develop a story with a central character (viz. customer) who lands in a problem, overcomes it, and comes out victorious.
Establish a connection between the character and subscriber. Story of a customer (a case study) is one of the most effective content formats used by brands.
An apt link between your subscriber and the key character is bound to generate association.
How Stories through an Email Autoresponder can Help Engage Subscribers
Business focused stories
Imagine that your hero (prospect) faces a roadblock in the form of maybe his brand's payment process, which is rather non user-friendly. Then, with the help of your services/products, he overcomes the hurdles.
This is a good way to show how someone can battle all issues and triumph with your help. Your story can be broken into chapters. Your emails may take the following route:
Send welcome email to tell them more about your business
In the next few emails (promotional emails), tell them how they can do their job in a better way (using your services/products)
In the last few ones, pitch a helping tone in your emails to develop trust
Here is a sample autoresponder email from a series. A story has been woven around changing office decor. It begins with how old furniture and bare walls were becoming boring for the sender, and it ends on a note asking readers to keep an eye out on the next email for the secret weapon used by the sender to overcome the problem.
The sender of the email conducts a '30 Days to DIY Project Mastery' course, and in her last email autoresponder she asks the reader to join the course.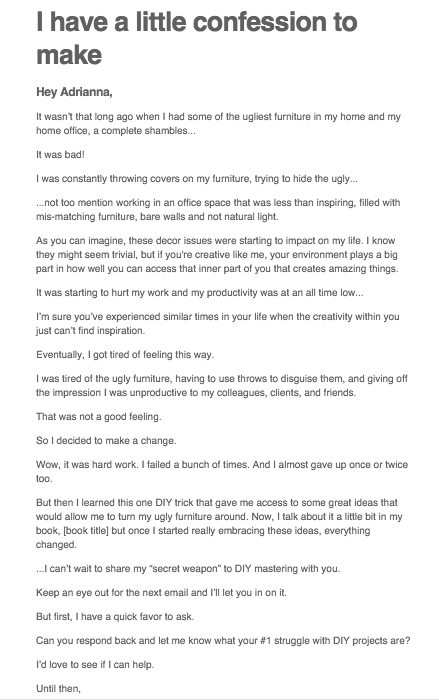 Personal Stories
Personal stories have the ability to develop a strong bond between the storyteller and the reader (subscriber). All you need to do is add the personal touch in storytelling for auto response email. Just write about any random experience that made you a better person; that too works!
Unrelated Stories with a delightful twist
Unusual stories, those with funny connections can also bring results. Just make sure that they naturally flow into business. Your email subscribers will love to hear this story if you tell them how it reminded you of your early days in business when you thought that competition was not good. Subscribers will remember you for a longer time than you think.
Here is an out-of-office auto response email written in a really humorous manner.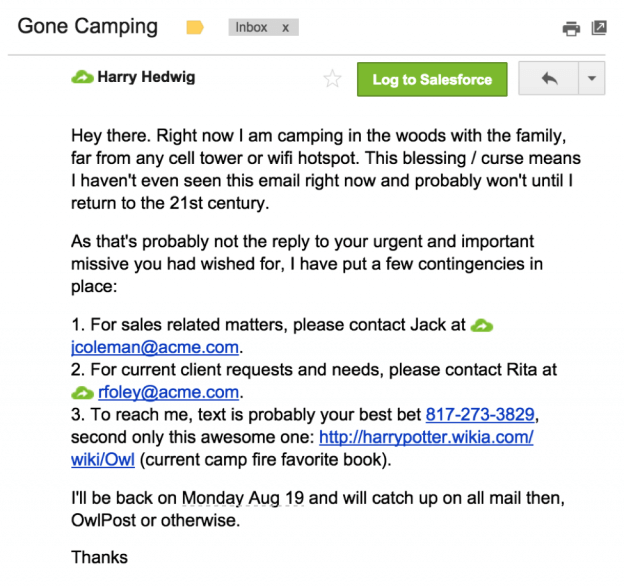 A series, how long?
An age old rule says that you need to be seen or read 7 times before your readers start feeling comfortable with you and are ready to hand over their hard-earned moolah. Keep making noise till your subscribers decide that they can't do without you- that's the catch.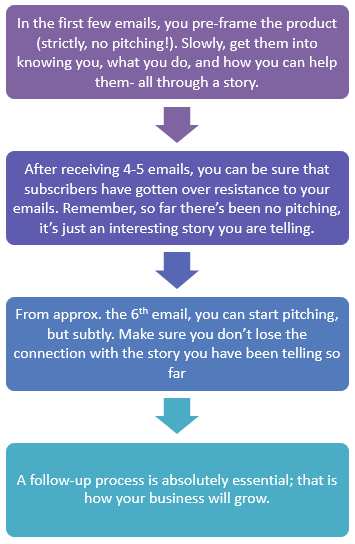 Storytelling via autoresponders really works with subscribers! So pick up your pen and create that best email autoresponder series to woo your subscribers.
Takeaways
Stories can cast a lasting spell on readers' minds
Pairing storytelling with autoresponder emails is like blending two amazing ingredients to cook up a lip-smacking dessert for email marketers.
Run a series of your story through email autoresponders, hooking the readers at the end of each chapter/email.
Focusing on statistics and information of your product/service is a must – put forth your point with a broader, entertaining narrative.
Your story could be directly business focused, personal, or based on an out-of-the-box idea.
The series should neither be too long nor too short.