The success of your email marketing campaign depends on how deeply you are able to forge a relationship with your prospects. And the primary prerequisite for this is to engage your prospects at every touch point of your email marketing campaign.
The best way of engaging your prospects and customers is to send triggered emails that show how much you care for them and how valuable they are for your business. And when it comes to different types of triggered emails and their effectiveness in driving engagement, "Thank You" emails take the top slot hands down!
When Should You Send A 'Thank You' Email?
Thank you emails open up multiple avenues to engage with your prospects and customers. You can send them at various stages of your email marketing lifecycle. Here are some stages at which you should send a thank you email in order to get the maximum benefit:
After Subscription
The one stage at which you should not miss sending a thank you email is when someone subscribes to your emails.
Use your thank you email in such a manner that your new subscriber feels happy about joining your list. Start by thanking them for their interest in your products/services and ask them to get in touch with you if they have any queries regarding your business. Keep the email causal and make them feel that you are genuinely excited by their subscription.

Even though your ultimate aim is to convert the new subscribers into customers, trying to be too pushy in your thank you email can actually put them off. The best way to avoid this is to include a brief intro about your business, products, and services and also mention what makes you stand apart from your peers.
Here is a nice thank you email template from Typeform, an online form building software provider: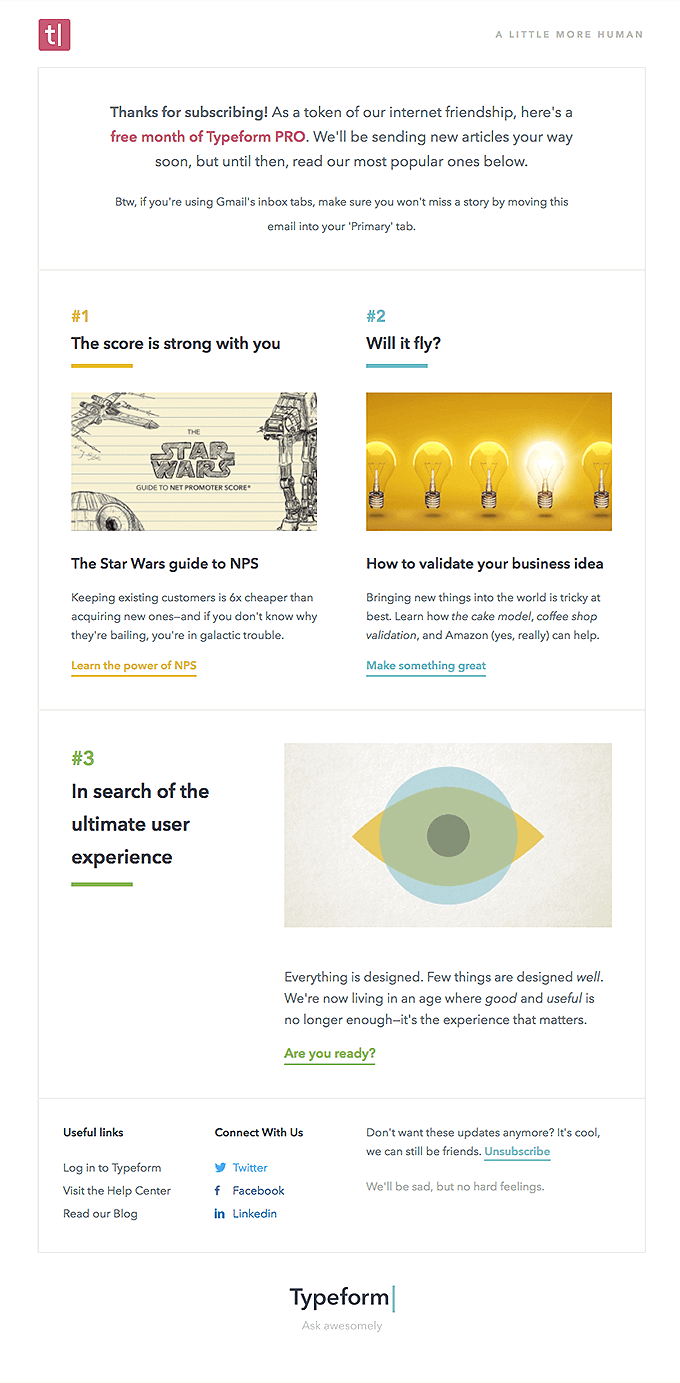 After Purchase
After making a purchase from your site, your customers will definitely wait for a receipt against the purchase made, and they will surely open it to check as soon as they receive it. This gives you a great opportunity which you must leverage by combining the order receipt with a thank you note.
Doing this will make them feel that you value them highly, thus building loyalty towards your brand. You can also add tips and FAQ section in the email to make it more engaging, just like what Classic Specs, an online eye-wear provider, has done in their thank you email:

Few Days after Order Delivery
Send a thank you email to your customer about a week after they receive the delivery of their order. In this email, thank the customer again for making the purchase and ask them whether they are happy with their new products. Besides this, add customer support information as a means of info for them to contact you.

The thank you email that you send at this stage of the customer lifecycle should be used to cross sell and upsell. This is because if the customer is happy with the products they previously bought from you, they would definitely be interested in buying again from your site. This not only increases the chances of future sales but also keeps the customer engaged.
Here is one similar thank you email example from Crate & Barrel: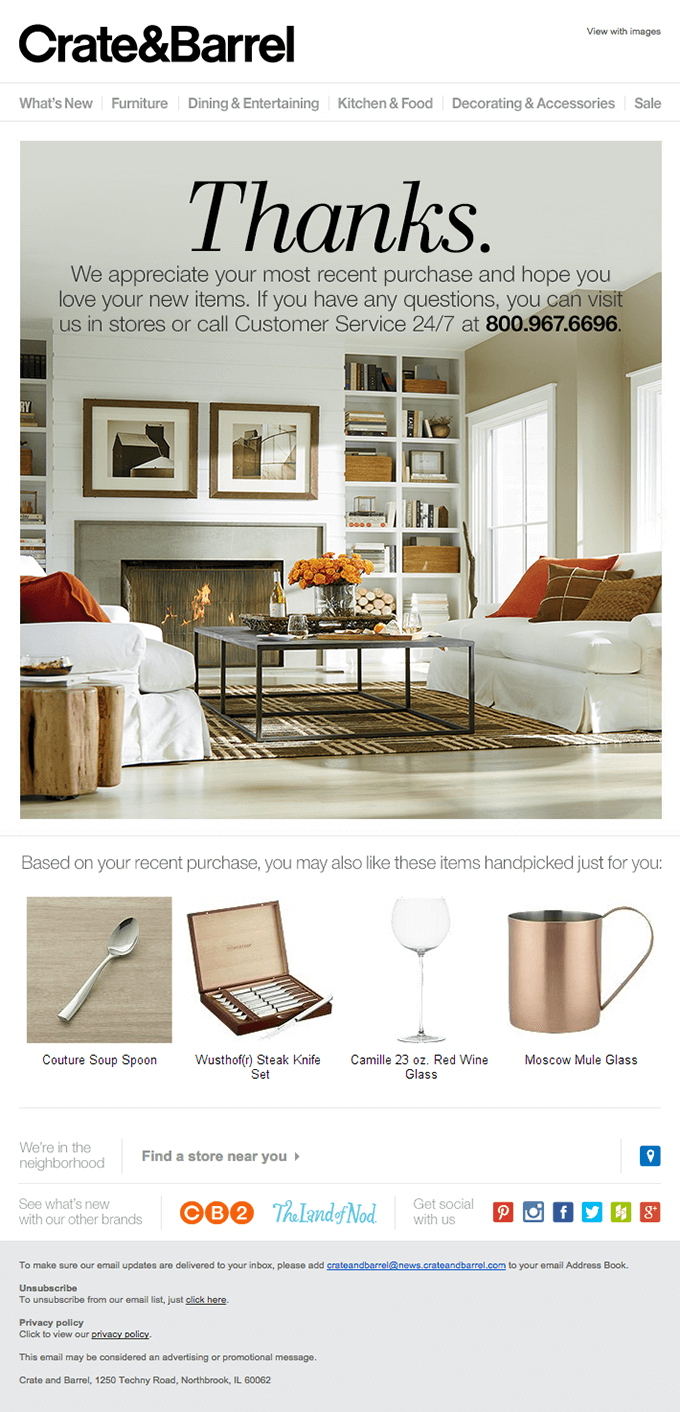 On 'Important' Days
You never forget to send greetings and wishes to your loved ones on holidays and special occasions, right? Similarly, sending a thank you email to your customers on important occasions, is a must. Receiving such an email from you will make your customers feel part of your "family" and this in turn will keep them engaged with your brand.
Moreover, it is common knowledge that people tend to shop more during holidays or important days such as 4th of July. Hence, sending a promotional email disguised as a thank you email at this stage, when people are looking for their desired products online, can work wonders for your business. Just add an exclusive discount code in the email and project it as a loyalty gift. This will definitely boost the customer engagement on your site and subsequently sales.
Here is a thank you email sent by Mutual of Omaha, a Fortune 500 mutual insurance company: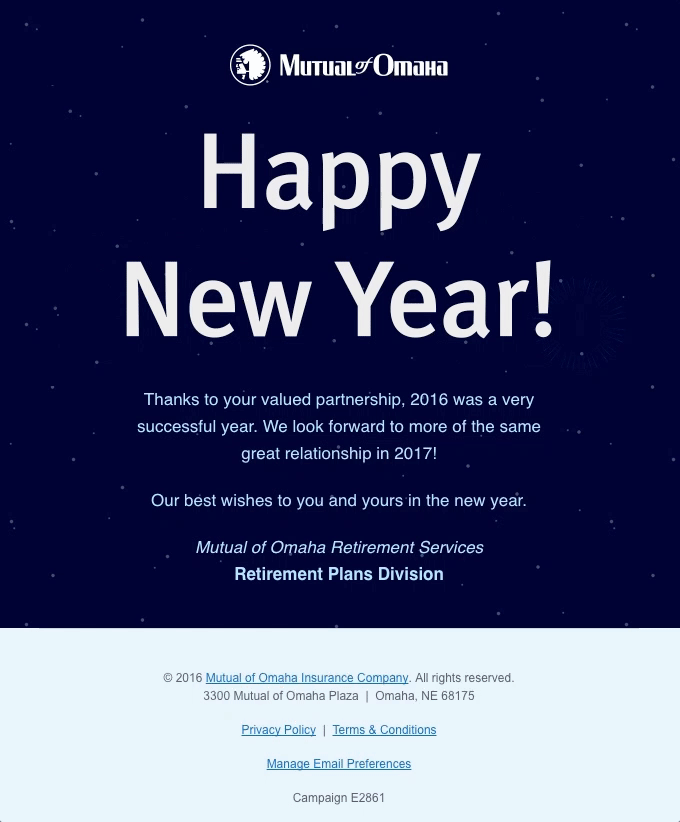 On Achieving Milestones
Last but not the least, you should not miss sending a thank you email to your customers on occasions that can be termed as landmarks for your business. This includes anniversaries as well as important milestones. You must never forget the fact that your customers play a very important role in all your achievements and milestones. And hence, thanking them is the least you can do.
Simply thank your customers for their continuous and unwavering support, and that achieving the feat would not have been possible without them. This thank you email might not directly lead to sales but can certainly amplify customer engagement with your brand.
Look at this thank you email Fitbit sent to its customers on completing 10 glorious years: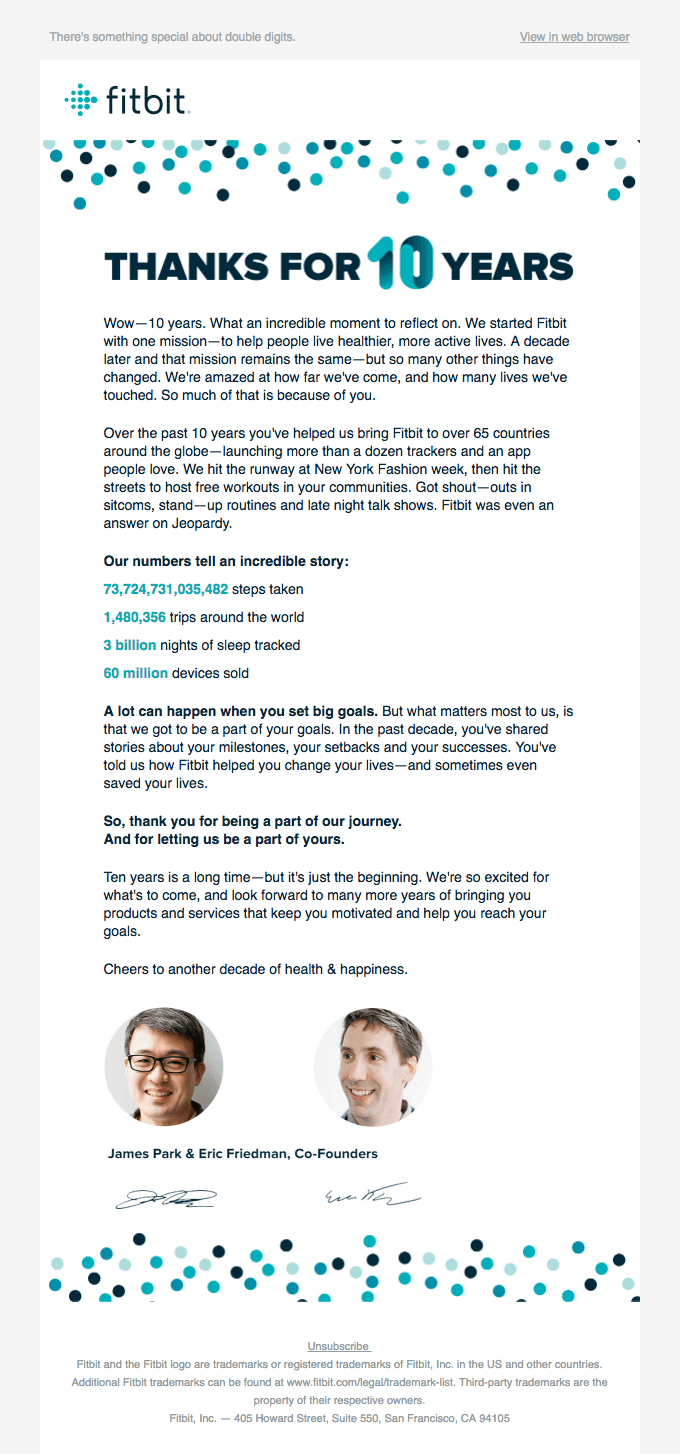 Apart from the above mentioned stages of customer lifecycle, here are some other times when you can send a lovely thank you email:
Right after they have used your product or service as a way of asking for their feedback.
When they've renewed a subscription.
When they've reviewed your product or service.
When a customer is leaving you, saying thank you along with good bye will give out a great impression of yourself.
Tips to Make Your Thank You Emails More Effective
Use the word "Thank You" or "Thanks" in the first half of your email and also in the subject line.
Adding extra information such as customer support details and FAQ provides an edge to your thank you email.
Include Links, Images, social media sharing buttons & appropriate CTAs.
Including a feedback or review form in your email is also a great way of promoting customer engagement.
Offering discount codes in the email.
Make your thank you email personalized; address your customers by name.
Keep the tone of your thank you email conversational and not formal.
Wrap-Up
Gratitude is a great virtue to possess, especially for a business. And one of the simplest ways to display your gratitude towards your subscribers is by sending them a relevant 'thank you' email. This not only increases customer engagement but also generates goodwill for your brand which in turn brings-in brand loyalty.
So what are you waiting for?! Use your thank you emails smartly, and let your business witness increased customer engagement, repeat purchases, and higher sales!