The objective of landing pages is to provide a scaffold to the audience to take action. They can either facilitate customer acquisition or bring in conversions. For this, you must be able to bring people to your landing page and make them click through the call-to-action.
It is one of the most essential components of inbound marketing that helps to attract, convert, and close the leads into customers.
Landing pages are generally created for the following reasons:
a. To make people sign up for your emails
b. To encourage users to take a free trial
c. To showcase your range of products and drive business growth through conversion
So, how will your landing page get you visits while ensuring that you meet all these goals?
Take a look at these eight tips to create high traffic landing pages that convert.
8 Tips to Generate Traffic to Your Landing Page
1. Reach out to your existing subscribers with emails
People who already know you are keen to visit your website landing page. You just need to attract them with the right offer and call-to-action. As your landing page is generally created for a particular segment of subscribers, it is more likely to generate visits and get you conversions.
So, how will you make the most out of this opportunity?
Here are some tricks to help you out:
i. Incentivize the reader with a discount coupon code
ii. Allow the users to download a resource or sign up for a trial for free
iii Provide access to the beta version of your software
iv Add links to relevant blog posts or articles that add more value to the landing page

Besides, you must also make sure that you do not send too many emails that would annoy the subscribers.
Take a look at this email by MarketingProfs in which they have promoted a New Year offer for their PRO membership.


On clicking through the CTA, the user will be redirected to the landing page that talks more about the offer and how PRO subscription has helped marketers in getting the best B2B education. The landing page becomes even more impactful as they have shared a testimonial from one of the PRO subscribers.
Also, see how they have placed the CTAs in the first and second fold of the landing page to increase conversions. Needless to say, the landing page is visually clean with plenty of white space to enhance readability.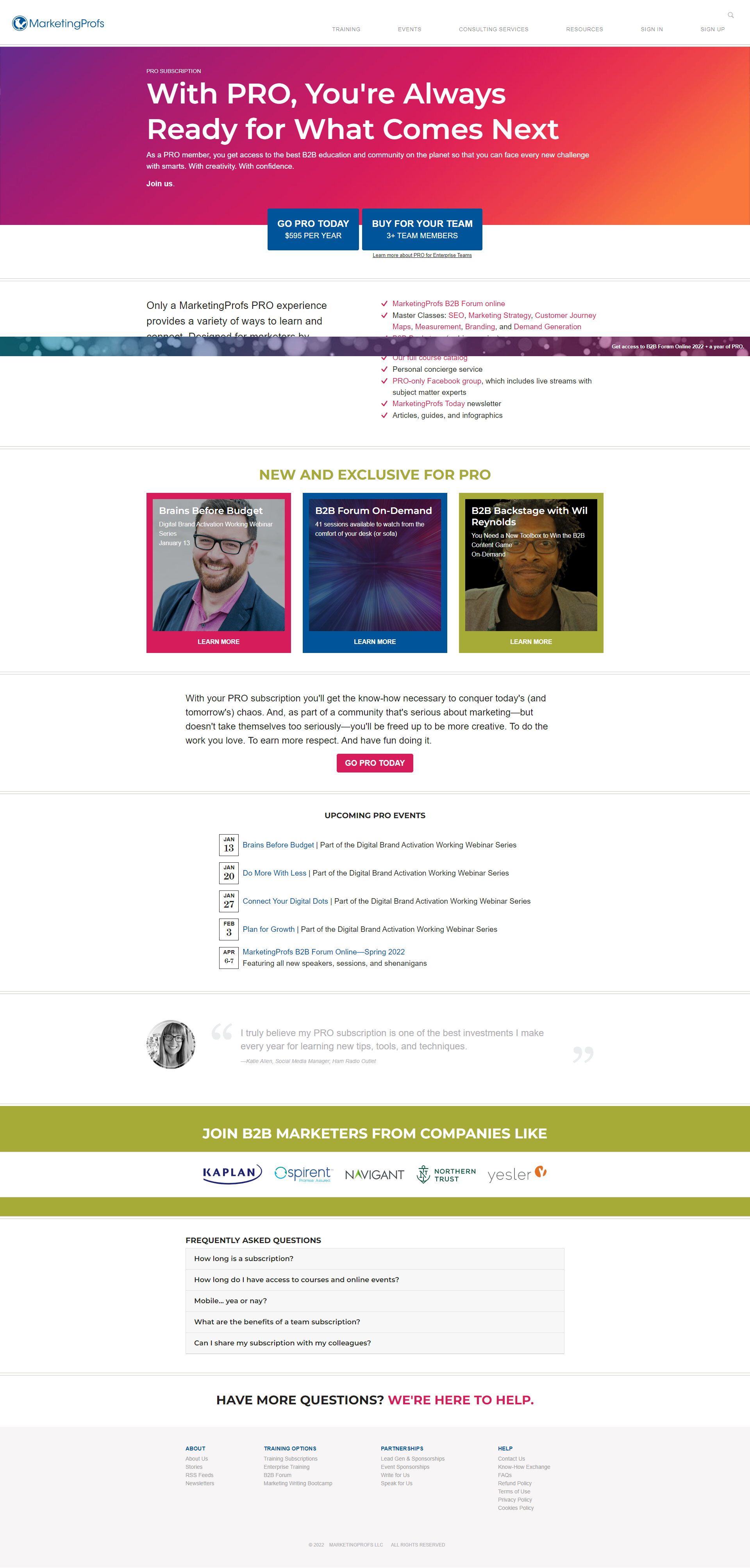 2. Invest in an effective SEO strategy
The first step to get conversions from your landing page is making it rank on search engines. Conventional landing pages are not too wordy. As a result, there is not much you can do to add relevant keywords for SEO.
However, you can carry out on-page SEO for your landing page to get maximum visits.
For instance: If someone is looking for email design and coding services, you must use the keywords mentioned below.
i. Email design and coding
ii. Convert psd to HTML email
iii. Code pixel-perfect HTML emails
Prospects searching for something like "Convert psd to HTML email" are sales qualified leads who are keen to make the purchase. Google can identify this purchase intent and give a leg up to your SEO efforts. Using conversion-centric keyword phrases like "How to create an HTML email" and "How to convert psd to HTML email" can be used to bring people to a landing page with gated content that shares detailed insights into the topic.
3. Repurpose old and relevant content into new resources
It is not always necessary to write new stuff for your landing page. If your content has drawn the subscriber's attention, you can repurpose it into a different format.
Repurposed content is a modified resource that is created with a different marketing purpose. It has the same central idea and message as the original content piece. For example: You can repurpose an infographic into a carousel post on LinkedIn or Instagram to cater to a different segment of users.
Advantages of repurposing content:
It helps to save time taken to create new content.
You can reach different segments of audience by changing the tone of the content or expanding on a specific section.
Using repurposed content to generate traffic to landing pages
Suppose you have a landing page to generate free trial subscriptions. To achieve this objective, you must include an inline form in the repurposed blog post. The same applies to your podcasts, YouTube videos, and long form content. Make every platform count when it comes to driving traffic to your landing page.
4. Utilize the power of paid advertising to increase landing page visits
Pay-per-click or Search Engine Marketing is one of the most effective ways to get visits on your landing page. It works by charging a fee from you every time a user clicks on any of your ads.
When the user clicks on the ad, they will be redirected to the respective landing page and it will ultimately build your traffic.
Google Ads is the most popular platform to carry out this strategy, for the following reasons.
Google Ads are easily scalable.
This means that you just need to increase your PPC budget to expand your sales and get maximum business. It does not require any additional efforts from your end.
They are measurable.
With the help of Google Ads, you can understand what your visitors are searching for. You will also be able to track the cost-per-conversion, conversion rate, and CTR.
How to make paid search ads work?
To ensure that your paid ads are getting your landing page visitors, you must write a clear copy that lets the reader know "what's in it for them".
Take a look at this example in which they have promised the reader to create a space that elevates their health and happiness.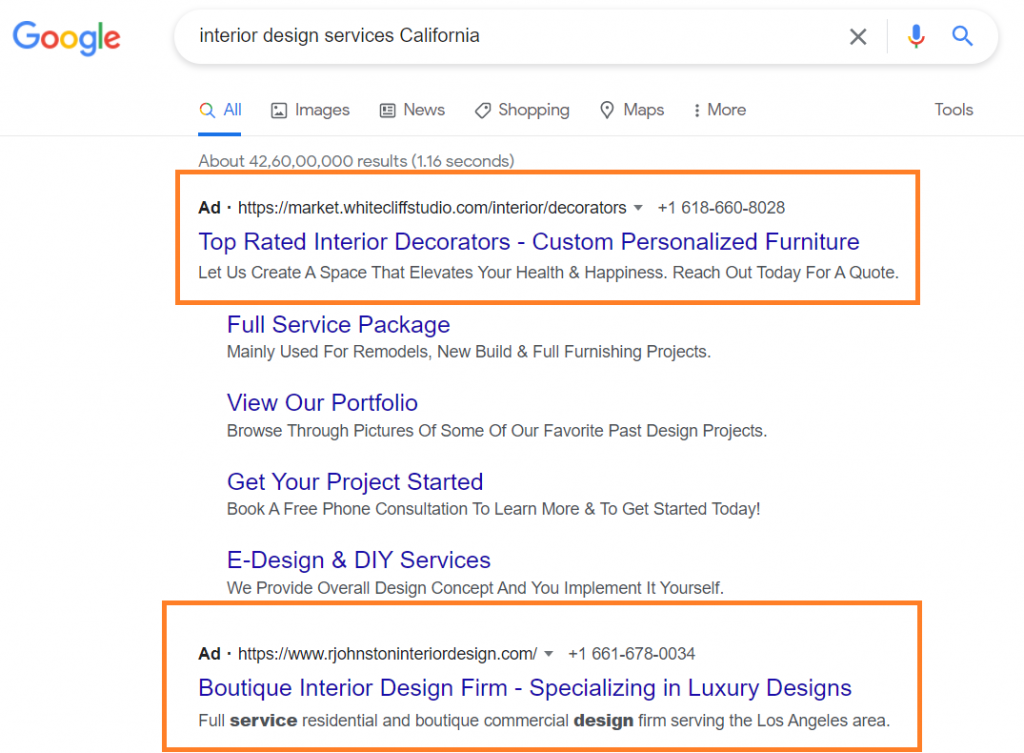 5. Leverage influencer marketing
Social media celebrities who have a huge fan following in their community are known as influencers. Influencer marketing has gained immense momentum in the current scenario. It has helped marketers to create user-generated content and enhance brand visibility. As people trust recommendations from users more than the claims from brands, influencer marketing goes a long way in building a loyal audience. The first step to start with Instagram influencer marketing is to analyze Instagram influencers, if you find their audience relevant, then you can even ask them to share unique discount coupon codes along with an affiliate marketing landing page to increase conversions.
6. Take advantage of public relations
Just like you are looking for landing page visits and customers, publications are looking for quality content. The same also applies to off-page SEO and guest posting. Suppose you have published a whitepaper or infographic on remote working best practices with an objective to promote your project management tool. You can outreach to relevant websites and guest blogging platforms to publish it and offer you a link to its landing page. Some websites even work with a symbiotic link exchange approach.
7. Employ social media marketing
Whether you use social media for organic traffic or take the pay-per-click approach, you can generate considerable traffic through these platforms like Instagram, Facebook, Twitter, LinkedIn, Reddit, and YouTube. The Audience Insights tool by Facebook and Instagram allows the marketers to target people according to their personas and bring maximum engagement for their ads. It also helps to cut down the price of customer acquisition and get the most bang for their buck.
It is advisable to invest in one or two most relevant channels at the outset and see how it goes. For example: If you are an eCommerce website, Instagram and Facebook would work the best for you. On the other hand, LinkedIn gets the best results for SaaS companies.
Scaler has created a nice video advertisement to prompt users to register for their free recorded masterclass.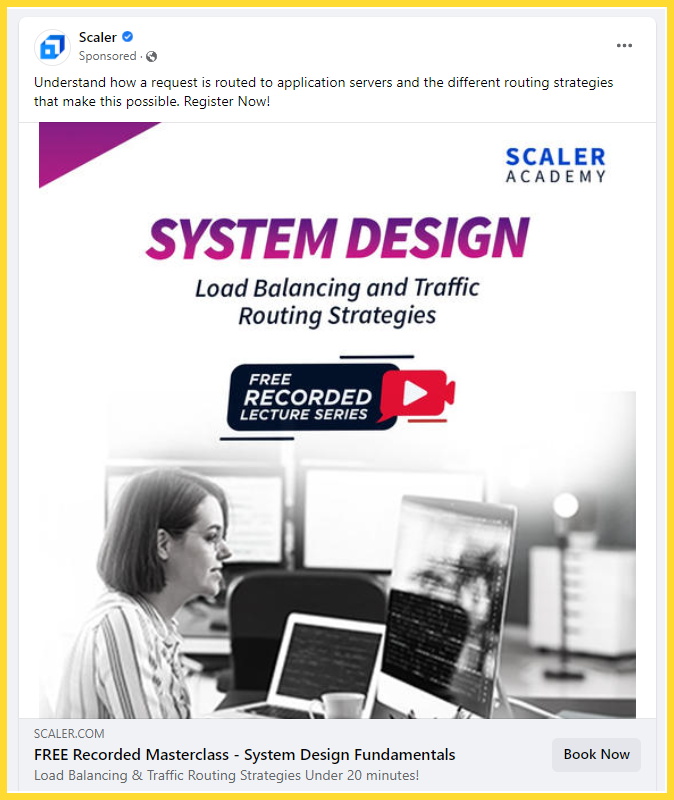 On clicking the CTA "Book Now", the reader will be redirected to the registration landing page that explains more about the class. 8323 registered is a good phrase to create FOMO and get more people to fill the form.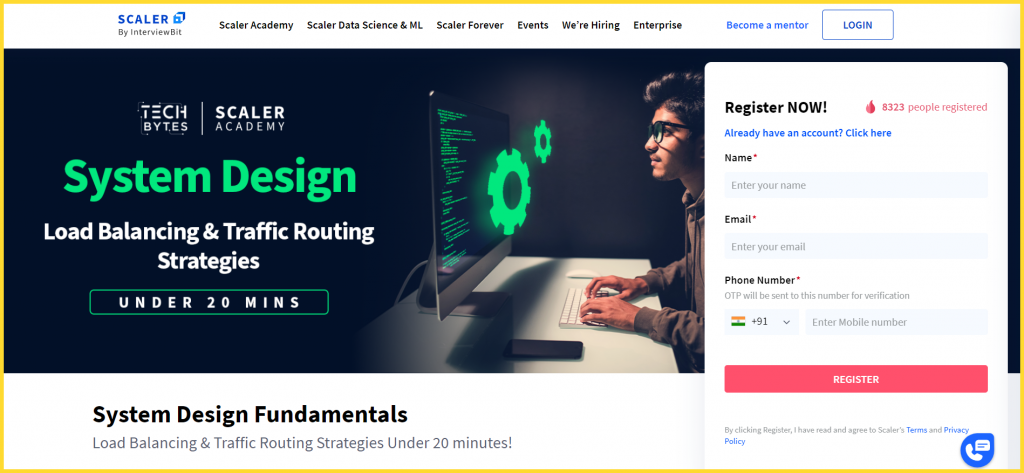 8. Organize contests, both online and offline
Contests work wonders in shaping up the relationship with subscribers.
They help to tap on the competitive instinct of the subscribers and boost brand engagement. You can promote these updates through emails, social media posts, and paid ads to increase participation. All these will redirect the readers to the landing page. The same goes for events. You can create a landing page to get maximum visitors and make your event a grand success.
Wrapping Up
Your landing page must consider the type of business and the kind of people you are catering to. Test what is working the best for you and then create a winning strategy to drive visitors. Keep measuring the results and optimize your landing page accordingly.
To sum it up, here is a tip: Take professional help and use the right tools to create visually attractive landing pages. If you are unsure about how to do it, get in touch with the experts at Email Uplers and we would love to assist you.