The methodology with which you handle your email unsubscribes is way too important than how it'd appear. Rather than making your emails look messy or letting people unsubscribe without a second thought; it's time to make things easy for people who are bidding bye to your email campaigns.
Also, if people are not able to seek the unsubscribe link in your email, they'd certainly mark it as spam. If your email marketing campaigns are getting more email spam complaints; then it's high time for you to look at your unsubscribe process, for that could hit your HTML email deliverability score in the long run.
Check out how important is email deliverability for your email campaigns.
In order to retain the subscribers, it becomes vital to figure out the reasons that bounds subscriber to unsubscribe from your HTML email.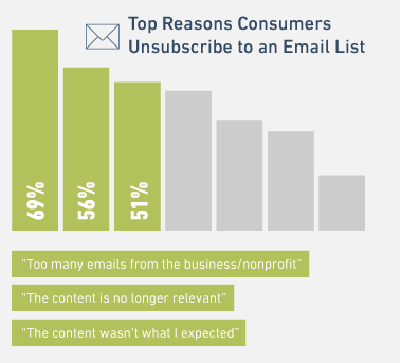 So, let's figure out how can you as a marketer can win the hearts of your subscribers and influence their minds for not breaking up the relationship with the below email examples.
JetBlue- Acknowledge them your importance
JetBlue email comprises of: new preference forms in case the subscriber's interest have changed, a unsubscribe button and social buttons of course. The key aspect of the email is wherein it provides key navigation to update email preferences.

Just to make sure that the email reaches out to every cross-section of its audience (age, gender, location, etc.), JetBlue in its email HTML has aptly used modern fonts and graphics subtly stating all the reasons why subscribers should not unsubscribe from their newsletter. But worth mentioning is the brief of all the salient features so as to make the subscriber count their worth.
Puma – Add an emotional touch
Want something different from traditional approaches? The same is implemented by PUMA, to make people think twice on their decision of parting ways with the brand. The emotional message to emphasize how much they've felt their absence encourages subscribers to "Rejoin" through this email template.
Charity:Water – Laughter is the best way to bond
There is nothing better than a laugh which can make someone think twice before ditching you. According to MillwardBrown, 69% of successful ads have used humor to tickle the funny bone of customers.
Always consider giving them one final juicy offer before letting them go. Such offers will force them to lick their tongues and revise their decision. Charity:Water designed an unsubscribe confirmation email that offered users a choice to either watch video of how their CEO got ambuscaded by water balloons or unsubscribe newsletter without watching it out.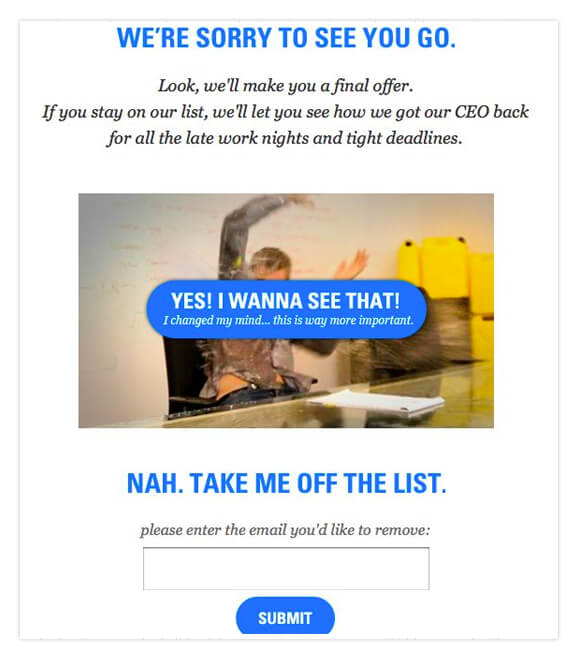 Fab – Be to the point
Enriched with great design features, Fab crafted one of the most unique unsubscribe email template examples that allows subscribers to easily decide on what action they want to take ahead. To bring ease to customers, it displayed the unsubscription message on the top of the email.
Rather than forcing them or luring by some offers, this unsubscribe email template simply gave them two options to choose from.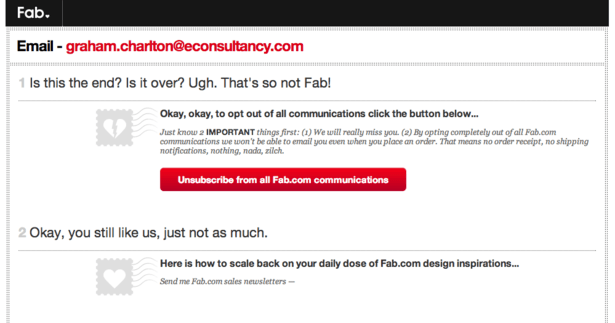 Marine Depot- Inspire them to follow you on social media
This is the email HTML of Marine Depot that you'll come across after unsubscribing from their newsletter. Rather, painting a sorry picture of themselves; Marine Depot sent an email unsubscribe confirmation email.
The confirmation email had all the links to their social handles. Even after unsubscribing from email newsletter, they insist on maintaining relation through social media platforms.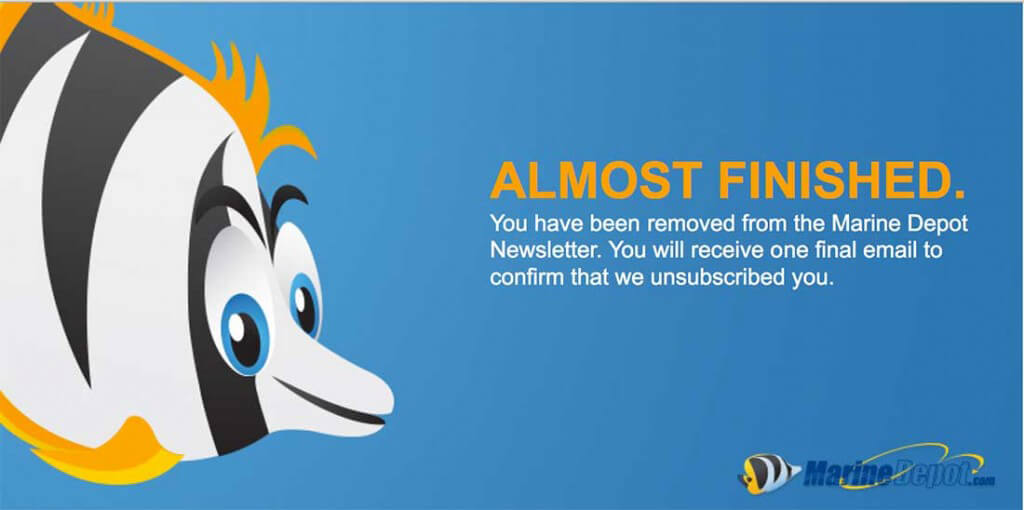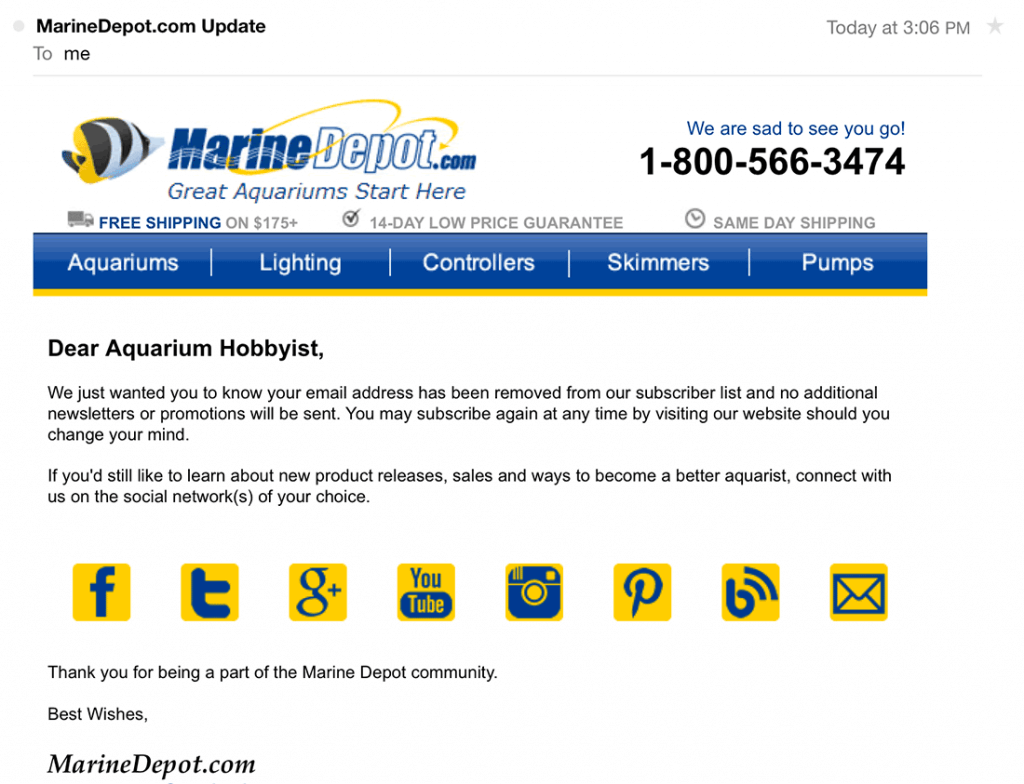 Return Path- Be playful and precise about what you conveying
A playful tone to amend your subscribers mind can be one of the best way to reduce number of unsubscribes. Return Path kept it short yet playful with cute cartoon characters and to the point email.
Rather than making it cheesy by melodramatic sentences, they firstly made the user realize about how much they missed them and how they wish to offer user informative emails.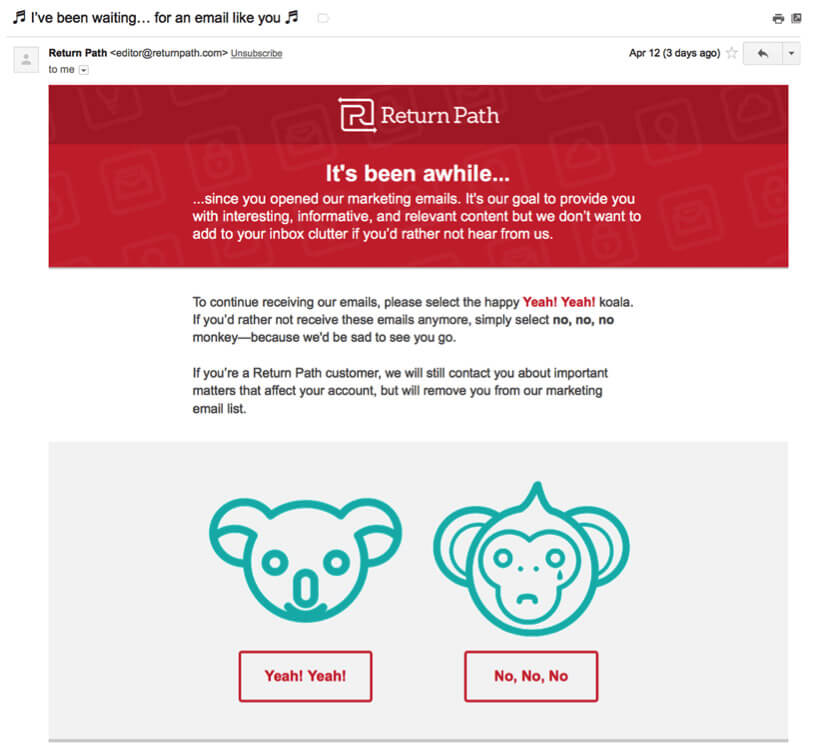 Vimeo- Give leverage to choose what's better for them
By adorable robot figures and mind humor, Vimeo talks to the point right away. They allowed subscribers to set their preferences and make their inboxes less messy. Sending subscriber only one email per month is better than losing the subscriber completely.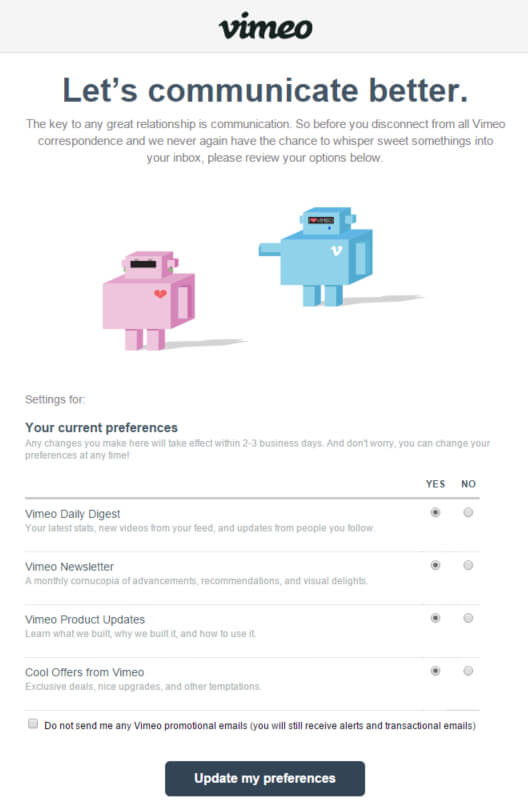 Some Quick BEST PRACTICES for Unsubscribe Email Campaigns:
Here are the top 7 tips you can use to create effective unsubscribe email template examples:
Muster some feedback if you can
Keep it simple, but relevant
Set expectations
Provide option to rejoin or re-subscribe
Stay connected through social media with your subscribers even after parting ways.
Bring them to well-crafted unsubscribe landing page
Don't burn your bridges
Remember, just because someone has unsubscribed, that doesn't mean your game is over. Give your best shot to change their mind or at least make their exit memorable. Set yourself apart and show them why it is necessary for them to receive emails from you.
One of the best ways to reduce your overall unsubscribes is to understand what prompted the subscriber to unsubscribe. Talk to our campaign management experts to help improve the conversion process.