This Thanksgiving day, no less than 30.6 million people are planning to shop online or in-store. As a business owner, you're probably already licking your lips at that stat, aren't you? Anyone in your shoes would. After all, it's not every day that opportunities like these come knocking. However, don't let the charm of these riches take your mind off of the fact that claiming them is going to be a task and a half.
Unless the sizzle and crackle of your email campaigns match that of the freshly-roasted turkey on your Thanksgiving table, you'll not be able to channel any sort of interest toward you. And how does one get said delectable campaigns right? By acing your research, challenging your creative boundaries, and, of course, by taking inspiration from the best in the business! To help you get underway, I've curated some of the most stunning Thanksgiving emails from the recent past in this blog. Once their glory and magic grace you, you'll be left buzzing with ideas aplenty. Don't believe me? Well, read on and find out for yourself!
Terrain
Subject line: Happy Thanksgiving from Terrain!
A sweet message, a lovely earthy design aesthetic, and a minimalistic envelope to shroud it all- doesn't that sound like an excellent Thanksgiving email recipe? Well, that's exactly what Terrain have done over here. The minute you open their email, you get lulled into the calm and composure that their content and design elements brew together in tandem. I like the fact that the email has clearly highlighted all the various product categories that the store contains and that each of them leads specifically to that page. The objective is to make the user experience as frictionless as possible and such kind of design goes a long way towards boosting your conversions. Terrain is also transparent about their shipping rates in this email, yet another tactic that has my complete approval.

American Apparel France
Subject line: Gratitude is a must… Happy Thanksgiving!
This Thanksgiving email by American Apparel is an excellent illustration of how you can use bold typography to segment your email content. If you look closely, you'll notice that there are no traditional demarcators in this email in the way of lines or borders or anything. And yet, you can tell, without any doubt, that it contains three sections. Why is that? You guessed it, courtesy of the pronounced headings. But bold typography isn't the only applaudable aspect of this email. I also quite like how they have decided to keep the email high on visuals and low on text. As a result, they've been able to generously display their products, allotting two images for each.
Besides the umbrella CTA for each section, every product has been assigned its own button- a brilliant move, in my opinion. But, not everyone has the patience to scroll beyond the hero section, and American Apparel understand that well. That's why they have added two CTAs above the fold itself. Essentially, they have made their hero section a self-contained unit, complete with a Thanksgiving message, an appealing background image, and the CTA buttons, of course.


Popopie Inc
Subject line: What to Dress on Thanksgiving PartyFind at Popopie-Kids
The stunning background gradient, the delightful pop of colors in the foreground, and the clear mention of their special offer- such is the appeal of Popopie Inc's hero section that one can't help but scroll further to discover what lies beyond it. It also serves as a testament to why the gradient remains such a popular design trend during the holiday season.
In the body, one comes across Popopie's different product categories and has complete clarity regarding how they look as well as their cost. As a result, the subscriber is able to arrive at an informed decision even without visiting the website. In this email, they have promoted their app as well. But, they haven't simply mentioned that it's available in the App Store and Google Play; for the subscriber's convenience, they have provided a QR code that they can scan to download the application. To nudge readers into taking this action, they have also offered an incentive.

Balkan Bites
Subject line: Don't show up to Thanksgiving empty handed
A good way to evoke the spirit of an occasion in your email is by using related iconography in your email. That's precisely what Balkan Bites have done over here. The background of the hero section is laced with a bevy of Thanksgiving-themed illustrations- turkey, acorn, pumpkin, and the like.
Another thing that caught my attention in this section is how they have framed the copy. They haven't taken a promotional angle with it; instead, they have created a need for their offerings in the reader's mind. Anyone who has ever worked in sales will always tell you that the key to driving sales lies in need creation, not tooting your own horn.
The last thing I want to highlight in this email can be spotted below the CTA button. Yes, the question posed to the reader. What's so special about it, you ask? You see, ever since Apple's MPP (Mail Privacy Protection) has come into the picture, it has become impossible for brands to track their emails' open rates. In such a scenario, it is important to encourage replies, for they are an extremely trackable engagement metric.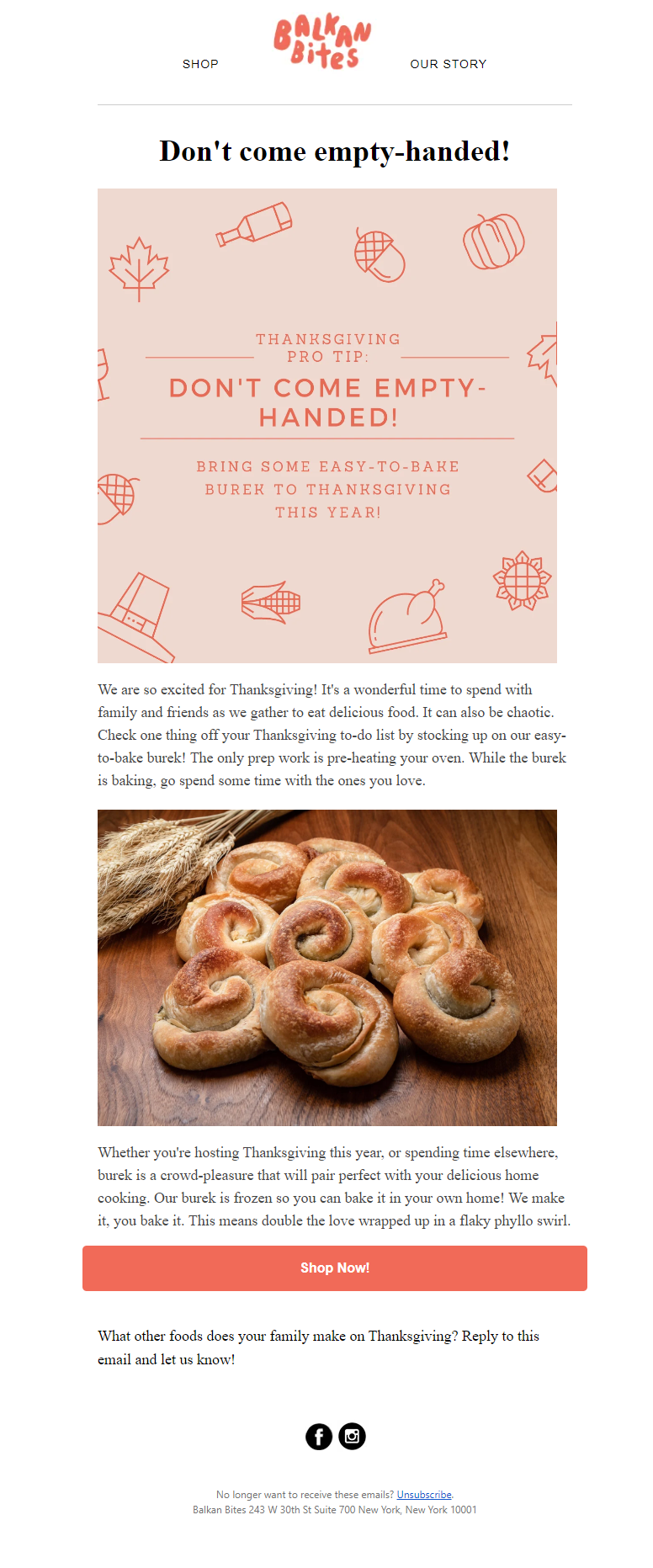 Email Uplers
Subject line: Will you help TURKEY reach his goal?
Gamification is among the most innovative and effective ways of engaging your subscribers. At Email Uplers, it is the hallmark of all our holiday emailers. And well, last Thanksgiving was no different!
The objective of the game was simple- the player has to help the football-loving turkey reach his goal. How do they do that? By answering a series of questions about Thanksgiving! Should you happen to get all the answers right, your Turkey scores his goal and you accomplish your mission. What's more, you get to share your achievement with friends and family across social media!
If you get any answer wrong, you get to re-attempt the game from the beginning.
JibJab
Subject line: Say Happy Thanksgiving with JibJab
If there's one thing that you can always rely upon to grab your audience's attention, it's humor. And well, it happens to be the hallmark of this Thanksgiving email by JibJab. Every single GIF in this email is hilarious to a fault, guaranteed to send you into hysterical fits of laughter. The tone of the copy is perfectly in line with the visuals, ensuring that the email remains one unadulterated laugh riot.
Notice how all the GIFs are small in size and have minimal frames. This is not coincidental but a clever design choice. You see, when an email has too many GIFs, its file size becomes rather large. Subsequently, its loading time increases too. And customers hate slow-loading emails, you and I both know that. So, if you are considering attaching GIFs in your Thanksgiving email, you'd do well to adopt the approach JibJab have taken over here.

Ralph Lauren
Subject line: Happy Thanksgiving
The holiday season is a good time for you to not just drive greater revenue but also establish an emotional connect with your subscribers. And what better way to go about it than to introduce to them the faces that work hard to deliver their beloved products to them? That's the route Ralph Lauren has taken with their Thanksgiving email. Nothing like a complete family portrait (all dressed up in the choicest Ralph Lauren apparel, of course) to strongly drive home the "from ours to yours" sentiment, is there? The lovely portrait is accompanied by an equally warm message, reading which is sure to bring a smile to your face. And that's all there is to this email- the portrait and the message.
No promotional links, no CTAs, nothing. Ralph Lauren's Thanksgiving email focuses exclusively on greeting their subscribers; a unique approach but one that I can completely get behind.

Lola's Cupcakes
Subject line: Thanksgiving Treats
Lola's hooks readers into its Thanksgiving email with an absolutely delicious hero image (yes, quite literally!). This email is an ideal example of how one can reinforce their brand image with their design language.
A single glance at this email is sufficient to tell you that Lola's is a fun, informal, and youth-friendly brand. You get all this without even reading their content. So, what tells? Many things, actually. At the outset, it's their choice of font in the hero section. Next, how they have labelled their product using an illustrated arrow. The most tangible aspect, however, is the manner in which the sections of this email have been demarcated. Should this email have been divided using bold horizontal lines, had your brand perception of Lola's remained the same? Definitely not. The wavy lines that segment the email play a big role in rendering the vibe it possesses. The illustration style of the icons, too, contributes its bit to keeping this informal tone consistent.

mud-pie
Subject line: Thanksgiving outfits for your little turkey!
mud-pie's Thanksgiving email is arguably the most adorable one in this lot. What's worth noting in this email is how cleverly mud-pie have tied in the occasion with their offerings. While the adults of the house will get busy with preparing the Thanksgiving delicacies and decorating the house, what should the toddlers do? Make an inimitable fashion statement, of course, with mud-pie's Thanksgiving-special launches. And a dapper baby is a happy baby; we all know that, don't we? Also, props to the fact that each section of the email has a distinct CTA phrase.


Wrapping It Up
We hope the examples shared above have given you the inspiration you were looking for to get your Thanksgiving campaigns rolling. Here's wishing they turn out great and find the success they deserve!