Thanksgiving Weekend is one of the highest-grossing Holiday of the year. In 2019, 189.6 million U.S. customers shopped from Thanksgiving Day through Cyber Monday which is around $23.8 higher than 2018's spending of $165.8 million. Besides people splurging on a lavish family dinner during this Holiday, gifts form an indispensable part of the occasion.
To make sure that your business drives maximum profits during this lucrative season, you must invest heavily in your marketing efforts. With an ROI of 51%, emails should be your top priority to yield higher ROI.
If you are not yet sure about how you will go about your email marketing campaigns for Thanksgiving Day 2020, Email Uplers is here with top 10 email inspirations to help you out.
1. Outerknown
Subject line: A THANKSGIVING MESSAGE FROM OK!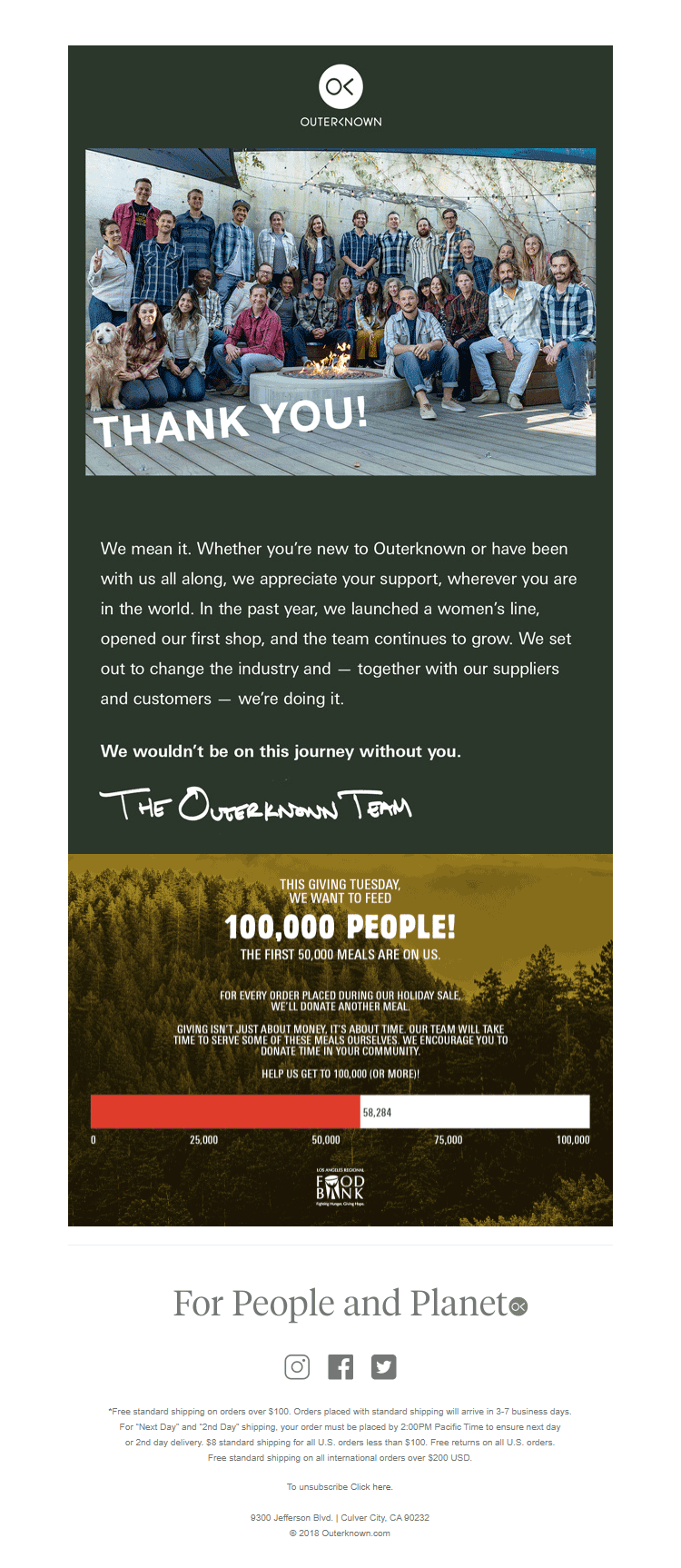 Outerknown has sent out a simple email expressing gratitude to their users for Thanksgiving Day. The GIF in the header image displays "Thank You" in different languages which makes it a perfectly 'inclusive' email that can work well throughout the geographies you are catering to.
The next section informs the user about their Giving Tuesday initiative in which they will feed 100000 people. It will encourage the customers to be a part of the noble cause and make a purchase to contribute their bit.
2. The Sill
Subject line: We're thankful for sneak peeks ?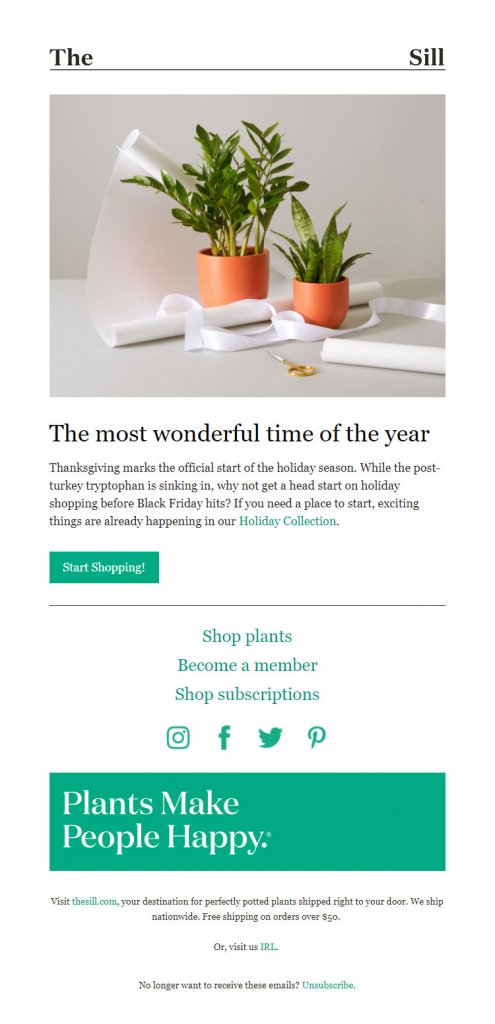 With a visually attractive image followed by relevant copy, the Thanksgiving Day email by The Sill is sure to get people to head to their Holiday collection and 'start shopping'. It is a short and sweet email with ample whitespace and no distractions. If you want to go for a minimalistic email, this can serve as the best inspiration.
3. Dancing Deer Baking Co.
Subject line: Thanksgiving Leftovers Challenge!
Less is more – That's perfectly demonstrated by this email. They have shared a video to broadcast the Thanksgiving Leftovers Challenge between a MasterChef Junior contestant and an adult. It will pique the recipient's curiosity and make them click on the CTA to watch the video.
4. Adorama
Subject line: ? Your THANKSGIVING DEALS You (Almost) Missed!

The GIF at the top of the email will draw the subscriber's attention and encourage him or her to scroll through. As the subject line suggests, they have shared the top deals for the Holiday season. To maintain the text to image ratio, they have added the product name along with the images used. The preheader text elaborates on the subject line and lets the recipients know what they can expect in the email.   


5. FOR DAYS
Subject line: For Grateful Days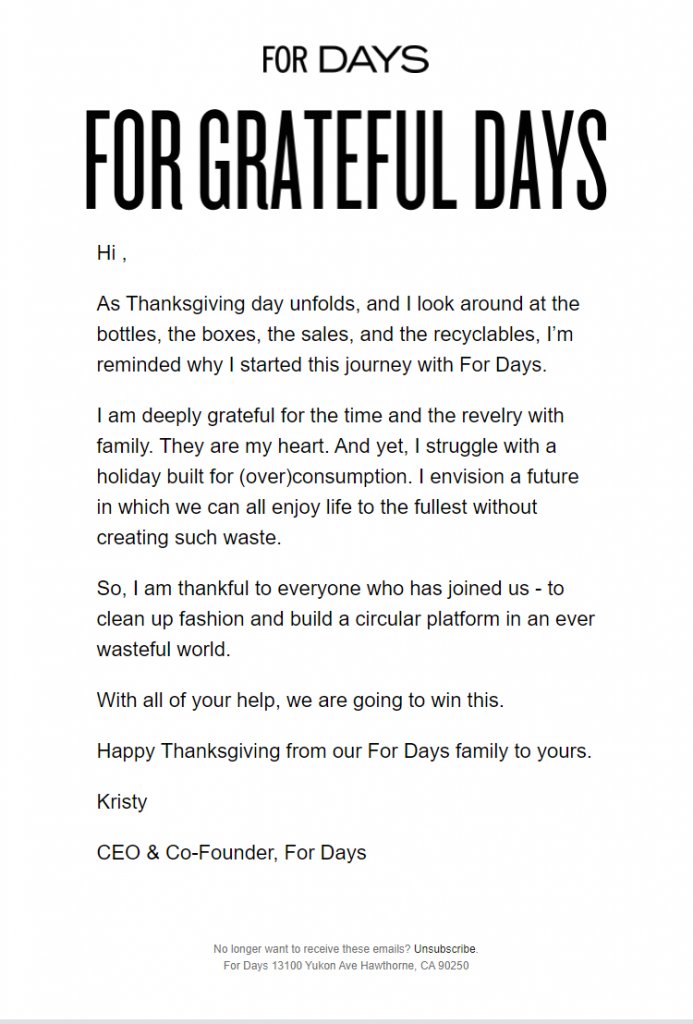 No promotions!
No salesy messages!
No "BUY NOW" CTA!
That's what makes this email from For Days stand out. It is a beautiful Thanksgiving Day letter written by their CEO that expresses gratefulness to everyone who has joined them and made the world a better place to live in.
6. Bella Ella Boutique
Subject line: Final Hours on Thanksgiving Day Doorbusters

Bella Ella Boutique has created a sense of urgency through their subject line as well as email copy. They have also promoted their Black Friday giveaway in addition to the last minute Thanksgiving Day sales. What would work in their favor even more is that they have tried to boost their social media visibility by promoting their Facebook and Instagram live. Also, they have encouraged the users to post on Pinterest. Such tactics would go a long way in building better business ROI during the Holidays. 


7. MaddaFella.com
Subject line: a Thanksgiving gift for you. 25% Off Site Wide

MaddaFeela has used an interesting GIF to promote their Holiday season gifts. They have used Courier font style to support the images. Being a web-safe font, it is a good choice for emails. They have ended the email with three recommendations for the subscriber, followed by a CTA to learn about their story.
8. Trtl
Subject line: ? Happy Thanksgiving ? Holiday Deals Inside!

Trtl has sent a heartfelt Thanksgiving Day wish by showcasing a GIF of photographs of travel enthusiasts who have used their service. In the second section, they have promoted their Black Friday deals and its coupon code. Visual aesthetics make this email a winning campaign.
How Uplers Can Help?
Have you planned your Thanksgiving email campaign? If you are looking for custom Thanksgiving email templates designed and coded especially for your brand, get in touch with our experts at Email Uplers. You can also avail services ranging from campaign strategy to design to deployment.