Thanksgiving Email Strategies and Inspirations to Dazzle this Holiday
Thanksgiving. When we think about this amazing holiday, we think of festivity, family feasting, charity, and football. It's an occasion to show gratitude to everyone who's been with you throughout the year and beyond. This is the ideal Thanksgiving tradition! But over the years, and with the advent of Black Friday and Cyber Monday, it has also transformed into one of the most prospective occasions for marketers and businesses – that includes shopping and consumerism for the holiday season.
In 2018, the online spending on Thanksgiving hit $3.7 billion, which means a 27.9 percent growth year-over-year. It has outpaced 18.3% growth rate of 2017. Average order values were up 8.0 percent over Thanksgiving Day during that year.
As email marketers, this is a great opportunity to show your gratitude to your customers and subscribers, while delighting them with Thanksgiving gifts in the form of exciting Offers and discounts through engaging emails. In a nutshell, you need to make your Thanksgiving emails exciting and exceptional to STAND OUT in the teeming inbox.
Strategies To Outshine Your Brand This Thanksgiving
Plan your strategies well
Firstly, analyze your goal for this Thanksgiving. Be clear about what you want to achieve this holiday as a brand. Once you are clear, start working on it. The key areas you need to focus are:
Understand and decide what you are planning to offer to your customers?
How your Offer is going to be different from the rest of the brands?
Now that you have a clear picture of everything you can work on crafting a good email.
Awe-inspiring Design & Engaging Copy
Have you tried to make emails your gateway to the other platforms? Build a beautiful Thanksgiving email harnessing the email marketing best practices with the right mix of the holiday-specific elements like turkey, pumpkin & autumn, falling leaves, etc. Also, write an engaging email copy that sells and compels your audience to visit your website and do business with you. And finally, test, test and test.
Enticing subject line
A good Thanksgiving email subject line will always get you some extra attention. Therefore, to get success from your thanksgiving email campaign start with a catchy, innovative thanksgiving email subject lines. Your subject line should be able to hook recipients with your email and should compel them to open your email.
Get more Thanksgiving subject line ideas here >>
Scheduling
Scheduling plays an important part in any email campaign. Just sending emails won't bring you luck, sending them at the right time will do. Thanksgiving is a very busy time for your subscribers as well. Show them that you value their time by scheduling the email when they are most active. Study your customer data well – their time zone, their browsing pattern, purchase time, etc. to create a winning strategy for your email.
Hook your customers to your brand
Running a holiday-themed contest can also be a great way to increase engagement, and indirectly help boost sales. Advertise your contest on your social media channels and ask people to subscribe to your emails. This will not only increase your email list but will engage customers to your brand, helping you grow as a brand.
8 AWE-INSPIRING THANKSGIVING EMAIL EXAMPLES
To make your email campaign planning easy for this Thanksgiving and to inspire you to create really good emails, Monks have compiled some great Thanksgiving email inspirations that dazzled subscribers last year.
#1. Brandless

This email by Brandless is a perfect example of how you should be sending your emails this Thanksgiving. While the theme is majorly in white and grays, the CTA's are highlighted in bright colors, making it easily clickable. This email with simple and plain design could be a great attention-seeker in the over-crowded inbox.
Also, the best part about this email is how the brand has tried best to connect with their customers. While thanking the customers for being a part of their journey, they have perfectly captured the best moments with their customers – demonstrating a perfect blend of emotions in their Thanksgiving emails.
Playing very smartly with their email they have also listed their popular products and back in stock products in the email, clearly killing two birds with one stone.
#2. EmailMonks (now Uplers)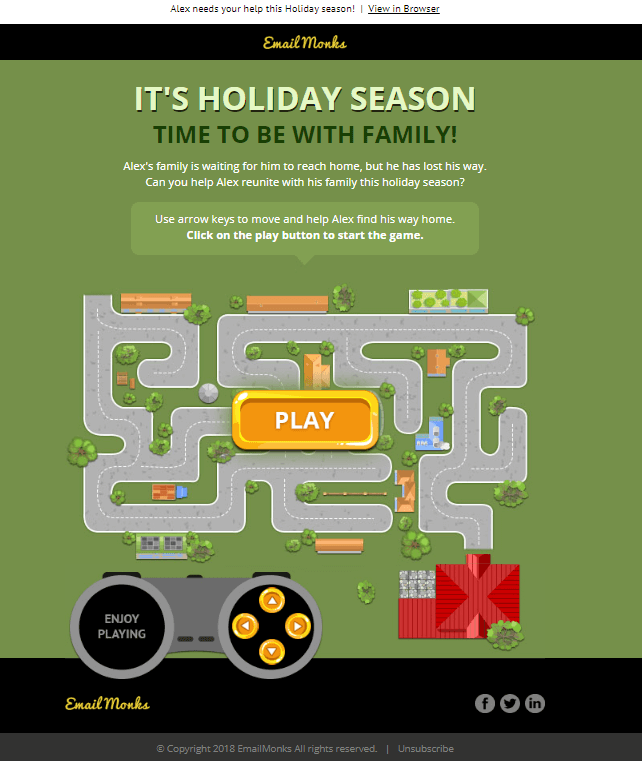 Click here to experience interactivity.
Gamification is the latest innovation for email marketers. Last year on Thanksgiving, EmailMonks came up with an idea of a gamification email with click-based events. The effects being used in this email can create more engagement and keep users hooked to your email for a longer time. Such attention focusing elements add a fun aspect to your email.
#3. Book keeping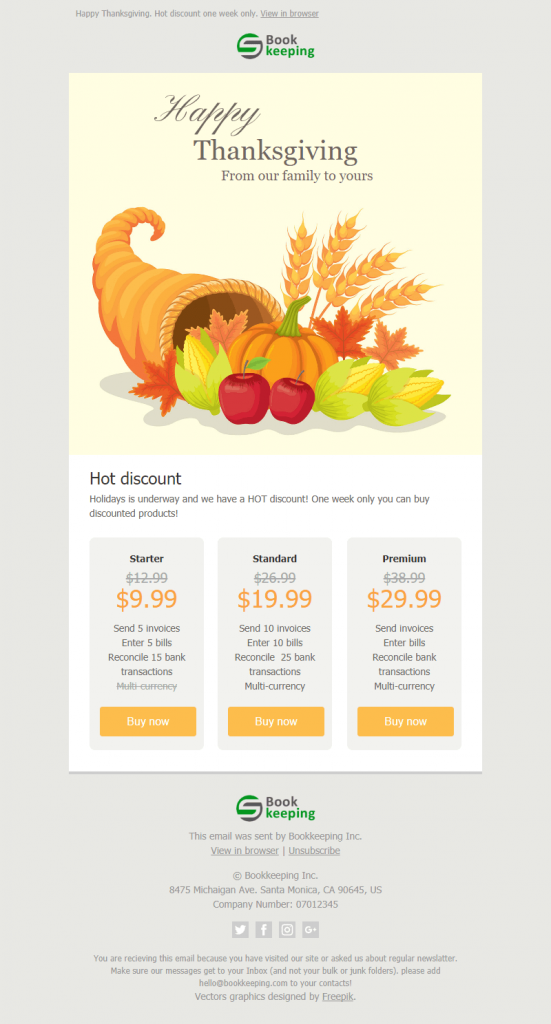 With your recipients receiving a lot of emails this Thanksgiving, how about saving their time by going an extra mile for them? Book keeping has included the discounted prices right in the email to woo their customers during the holiday season.
#4. Nic + Zoe

This email from Nic + Zoe has a very simple and clean design with maximum whitespace. The copy of the email is concise and to the point, making it a simple yet effective Thanksgiving email. While the theme is majorly in blacks, whites, and grays, the offer and CTA are highlighted in bright colors, making it easily clickable.
This email with simple and minimalistic design could be a great attention-seeker in the over-crowded inbox.
#5. Blurb

Blurb puts across its Thanksgiving wishes with a complementing subject line and a cute hero image. The plus point of this email is the way the brand has used animated GIF to highlight the sale preview. Letting your subscribers know about the forthcoming emails and offers will help them look forward to your emails and plan accordingly.
Blurb has mentioned the delivery timelines and order deadline to make it easy for their customers to plan their shopping. This is a great tactic to keep your subscribers engaged with your brand's emails, especially during the holidays.
#6. DogVacay

Running social contests can help you in engaging more users. DogVacay organizes a contest for Thanksgiving on Instagram, which they have promoted through this email. The subject line triggers emotions and the #hashtag and headline are perfect to melt any dog owner's heart! EmailMonks suggest to try RSS feed in emails to dynamically fetch your Instagram feed instead of static images. The email also has a discount gift with an offer code and an enticing CTA, followed by recommendations for hosts.
This email focuses on expanding the brand's reach on their mobile app and other social media platforms. Promoting offers and services on social platforms can help your brand gain more visibility at a time when the inbox is cluttered.
#7. eWatches

Interactivity is the most prominent trend for email marketing this holiday season! Using counters, sliders, gamification, etc. in your emails will make your emails more engaging and appealing.
eWatches uses countdown timer at the top of this email to create a sense of urgency. The offer and CTA are distinguished. Moreover, the subject line says all about the offer inside. It also recommends products to the viewers, thereby raising the chances of them clicking on it. They also have mentioned about holiday returns using different colors to make the section stand out.
#8. Brooks Brothers

Thanksgiving sets the stage for two of the biggest shopping days of the holiday season: Black Friday and Cyber Monday! It is, therefore, a great opportunity to begin promoting your brand's Black Friday sale offers in your Thanksgiving emails.
Brooks Brothers start off in the subject line and first fold of the email as any other Thanksgiving email. However, the rest of the email majorly focuses on the upcoming Black Friday sale that is emphasized using GIFs and attractive fonts. The email also provides information about the nearest stores to make it easy for offline shoppers.
How Uplers can help?
Have you planned your Thanksgiving email campaign? If you are looking for custom Thanksgiving email templates designed and coded especially for your brand, get in touch with our experts at Uplers or to avail services like campaign strategy, to design to deployment.