Email retargeting can boost conversions by a whopping 150%. Why does it work so well? Simply because it helps you reach the right customer at the right time with the right offer. In other words, email retargeting is as close as you will ever get to a marketing bullseye!
But what is it all about? And more importantly, how do you get started? Let's dive right in.
What is Email Retargeting?
Email Retargeting or Remarketing Email means sending personalized messages to prospects who have already visited your website. This provides a compelling advantage over traditional email marketing as it gives marketers an opportunity to communicate with prospects who have already shown interest in their product or service.
Examples of Email Retargeting Campaigns
There are several ways to use email retargeting. Some of the most popular types include:
1. Promoting offers to inactive subscribers – This happens when someone has signed up for your email list but never engages with you, why not remind them about your products or services? Take this email from Wisp, for instance, that comes with the subject: 'A special offer just for you!' Something like this can not only remind inactive subscribers of your brand but also engage them right away.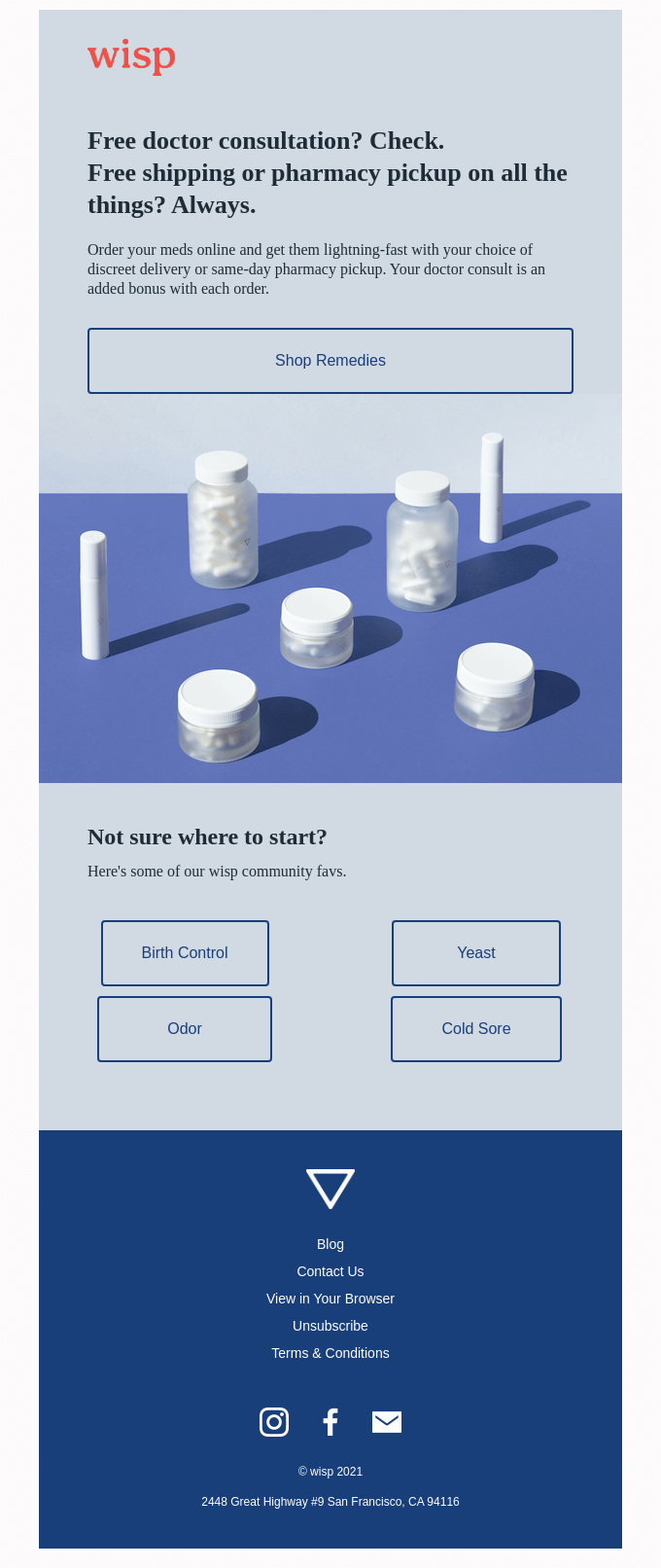 2. Promoting new products to existing customers – This is a great way to boost sales and make the most of your email list. By leveraging past customer shopping behavior and purchases, sales of new products can be kickstarted with a strong foot. The following email from Dermatica does just that by sending an email about newly developed products.

3. Promoting offers and deals to high-value subscribers – Target those subscribers who have read emails from you but haven't clicked on any links. This is a more targeted way of promoting your offers and will help boost conversions.
Check this retargeting email from Google itself, for example, that gives out a personalized discount code based on the engagement metrics of the users.
4. Promoting complementary products and services – Do you have products or services that complement each other? Why not promote them together! This is a sure-shot way to boost cross-sells and upsells. Below is an email retargeting example from the Google store that bundles different related products together.

5. Updating subscribers on your company's latest news – Keep in touch with prospects and move them down the sales funnel by sending them updates on your new product launches, deals, and discounts. In the email retargeting example below, Ando does this really well by tying a product promotion with a newsletter itself!

6. Using post-transaction remarketing email – This involves sending emails to prospects who have already made a purchase. This is another cross-selling strategy that taps into customer loyalty and keeps them hooked to the brand. In the example below, Huckberry takes this up a notch by including product promotion even in a refund transaction!

7. Promoting related products to abandoned cart buyers – You can also send emails to prospects who have abandoned their carts with reminders that their items are waiting for them. In the example below, Nike does this really well by reminding prospects of their abandoned carts and subtly cross-selling other related products.

10 Email Retargeting Best Practices
1. Keep your campaigns relevant:
All your retargeting efforts would be futile if you are targeting the wrong group of prospects. Spend time to figure out what your target audience is for every retargeting email before you begin crafting it. For example, if you are selling an athletic shoe, your email may only be targeted at those prospects who have visited the "Running Shoes" or "Sports Equipment" web page of your website.
2. Make sure your website is ready for retargeting:
Your website should be email retargeting friendly. Ensure that you have a clear insight into the customer journey on the website and all your tracking pixels are in place before you start your email retargeting campaign. For example, check if your retargeting pixels are in place before creating a list of individuals who visited the "About Us" page on your website.
3. Personalize your retargeting emails:
Use personalization to drive relevant traffic, increase conversion rates, and decrease your Cost Per Acquisition (CPA). The more personalized the email, the better. You can do this with the customer's name, location, purchase behavior, and more. For example, if a user has abandoned their cart, you can re-target them with an offer related to the item they were looking at.
4. Add a call to action:
The best email retargeting campaigns have a strong call to action that focuses on customer actions. The goal of the campaign should be to generate leads, not just send out more emails. Make sure your call to action is clear and offers benefits for clicking on it. For example, you can include a coupon code in your email that is only valid for 24 hours.
5. Keep your design simple:
Email retargeting campaigns are built to serve a very specific purpose, so keep your design simple and avoid any unnecessary clutter. Go with what works for your brand and your industry while also keeping in mind the goals of your campaign. For example, if you are not promoting a product, it might be best to avoid using pictures of your product in the email.
6. Use high-quality images:
High-resolution images look more professional and give off the impression that your company is trustworthy. They also help your retargeting emails stand out and engage the readers. For example, if you are promoting a high-value product, include an image of it in your email to give prospects an idea of what they are getting themselves into.
7. Track everything:
Make sure you track every aspect of your email retargeting campaign, whether it is brand awareness, sales, or engagement metrics. The only way you will know if this type of marketing works for your company is if you keep a close eye on everything and make necessary adjustments. For example, if you find out that people are not clicking on your call to action, you can try changing its location, size, or color.
8. Test your email retargeting campaigns:
Check to make sure your emails are effective by split testing them. You can also try switching up your email marketing platform to track which one is producing the best results. For example, analyze your email list, test different groups on it, and see what type of content they respond to best.
9. Highlight the value:
Your prospect should be able to quickly understand how your product or service can benefit them and take action next, so it is important that you highlight the value of what you are offering immediately in your email. If your CTA (Call To Action) doesn't tell customers exactly what they need to do next, they will be less likely to take the desired action. For example, if you are promoting a product that helps save customers money, let them know in the CTA itself that they can get it at a discount by clicking on your link.
10. Send a reminder:
Your retargeting campaigns should not end after the initial email blast. Prompt your customers to take a desired action one or two more times with a follow-up email in a week's time. This is also an opportunity to highlight additional products or any special offers to your customers. For example, if they did not click on the call to action in your initial email, send a reminder with another CTA and include a discount code if possible.
Conclusion
Email retargeting is a great way to boost your sales and marketing efforts. It's also an excellent strategy for customer retention because if they see offers or products that are relevant to them, there is a higher chance of making the sale. But in order to make this type of campaign work effectively, you must be able to target specific customers with personalized emails based on their behavior patterns. And the best part? You can track your success easily by overlooking your campaign metrics.
So, start your email retargeting journey with a bang! How do you plan to use email retargeting? Tell us in the comments section.