As the world is slowly trying to get back into the pre-pandemic era, 4th of July is all set to become an important occasion. In the year 2020, 76% of customers had planned to celebrate Independence Day. However, things are slowly getting better and people are looking forward to such celebrations that will bring a breath of fresh air in their lives. People might avoid public gatherings, but that does not mean they will not be open to online shopping. 
Marketers are busy putting their promotional strategies in place for the big day and email marketing is no exception. In case you have not yet started thinking about 4th of July email campaigns, here are some email examples to help you drive the thought process.
Bonus: There is a beautiful landing page example too, that would definitely impress you.
1. zestt organics
Subject line: Time is running out. ⏰
The 4th of July email by zestt organics is a perfect combination of text and visuals. The cute hero image piques the subscribers' interest and tempts them to scroll through the entire email. The hero image is followed by a short copy that puts forward their 40% discount offer and explains how their ponchos make the perfect cover-up.
The second fold has recounted the USPs of their ponchos and how they are manufactured. The visuals used in this section make the email all the more impactful for the readers.
Furthermore, it is a good idea to include a CTA button in both folds to increase the conversion rate.
2. Nordic Oil USA
Subject line: 🌟 Happy 4th of July
A minimalistic layout with a straightforward value proposition – That's the best part of this email. They have wished the users "Happy Independence Day" and promoted their "Buy 2 Get 1 Free" offer without beating around the bush or wordy paragraphs. To grab the reader's eyeballs, they have used a GIF animation highlighting the offer followed by a simple CTA. There is enough white space throughout the email without any distractions. Even the footer is designed in such a way that it follows all the email design best practices.
3. Emotiva
Subject line: Red, White, & Factory Renewed 🎆
The fireworks in the hero image and the header text of Emotiva's Independence Day email set the mood for 4th of July. Rather than "Hi friend", they could have addressed the user with their first name and added a personal touch to the email. Incorporating personalization in emails has become one of the biggest norms in recent years. The succinct copy creates a sense of urgency and encourages the user to make the purchase. They have placed the CTA quite tactfully so that the user does not miss out on it. In the next section, they have added relevant visuals of the Factory Renewed Special products. The last section emphasizes on their easy payment facility and hassle-free return policy along with the social sharing buttons and important links like FAQ and support.
4. CJ Banks
Subject line: Light up your July 4th with 40% off! 🌟
The Independence Day email template by CJ Banks can serve as the perfect example for the kind of colors and visuals you must use in a Holiday email. They have also included a preheader text, which the previous email examples did not have. It is one of the most important email inbox best practices that most marketers end up leaving out. The red, blue, and white colors blend in with each other pretty well. According to me, it would have been good to have a bit of negative space in the first fold. Other than that, it is a lovely email.
5. Perricone MD
Subject line: Smooth, firm and shine.
If I were to give points for 'neatness', this 4th of July email by Perricone MD would have scored 10 on 10. The header text, hero image, copy, CTA, and visuals – everything is organized in a logical order. They have also included an Instagram Exclusive offer to boost social media visibility and get more followers. In the last section, they have promoted another exciting offer with the help of an animation and their loyalty program. The footer throws light on all the terms and conditions involved in availing the offers shown in the email.


6. Saferwholesale.com
Subject line: Red, White, and BBQ
You must have come across many emails with 3D images, illustrations, or animations. This email by saferwholesale.com caught my eye because of the flat design elements used in it. That's a great way to stand out in the inbox. The email simply wishes the subscribers for Independence Day and talks about their products that can be perfect for holiday fun with three distinct CTAs.
7. Fragrant Jewels
Subject line: Reveal a 4th of July surprise! 💙
Fragrant Jewels has taken an interesting approach to get people to purchase from them on Independence Day. The email simply taps on the inquisitiveness and "FOMO" instinct of the users, to get them to click on the CTA.
On clicking through, the users will be redirected to a landing page that asks them to pick their ring size. Once the user does that, they will be asked to "click to peel" and an exciting prize will be revealed.
https://www.fragrantjewels.com/lpsrv/671_patriotic_unicorn_peeler_sizes.html
Their Independence Day email campaign is a perfect example of an omnichannel experience in which the email as well as the landing page are perfectly in sync with each other.
In case the user does not open the email, the same email will be deployed with a different subject line – Re: Your 4th of July bonus gift is waiting… 🇺🇸 💙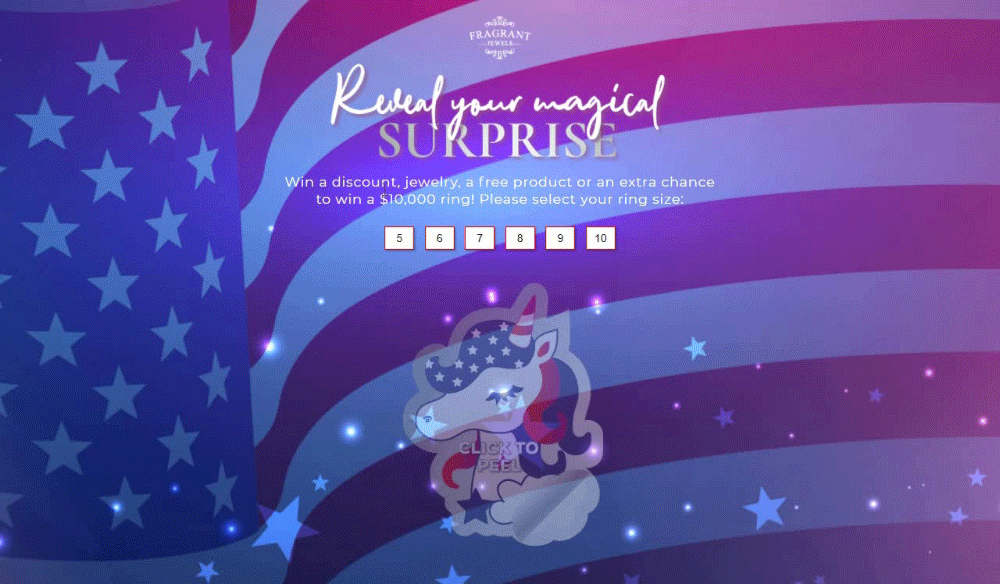 8. Bohemian Mama
Subject line: Last Chance 4th of July SALE ⭐️
Want to use muted color palettes in your Independence Day email template and looking for some inspiration? Take a look at this email by Bohemian Mama. The blinking text "Feelin' Free!" along with the 20% off discount reflects the Independence Day mood. The subtle colors, imagery, and animations displaying their product are sure to capture the recipients' attention and entice them to splurge on the 4th of July sale… And of course, how could you not notice the countdown timer that is strategically placed to drive an instant purchase.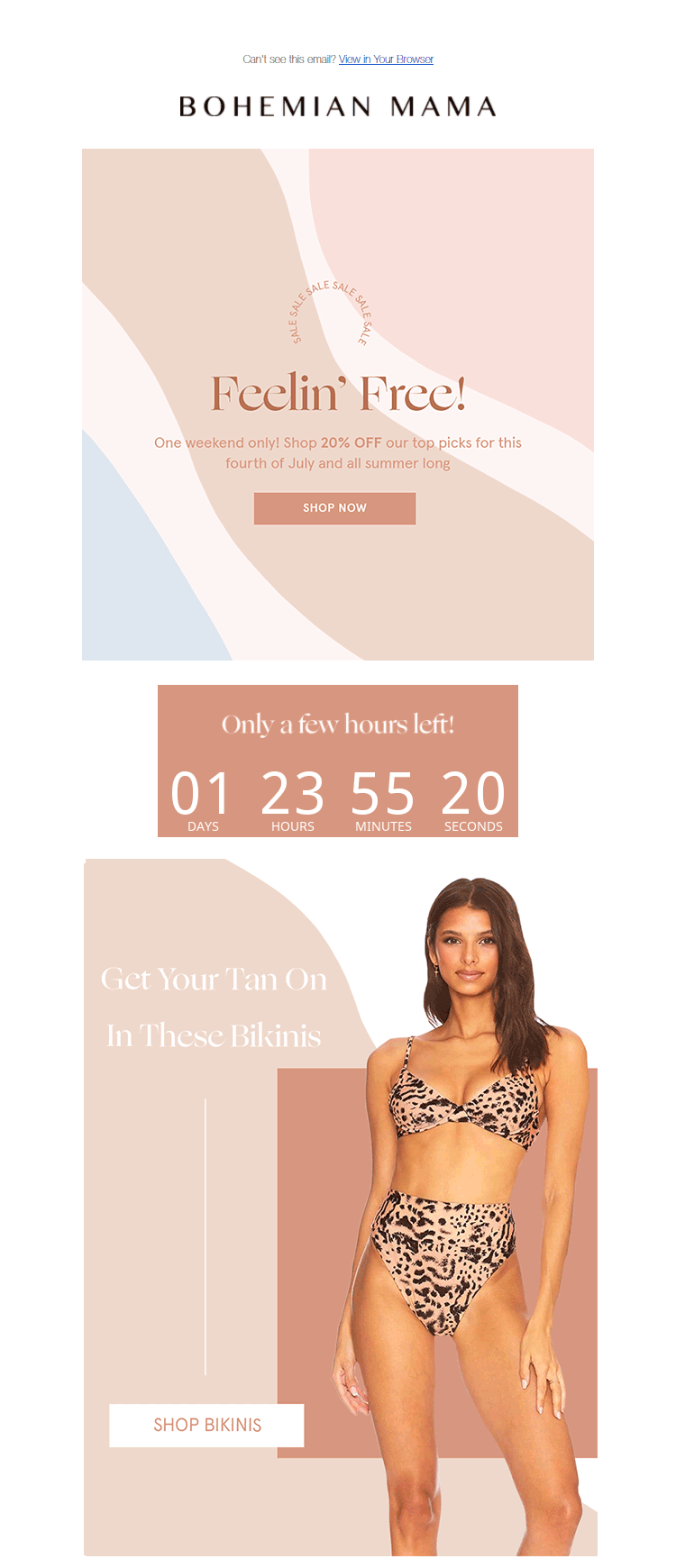 9. Pyrex
Subject line: ✌ words: FINAL HOURS!
"Keep it simple, silly!" – The 4th of July email by Pyrex has perfectly followed this quote and kept it as minimal as possible. It has used a clear-cut text to let the subscribers know that the sale is almost ending. The email copy as well as the subject line are enough to attract the readers and make them click-through to visit the website. While this email is quite interestingly designed, it would have been nice to have a couple of visuals. What do you think?
10. Tuxtonhome
Subject line: However you are spending your 4th of July, we hope you have a safe and spectacular day 🎇 Elevate your summer dining exp
Umm… No, I have not forgotten the remaining subject line. This is what happens when your subject line is too long for the email client. Despite the imperfection and flaws, there is a reason why this email made it here.
The email has cleverly promoted their Instagram post and asked people to follow them on Instagram. Now, that's a wonderful way of integrating social media and email marketing.
While the subject line became a little too lengthy, the email is designed fairly well.
Wrapping Up
These are some of the best 4th of July email examples that have something unique and inspiring for the email marketer.
From my end, I just want to tell you that make sure you adjust the tone of your emails and keep it as empathetic as possible. Be open to adapting to the changing circumstances and optimizing the email campaigns accordingly. Ask the subscribers if they want to opt out of any such emails. That would be a great gesture on your part.
Have an awesome idea for the Independence Day email campaign but don't know how to execute it or make it work? The experts at Email Uplers would love to help you out.