Think about it. When was the last time you made a purchase after getting an offer for free shipping or an extra discount? Maybe it was just on Black Friday?
As both a marketer and a consumer, you know the power of triggered emails. When you're browsing, a triggered email might push you to purchase. And as a marketer, you know that triggered emails can not only convert customers but create loyalty.
That's why these messages are incredibly powerful when used correctly. It's not just about abandoned shopping carts.
Here's how 5 brands leverage triggered emails for loyalty and trust — and of course, to help nudge toward a buying decision.
Inactivity Reminders
Your customers are busy, distracted and multitasking — just like you. They forget about browsing new items from their favorite store, or might not have been in the market for your goods in a while. Sometimes, it takes a little reminder and some incentive to get them to stop by and make a purchase.
That's where inactivity reminders come in.
Inactivity reminders are different from abandoned shopping cart emails or site activity triggered emails. Instead, these little nudges re-engage inactive customers with coupons and personalized messages, making customers feel valued by the brand.
This example of a re-engagement email from LOFT urges customers to return with a big reward. Who doesn't love getting cash off?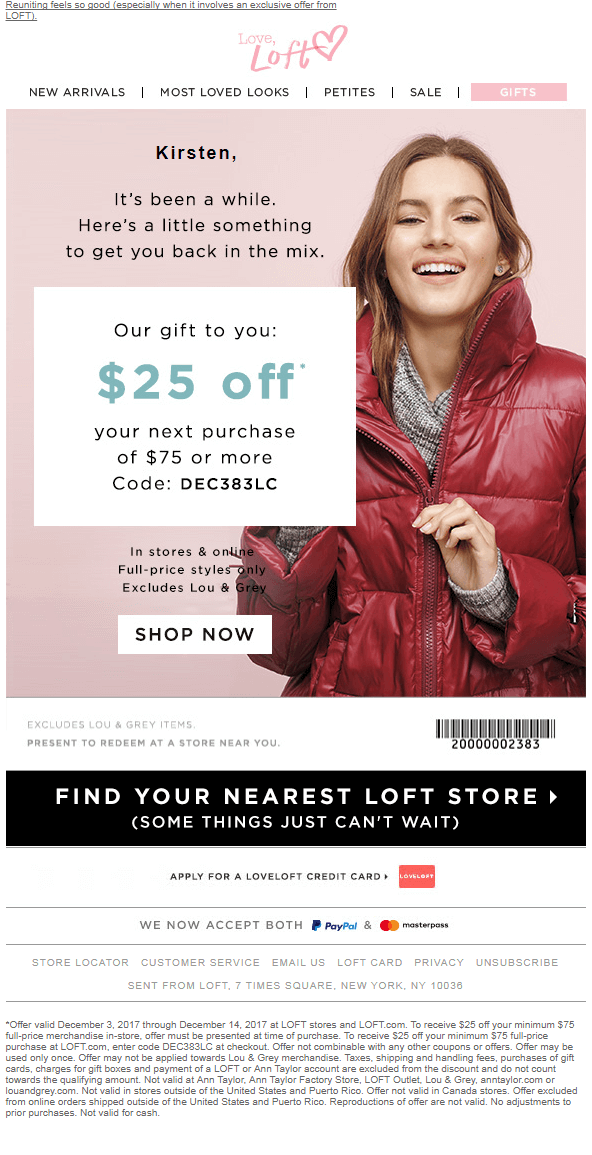 Date-Based Triggers
What's better than singing "Happy Birthday" for your subscribers?
Make them feel special on their birthday or customer anniversary with an ultra-personal and engaging message — paired with a coupon or other present, of course. It's a great reason for them to treat themselves and re-engage with you.
But you don't need to wait for just one occasion each year. Other dates, such as a holiday or season, can be a reason to engage. It all depends on what fits your business.
For GrubHub, this means sending weather-based triggers to cozy and hungry customers who don't want to venture out into the rain.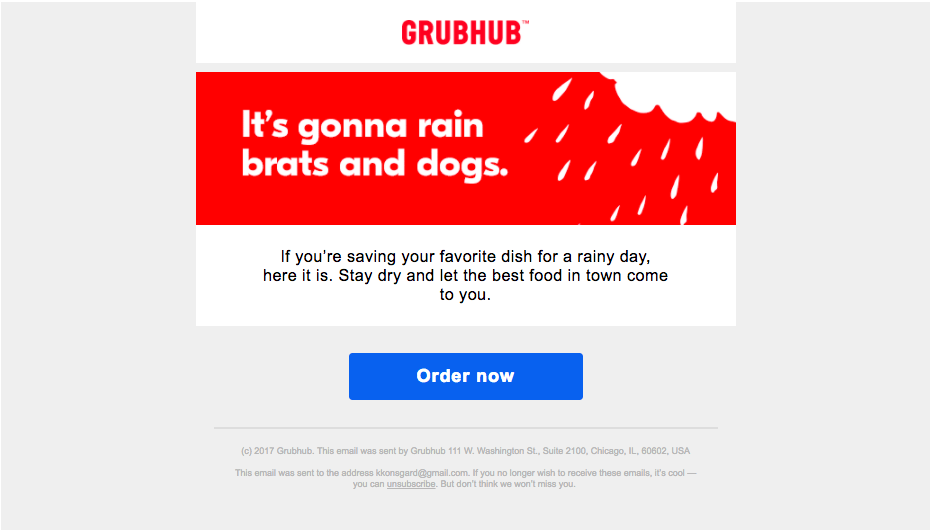 Activewear retailer Soybu encourages new subscribers to share their birthday and tells customers upfront to expect a special gift.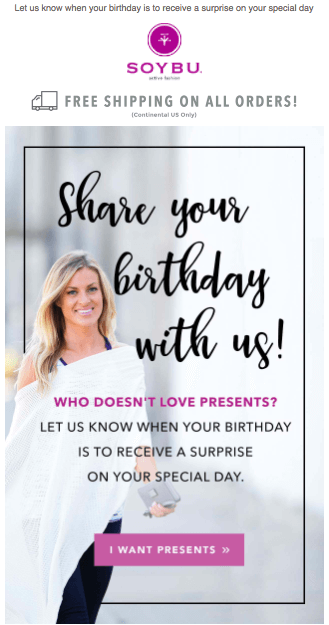 Social Sharing
Customers trust people they know. It's why you ask a friend for a recommendation for a new hairstylist, and why you can't stop talking about that amazing new restaurant.
The power of word of mouth is obvious and undeniable; according to Nielsen, 92% of consumers trust friends and family more than advertising. The easiest way for email marketers to harness this power is to make it easy for customers to share on social media.
Sharing encourages a deeper engagement with your brand and helps spread the word to valuable new customers.
Give customers a clear reason to share and strong message to send along, such as a referral, a discount or a special event.
Below, both Rinse and Stitch Fix offer big referral discounts to both customers and their friends.
Remember that triggered emails aren't just for shipping updates. Instead, dig into your data for customer insights, and then get creative with new ideas and bright, user-friendly email designs. The result is sure to delight your customers.
Author: Kirsten Onsgard, Towerdata