International Women's Day (8th of March) is just around the corner. Every year, people from all over the world come together to celebrate this global event. With time, it has gained a lot of impetus and become a significant day for marketers too. 
While Women's Day imparts a huge opportunity for businesses to generate sales and conversions for brands, some others simply showcase their storytelling skills and wish their female subscribers "Happy Women's Day".
Among all the digital channels, email gives you a chance to reach out to women with a personalized email and yield higher engagement. 
On the International Women's Day, every marketer, irrespective of the industry, sends out exciting email offers to woo their female customers. 
If you have not yet planned your Women's Day email marketing campaign, this article will definitely help you out. . 
We have curated 12 of the most beautiful inspirations to help you out with some great ideas for your Women' Day Email Campaign. 
1. OSEA Malibu
Subject Line: Powered by Women

OSEA Malibu has sent out a simple, yet impressive Women's Day email to celebrate the spirit of womanhood. They have shared their mission and appreciated the women behind the brand's success. The pictures of the wonderful ladies make the email more impactful and create a personal connection. 
The email just intends to share their story without any sales pitch, which makes it even more suitable for Women's Day.    
2. Kora Organics
Subject Line: Empowering Women ??

To mark the occasion of Women's Day, Kora Organics has tried to promote their blog post that features wise words from the talented women of the world. Besides, they have also shared other blog posts that would be relevant for women. 
This email also includes a "Forward to a Friend" link that would help them reach a larger audience.  
The animation of "Mind Body Skin" sums up the effects of their products.
In the last section, they have promoted their Instagram hashtags, which would help them boost social media visibility and gain more followers. 
3. Eddie Bauer
Subject Line: We're Celebrating Women's Achievements!

With the help of an animated hero image, Eddie Bauer has celebrated the achievements of their female guides and athletes. In the next section, they have talked about Carla Perez with an inspiring copy and visuals. By scrolling further, the reader will get a glimpse of all the products that Carla recommends. 
The following section promotes LUKLA PRO WATERPROOF LIGHTWEIGHT HIKER. They have incorporated a subtle animation to draw the subscriber's attention. The last part highlights their 60% off clearance sale and creates a sense of urgency by using the phrase "Ends Tonight". 
Although the email gets a bit long, it would be able to hold the interest of the readers and get them to scroll till the end.
4. ADAY
Subject line: It's International Women's Day

ADAY has drafted an impressive email copy that lets the readers know about the women in their team. Through this email, they have introduced three women from their team and their motivational words. 
Furthermore, they have let the subscribers know that the proceeds from prints will be donated to a nonprofit organization working on a technology to beat sexual assault and support survivors. This will tap on the emotional instinct of the readers and encourage them to make the purchase. 
In the last section, they have beautifully collated the daily activities of a woman with the help of a GIF. 
5. Aquatalia
Subject line: FINAL HOURS | 20% off Women's Footwear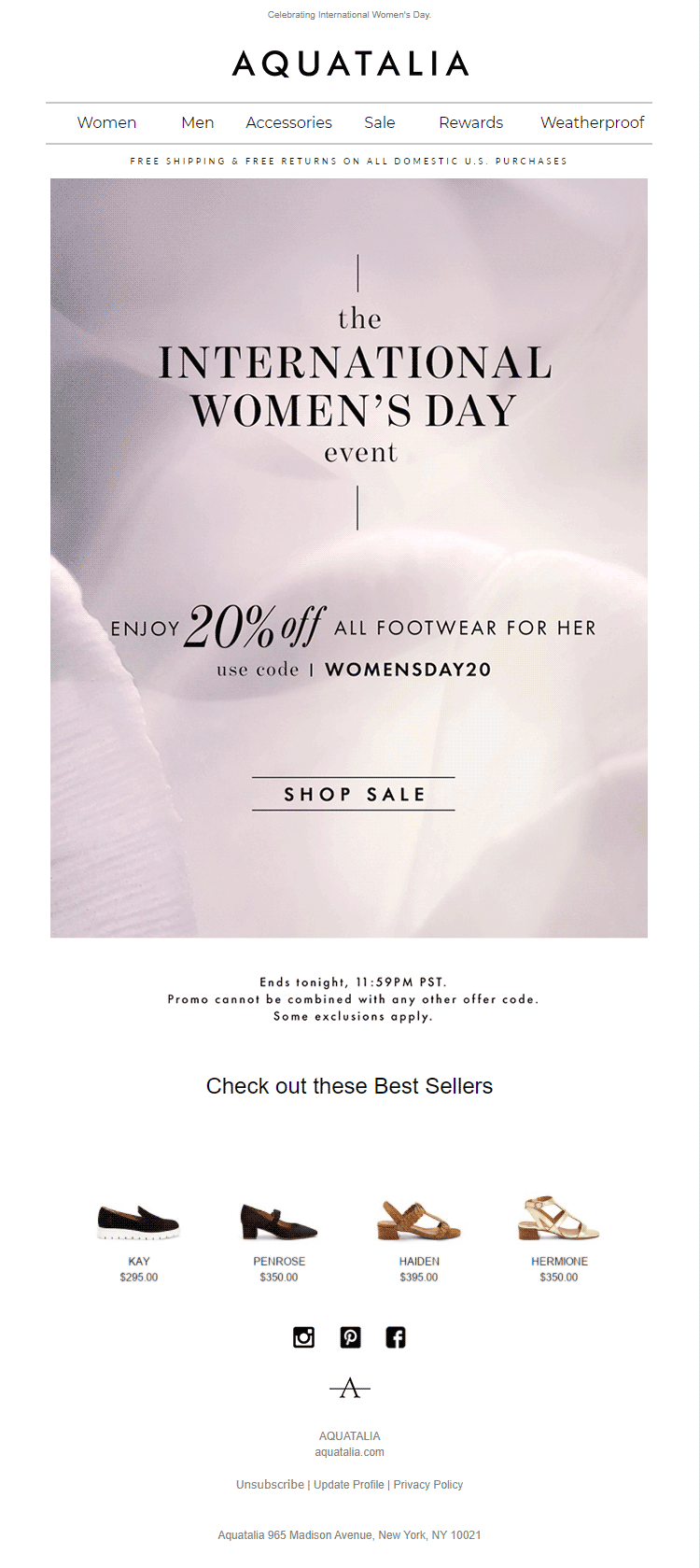 Aquatalia has sent a GIF email to grab the subscriber's eyeballs to their Women's Day event. The email includes details about the offer and their best sellers. That's all. It conveys the message effectively without any long paragraphs or cluttered email designs. Also, note that the email follows all the email design best practices like preheader text, unsubscribe link, and social media links. They could have included a "View in Browser" link just to be sure that the email is accessible to every subscriber irrespective of the email client they are using. 
6. Thymes
Subject line: Hurry, Last Chance to Save

Thymes has taken a different approach to garner conversions on Women's Day. They have included testimonials from the women of their team to promote their products. This will build the reader's trust and prompt them to click on the CTA. Did you notice the hashtags they have included in the first fold of the email? Well, that will help them gain traction over social media and bring traffic to their blog as well. 
7. Strawberry Net
Subject Line: Women's Day SALE ends soon!

Creating a sense of urgency and tapping on the FOMO instinct go a long way in bringing conversions for your brand. Strawberry Net has perfectly followed this strategy by emphasizing "Last 24 hours" in the first fold itself. In the following sections, they have added attractive visuals of their huge range of products with a CTA for each. The email ends with three more exciting offers to entice the women to shop.
8. Vero Moda
Subject Line: ♀ Happy International Women's Day ♀

The Women's Day email by Vero Moda celebrates the spirit of women they work with, in Uganda and the Vero Moda women. The images of  the women in their team and the Ugandan women will surely pique the subscriber's curiosity and compel them to click on the CTA. Toward the end of the email, they have invited their readers to follow them on Instagram with a simple animation showing their Instagram account interface. That's a great idea to encourage people to interact on an alternative communication channel.  
9. Mouth – Indie Foods & Tasty Gifts
Subject Line:  That's what she spread…

Five empowered women and their different specialties – That's what this Women's Day email is all about. It has celebrated the female entrepreneurs who are inspiring, talented, and have great taste. Every section has a separate CTA so that the user can click-through the one that interests them the most. Visuals are the cherry on the cake as they take the email experience to the next level. 
10. Standards and Practices
Subject Line: ?? Our Women's Day Sale is here! ??

Standards and Practices has talked about Women's History Week that evolved to be Women's History Month. This email enlightens the reader about how Women's History Month had begun as a local celebration in Santa Rosa, California and it grew to be a movement across the country.  After an interesting copy talking about this, they have gone on to endorse the 25% off sale across their entire site. 
Oh, and did you see the cute emojis in their subject line and the textured background in the hero image? 
11. Fresh
Subject Line: Celebrating fearless females

The preheader text "Today and every day" represents that they celebrate womanhood each day. It has let the readers know how most of the workforce in their office consists of women, including their CEO. They have included an inspiring video with their women to celebrate the special occasion. There is no sales pitch or discount coupons but a heartfelt message to wish the readers on Women's Day. 
12. Kasamba
Subject Line: 33% Off to celebrate Women's Day!??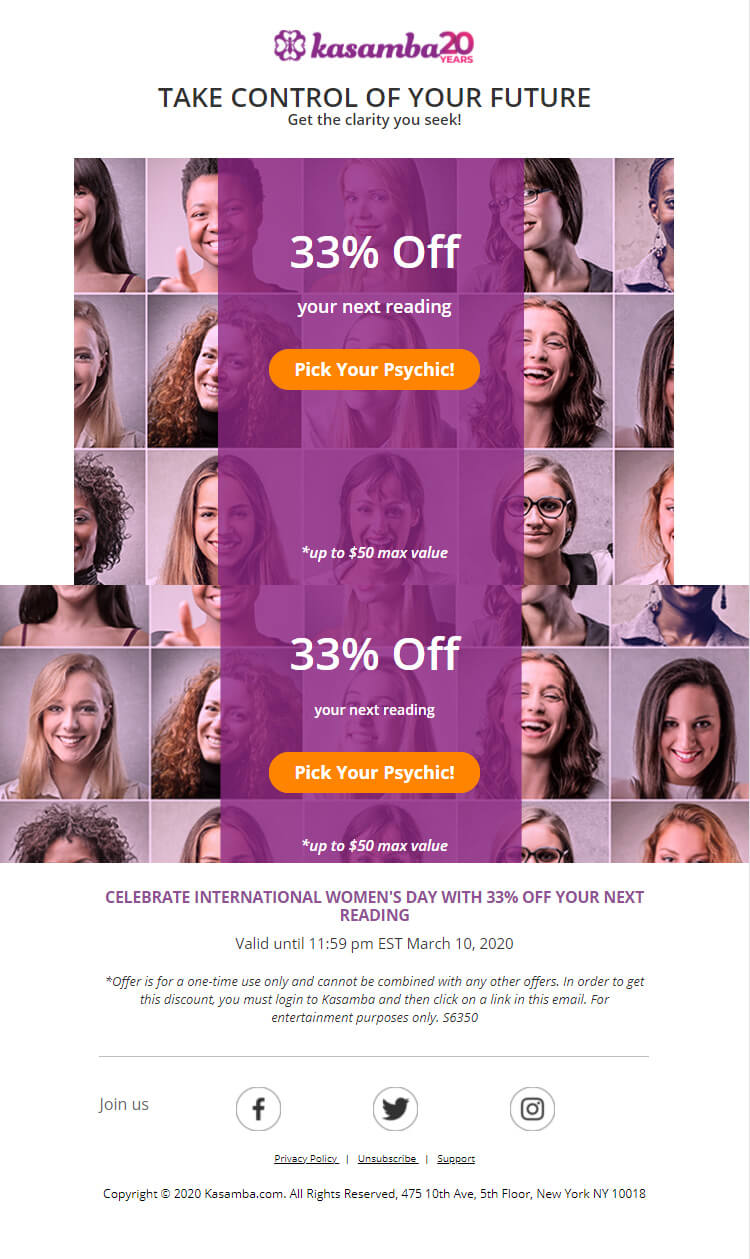 Kasamba has sent out an email to give their readers 33% off on their next psychic reading. The collage in the hero image imparts a profound visual appeal to the email. After the image, they have explained how to use the offer and its validity. The email perfectly adheres to the text to image ratio of 80:20. This is an important practice to bypass spam filters.
Wrapping Up
Women's Day gives you a chance to use innovative ideas in your email designs and make your subscribers click through. 
If you are unable to make up your mind on how to design a Women's Day email, just get in touch with the experts at Email Uplers and we would love to help you out.