From being a channel that was built to be just a simple messaging platform to becoming one of the most effective and popular marketing mediums, we have seen EMAIL MARKETING rise from the ranks. And the sole reason that makes it the star performer today is the fact that it strikes the right chord with the audience. While it helps to develop a relationship with new prospects, it also assists in keeping in touch with current customers.
However, email marketing can be far from a fairy tale, especially when it comes to the performance of an email campaign. Knowing what will click with the subscribers, what will not, and what exactly will tempt them to take action can be a tricky affair.
Moreover, we need to better our strategies and tactics to cope up with the technological advancements that are transforming the market.
We have jotted down 6 hacks to help you enhance the effectiveness of your campaign by tempting subscribers to take action.
1. Offer Relevant and Personalized Content
A subscriber has some expectations from your email. Providing value should thus be your priority, every single time. Whether you are able to fulfill the subscriber's expectation or not will decide whether they will remain loyal to your brand or not. So, how do we provide this value?
Targeted emailing can work wonders for you, if you do it right. To begin with, you need to segment your lists on the basis of the information you have at hand. Sending out emails to targeted email lists is always wiser than blasting emails to large groups of disinterested subscribers.
Marketers have found a 760% increase in email revenue by sending segmented campaigns.
For your email marketing campaign to work better, you should take into consideration their demographics, purchase history, and the kind of pages they visit or the resources they download. On the basis of this information, you should plan out your campaigns, thereby ensuring subscriber loyalty and preventing unsubscribes.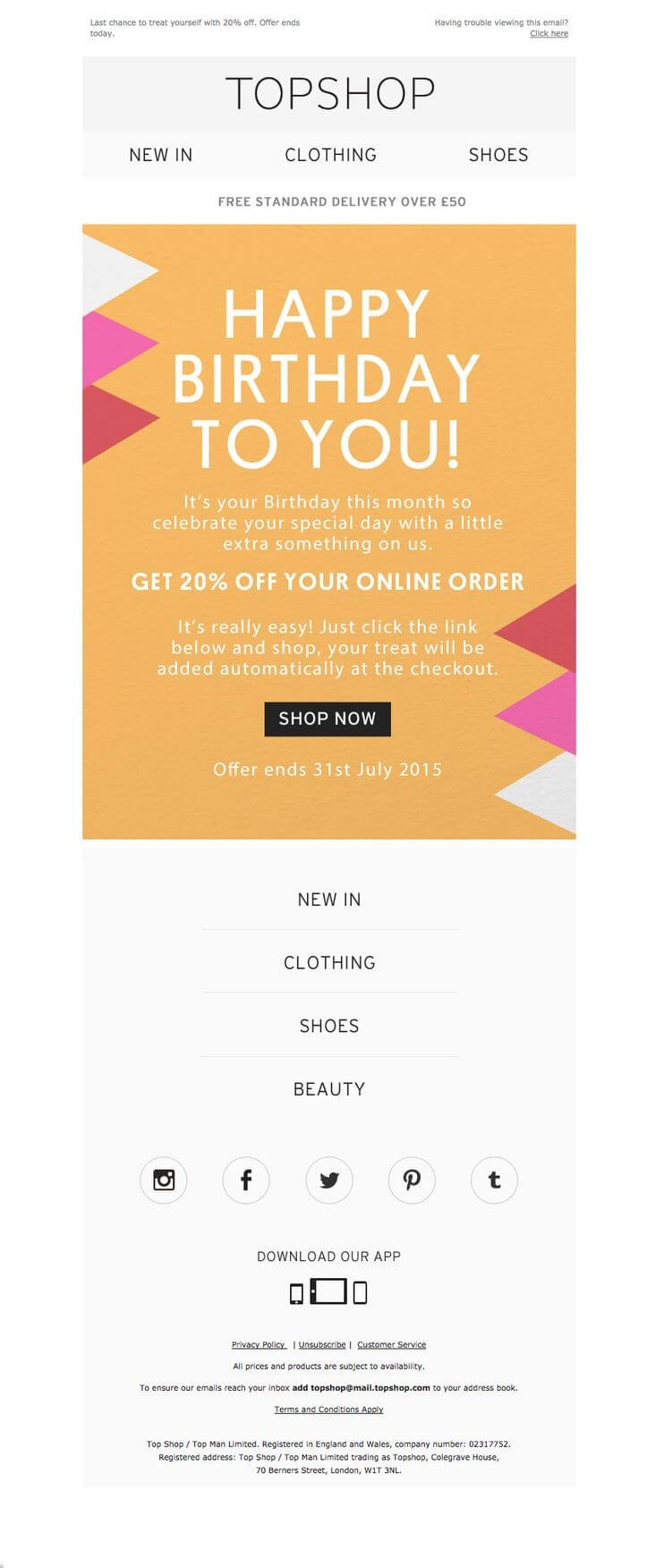 Birthdays and anniversaries are the best days for sending personalized emails. See how TopShop has leveraged this opportunity in their birthday email.
2. Bowing down to Visual Hierarchy
Your email design should reflect intent and meaning, rather than visual appeal that delivers no value to the subscriber. An important aspect of good design is the visual hierarchy that enables the presentation of information in an organized manner with clear headings and sub-headings.
Follow the principle of inverted pyramid wherein the most crucial information comes at the top and rest of the information is arranged in the order of decreasing importance. Directional cues also are a good idea to tempt the subscribers to take action.

Framebridge has executed visual hierarchy perfectly in their email. The CTA has a place above the fold, followed by a detailed description of their product. Social sharing buttons are included in the footer of the email.
3. Exclusivity with Interactive Elements
Interactivity is the best idea to enhance click-through rates of your emails and drive greater subscriber engagement.
Experian states that interactive emails improve unique click rates by approximately 18% and click-to-open rates by 10%.
When planning an interactive email campaign with a menu, countdown, slider, carousel, flip effect, etc., keep in mind that not every email client will support CSS in emails.
So first, you will need to get information about the various email clients used by your subscribers.
For the clients that do not support these elements, you must implement a proper fallback strategy so that the purpose of your email does not go in vain.
4. Designing an Actionable, Prominent CTA
Make use of action verbs that draw the attention of readers. Think beyond cliche stuff like "Submit" and "Click Here". Try out more actionable CTA buttons like "GET MY COPY" and "TRY IT NOW".
CTA placement and size are also equally important.
Your CTA should be large enough to get noticed and designed in contrasting colors that go well with your brand colors without getting too flashy. Place the CTA above the fold so that it is visible in the first scroll itself or try a Fixed CTA!
OpenAgent tempts the subscriber to take the next action of "comparing agents" through a compelling CTA designed in a contrasting color that matches their branding guidelines.
5. Focusing on Font Styling and Colors
Bright and vibrant colors in email templates go a long way in triggering specific feelings and emotions in the mind of the subscriber. You should choose colors based on the cultural background of your target audience and your brand image.
The font size, colors, and orientation also create a visual appeal and enhance the overall structure of your emails. But make sure you don't go overboard with too many colors that overwhelm the readers.
Take a look at how Coastal has used two different font styles to separate the sections of the email. The font color has been changed for each product for better readability.
6. Adding a dash of Social Proof
Have you ever chosen a hotel simply because of its amazing reviews on Trip Advisor or liked a Facebook page just because it has millions of likes? That's the kind of publicity social proof does. It holds true even for email marketing. We all trust customer reviews and ratings rather than advertisements and brand taglines.
You can instill a sense of trust in your subscribers by taking help of testimonials, endorsements, social media shares, case studies, and user-generated content in your emails.
88% consumers read reviews to be sure of the quality of the business.
Listed below are 5 principal social proof sources:
1. Customers: Testimonials of happy customers
2. Experts: Trustworthy thought leaders from your industry
3. Celebrities: Celebrity reviews or ratings from credible influencers
4. Friends: Number of friends of the subscriber, who use your products
5. Crowds: Number of people who have used your product or service and loved it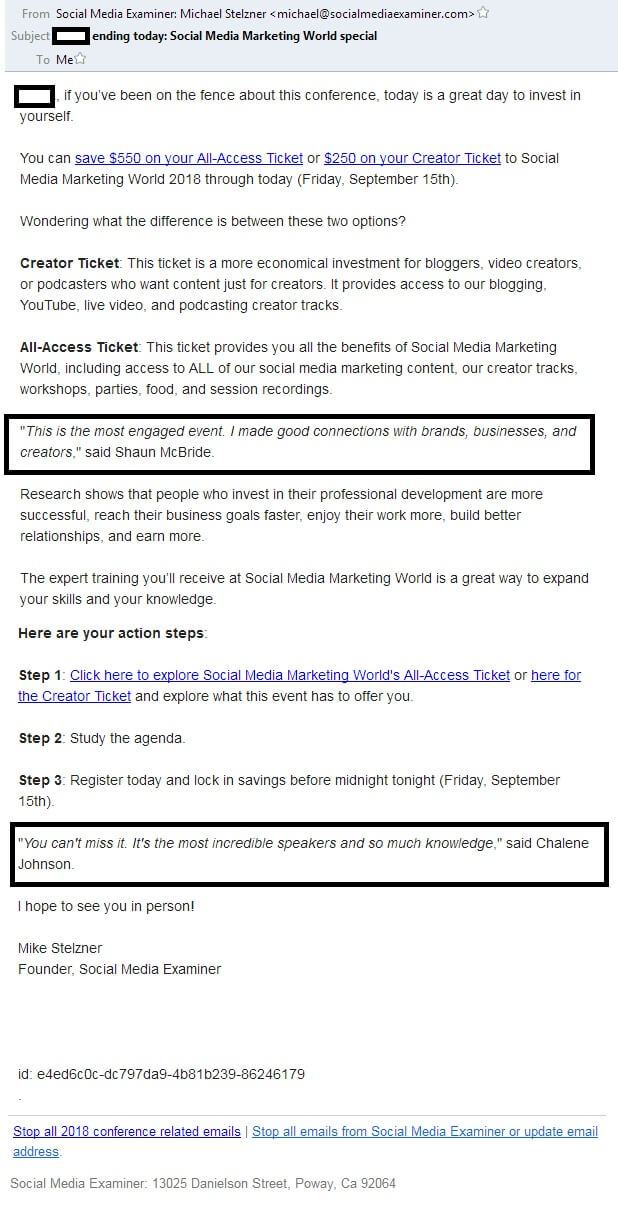 Social Media Examiner includes two testimonials by the webinar attendees as a social proof of their services.
How Can We Help You
We can help you create the best of emails, hand-coded by our experts that would surely add value to your email marketing strategy.
Whether you are looking for image-based emails or interactive emails, our developers can create responsive designs that would cater to your needs and business type.
You can contact us for any assistance you need regarding your email designing and coding.