Remember drip irrigation system you were taught at school wherein water was fed to the plants in small quantities?
Drip email marketing is quite similar to this technique.
Drip email marketing is commonly confused with email automation. Well, they both refer to a semi-magical and super-powerful process of sending emails to your subscribers automatically. You build a series of relevant messages to be triggered at a particular time or after the subscriber activity. For instance, when you get a new subscriber, you can set up a welcome email workflow to introduce your brand and inform him or her about your products and services.
After the welcome series, you might consider following up with the recent subscribers a few days later with valuable information and links to your social media accounts. You can incentivize the recipients to make the first purchase and know more about your products or services.
Why Drip Campaigns?
Drip email campaigns not only help you acquire customers but also generate repeat business from the existing ones. More often than not, your shoppers get distracted and forget to buy the products they have added to the cart. Cart abandonment email is a type of drip campaign that can come handy in such cases.
At times, drip campaigns can be used to send useful content based on the behavior of the prospects and the resources downloaded by them. Such emails aid brand recall and keep your brand at the top of the subscriber's mind.
By sending highly relevant and personalized emails, you can engage your prospective customers and encourage them to choose your products. As these emails are tailormade according to the subscriber's interests, they are more likely to draw his or her attention and get opened.
It is quite evident that drip campaigns enable an automated movement of the lead towards conversion, which ultimately saves you time and manual intervention.
Drip campaigns can not only be used in the convert and close the leads, but also to delight them once the sale is made. Email marketing automation allows you to upsell and cross-sell your products to the customers and entice them to come back for another one.
Pro-tip: The key to having an effective drip marketing campaign is that the reader should not be able to decipher that it is an automated email. It should sound as human as possible.
Examples of Awesome Drip Email Campaigns
1.Welcome Email
A well-designed welcome email is the one that compels the reader to know more about your brand and builds a good first impression. It sets the right expectations and the tone of your future communications.
Here's an example by Hawthorne. See the kind of visual appeal they have added to the email with beautiful static images and illustrations that throw light on how they work and their offerings. The last section features the testimonials from global brands, followed by a clear CTA and the link to their Instagram account.

2. Lead Nurturing Emails
Lead nurturing emails work with the primary objective of strengthening your relationship with the buyers at different stages of the sales funnel, like awareness, consideration, and decision. These emails take into account what the prospects could be looking for and offer information accordingly.
For example, if a prospect has signed up for the trial of your process and workflow management for their organization, you can send them pertinent information on how they can use your service to the maximum potential.
Here's how Process Street does it.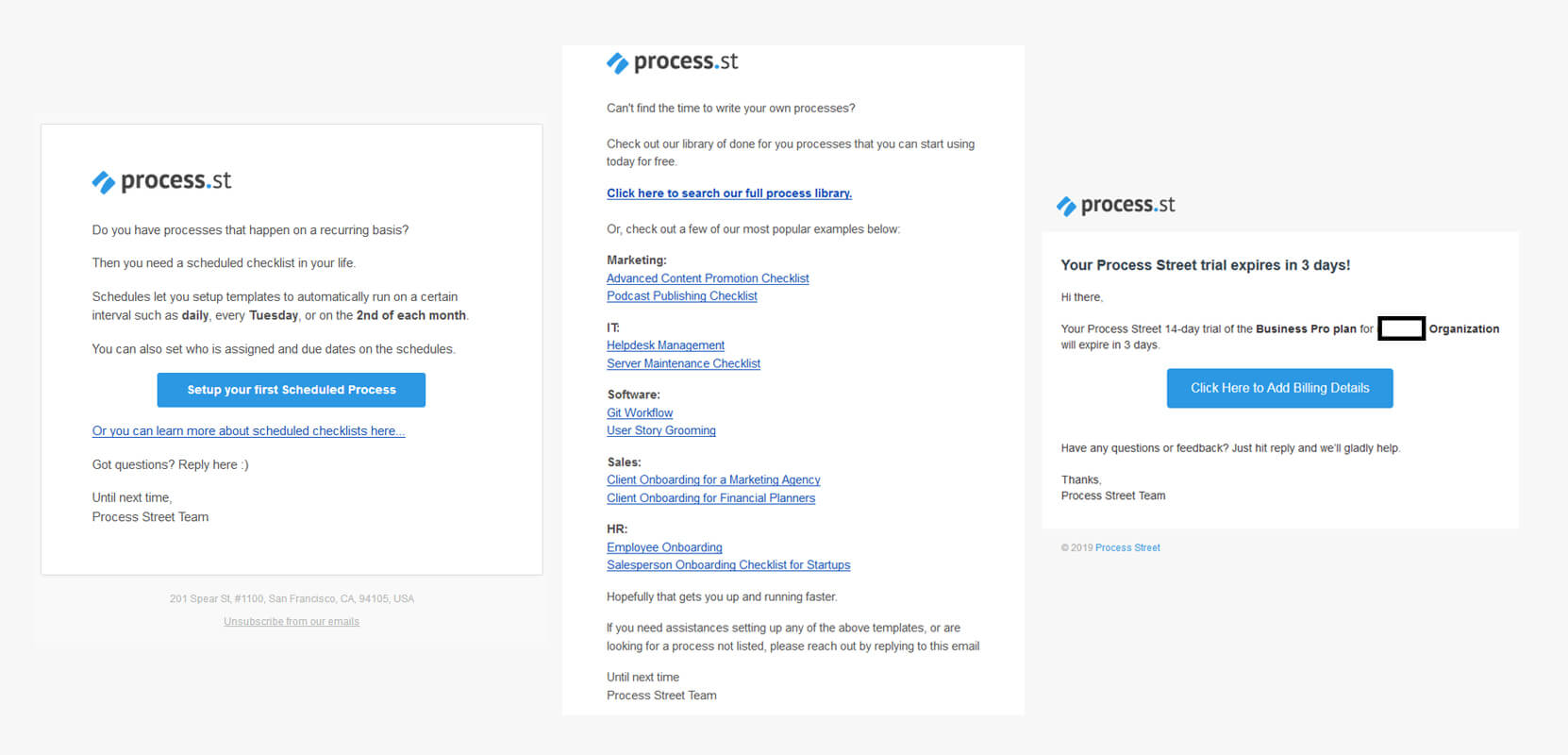 3. Product Recommendation Emails
Once a customer has purchased from you, you should send product recommendation emails that match his or her interests and prompt them to make another purchase. Most of the online shoppers are impulsive and product recommendations can trigger this instinct and compel them to purchase.
These emails work on the principle of artificial intelligence and retrieve data from the history of purchases in order to send personalized offers.
Coursera does it effectively by giving utmost consideration to my past interaction with their brand. They have sent me a recommendation email that features courses based on my search history as well as courses I previously took.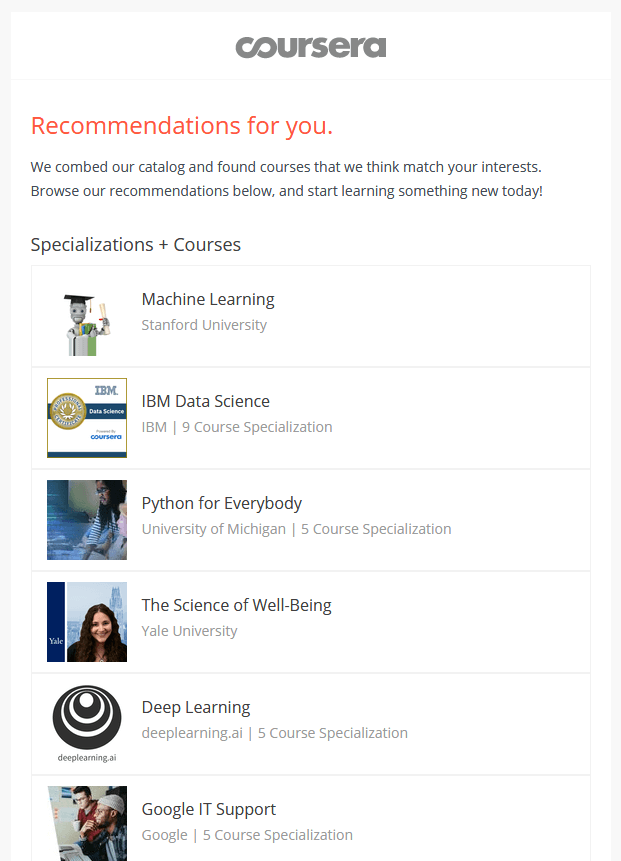 4. Cart Abandonment Emails
One of the most important drip campaigns for ecommerce industry is the cart abandonment email. It reminds the customer about the products they have left in the cart and inspires them to complete the purchase. It is a good idea to send a series of cart abandonment emails within a duration of 48 hours. Sending emails at regular intervals might convince them to check out and make the purchase.
I love the cart abandonment email series by ASICS as it highlights the product left in the cart in the first email followed by a clear CTA. The second email displays the item and also features three of their bestsellers. Take a look.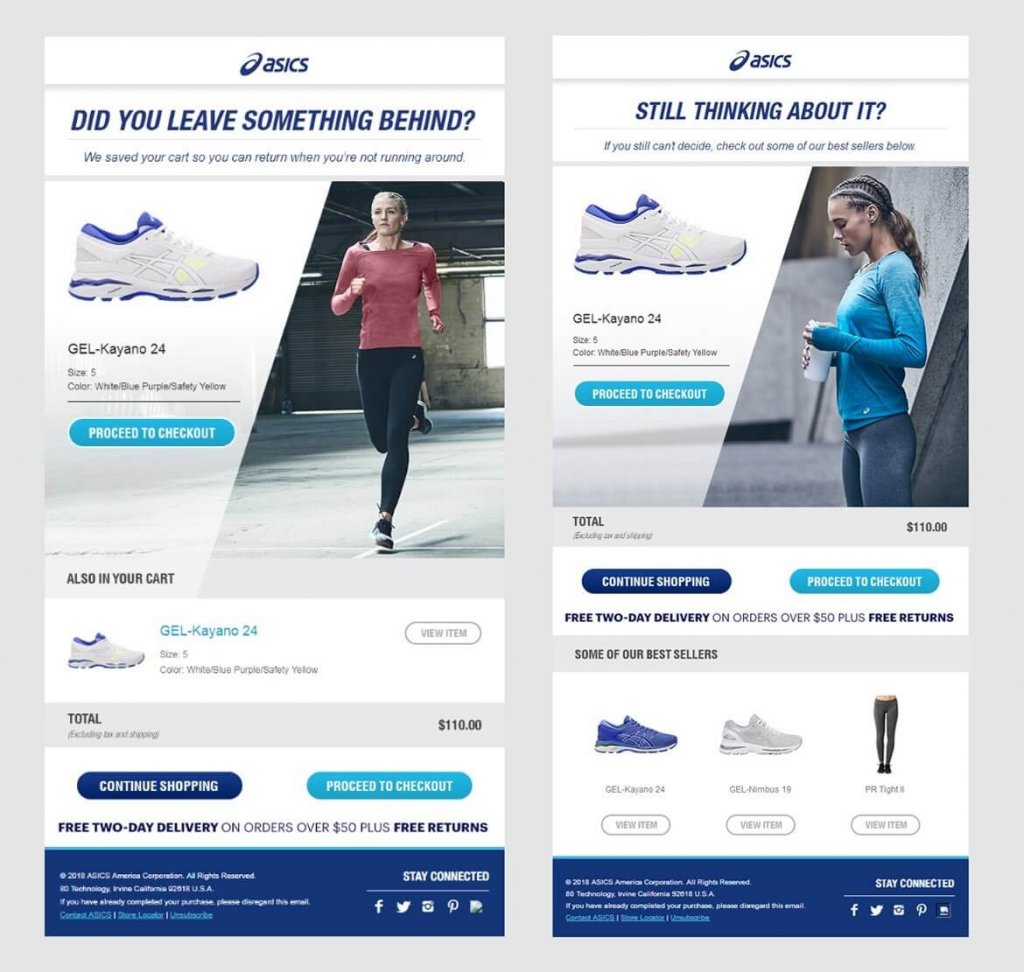 5. Re-engagement Email
Re-engagement emails, like the name suggests, are used to win back dormant customers who have not opened the emails you have sent in the past three to six months. It is a run-of-the-mill occurrence that people sign up, open your emails for a few months and then forget about your brand as they get too busy with their lives or simply disinterested.
Re-engagement emails can rekindle the lost association and make them buy from you.
Check the win-back email example by Asana and see how they have used an attractive GIF in the header image followed by an engaging copy. The CTA is prominent enough to generate interest and persuade the reader to click-through.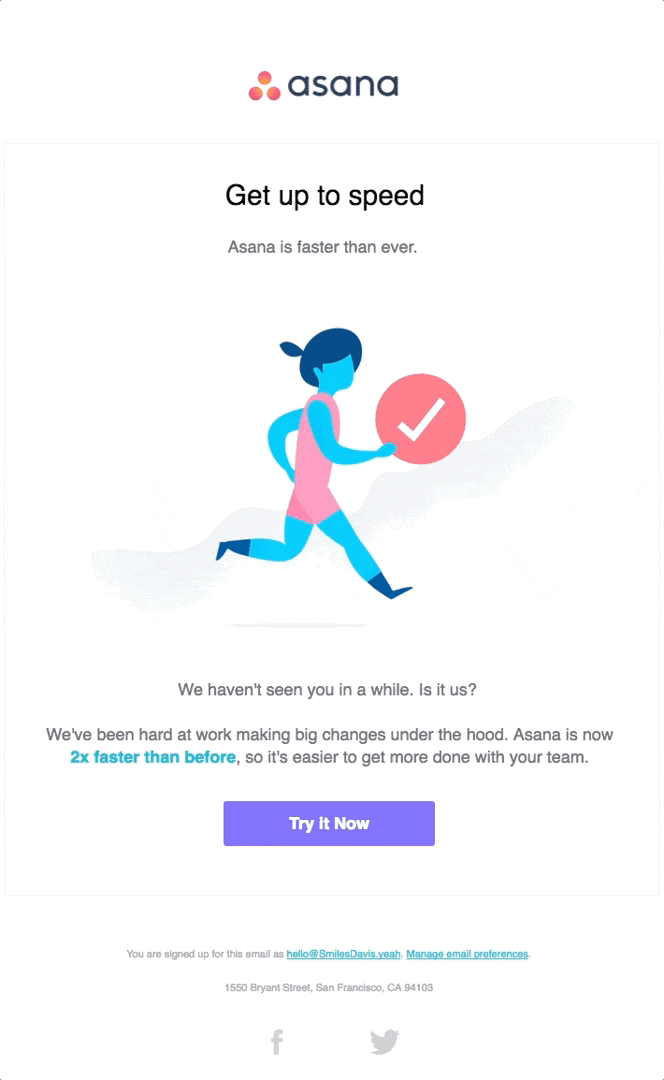 Wrapping Up
Drip emails must be scheduled to be sent within two to seven days after the previous email communication. What's important is that the subscriber should not receive a wrong drip campaign. Always, remember to remove the prospect from the drip campaign, lest they receive an irrelevant trigger email.
Do you have a drip email campaign strategy in place? If yes, do let us know how do you make it work in the comments below.