[This post was published on 13th April 2021. It has been updated on 30th Aug 2022.]
Imagine this.
You have worked as a freelancer for an agency for a year or so and then suddenly, they just stop sending you work.
So, what will you do next?
1. You will either move on without a closure and delete their number from your contacts list OR…
2. You will follow up and follow through to ask them whether they would like to continue working with you.
In my personal opinion, you must follow through with the client at least a couple of times before taking the extreme step of deleting their number.The same principle applies when, as a business, you have a dormant lead in your email list who has stopped engaging with you. When someone unsubscribes from your list, you lose that user, generally forever. However, when someone stays subscribed but does not open your emails, there is still hope that you can revive them.
So, how will you rekindle your relationship with the inactive subscriber and get them to open your emails?
The answer is – sending out re-engagement emails.
What Is A Re-Engagement Email?
A series of emails sent to dormant subscribers to reactivate them is known as re-engagement emails.
Some of the terms used interchangeably with re-engagement emails are winback emails and reactivation emails.
The primary objective of these reactivation emails is to encourage people to engage with your emails yet again and take action.
Take a look at this interesting statistic: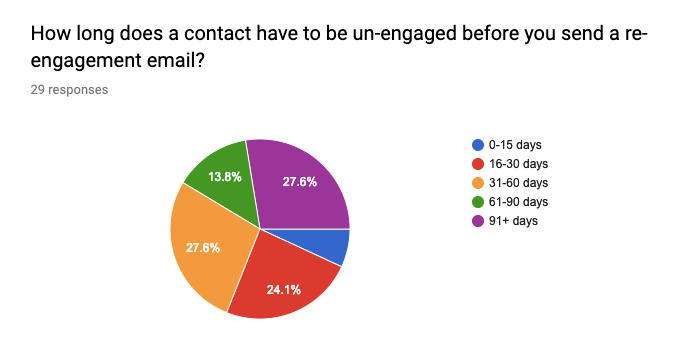 According to this study, more than half of the people surveyed chose to wait for 31-60 or 61-90 days before opting for re-engagement emails.
Now, I am sure you must be wondering why people stop engaging with your emails.
Let's get to the root cause of this unfortunate event.
Reasons Why Subscribers Get Disengaged With Emails
1. Too high a frequency for sending emails is the #1 reason for people losing interest in your brand.
2. Misleading or boring subject lines also contribute to an increase in the number of inactive leads.
3. If your email copy does not provide any value to the recipients, they would not want to hear from you. 
4. Sending out irrelevant offers is another reason why people stop opening your emails.
5. Some subscribers have temporarily signed up on your list just to avail of an offer. It is obvious that they will not engage with any of your future communications.
6. Besides, there are some users who are just researching the email marketing strategy of their competitors or other businesses. They will gather their insights and ultimately go dormant.
7. Often, it so happens that your emails are not landing in the subscriber's inbox. In such cases, you cannot expect your emails to get opened.
8. Over time, the customer's preferences and purchasing patterns have changed, thereby leading to dormancy.
Subscriber Inactivity – The Threats It Presents
While it does not look that threatening on the surface, inactive subscribers can add to unnecessary expenses in your marketing budget.
To elaborate, most of the ESPs charge according to the number of emails you are sending. Therefore, it makes no sense to send emails to inactive subscribers.
Furthermore, if you continue to send out emails to inactive subscribers, it will leave a negative impact on your email deliverability rate.
So, to overcome these threats presented by subscriber inactivity, you must send out reactivation campaigns.
Opportunities Unraveled By Re-Engagement Emails
Getting a subscriber to engage again will improve your email deliverability, thereby enhancing your sender reputation and eliminating the possibility of your emails landing in spam.

Re-engaging an inactive subscriber and convincing them to convert is 5 times cheaper than acquiring a new customer. Here is a graph that goes to show how re-engagement and retention are far more cost-efficient than acquisition.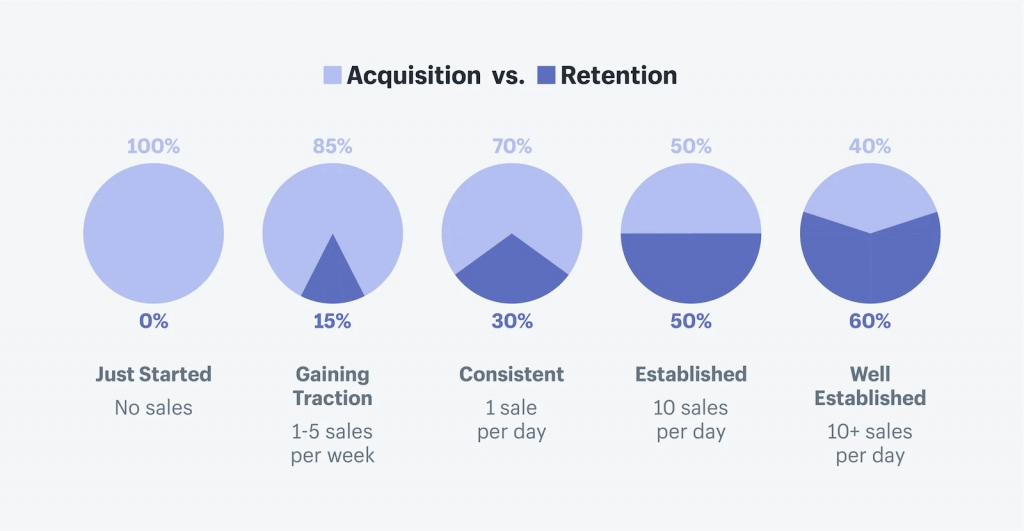 How To Create A Re-Engagement Email?
If you want your customers to "listen" to you and do business with you, you must think like a fish, not a fisherman.
Email marketing is not just about applying the theories taught in the MBA class. It is the art, science, and strategy of understanding the customers and delivering what they are looking for. This holds true for your email reactivation campaign too.
Of course, you must remember that this is not a quick fix. Your subscribers will not start engaging with you right from the first re-engagement email. Just like welcome emails and cart abandonment emails, you must send out a series of two to four reactivation campaigns. This pie chart establishes the same fact.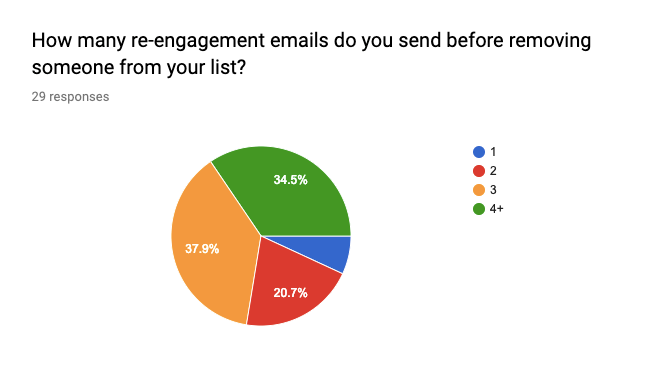 There are two schools of thought here.
One of them believes that it might annoy the subscriber to receive so many emails. On the other hand, the second school of thought has explained that circling back to the inactive subscribers with a series will work as a nurture email campaign and convince them to reconsider your products or services.
Here's an example to show how you can send a series of email re-engagement campaigns:
While the first re-engagement email from Clear shares the recent updates since the user's last interaction along with a $60 discount, the second one serves as a final reminder to avail of the offer. Creating a sense of urgency evokes fear of missing out and increases the possibility of conversion.
Subject line of the first email: Smiles Davis, we're ready to wow you again

---
Subject line of the second email: Final call: $60 off a year of CLEAR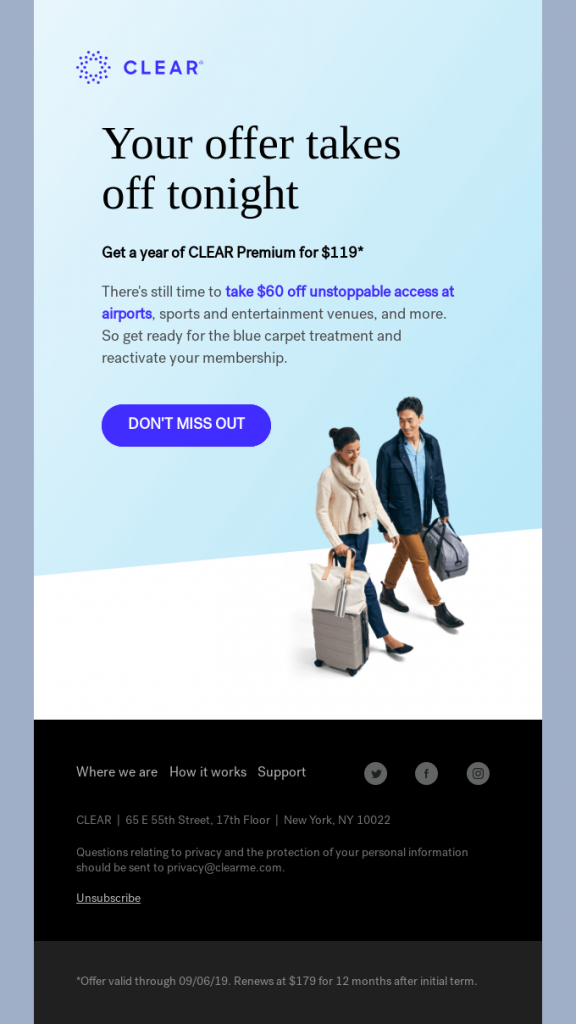 This example also illustrates the importance of re-engagement email subject lines. If they're unable to pique the reader's curiosity, you'll never get them to take any action.
Some tips and tricks that will help you create the best re-engagement emails are:
1. Segmentation Comes First
Before launching your reactivation campaigns, you must segment your list according to the period of inactivity. You must send out relevant re-engagement email sequences based on these different segments. The best re-enagement email examples out there are those that strike all the right chords with their readers.
2. Add A Personal Touch To Your Re-Engagement Emails
Personalization is an indispensable part of the entire email marketing strategy. Obviously, your reactivation campaigns should bear no exception either.
Take a look at this re-engagement email template by Noom.
Not only have they incorporated first name personalization, but they have also used a conversational tone in the email copy. What makes this count among the finest re-engagement email examples out there is that the entire email evokes a feeling of exclusivity and makes the user feel as if it is written just for them.
Moreover, they have also offered a 90% discount on the annual plan along with a 14-day free trial.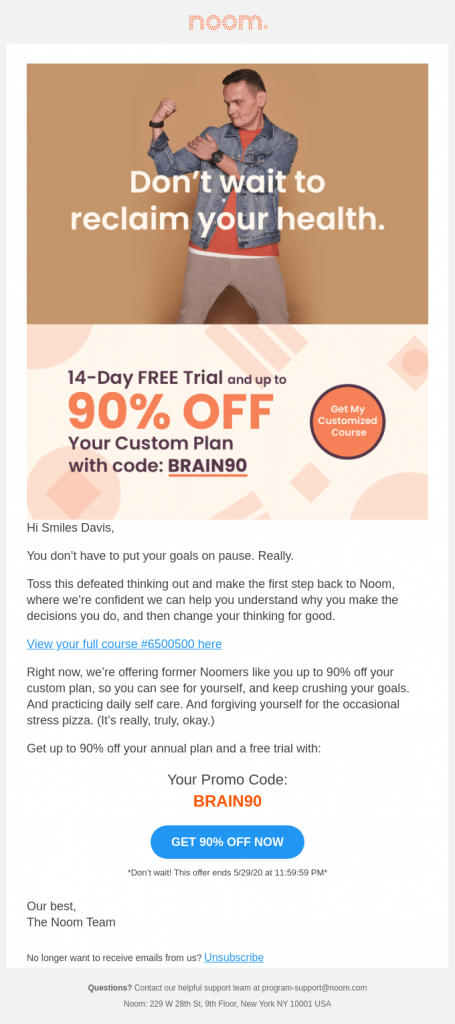 I am sure that looking at the re-engagement email series and the first two examples, you have got an idea that incentivizing goes a long way in winning your customers back.
3. Let Your Subscribers Know About The New Features And Product Launches
Your inactive subscribers will not probably know what you have been up to. It is a great idea to let them know that you have made some changes to your offerings and added new features to your products. This will tempt them to click-through and go to your website to see what has changed since their last interaction. Re-engagement email subject lines must focus on accomplishing this- tell the subscribers exactly what they should be looking forward to in the email.
Take a look at this re-engagement email template by Canva.
The subject line: Did somebody say new Zoom virtual backgrounds?
is catchy enough to draw the subscriber's attention. Such re-engagement email subject lines are sure to tempt the user to open the email.
The email copy lets the subscribers know how their new feature improves the user experience.

4. Tap On The Emotional Instinct Of The Subscribers
Human psychology runs on emotions. Add some emotional appeal to your re-engagement emails and remind them why they had signed up on your list in the first place.
This email from Duolingo makes for one of the best re-engagement email examples with its cute ambassador putting up quite the compelling message. The copy is drafted in such a way that it will encourage the user to resume their lessons on the app.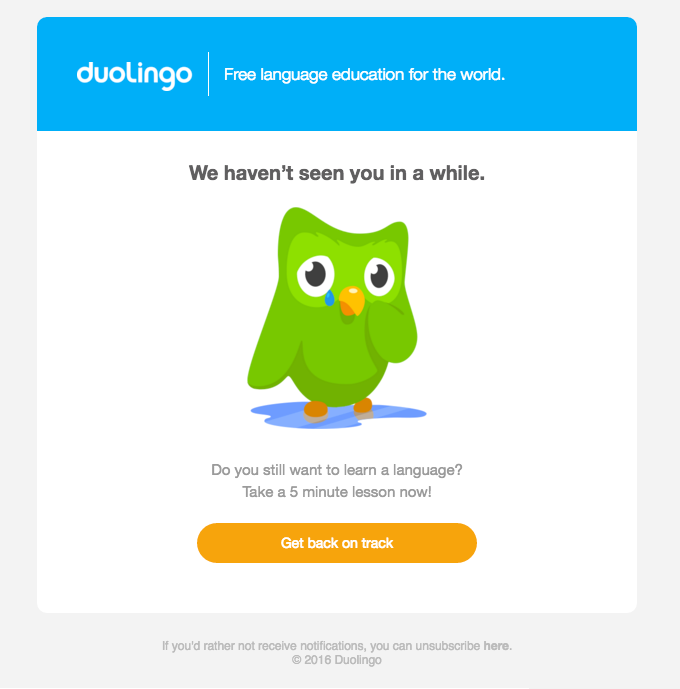 5. Allow The User To Change The Preferences
As mentioned earlier, one of the reasons why people stop engaging with your emails is that they are getting too many emails from you. A quick workaround for this is to ask the subscribers for their preferences and send out emails accordingly. It spares you from the guesswork of determining the right email content and sending frequency.
Here's how Return Path sends out a re-engagement email. Through this email, the user can either update their preferences or unsubscribe from the emails.
6. Share The Alternative Modes Of Communication
In addition to allowing the user to update their preferences, you must also highlight the alternative modes of communication in case the user wants to unsubscribe.
Take a look at this humorously emotional re-engagement email by Urban Outfitters. At the end of the email, they have placed all the social sharing links including Facebook, Pinterest, Twitter, and Instagram.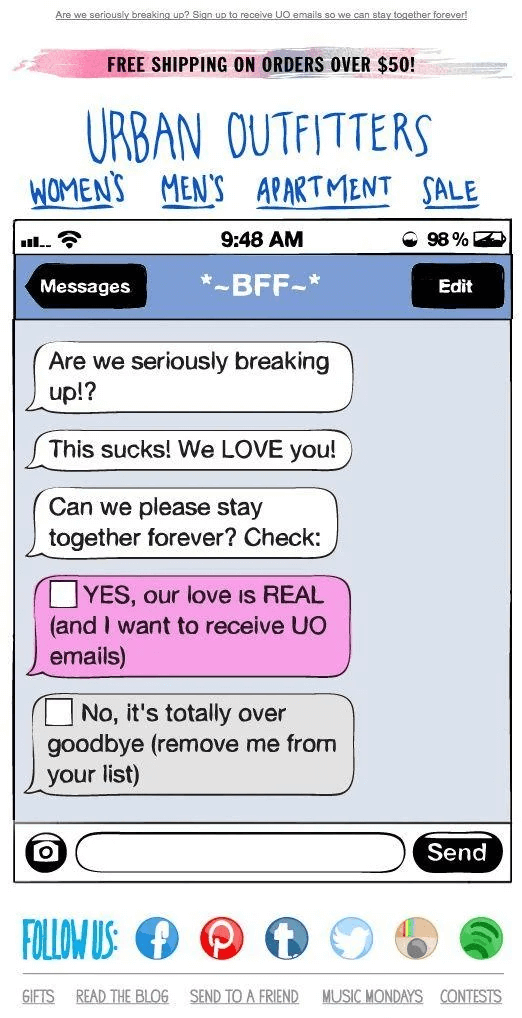 7. Have A Clear CTA
Draft your CTA in such a way that it is clearly visible. Paul Mitchell has created one of the finest reactivation email examples by using an emotional appeal and letting the subscriber know that this is the last email from their side. They have designed a sad face by showcasing all their products, followed by a clear CTA "Keep them coming". Also, notice the social sharing links so that the user can interact with the brand on other platforms except email.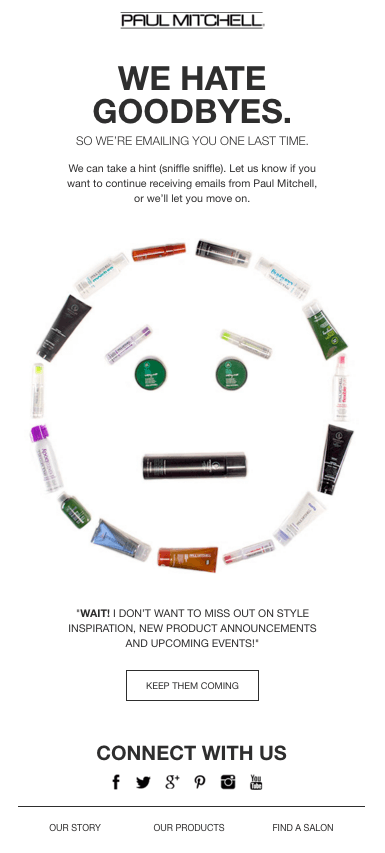 8. Use The Nine-Word Template
Remember we had talked about the 1-2-3 formula in the welcome emails? For re-engagement email, we have the nine-word template suggested by Dean Jackson. Through this template, you have to ask the subscriber whether they are still interested in something.
For example: A yacht broker won a $100 million dollar buyer by using this template: "Are you still looking for a yacht?".
This simple template in reactivation email examples works like a charm because it makes the readers feel that it is exclusively created for them. Such emails encourage the users to respond, particularly if they are still looking for your product or service.
Here are some re-engagement email subject lines that follow this template:
1. Are you still planning a vacation to Paris?
2. Are you still looking for a property in London?
3. Are you still looking for web development courses online?
To give you a clear understanding, here's how Animoto has employed this tactic in their reactivation email campaign.
Subject line: Do you still want to hear from us?
It is one of the best re-engagement emails with an engaging copy, strategically placed CTA, and a clear unsubscribe link in the footer.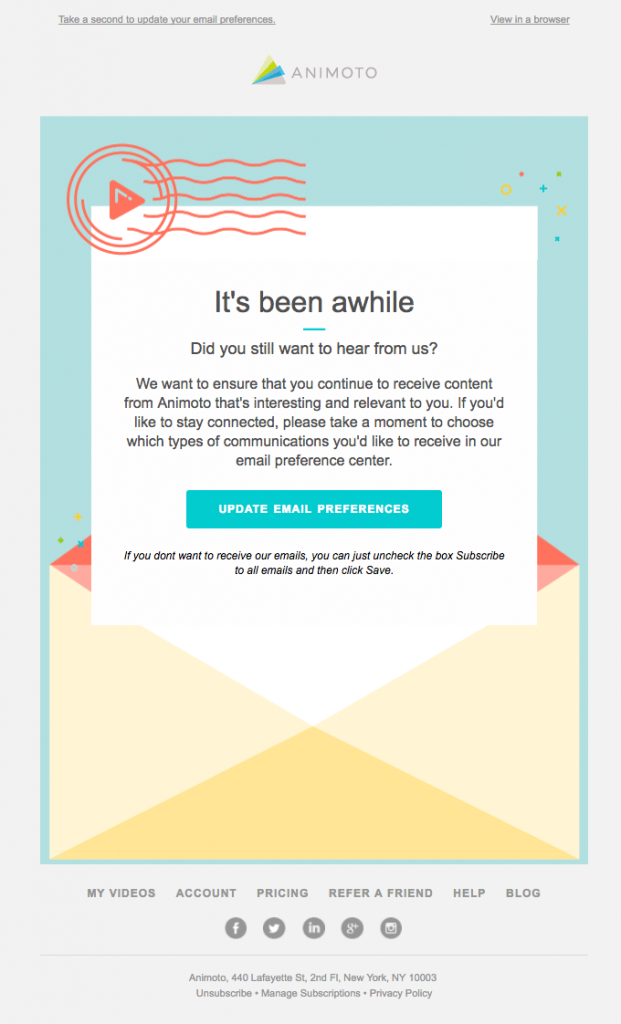 Next Steps…
Your job does not end at sending re-engagement emails. You must monitor the results of these campaigns and see if it is working for your brand. Keep an eye on the open rate, click-through rate, bounce rate, and unsubscribes.
In case the user does not engage with your first email reactivation campaign, send out two to three more emails. Take the help of humor, emotional messaging, discount offers, and urgency-inducing phrases like "Last day to get the offer" in these emails.
If the user still does not engage, you must remove them from the list with a last message that says something like – "It makes us sad to see you go, but we're unsubscribing you from the list". Include a CTA "Keep me subscribed" in such emails, as Paul Mitchell does.
Wrapping Up
Let me sign off by serving you with some humor.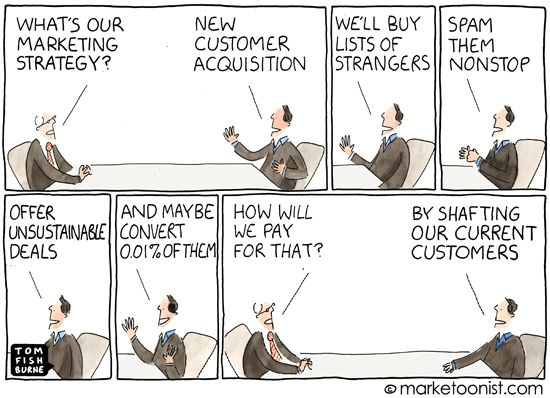 This comic strip perfectly sums up why you must not forget your existing customers while running behind the new ones.
If you need help with creating an interesting customer re-engagement email for your brand with interactivity, rich media, or other technologically advanced elements, just get in touch with us and we would love to assist you.