Every business owner knows that the holiday season is the busiest, and the most productive time of the year. A majority of businesses make 30% of their annual sales during this time of the year. In 2019 alone, the holiday season spending crossed the trillion-dollar milestone for the first time ever in the US!
It is safe to assume that you are already hard at work trying to devise marketing campaigns that can help you optimize sales and revenues.
But so are your competitors!
To ensure that your marketing efforts stand out from the crowd, you need to understand what resonates with your target audience. It goes without saying that email marketing remains the most effective channel for getting your message across to your potential buyers. According to a 2019 report, interactive emails have emerged as a top marketing trend. And an analysis of the email marketing ecosystem in 2020 reveals that this trend is only growing stronger!
So how can you move beyond text and images to make your message more dynamic, engaging, and impactful? Let's find out!
Why Do Interactive Elements Make Emails More Engaging?
Interactivity in emails refers to including content in a form that requires your viewer to actively engage with your message and prompts proactive participation for them to access the complete information. Features such as swiping, flipping, tapping are commonly used to make email content interactive.
Why is this important? The first thing to bear in mind is that inboxes are becoming more cluttered than ever before. With the global average of monthly emails sent out by businesses at 1.38 million, the likelihood of email fatigue among your subscribers is quite high.
When an exhausted, perhaps disgruntled, subscriber opens a promotional email, interactive elements can well mean the difference between whether they will engage with your message or press the delete button instantly. According to a report, using visually appealing and engaging elements consistently can drive the click rates to surge by up to 300%.
When you use interactive elements such as GIFs, sliders, navigation bars, and even videos, your subscribers are no longer passive recipients of your message. They become participants in the process, which makes them want to continue interacting with your message.
The effectiveness of interactive elements in making emails more engaging can be summed up by the following benefits:
Improved user engagement
Higher rates of conversion
Customized messaging
Quality lead generation
Better odds of message being shared
Higher chances of securing customer feedback


5 Stunning Interactive Elements You Can To Your Holiday Emails
In the traditional email marketing setting, there were a host of technical limitations that always left email content to play catch-up on the interactivity front. But the scope of adding an interactive edge to email marketing campaigns has expanded exponentially over the past few years, making every digital marketer's dream come true.
Here is a look at 5 such stunning interactive elements that you can leverage today to make your holiday emails strike the right festive chord with your user base!
1. Add an Element of Fun Via Gamification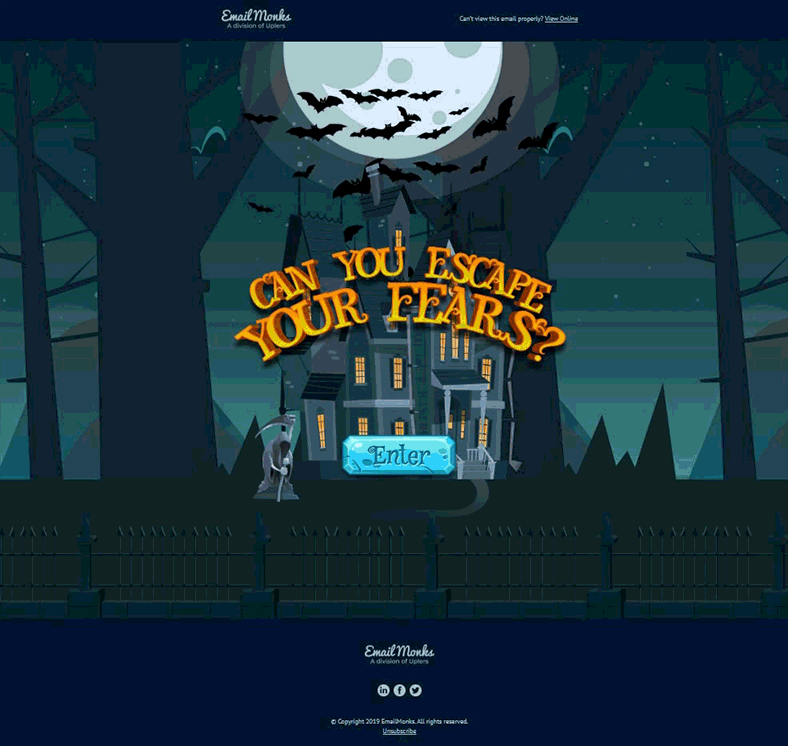 Gamification, as the name suggests, is all about using game elements in your emails. This approach ticks all the boxes of reveal marketing that makes interactivity appealing to a user. Your subscribers open an email and find something totally different from what they're used to seeing. There is a cool button asking to be clicked, coupled with the promise of a reward waiting on the other side.
The idea is to make it extremely hard for the reader to ignore it and move on. Gamification establishes an action and reward connection in your subscribers' minds. So in order to use it successfully time and again, ensure that you offer them instant gratification with a reward and performance score at the end.
This is a great tool to make your potential customers look forward to your emails and establish an emotional connection with your brand.
2. Grab Attention With Interactive GIFs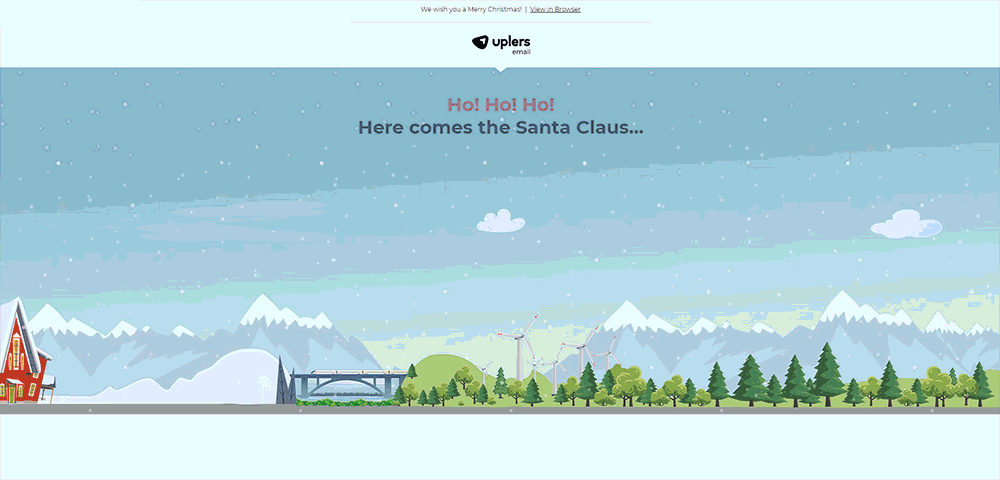 11 seconds – that's the average attention span of a user reading an email. You have to create emails that a recipient can not only read and comprehend in this timespan but also feels compelled to act on your CTA. For this, you have to make it impossible for them to look away from their screens.
Let's say you're creating an email template for your Christmas promotions. What would serve your purpose better – a static image of a Christmas tree with presents underneath or an animated GIF that invokes the warm, fuzzy celebratory feels in a reader?
GIF animations are entertaining and amusing. That's why they are known to increase customer engagement, and in effect, your click-through rates. Besides, they are the fastest loading form of animation, which means they can capture your potential customers' attention before they lose patience or interest!
3. Pique the Reader's Curiosity with Scratch Card Effect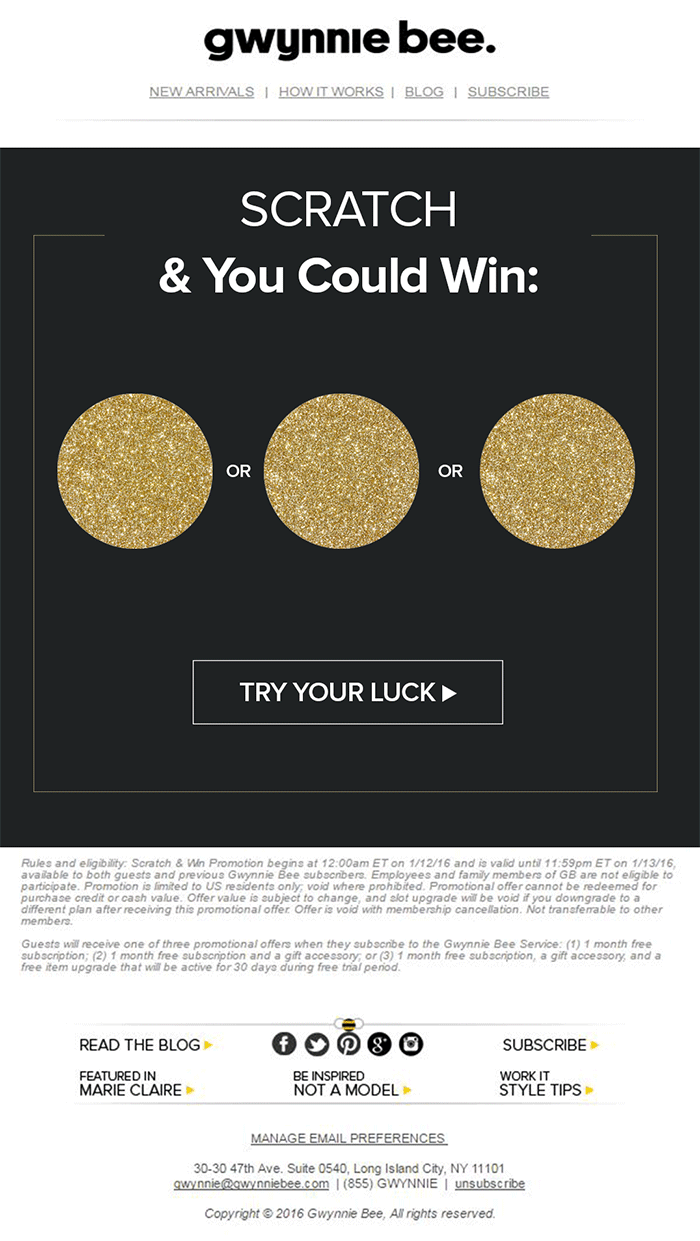 The scratch card effect in emails plays to the basic human instinct of inquisitiveness. Instead of delivering an offer or new information in plain sight, it is hidden under a layer – just like in a real-life scratch card. Your customers have to take a certain action such as clicking or tapping on an icon to uncover this hidden information.
This encourages the recipient to interact with your message rather than process it passively. Just like gamification, the scratch card effect also taps into the tenets of reveal marketing.
This interactive element is most commonly used to deliver discounts, coupons, gift cards, and saving options to potential buyers. But it can also be used for new launches, product displays, countering cart abandonment as well as welcome messaging for new subscribers.
4. Use Sliders To Boost Information Visibility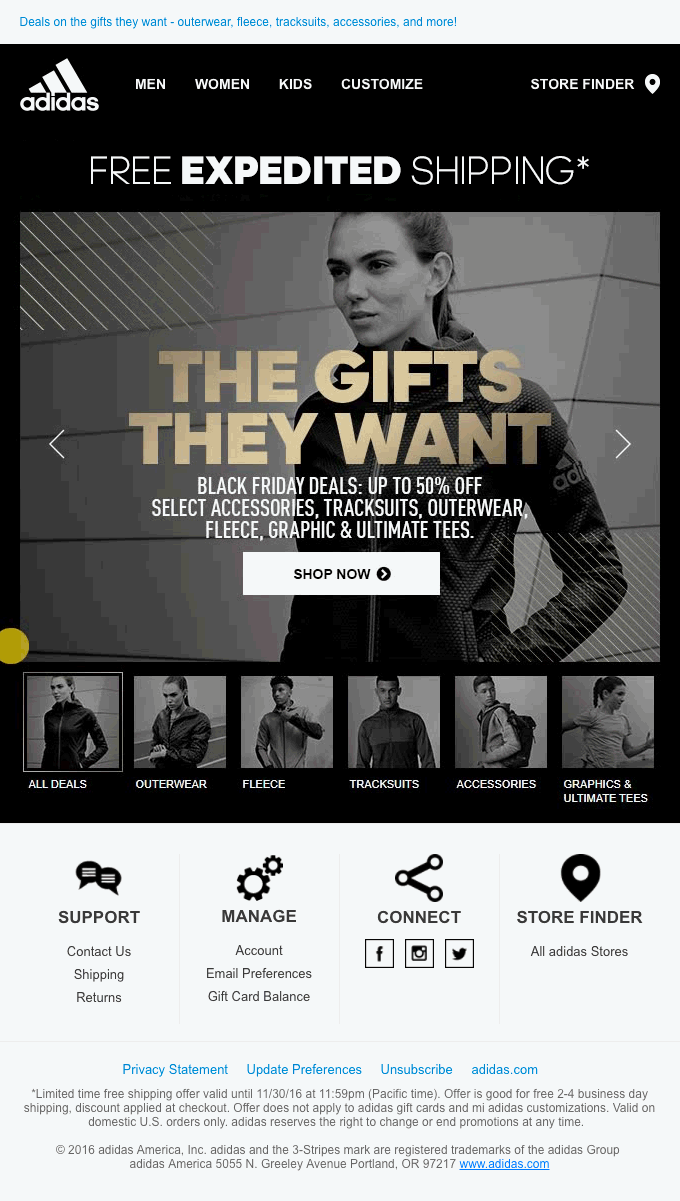 Sliders make your email template more dynamic and allow you to showcase multiple products or services in a limited time and space. With multiple slides/images, you can quickly convey important details about your products. You can also place a different CTA on every slide to drive better conversions.
Your customers are prompted to actively engage with your emails by clicking on the next or previous slide buttons. This makes them access the information that's most relevant to them.
Using sliders for explaining various services, details, products, and description is an easy and swift away of grabbing and holding your readers' attention. These can be used to create a buzz around different products, coupons, and discounts in one go!


5. Get Urgency Ticking with Countdown Timer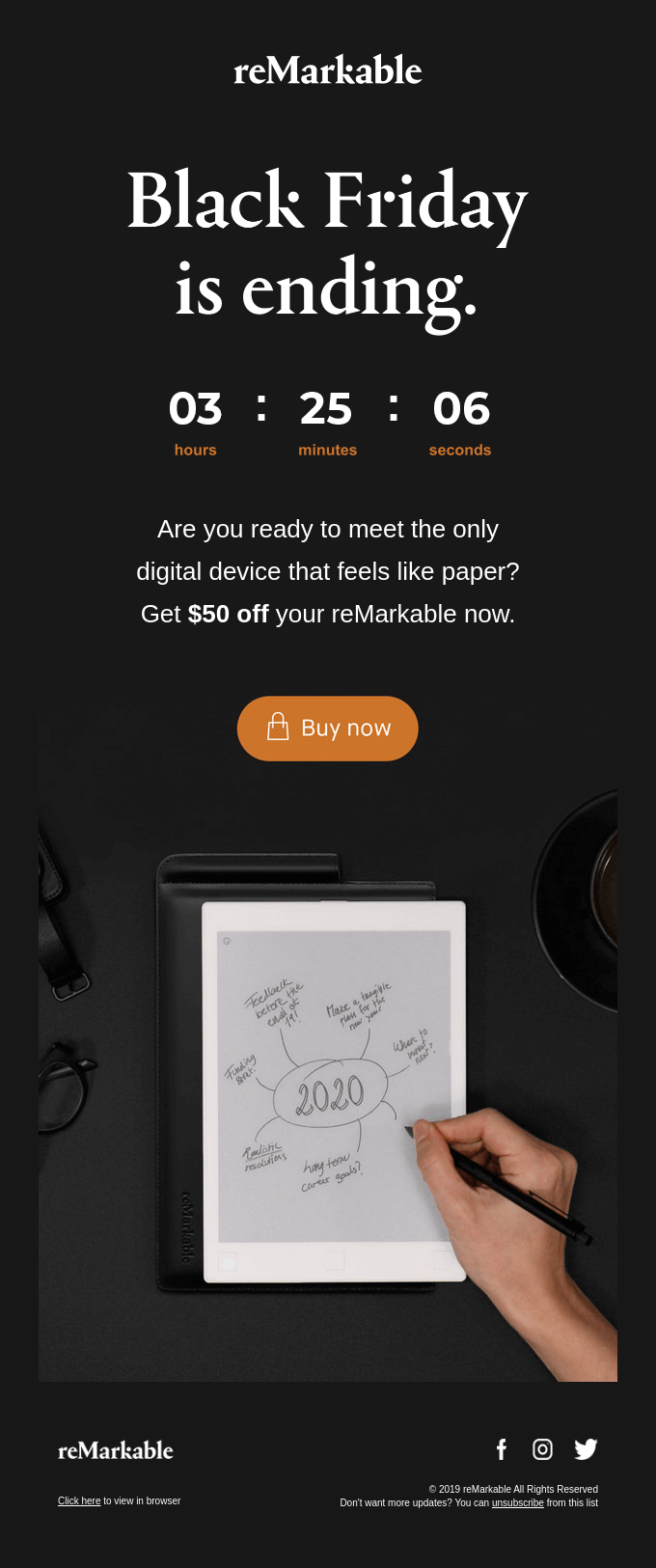 Countdown timers work well to create a sense of urgency among your buyers. It is the best way to remind your subscribers that a particular sale or discount that you're running is a limited period offer, nudging them to act before time runs out. This can also be used effectively in tackling cart abandonments or giving your customers exclusive, targeted offers based on their browsing history or past purchases.
'A gift just for you…' followed by 'offer expires in X hrs: Y mins: Z secs' can make a customer sitting on the fence about a purchase to finally go through with it! A great idea to up your sales during the holidays, isn't it?
To Sum Up…
Reaching your target audience is no longer enough at a time when everyone is vying for their attention. You have to captivate and engage them enough for them to comply with your request to follow through on a CTA. For that, interactivity is your best bet to stand out and make a lasting impression on your buyers' minds, especially during a competitive holiday season!
At Email Uplers, we provide you with an established ecosystem to help you curate engaging email campaigns with such interactive elements. Looking for a simpler option? We will create a free email template for you if it's your first order with us!