Ever been on a dating app?
The first thing you do is check out the profile of the person you are interested in, right? That's how it works in marketing too. You will need to check the profile of the prospect or customer you want to reach out to. However, a big difference is that you will not get access to readymade customer profiles in a marketing setup. You will have to gather data and create them on your own. This entire process of creating a comprehensive portrait of your customers is known as profiling. When you add the prefix progressive to profiling, it means that you ask additional questions in the subsequent forms to get more information about the lead. Asking too many questions at a go can be exhausting for the respondents. So, progressive profiling furnishes a better user experience with shorter and intentional lead forms.
What's the Issue With Long Forms?
A long signup form will frustrate the subscribers and force them to leave the page. Consequently, you will have fewer subscriptions with a low conversion rate.
3 Reasons why people avoid filling out long forms.
Security issues
When you collect too much information, it will raise doubts related to data security. With an increase in the cases of data breaches, your customers think twice before providing any information. That's why long forms don't work too well.
Irrelevant fields
Having too many fields on the sign up form will repel youryour customers. They will end up assuming that the company does not need this information. Moreover, if a prospect is simply exploring different platforms, they would not be willing to share much information. After all, who would like to fill out a long questionnaire for a 7-day free trial? That leads us to the next point… ↓
Incorrect data
Long forms will compel the users to fill out the forms with random information just to finish the registration process. This wrong information will be useless for your sales or marketing team. Therefore, it will make no sense even if you have a detailed form to collect user information.
How Does Progressive Profiling Work?
Progressive profiling helps in collecting relevant information about a prospect in a subtle way without being too intrusive. As you ask the questions in a step-by-step manner, it does not lead to much friction. The marketing team can use this information to segment the database and then approach them with relevant messages. It will enable the sales team to carry out prospecting and reach out to the hot leads first.
Consider the stage of the buyer's journey while creating the form to build the profile. Use ToFu, MoFu, and BoFu strategy to build the subsequent forms.
This strategy helps determine where should the forms be placed and the questions to be asked on each form. The marketing automation platform takes the help of the CRM system and contact record to choose the questions that should be shown to the users. Set up the system to ask the right questions. Choose the fields thoughtfully so that they match your business type and industry. You can take the help of an email campaign manager to ascertain the right fields.
With that said, let's move on to the implementation part — how to execute progressive profiling.
6 Clever Ideas for Progressive Profiling (With Practical Examples)
Ask the customer to set up their account
Suppose you need the below mentioned information for your SaaS product:
First name
Last name
Email address
Company
Designation
Company size
You can either have one registration form with all the six fields or go for progressive profiling and break down the fields into two or three subsequent forms.
When the customer signs up, you can ask for the first name, last name, and email address along with the password. This does not look too intrusive as it is basic information required for the registration. They are used to filling out this information and in most cases, it gets fetched automatically. Therefore, it leads to no objection from the prospects.
Once you have captured the email address, you can send them onboarding emails. You can use these emails to provide more information about your products and ask additional questions for customer profiling.
Let me tell you how Mailchimp does it.
You only need to provide your username, email address, and password to create an account on Mailchimp. Once you have completed this process, you will get a confirmation email to activate your account.
After activation, you will be able to set up your account with all the relevant details like:
First name and last name
Business name
Phone number (optional)
Business address
Top goal with Mailchimp
Number of email subscribers
How do you sell to your customers
Whether you want to import your brand
How do you want to stay in touch
You can skip some steps if you want to and complete the account set up process.
2. Use a popup form after the user logs in
Popup forms are the most convenient form of progressive profiling. Display a popup form asking for relevant information when the user signs in to their account. As a best practice, avoid swamping the readers with too many questions at the outset itself. Let some days elapse before you start displaying these forms to the users.
The best thing about these forms is that they have high visibility. As a result, more people are expected to fill up the form. However, these popups might interfere with the user's navigation process. If you want your popup forms to work, make sure that it stands out and does not come off as spam. Keep it different from other popup messages like cookies, privacy, and other website notifications. Also, keep the popup form short and sweet to make it more effective for progressive profiling.
3. Send an email to encourage the users to provide their information
Rather than using popup forms that can lead to more friction, send an email requesting the subscribers to complete their profile. Incentivize them to provide their information. You can also gamify the entire experience by letting the users know that their profile is 75% complete and they only have a few more fields to reach 100%.
If you are in the eCommerce industry, you can use the welcome email series to carry out progressive profiling.
Take a look at this email by Office in which they have asked for the user's birthday to send out a personalized email on their special day. It is a great example of progressive profiling.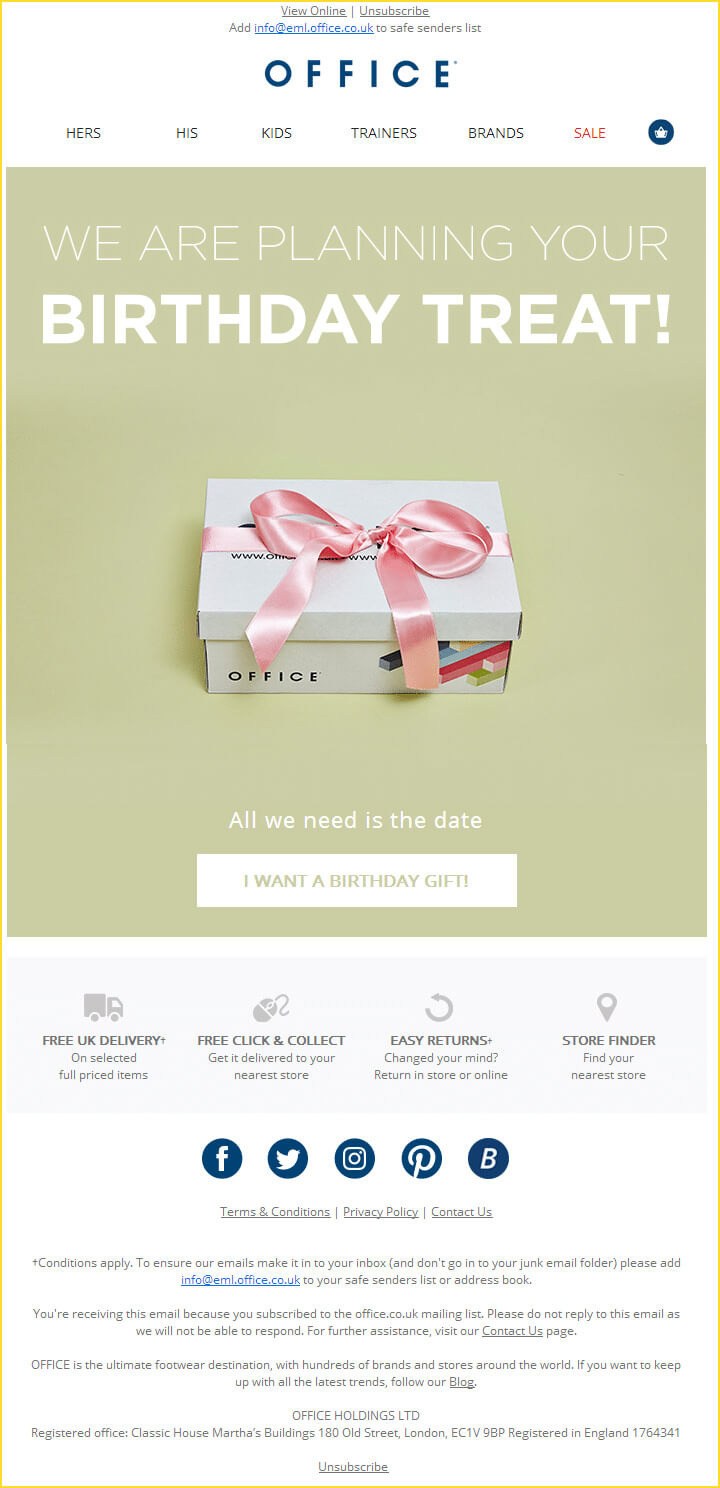 Another example of progressive profiling is this email by Reebok. See how they have asked for the user's preferences so that they can promote relevant products.

When compared to popup forms, emails are a much better way to profile the customers. The reason being that they stay in the inbox (as long as the user doesn't hit the delete or archive button). It is quite likely that the prospect will come back to fill in the form when they have some free time. Just make sure that your email subject line and copy are compelling enough to drive action.
If you need help with setting up these automation workflows, you can count on agencies providing email marketing management services.
4. Make the process fun with quizzes
See those random quizzes (like "Which flower are you" or "What does your birthday month say about you") filled by your friends on Facebook news feed? Use the same tactic to collect data from your target audience.
GoDaddy sends out an interactive email to help the subscribers find the ideal website builder. It will also provide details about the user's challenges and what they are looking for.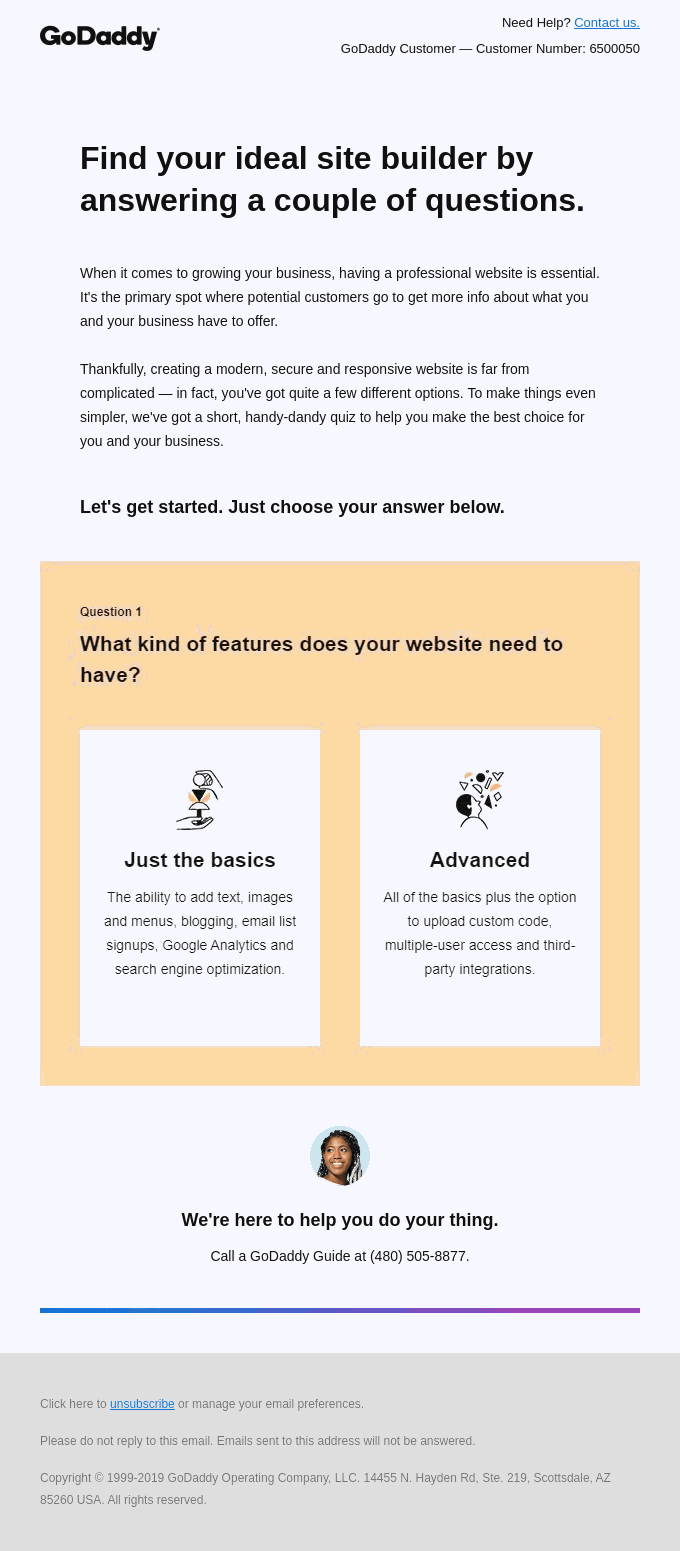 Quizzes are similar to gamification and you can use a reward mechanism to encourage more responses. According to your industry, you can use different ideas to implement this tactic for progressive profiling.
Remember that your subscribers are busy people. So, keep your questionnaire simple to understand and short. Keep the quiz results as accurate as possible so that it does not come off as a clickbait and meaningless exercise. If quizzes don't look like your cup of tea, give a shot to surveys and ask the users for their preferences.
5. Carry out one-on-one interviews with the prospects
While this seems to be a time-consuming and challenging idea, it gives the most reliable information about the users. Your sales team can get in touch with the most qualified leads and ask them suitable questions that will support progressive profiling. The ultimate objective of this strategy is to lead them to buy and facilitate the decision.
Wrapping Up
It has become inevitable to impart a personalized experience to the users. And progressive profiling goes a long way in getting first-party data and recognizing the prospect's requirements and needs. You only have to ensure that you ask the right questions and design the profiling strategy in such a way that the users share data without any apprehension.