If you are a business owner, you have often experienced the need to let your prospects and customers know about the product updates or the launch of new features. Although you can use social media to let your followers know about it, you cannot still be sure whether your existing customers or prospects read it. That's why email marketing is a fail-safe method to inform all the concerned people that you have something new in store for them.
To make sure that your customers find the product update emails appealing enough, you must conform to certain best practices.
So, let's get started.
1. Figure out who should you send the product email to
Firstly, you must determine who will benefit the most from the update. If it is a generic product update that will enable the hot leads or most qualified prospects to make a faster decision, send it to them in addition to the existing customers. On the other hand, if you have updated a particular product, it will not be relevant for everyone. So, you must send it to people who are using the respective product.
2. Send relevant emails to the concerned audience
Segment your database according to the products they are already using or the ones they have expressed interest in. It will help you send tailormade content to them. For instance: If you have enhanced the features of your personalized video functionality, send product update emails to people who are already using it or have inquired about it.
3. Let the users know about the benefits of the new features
Rather than letting the users know the technical aspects of the product updates or features, talk about how it will benefit them. Often, marketers complicate the email communication with technical jargon. It leaves the users overwhelmed and they end up ignoring the email. You need to pique the reader's curiosity through the email.
Based on your product type and industry, answer questions like:
How will the new feature save the user's time?
How will it drive faster business growth?
How will the product update enhance the user's lifestyle, overall well-being, and standard of living?
For example: If you are related to the OTT industry and are launching a new feature like profile transfer, you will have to explain to the users how it will work and improve the user experience. See how Netflix has incorporated the details in their email.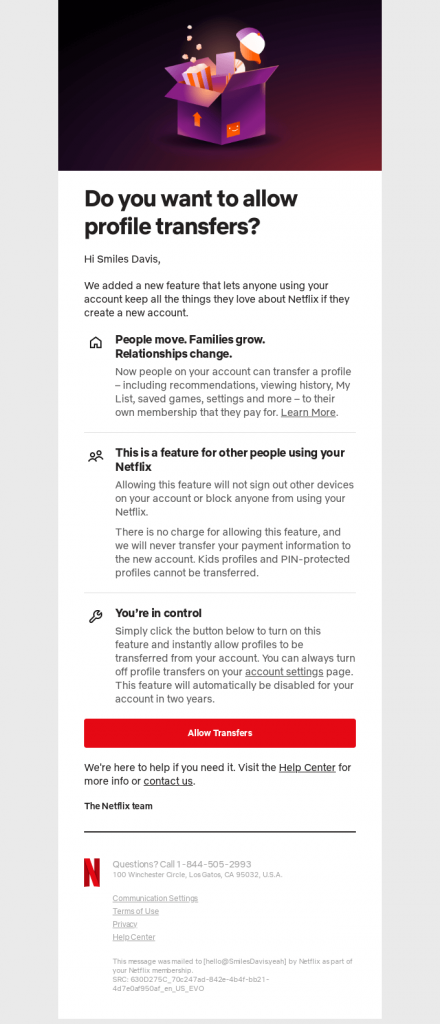 Now apply this principle to B2B and SaaS products like Dropbox has done.
They have informed the readers how the new product update will prevent issues like choppy playback and audio lag.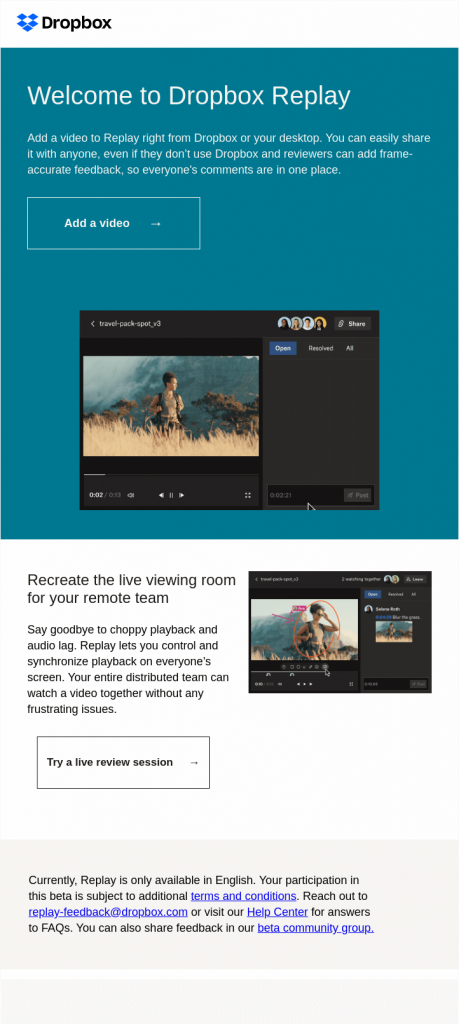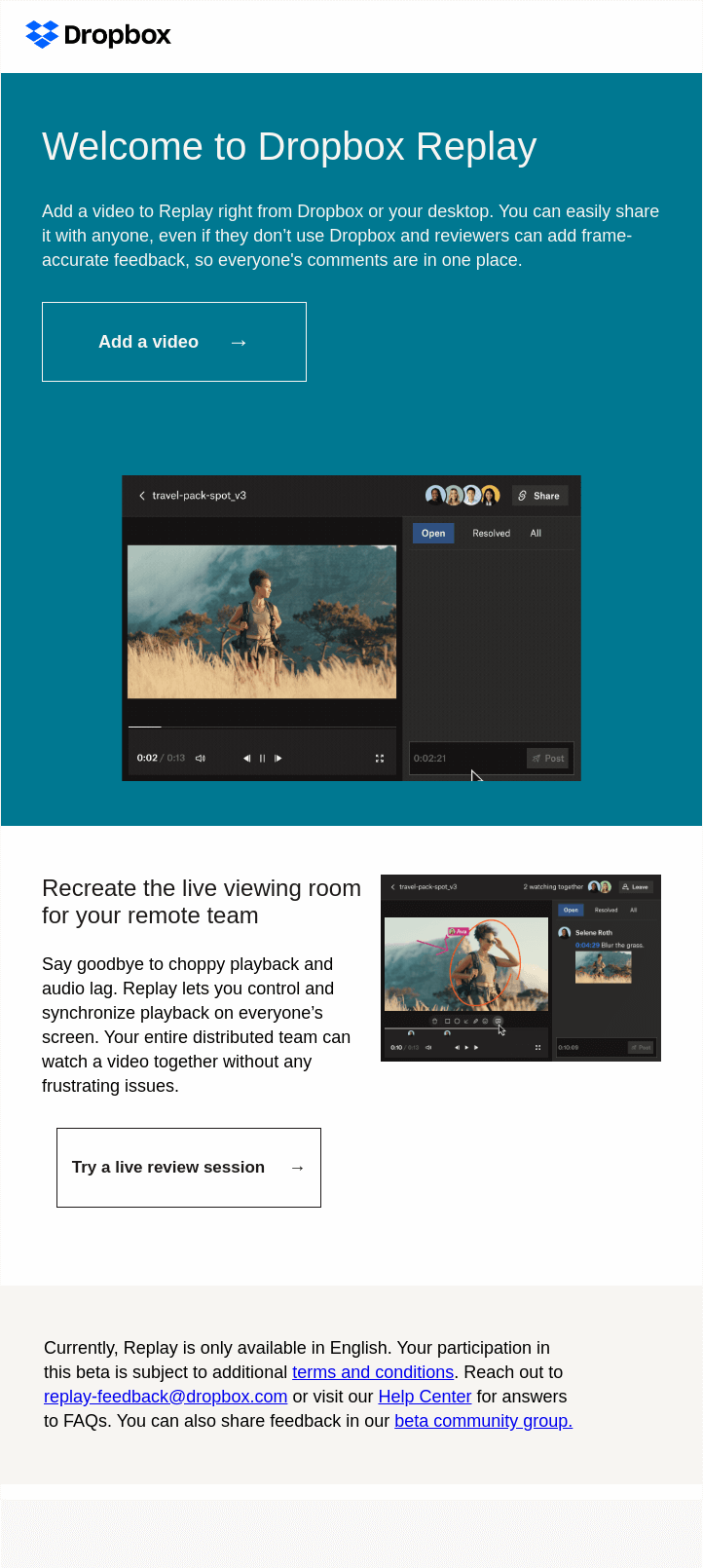 4. Use the power of storytelling
Create a background about why you introduced the new feature. You can use stories like a before and after, showing the transformation. Alternatively, you can paint your image as a philanthropic thought leader and make the email an emotional read rather than a sales pitch. You can also share the Eureka moment that gave you the idea of launching the new product or feature. For example: The lack of a similar product in the market and the grave challenge faced by people.
You can also highlight the contribution of your team and how they executed the new product update. If you have previously launched a beta version of the new update, you can let the readers know how the customers are successfully using it. Some brands even request the users to try out the beta release and be the early adopters. Then, you can ask for their feedback and incorporate those changes to come up with a more powerful final version of the update.
This example by AllTrails is one of the finest business email templates. They have used a conversational tone emulating a bit of storytelling in their product update email.
5. Determine whether or not you need to send the email
Some updates might not be so important that you need to send an exclusive email. Decide which updates will have a considerable impact on the user's overall experience. Make sure that the email adds value to the customer's life and enhances your credibility.
If it is a basic update with minor changes, you can do away with the email rather than spamming the readers with trivial information. Not everyone in your database will be receptive to product updates. So, you can share certain updates on other channels like your website, blog posts, social media updates, and other release notes. Generally, release notes have a lot of information to be broadcasted. In such scenarios, you can have a blog article or have an exclusive resource center to archive all the new product updates and features.
Take a look at this email by Pitch in which they have shared the links to their resources to notify the users about the product updates.
Interested users can click through and read about it in further detail.
6. Add relevant visuals
It is a good idea to include explanatory images or GIFs to demonstrate the product update. After all, visuals go a long way in conveying the message faster and more effectively. Without images, your subscribers might not be able to understand the exact usage of the update. Moreover, the right imagery will bring better subscriber engagement and prompt the users to check the update.
Codepen has done a great job by adding the screenshot of their Asset Manager in their product update email. It will give a clear idea about the update.

In another email, they have shared an image of their Asset Manager along with the blog link for users who want more information.

7. Use product update emails to re-engage the dormant users
Your users might get inactive if a specific feature that they need is unavailable. So, you should send product update emails as a part of the re-engagement marketing strategy. Let the customers know about the new features you have added and how it will improve their experience. Make it effortless for the users to take action by writing a short and clear email.
Clear has sent out a brilliant email to re-engage their customers by letting them know about their easier and faster check in.
[Although it is not exactly a product update email, it can still work as an inspiration for you.]

Need more ideas?
Here's an email by Avocode that shares the public launch of Jira integration through their product update email. It not only works wonders for product marketing strategy but also helps revive the inactive leads.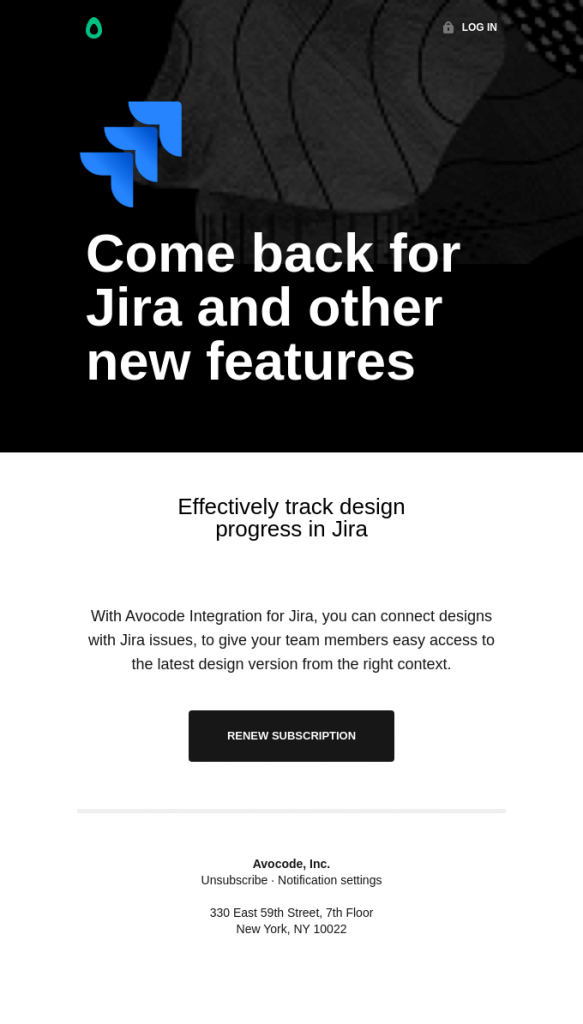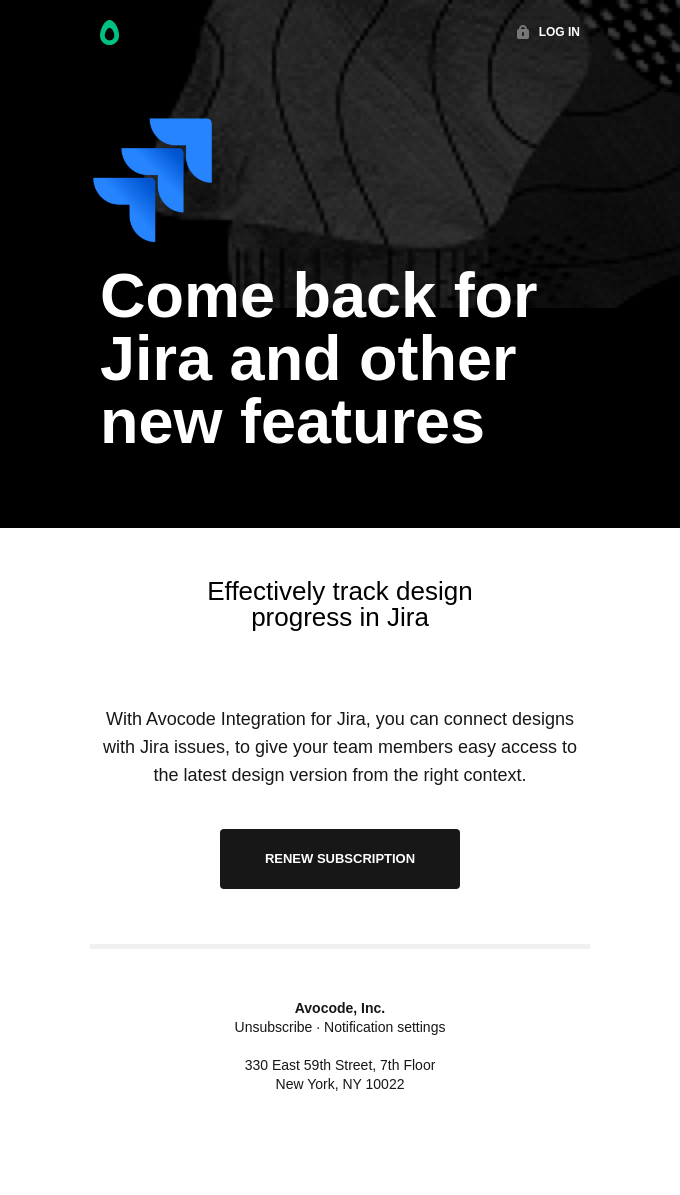 8. Add an element of fun to the product update emails
Generally, product update emails are a bit boring. Try to maintain a light and conversational tone so that it does not look too technical to the readers. Use vibrant colors that make the email look fun. If the email looks grim and bland, it will put off the subscribers.
Check out this product update email by Tome that has used vibrant neon shades to create an exuberant vibe. Such responsive email HTML templates will garner a higher click-through rate and more sales.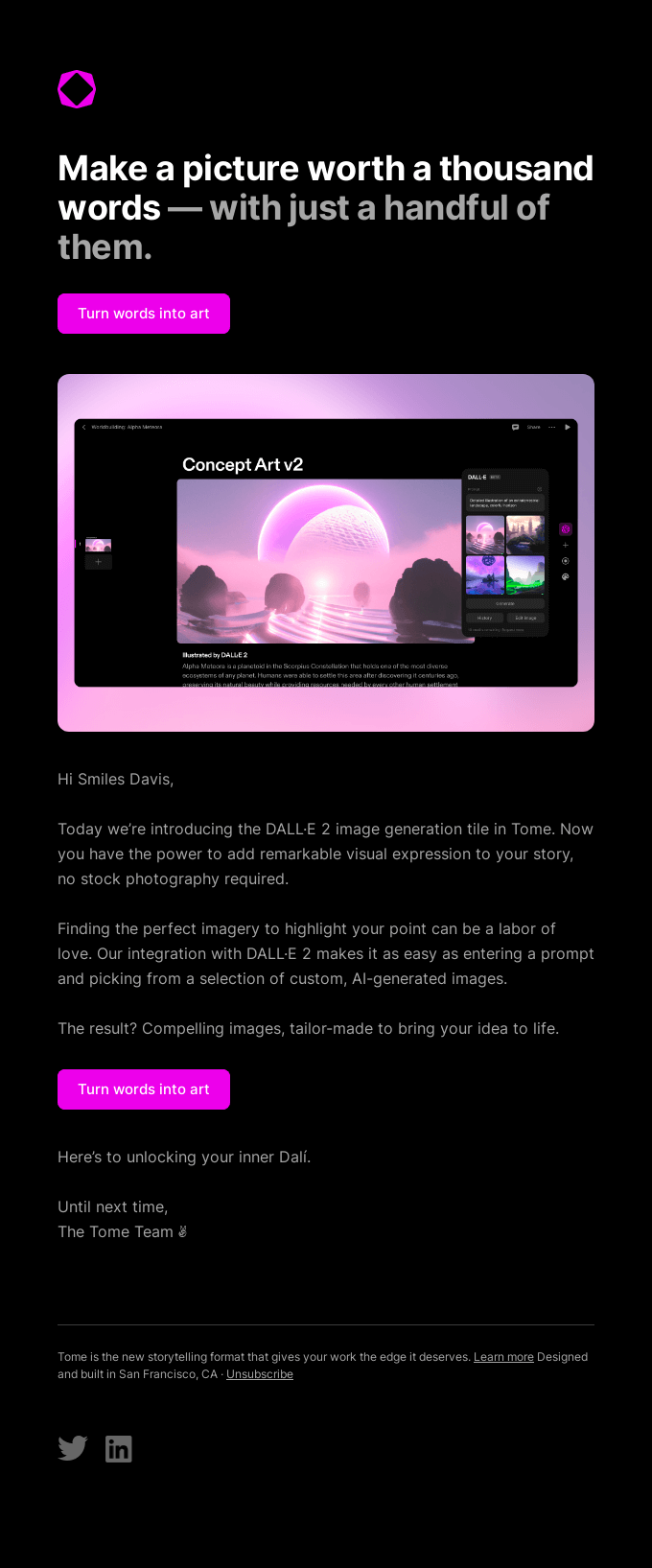 9. Write a catchy subject line
Your subject line should be convincing enough to drive open rates. If you have all the points discussed above in place but a boring subject line, your efforts will be in vain. Rather than treating it as an afterthought, give enough time to think of a persuasive and creative subject line that attracts the readers to open the email.
Take a look at some examples here:
HubSpot Integration
By ClickUp
We've added new features to make trail time even better!
By AllTrails
Smiles Davis, let's get you started with Replay
By Dropbox
New: Introducing Profile Transfer
By Netflix
New in Pitch ✨ Creator profiles, speaker view, and a look back at Q2
By Pitch
Wrapping Up
Product update emails should be an indispensable part of your marketing strategy, especially if you are in the B2B and SaaS industry. If you want to convert your leads into customers and retain the existing ones, product email marketing is the perfect idea. Keep improving your product consistently and communicating it to your subscriber base. Make the most of this opportunity to inform the customers that you are paying attention to their feedback and striving to meet their expectations.