The key to converting sporadic buyers into recurring loyalists lies in how you deal with your customers in the post-purchase phase. Many businesses mistake sales as the final destination when, in reality, the bulk of customer relationship-building work begins after that.
And the medium through which you conduct this operation is post-purchase emails.
As the name suggests, post-purchase emails are those that are sent (mostly automated) to customers after they have finished a transaction with your business. They can be of multiple types:

Order confirmation emails
Feedback Emails
Shipping confirmation emails
Customer information emails
Reminder emails
User testimonial emails
Cross-sell/upsell emails
It is the last variety on this list, which is going to be our subject of interest in this blog
Cross-selling and Upselling Emails- A Quick Introduction
Before we concern ourselves with the many nuances of these emails, it is only fair that we first grasp their fundamentals.
Cross-selling refers to the practice of promoting secondary products that stand to supplement the functionality of the primary product that a buyer has added to their carts. For instance, if the primary product in question is a laptop, then a wireless keyboard/mouse, a laptop skin, and a laptop stand make for an effective cross-selling cluster.
For instance, take a look at this cross-selling attempt from Amazon.

The primary product here is the LED monitor.
To increase the appeal of such clusters, most businesses whip up special discounted prices for these "combos." As a matter of fact, 67.6% of cross-selling sales professionals resort to this tactic.
A smart marketer curates their cross-selling bundle in such a manner that opens the customer's eyes to secondary and tertiary aspects of their problem statement that they might not have visualized at the time of purchasing their primary solution. So, while cross-selling obviously stands to fetch additional revenue for the business, such attempts are only successful when they are not driven by greed but rather by a sincere desire to deliver value to the customer.
Upselling, on the other hand, refers to the practice of pitching upgraded versions of the primary product; no supplementary products feature in the equation. You'd mostly observe this with businesses that offer tiered pricing for their services. Eager not to have customers settle on the lowest tiers and to avoid discouraging them with the pricing of the highest ones, businesses often cleverly configure the range of services of their middle tiers so that they end up appearing the most profitable of the lot.
Take a look at Ghost's pricing tiers, for example.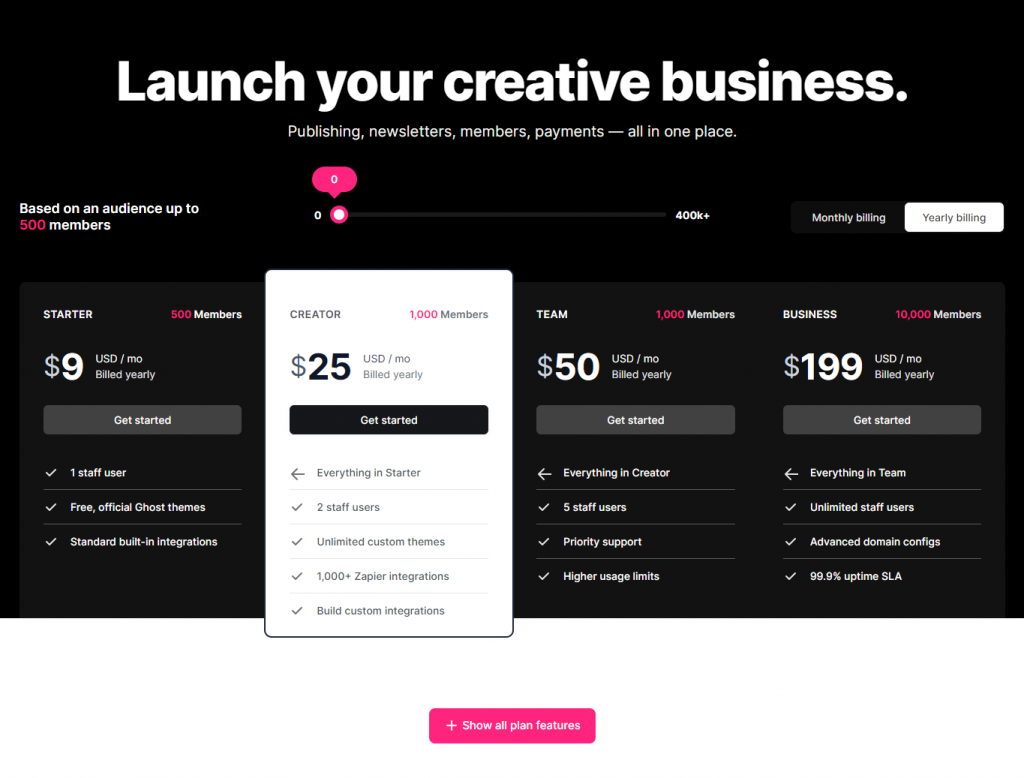 One can clearly observe here how the plan named "Creator" has been carefully configured to offer the most value to someone who's looking to get started with the platform- it has sufficiently more features than the base plan, and at the same time, its pricing is much easier on the pockets than both "Team" and "Business," plans that are easily better suited to individuals with more advanced requirements.
Importance of Cross-selling and Upselling Emails
The following points delineate the significance of sending out cross-selling and upselling emails.
We'll start by stating the most obvious point- they help increase the average order value (AOV). However, as discussed earlier, your cross-selling and upselling strategies only bear fruit if they are strongly informed with the intention to offer value to the customer. A buyer would only be willing to shell out those few additional bucks if they are thoroughly convinced that doing so would help them obtain a more effective and well-rounded solution to their challenges.
When it comes to eliciting repeat purchases out of your existing customer base, cross-selling and upselling emails are downright instrumental. If you wish to increase your revenue, you must focus on converting your existing customers into repeat customers. Why? Because returning customers spend 67% more than new customers. Doing so assumes only more importance when you also weigh in the fact that acquiring new customers costs five times as much as retaining existing ones. But that's not where it ends. To nurture a new customer to the point where they can match the spending levels of your existing customers will cost you 16x more. Hence, the secret to amplifying your ROI lies in getting your existing customer base to return again and again to their shopping carts. And it so happens that cross-selling and up-selling emails are just the perfect tools to materialize this.
By now, you must have realized that at the core of effective cross-selling and upselling attempts lies a degree of personalization. In the former, it plays out in the form of the supplementary products being recommended- they must be relevant to the buyer's primary product (now, with the advent of AI tools, one stands to dial up the accuracy of such recommendations by a notch), while in the latter the proposed upgraded plan must accommodate the majority of the customer's specific pain points. Ultimately, by practicing personalization, you are laying the foundation for increased brand loyalty. This, in return, leads to an increase in CLV, which is something that all businesses out there eagerly look forward to. Not to mention the sheer volume of new leads that loyal customers will help you generate.
Things to Keep in Mind While Crafting Cross-selling Emails
In order to write post-purchase cross sell emails that tick all the right notes, you can consider taking the following pointers into account.
Closely monitor the behavior of your customers. When you are in the know regarding crucial parameters such as purchase activity, browsing history, and AOV, it will be that much easier for you to put forward recommendations that align perfectly with their interests, requirements, and, of course, recent (as well as past) purchases.
This email from Crate and Barrel, easily one of the best cross-selling email examples out there, aptly illustrates the point we just made.
Observe how, over here, the recommended products are directly in line with the product that the customer has just purchased.
Executing cross-selling emails as a sequence and not as a one-off exercise. Your job doesn't simply end at recommending products; you must also have a disciplined follow-up routine in place to effectively convey the merits of your recommendations to your customers. Only then will your post-purchase cross-selling emails cover the miles you expect them to.
Don't let guesswork and speculation inform the curation of your cross-selling bundles; instead, rely on data. This should form the hallmark of your post-purchase email strategy. Closely study what customers in the past have purchased in conjunction with a particular product; this will help you propose just the right recommendations. Amazon's cross-selling strategy, an instance of which we have mentioned earlier, serves as a fine illustration of this tenet.
You probably might have already noticed my tendency to use the terms "bundle" and "cluster" while talking about cross-selling. It is completely intentional, in case you were wondering. This is because curating a combination of products makes more business sense than serving solitary recommendations to the buyer. Imagine you have purchased a phone. Next, you'd most likely look to add a few essential accessories to your cart, such as a screen protector, phone case, and a headphone adapter. Recommending these items individually to the buyer sounds impractical; you'd agree? You'd much rather fit them all in a bundle and configure a discounted price for this combo to increase your chances of driving a purchase.
Upselling Emails Best Practices You Ought to Take Note of
Writing post-purchase upselling emails that hit it out of the park will not be a tall order, so long you incorporate the tips and tricks listed below.

The first step to executing successful upselling involves realizing who among your customers are actually due for an upgrade. For instance, it doesn't make any sense to propose a premium plan to someone who has just signed up for your platform, right? Now, the question is, how do you zero in on the ideal candidates? Why, by segmenting your audience, of course! Only when you have created different segments of your audience based on their interactions and interests will you be able to design unique upselling strategies for each, thereby increasing your chances of success.
Incentivize the customer to opt for the upgraded version of your service by offering attractive rewards or perks. All the best post-purchase emails adopt this tactic. Say the monthly subscription of your service costs $10. So, instead of offering your annual subscription at $120, try to cap it at $100. Customers will never refuse to indulge in your upselling attempts as long as they are getting the most bang for their buck.
This email from Grammarly drives home the point I'm trying to make here.
Center the benefits of your premium plan around your customers' challenges instead of stating them in and of themselves. A customer will be tempted to consider an upgrade only when they are absolutely convinced regarding the value it will add to their lives.
Try to include social proof of customers who have opted for your premium plans. A glowing review from a satisfied customer does wonders for boosting conversions. You'll find this reflected across multiple post-purchase email examples.
Wrapping It Up
Cross-selling and upselling emails are essential components of your email marketing toolkit and, when implemented soundly, can help you gain a definitive edge over your competitors. We hope the insights shared above will help you while you sit down to chalk out your post-purchase cross-selling and upselling strategies in the future!