It is essential that the email templates you create are unique and engaging what with the rising competition to stand out. But equally important is designing and coding fool proof emails (those that render well across all email clients and devices).
The Uplers design and code beautiful emails that are tested across 40+ email clients so that our clients get the best out of each email campaign.
Continuing with our Customer Speak blog series, we have yet another clients speak about their journey with Uplers. And again… it's not about patting our own back but it's our wish to be of help to others facing similar problems.
Here's what Lee Titchener, former CRM Lifecycle Manager at Tabcorp, now CRM Manager at William Hill, had to share:
Can you provide us a quick overview of your Company?
LEE: Tabcorp is an ASX100 listed company in Australia and Australia's largest bookmaker. Tabcorp has numerous brands across different industries, including TAB & Luxbet (wagering), Keno, Trackside & TGS (gaming) as well as a broadcasting network, televising all Australian race meetings as some international races via Sky. Tabcorp is unique to its competitors in the fact that the business has over 4,000 retail outlets across Australia, whereas the competitors currently sit only in the digital space.
What is your role in the organization and team?
LEE: As CRM Manager, I look after managing the end-to-end lifecycle and campaigns for all of Tabcorp's individual brands. Some campaigns may be a one-off campaign at a specific point in the customer's life, right through to a multi-channel journey consisting of communicating via different channels including email, SMS, Push messaging, Facebook, outbound calling and direct mail.
We want to onboard, grow and retain our customers, particularly against the increasingly strong competition. Every decision to a campaign, by which channel and when is based on customer analytics.
How long have you been in the Email Marketing industry?
LEE: I've been in the email marketing industry for over five years, with many more in online and offline media. I've learned to code HTML on the job and have built my own eDM templates for a number of corporate brands.
What have been your major challenges pertaining to email templates during a campaign?
LEE: Most clients will render your email the way you want it to. However, whenever you want to introduce something new such as a hamburger menu or countdown timer, I'm sure the majority of people would agree that it's never easy to fully implement into emails, as not every client can render the content you want to use, or will display this content differently than how you want it to be shown. Whether it's catering for Outlook 2000/2003 where there are differences to the newer versions of Outlook, trying to have emails render correctly for Lotus Notes and working with the finicky HTML rules Gmail works with, it's never an easy process to push new functionality into an email.
What kind of solutions were you looking for to beat the challenges?
LEE: We've used a few methods in solving our challenges.
Firstly, we've used and continue to use Uplers to help us implement new HTML features into an email, as well as assist us in implementing new features developed on our end that don't render correctly. Uplers is super quick to help us in both areas and I couldn't recommend them higher for the price paid for the service!
To test new functionality within emails, we use email rendering tools to ensure that it will render (or fall back) in every email client. We're committed to quality and want to ensure that every potential reader of our email will have a similar experience regardless of the email client they are using.
How did you come to know about Uplers & Why did you choose Uplers for email template production?
LEE: I was actually referred to Uplers by a colleague who has used Uplers in the past. We gave the service a go and couldn't have been happier with the result and cost. Safe to say that the Uplers are now our go-to place for anything we need!
How could Uplers help you beat your challenges? What difference has it made to your campaign performance?
LEE: Uplers has been able to develop the code for new functionality that we wouldn't have had implemented into our email templates otherwise. This has led to a much higher engagement with our emails, allowed us to display more content without expanding the length of the email and made each communication we send much more informative and appealing to read.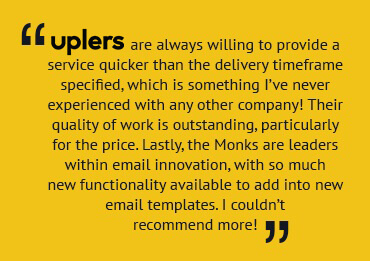 Tell us about a specific project where Uplers could help you find a remarkable solution – Challenges, Quality, TAT, Cost, etc.
LEE: Our email templates were getting very stale and with a brand-refresh coming up around the corner, it was the perfect time to make the change. After spending some time on trying to develop the code internally, we had Uplers create the template including brand new features. As a result, we saw engagement rates in email spike and good use of the new functionality. With Uplers' pricing, we've been able to make further enhancements to our templates on an ongoing basis, something we likely wouldn't have had the budget for with other companies. This, in conjunction with the very speedy 8-hour turnaround!
How has been your experience working with Uplers?
LEE: Fantastic. We have a great relationship and the Uplers understand our needs and timings. They're always willing to provide a service quicker than the delivery timeframe when placing an order which is something that I've never experienced with any other company. They even help to assist after finishing the project, which I can say with certainty that not many companies out there will do!
What would be your recommendation for people looking out for a similar solution?
LEE: If you don't have the technical expertise to develop HTML coding for any email template or landing page yourself, or even if you do but you can't spend the hours on it, I really recommend Uplers. The money you spend internally on building something yourself rather than having Uplers to do it will most certainly cost more. They are able to customize the code in order to suit your email sending provider, so once you have your code provided back, you're up and running in a matter of minutes!
Sincere thanks to Lee for his words of appreciation.