Email Marketing is growing and with every new day marketers are aiming to integrate new theories and best practices that will ensure optimum conversion. However, there are several myths associated with email marketing and at the workplace we aim at debunking the old school theories and myths that create a mental block amongst marketers.
Here are the 6 myths associated with email marketing:
1. There is an email overload:
In the practical world, there is no email overload. Subscribers subscribe to a limited number of brands that they like and they ensure to check each one of those brands for which they opt-in. Consumers aren't drowning in emails from their trusted brands. According to Alchemy Worx 2013 report, 60% subscribers received less than 6 emails per day from their trusted brand. Moreover, browsing through these emails is certainly not an overload though the 3 seconds rules still dominates!
2. Best time to send emails:
There is no best time to send an email. Emails sent on certain time are certainly well received over others and increases conversion but this notion doesn't work always. Best time to send an email is industry specific and most emails (almost 85%) are opened after 2 days of delivery. Open rate, clicks and conversions really depend on the subject line, past email behaviour, domain reputation, email frequency, permission based emailing and much more.
3. Defining Inactivity too soon or too late:
Yes, we have talked about this earlier in our blog posts. Sending emails to inactive subscribers over and over again will hurt the domain reputation as they never open your emails. However, defining inactive subscribers is important. If you have a list who is active during the Christmas, changing email frequency works best rather than adapting to a notion and stopping to send emails considering them as inactive. Defining inactivity is the key to success. Also, considering a yearlong inactive subscribers, active is a sin as well.
4. Consumers Spam Emails easily!
Well, they do so but not always! Consumers do not mark emails as spam unless you send them frequent emails without permission on the subjects they haven't opted in. Subscriber wouldn't really like to spam their trusted brands. Less than 1 in every 2000 email consumer will mark your email as spam.
5. Shorter Email Subject lines win!
Do you think that as well? Brush up your knowledge. It's the trend for symbols and longer subject lines! Subject lines with 50 to 70 characters do much better than shorter subject lines, according to a recent report from Adestra.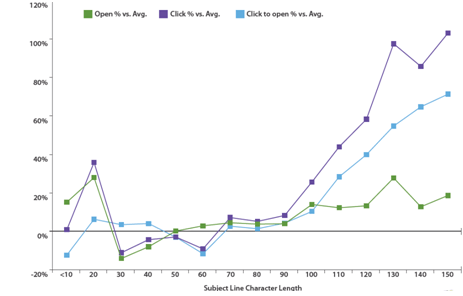 6. Spam Keywords in subject lines SPAMS!
Out of the 540 Bn emails sent, 'spam keywords' have a very less or no impact on ending up in junk folder. Use words like FREE, DISCOUNT, SALE freely in your subject lines. Spam is more about your domain reputation, irrelevant content and unhygienic email list.
Wrapping up
Email marketing is about freely approaching your target audience. The rule of the game however is to ensure relevant content is passed with permission to the most active list. Play safe and you will win – OPENS, CONVERSIONS and CLICKS!