Have you tried placing an order with the Uplers and faced some hurdles? To simplify the process of placing a custom email design and coding order with the Uplers, we have created a list of pre-requisites that will help us serve you better.
List of pre-requisites:
While placing a custom design and coding order, we require you to provide us with:
Brand Guidelines
Email Metrics of previous email campaigns
Subscriber Persona and Other Miscellaneous Information
Reference Design and Ideas
Specifications for a Dynamic content or RSS feed block
Here are answers to some of the FAQs
What is the importance of providing Brand Guidelines and what are the components of Brand Guidelines?
When your subscribers open your email, the first thing they notice is the brand logo followed by the colors used in the email. It helps them connect better with your email. Certain brands and agencies have strict brand guidelines in order to create consistency across all mediums. Specifications regarding your brand color, brand logos and color schemes need to be provided in the job brief at the time of order placement.
How can the Email Metrics of our previous email campaigns help in designing an email campaign?
Which email marketer doesn't want to create an email campaign that fetches better results than the previous one? To help you in this regard, we study the email metrics of your previous email campaigns and implement our findings into the current email template.
By analyzing the open rates, click rates, unsubscribes and abuse rates, we can suggest following implementations:
Open rate is low: Subject line or Pre-header is not alluring enough.
Click rate is low: The CTA button placement or its aesthetics failed to capture attention.
Conversion rate is low: Hero image, CTA placement, total number of CTAs affects the overall design of the email and in turn the order & conversion rate.
Every metric can be pivotal for us in order to determine the eye scan path and placement of important information based on the email fold.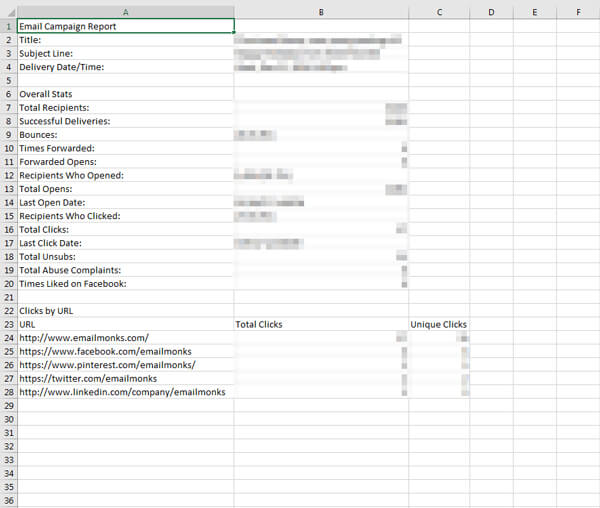 It would be even better if you could provide us with the link to the previous email design files.
What is a Subscriber Persona and what other Miscellaneous Information would we need to provide?
Email copy or more importantly the message through the email copy is dependent on certain factors like the purpose behind designing the particular email, target audience, customer behavior- in short Subscriber Persona.
In case you wish to include any interactive email elements such as navigation menu, collapsible carousel or accordion, an appropriate fallback needs to be designed. Moreover, if most of your subscribers tend to open your emails in their handheld devices then a separate mobile layout needs to be created. Hence, information regarding the pre-dominant list of email clients used by your subscribers can be helpful in creating the different layouts for the same email.
I got some bright ideas but am not able to convey it on the design brief? Can I provide some Reference Design & Ideas?
Indeed! You can add reference designs or sample emails in order to convey your ideas with ease. You can find some beautifully designed email samples in our library itself. We will try to create an amazing design for you.

I wish to include a Dynamic Content Block or RSS feed Block in my email template. What dependencies shall you have regarding it?
In this world of being on the move, brands want to offer an updated email copy whenever the subscriber opens the email. This need led to the discovery of dynamic content possibility in email.
In case you wish to dazzle your subscribers by including some dynamic content in your email, you need to specify the source of the content to be pulled dynamically as well as the amount of space that it might occupy. This is very important as the content being dynamically fetched from outer source, if it exceeds the allotted content block dimension, there is a chance of content overlapping. If the dynamic content is smaller than allotted content block dimensions, then your subscribers shall see unnecessary white space.
Similarly, for adding RSS feed in your email, content block specifications shall be needed along with the RSS feed source url and feed properties.
Wrapping Up
We hope we've helped to resolve many of your pertinent queries regarding the pre-requisites needed while placing an email design and coding order.
For queries regarding email template production that have been nagging you, please refer our earlier blog.