Mother's Day is approaching, and it not only gives people an opportunity to make their moms feel special but is a great opportunity for businesses to make revenue. Soon, email inboxes will be brimming with Mother's Day emails and you need to up your email design game to grab your subscriber's attention. Be it offering an incentive or just a curated email of gift ideas for maternal figures, you have to do something noteworthy to ensure your subscribers feel special.
Whether your customer is going to go for the regular gifts or is looking for something out of the box, the gifting trend has evolved from flowers and chocolates to online gift cards and coupons. In fact, 34% of consumers who celebrated Mother's Day in 2019, said they're willing to go for a subscription of a service or product for their mothers.
With this trend setting in, email marketers have a window of opportunity to get the best of both worlds. But for your brand to stand out, your email needs to stand out.
So, here are a few impressive emails that we came across and we're sure they will inspire you to make your emails equally striking or maybe even better!
1.
Cath Kidston

Cath Kidston has nailed it with engagement as they ask their subscribers to send in their handcrafted mother day goodies. It also creates a sense of urgency in the copy where they mention that it's not too late to join the competition. The CTAs are well-placed and allow the user to select his course of action. The brand has listed out the best entries they've already received for the competition to inspire others. Further, they are offering a €50 voucher to 10 winners. A well-planned, personalized email indeed.
2.
Jimmy Choo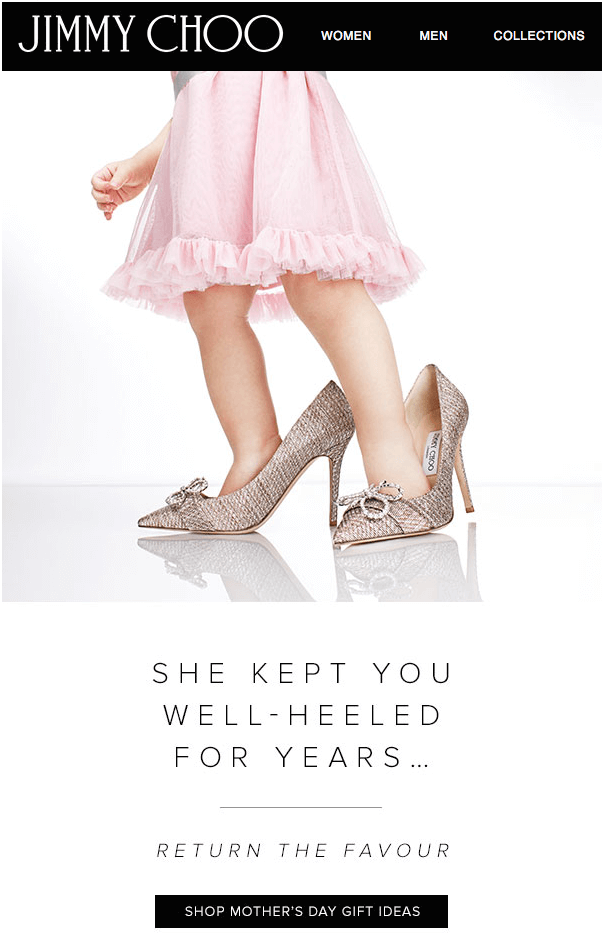 This email brings a wave of nostalgia and brings out an emotion which most of its consumers would relate to. The design is simple and the copy is straightforward yet impactful. They have not made it look salesy with offers and discounts, but have just given one CTA to buy from their Mother's Day gift ideas. This email is not loud at all, yet rings so many bells, isn't it?
3.
Toms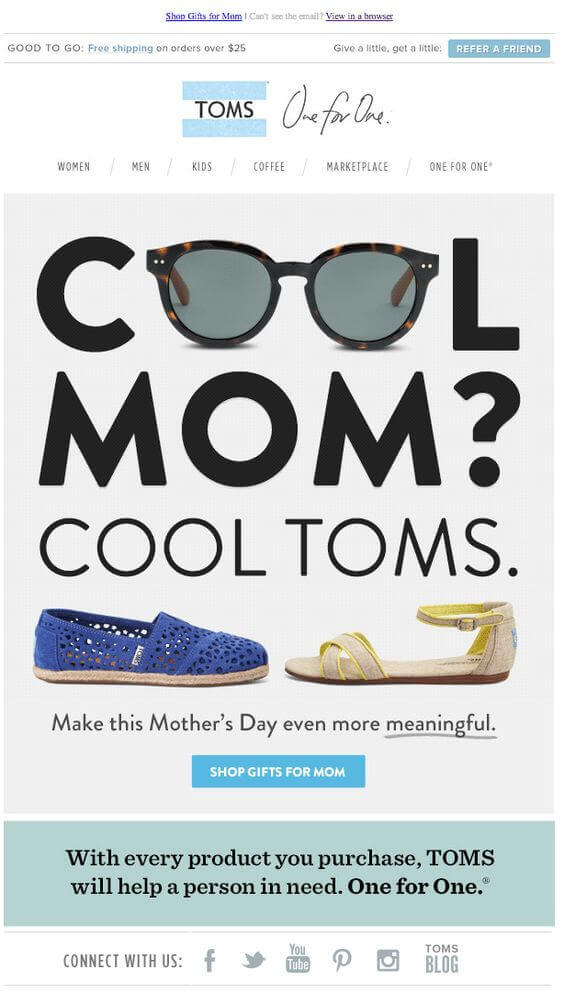 They have been bold with using humor in the copy and experimenting with the content. The copy is short and prominent. The products have also been placed smartly and it becomes almost impossible to ignore each item. Plus, they are making Mother's day special by announcing that if you purchase with their brand, they will contribute an amount to a social cause. The products are visible but not clustered. Bonus points for creativity!
4.
Yellow Leaf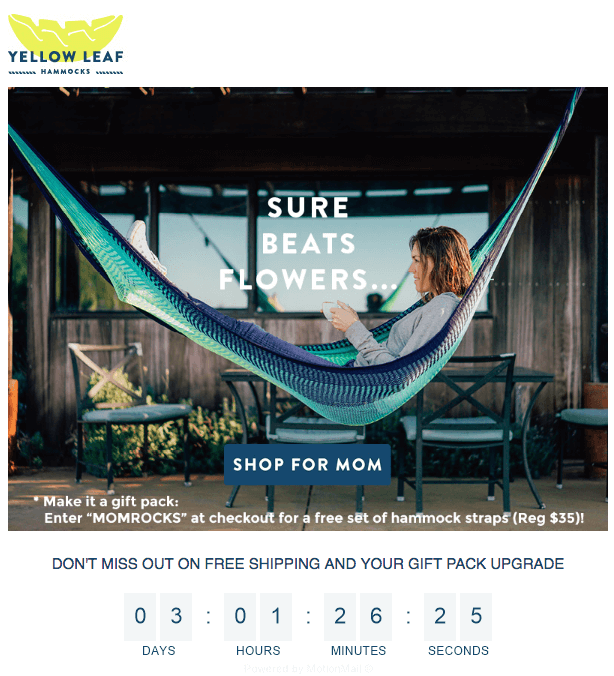 Somehow, this email drives your attention directly to the CTA. The button for action is placed in the center of the grid and the copy is kept minimal.

The best feature of this email is that they have used a countdown timer, which creates a sense of urgency and is likely to drive more sales as the offers are time-bound.
5. Dr. Martens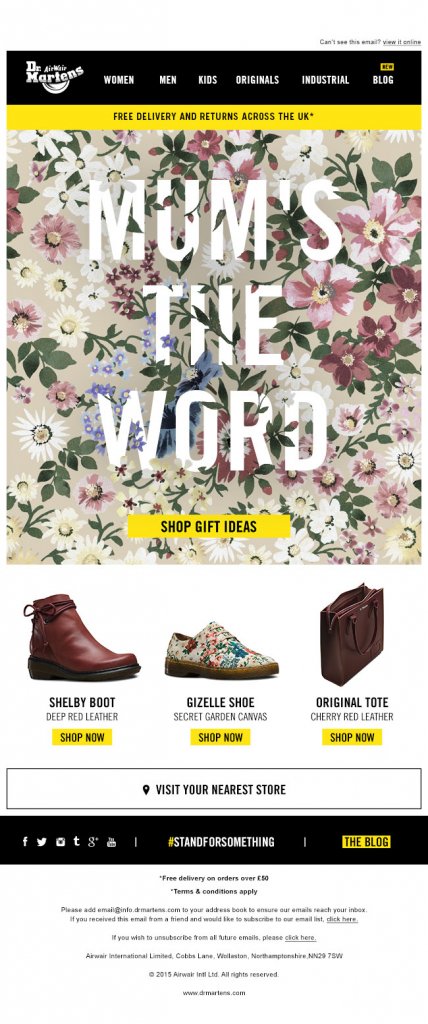 The design of this email deserves appreciation. The key copy of the email is blended with a flowery pattern which is not only brilliant but makes sure the message is on point. No beating around the bush. Good and concise copy, no incentives to woo you. Another smart strategy Dr. Martens has used is that they have listed the products based on the customers' search history.
6.
Godiva
This email exhibits its products instead of focusing on deals. They have displayed a hand-curated list of gifts. The headline "The Ultimate Mother's Day Gift Guide" will attract a lot of consumers as a lot of them would be wondering what to give their mothers to show how much they love them.
7.
Seat Geek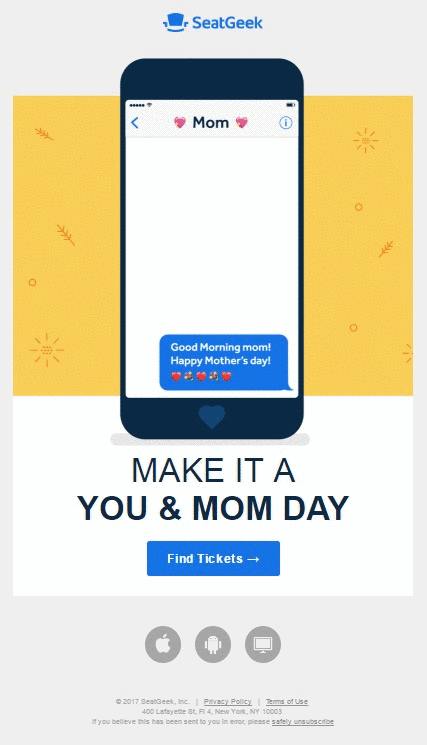 This email has avoided making the design obvious to the event of Mother's Day. Instead, they have used their own brand colors. They have designed the email in such a way that the content is placed strategically and automatically drives the user to the CTA. This email has maintained the brand values and the use of white space has optimized the design. The conversation in the form of the GIF is fun and appealing.
8.
Mac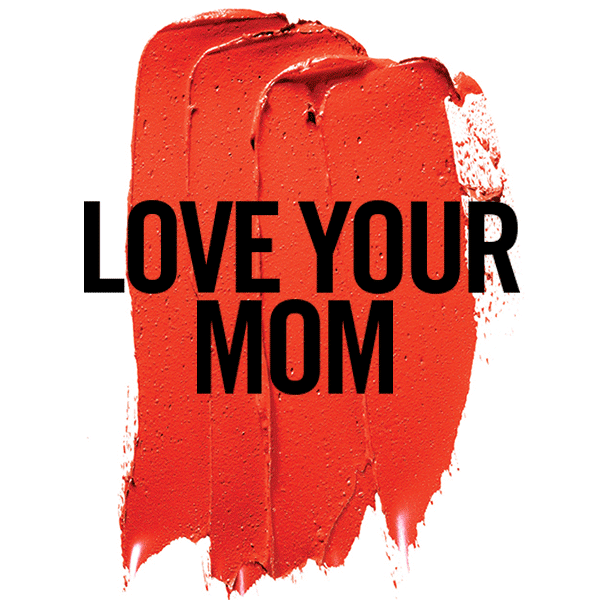 This email from Mac has nailed it with some basic animation, which might not seem like a big deal, but it takes the brand image a long way.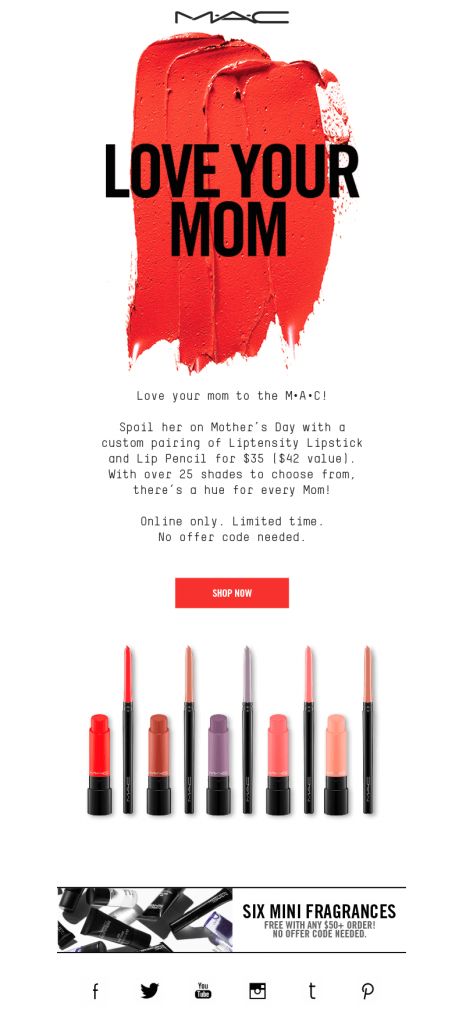 They have used the inverted pyramid layout with the GIF, copy, button and secondary copy. Despite all this they had used the subject line- Love Your Mom to the M·A·C with a Liptensity Pair for $35 ($42 Value) + Free Shipping! So when the reader opens the email, they already know what they are in for.
9. Bright Star

This email has multiple points of engagement with embedded links. They have not used buttons for the actions but subtly slipped in the Mother's Day message into the copy. They have made this email extremely personal by sharing insights into the sender's life. The copy has made up for the basic design.
10. Bombas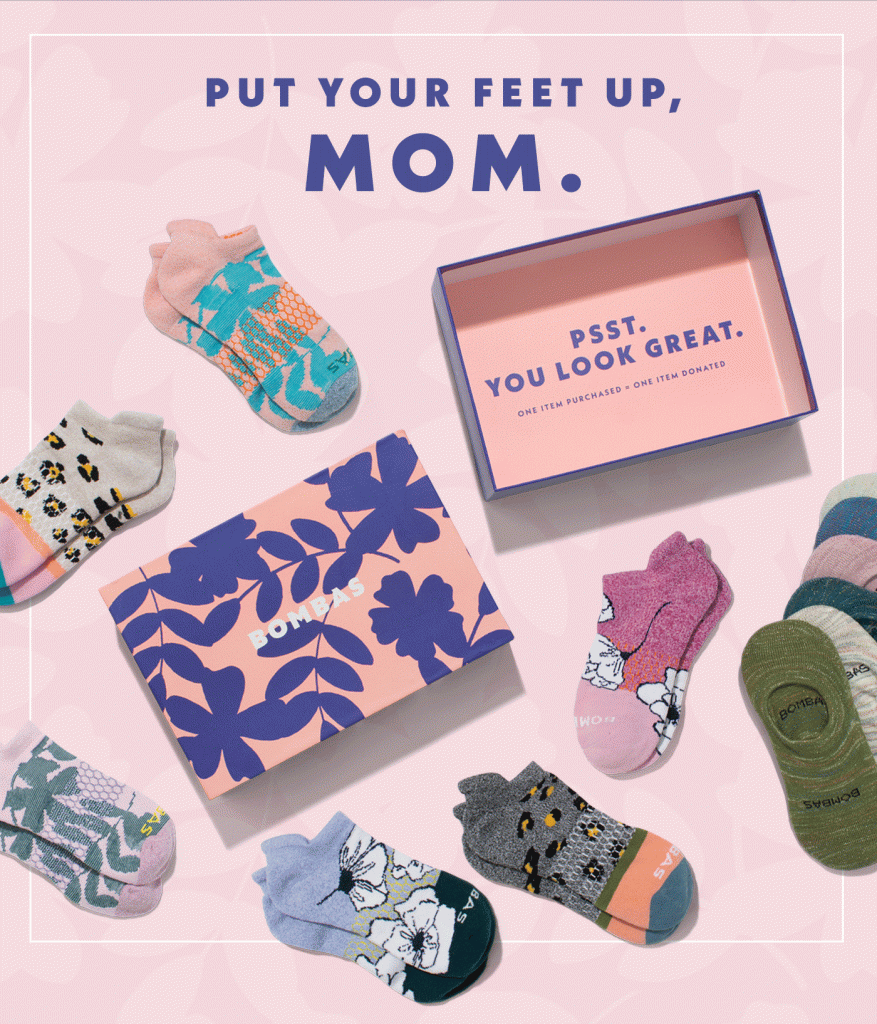 We've saved the best for the last. This email is a treat to the eyes with a beautiful color palette. The design is brilliant, be it the animation or the product placement, everything fits in perfectly. The email has been sent to customers telling them about early access to avail exclusive products before the others, which is obvious in the subject line- Early Access: The Coziest Mother's Day Gifts. This automatically makes the reader feel important.

As you scroll down the email you see that they have listed all other curated lists of products along with the Mother's day gift idea list. Just below the CTA button, they have a message saying – for every pair of socks bought, they donate a pair of socks to the needy. Well played, Bombas!
With the COVID-19 pandemic, forcing us to stay at home, it gives you the opportunity to celebrate this Mother's day by spending time with your mother. If you're away from her, connect with your mom virtually, and send her online gifts!
That's all for now, but if you have sent or come across any other emails that you think have 'Dunnit Right,' let us know in the comment section.