Mom, mama, mummy, momma —- so many names, one profound emotion of love.
Of course, you don't need a Holiday to celebrate all that a mother does for her child… but it is a sweet annual ritual to make your mom feel special on Mother's Day. It has become one of the most commercially successful Holidays in the U.S.A. Last year, Mother's Day spending touched a record figure of $28.1 Billion and around 83% of adults in the U.S. are likely to celebrate the annual Holiday.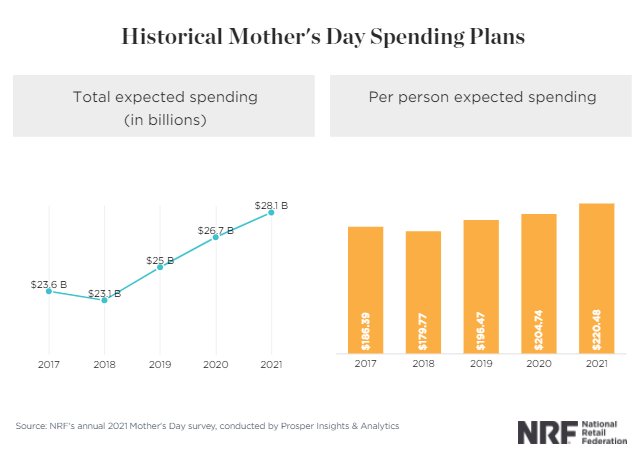 To inspire people to buy from you and make the most of the 'spending tendency', you must invest in a winning email marketing campaign with some creative ideas.
We've curated 13 of the best email examples to make things easy for you and pull off an effective strategy this Mother's Day.
1. Sass and Belle Trade
Subject line: Take a look at these Mother's Day must-haves…
As soon as you open this email, you are greeted with pretty shades of pink, red, and blue. The entire email is brimming with attractive images that will definitely entice the users to click through and take action. They have strategically placed the CTA button, in the first fold and toward the end. The email wraps up with a tip on how to create an impactful in-store display. They have not added any animations or unnecessary fluff in the email and it is still a great design anyway.

2. The Hut
Subject line: Gifts they'll love
Inclusivity is an important aspect when it comes to marketing. Emails are no exception. This means that you must remember that people of different geographical locations observe Mother's Day on different dates. For example: In 2022, U.K. and Australia celebrated the day on 27th March while in the U.S. and Asia, it falls on 8th May 2022. The Hut has sent the email, considering their audience in Australia. It is important to remember such facts if you want to create inclusive emails for your subscribers.
Coming to the design, they have used bold typography in the email to draw the subscriber's attention. The email works as a gift guide and suggests different options to present to their mom or motherly figure in life. The engaging copy along with relevant visuals work as the perfect duo in this email.

3. Newverest LLC
Subject line: Last Chance for Mother's Day Sale!
If you are looking for something creative this Mother's Day, the email by Newverest LLC can give you some ideas. The Marquee text "LAST CHANCE FOR" at the top of the email will tap on the FOMO and encourage readers to avail 25% off for Mother's Day. Moreover, we don't come across animated CTAs too often, right? That's where this email earns brownie points. The countdown timer builds up on the FOMO even further. They have divided the email into four sections to highlight different types of gifts you can buy for your mom. The email has a huge range of gifts with a CTA attached to each one, which will increase the likelihood of conversion.



4. G-Star Raw
Subject line: Day of Mothers
An animated hero image, inspiring and BOLD copy – "Rock it like a mother", and a minimalistic email design are all the winning elements of the Mother's Day email template by G-Star Raw. The email is based on a monochromatic design with shades of black, white, and gray that make it easy on the eyes. They have included two CTAs, so the user can either shop from their Mother's Day gift guide or go through the new styles for women.

5. Eco Modern Essentials
Subject line: Happy Mother's Day
Mother's Day is all about celebrating mothers, moms-to-be, grandmothers, and that maternal instinct in the hearts of women. This email perfectly understands this emotion and sends out a delightful email for the occasion. The visual elements are in sync with the Mother's Day vibes and are sure to touch the subscriber's heart. They have included profound "motherhood" messages from their brand ambassadors. The email concludes with an announcement about the new range that they are launching on 12th May (2021). It will keep the subscribers hooked and also make them look forward to their next email.

6. Coupons.com
Subject line: Mother's Day deals are here! Save on her faves
With Mother's Day approaching, many people will be looking for discount offers and coupon codes to purchase gifts. This subject line is timed and drafted to match this demand. That takes care of the open rate. Now, let's come to the click-through rate. The email has two countdown timers that create a sense of urgency and encourage the users to take instant action. The headline: Celebrate Mother's Day Week will prompt the subscribers to buy multiple gifts rather than just one.


7. LVLY
Subject line: Here's $15 off – The Ultimate Mothers' Day Gift!
Mother's Day is a great occasion to introduce new products in your store. That's what LVLY has done. They have offered a discount of $15 on their new arrivals to celebrate Mother's Day. The pretty images of fresh blooms will tempt the users to visit their website and purchase right away. The CTA "Show her how important she is" will further strengthen the temptation and lock the conversion.

8. Casper
Subject line: This Mother's Day, give the gift of comfort.
Visual hierarchy is an indispensable facet of well-designed emails. The email by Casper follows the inverted V shape in the first fold and the Z pattern in the remaining part. Coziness and comfort are the USPs of Casper's products and that reflects in this email. To complement the feeling of Mother's Day, they have incorporated a cute family picture in the hero image. Even the copy is written in such a way that it targets the needs of the mothers.

9. Nudestix
Subject line: Make Mom Feel Special With The Perfect Nudestix Gift
The Mother's Day email by Nudestix has aced the GIF game. The cursive typography in the hero image works well for occasion-based emails. They have cleverly used pretty animations to demonstrate the usage of their beauty products. As each product is accompanied with a CTA, the user gets more inclined to visit the website and purchase. Easy navigation is the key to driving sales, whether through websites or emails.


10. QHotels
Subject line: Rather not hear from us this Mother's Day?
Mother's Day can be a difficult time for some subscribers. To make sure that you do not hurt them, you must allow them to opt out of Mother's Day emails like QHotels has done. The email follows an empathetic tone and lets the subscribers know that they can choose not to receive Mother's Day emails. Further, they have clarified that they will be in touch with the subscribers soon.
A personal recommendation: If you are an eCommerce business thriving on such Holiday sales, you must send this email without fail.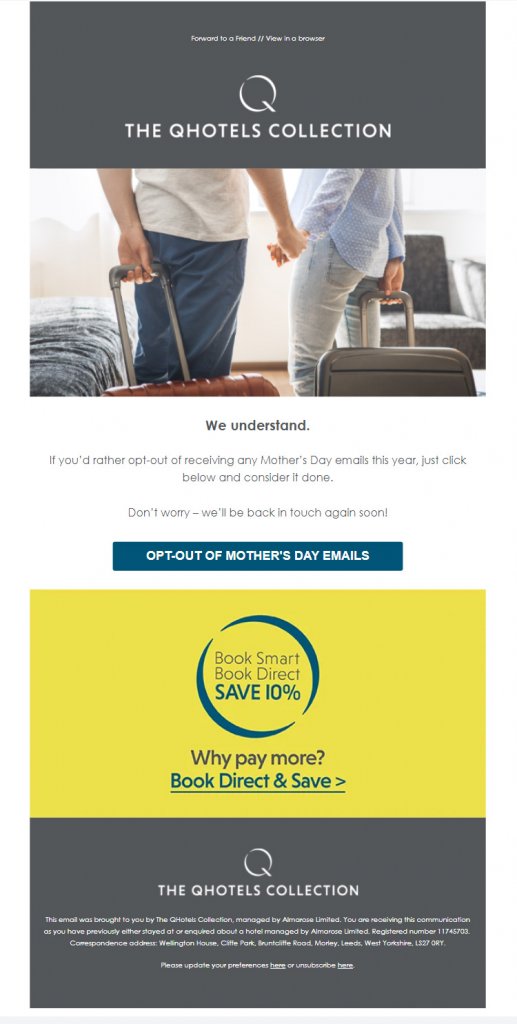 11. Lloyds Pharmacy – Online Doctor
Subject line: Get ready for Mother's Day with up to 50% off gifts
Lloyds Pharmacy has called attention to the discount offers on different products in the hero image itself. They have used animation to show the price drop. In the second fold, they have displayed top gifts for moms.
If you do not want to dedicate an entire email for an 'opt-out request', you can do it as Lloyd Pharmacy has done. They have subtly communicated the same to their subscribers.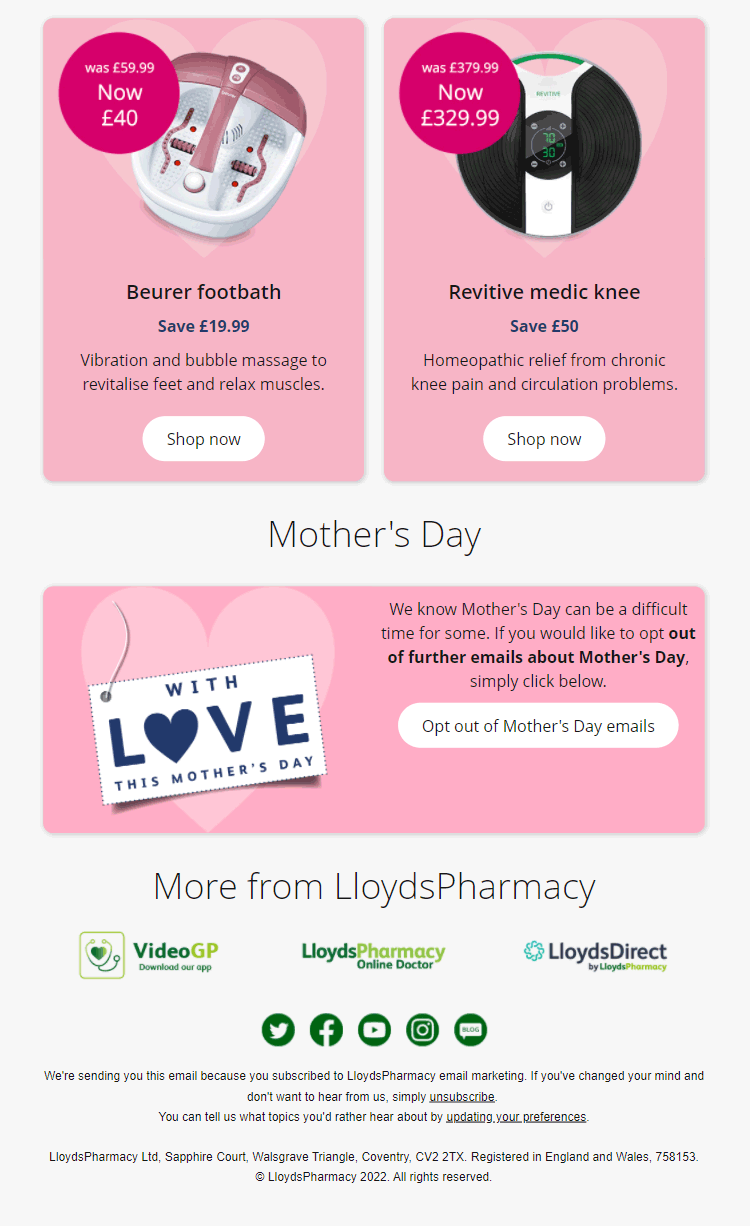 12. Uncommon Goods
Subject line: Mothers Day gift pressure is ON! (We can turn it off.)
If you ask me about the brands I look up to for email marketing, I would surely include Uncommon Goods in my list. Right from the email subject line to the hero image to the product images, everything is just spot on. It is a brilliant idea to use an animated image wherever they want to show the usage of a product (in this case: cheese board). They follow this norm for almost all their emails. With so many gifting options in the email, the reader will surely have a couple of ideas by the time they scroll to the end.

13. Sur la Table
Subject line: Let us help you make Mom's day.
Does your mom love cooking? Is she a professional chef or do you love the dishes she prepares for you? This email by Sur la Table shares several recommendations in varying price ranges. They have also included an option to send a gift card so that your mom can decide the gift for herself. The email is designed keeping the visual hierarchy and reading pattern at the cynosure.



Wrapping Up
Mother's Day is a profit-oriented Holiday as people are keen to splurge, given its emotional value. Therefore, it is highly recommended that you start planning your campaigns in advance.
This article would have given you a direction to build your Mother's Day emails, right?
However, if you are still unable to figure out what to send in your Mother's Day email or how to design it, you can count on the email experts at Email Uplers.