Expertise builds trust. For a life-threatening ailment, you would prefer a doctor with expertise of multiple years than a freshly graduated medical student. Same is with your customers. Unless you don't show your expertise of solving their pain point, they may not choose your business. Now, the most common problems that businesses face are how to offer expertise to someone who is interacting with them for the first time. The answer lies in the message that your customer receives from you. Purchases made as a result of receiving a marketing message in an email has the highest conversion rate (66%), when compared to social, direct mail and more (Source).
So, we have proved that emails are a great way to display expertise, yet offering expertise is not achieved from a single email. It is gradually built by educating your subscribers at every stage of the customer journey.
Awareness – Prospect learns about the brand or product
Purchase – Prospect purchases product and becomes a customer
Relationship building – Brand nurtures relationship with customer
Retention – Brand retains one-time customer, making them into a loyal one
Advocacy – Customer advocates for brand on social media and beyond
Awareness stage emails
At this stage, your potential customers are only aware about your brand name and some of your products / services. They are curious to know about your brand and what solutions you have to offer. Emails that list out different products/services you offer and the relevancy, of what your offer, to their current problem are what businesses need to send in this stage.
In the below welcome email by Virgin America, the subscriber is felt welcomed and the email copy states what the subscriber stands to gain from their emails. They finally concluded the email by providing a relevant link for the subscriber to be better prepared during their next trip.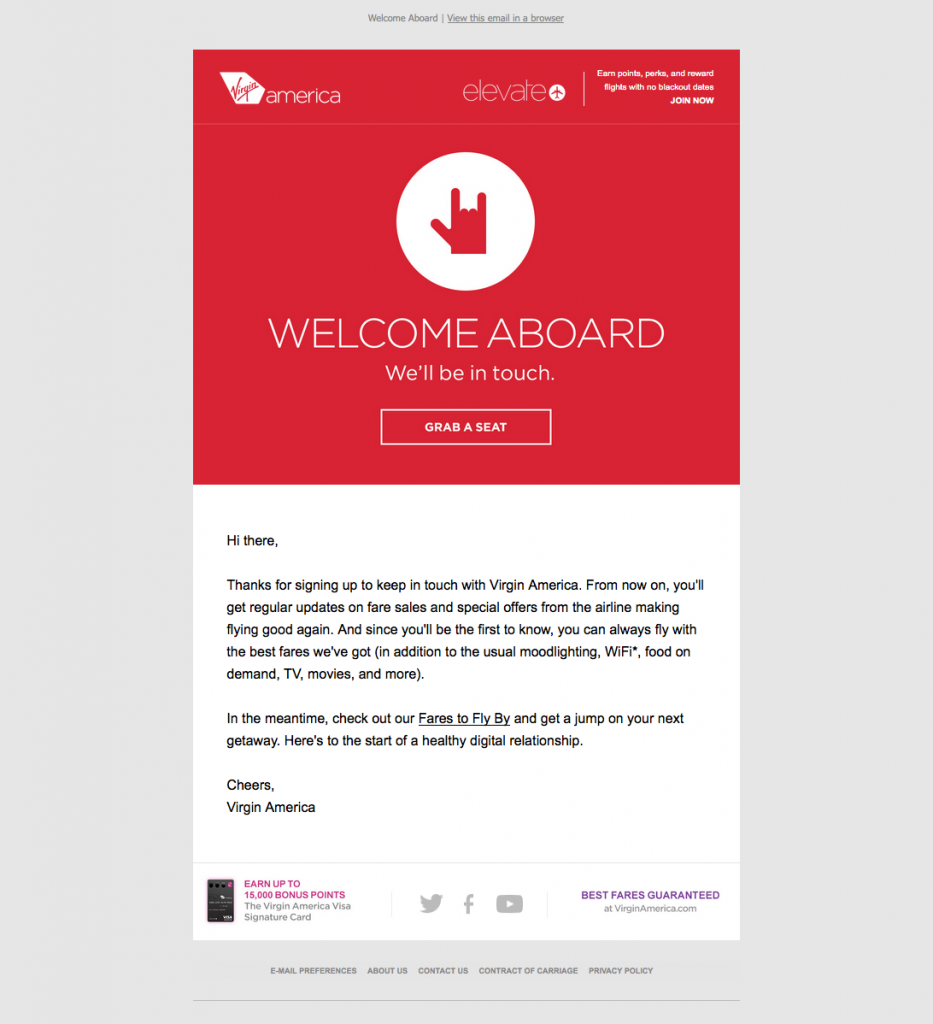 Most subscribers at this stage opt for a free trail to understand the hangs. You can send an email listing out the features the subscriber can avail as well as what they can expect when they opt for a paid version. In the below email by Headspace, the subscriber is welcomed for opting for a free trial and assured that they can access the content provided in the trial forever. In the end, they have showed the benefits of choosing their subscription plans.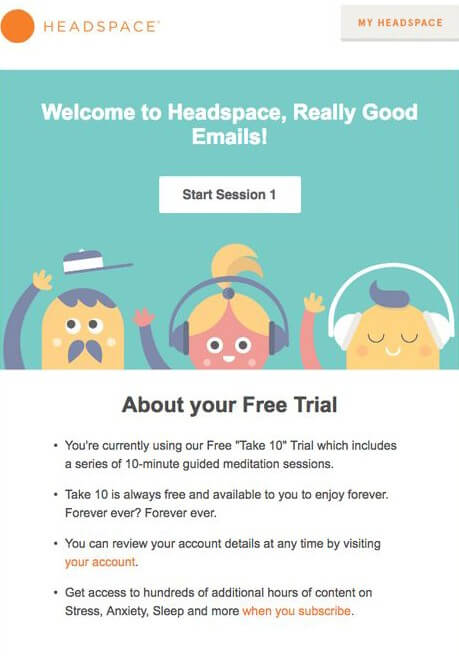 The goal of the emails at this stage is to provide enough information to the subscriber in order to bring them to the verge of making a purchase. So, you need to 'nurture' them with emails such as:
Content Resources: Links to webinars, white papers, instructional videos, ebooks, slide decks, etc. that your subscriber can refer in order to gain further information.
Introduction to features: For those who are experimenting with free trial, an email listing out the different features of what you are offering would help them learn more.
Actionable Tips: While your subscribers will like to explore by themselves, offering them actionable tips can help them be educated better.
Drip emails: One of the best ways to nurture your leads, drip emails are a series of emails that are sent to your subscribers based on their interaction with your brand. i.e. If they download a whitepaper, an email with option to download an eBook is sent, else an email with an embedded video would be sent.
Purchase Stage emails
At this stage, your subscribers are contemplating on whether your brand is the perfect fit for their problems and would be comparing what you offer with those being offered by competition. This is the time to highlight your USPs and how you stand out. Depending on your industry, you can also offer an incentive for those who are on the fence. Tone over here is very important as you cannot force them to purchase nor are, they obligated to be buying from you.
In the email below by Uber, the email copy provides enough motivation to the subscriber that they are pulled towards redeeming the lucrative offer.

Sometimes the discount code is not a strong motivation and by organizing a contest and linking the entry with a purchase, you substantially increase the chances of your subscribers taking the plunge. In the email below by PhotoJojo, the job is well done with relevant images and a list of what the subscribers stand to win.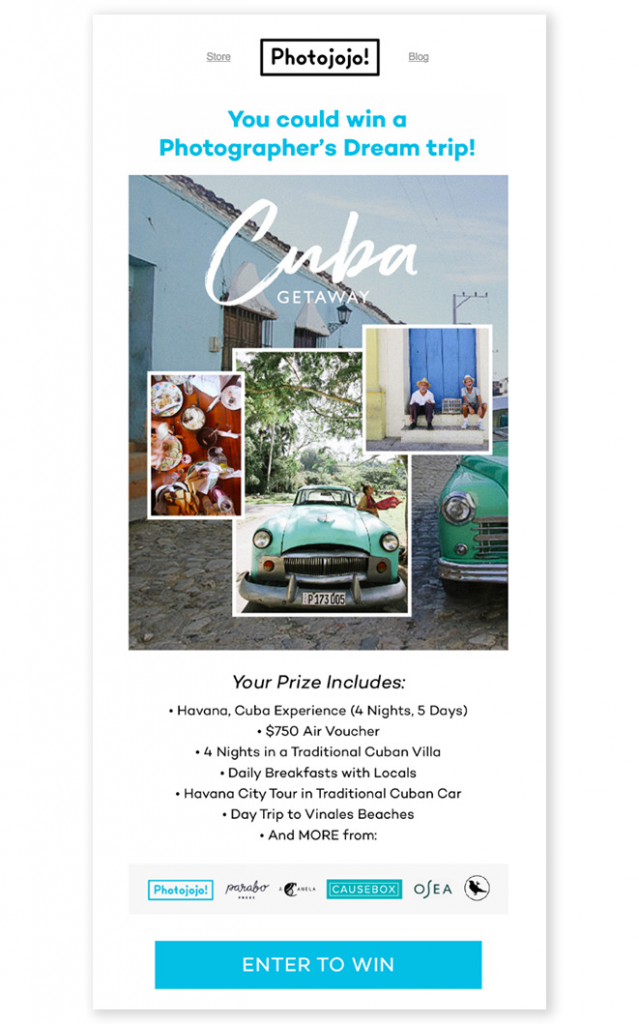 In order to choose the incentive, it is a good idea to dive into the preferences chosen by the subscribers while completing their profiles.
Post Purchase Relationship building emails
Congratulations! You have customers but this is not the end yet. Businesses thrive on new customers and grow with repeated customers. By providing a good user experience and making them feel like a part of your brand family, you connect with your customers and build relations with them. This enables them to provide repeated business for your brand. Email newsletters are a great way for customers to remain in contact with your brand in form of product improvements, industry updates, upcoming events, and much more.
Additionally, offering loyalty bonus to your existing customers are also a great tactic to make subscribers feel special as well as ensure a repeat order. In the email below by Lyft, they appreciate the customer and offer a discount for being a 5-star rating customer. This way, your customer feels the rush to remain on the top and bring business to you.
In the email below by Apple, the customer is sent a product update email concerning Apple Watch and Apple offers the customer in-store credit to upgrade their watch.

Asking for customer feedback, once you assume your customer has managed to use your product, would make them feel valued. Asking for review is twice advantageous for your business. One, you build relation with existing customers and you get testimonials to rope in new customers. In the email below, Massdrop thanks the customer for the order, shows an image of the product for easy recollection and asks them to review the product.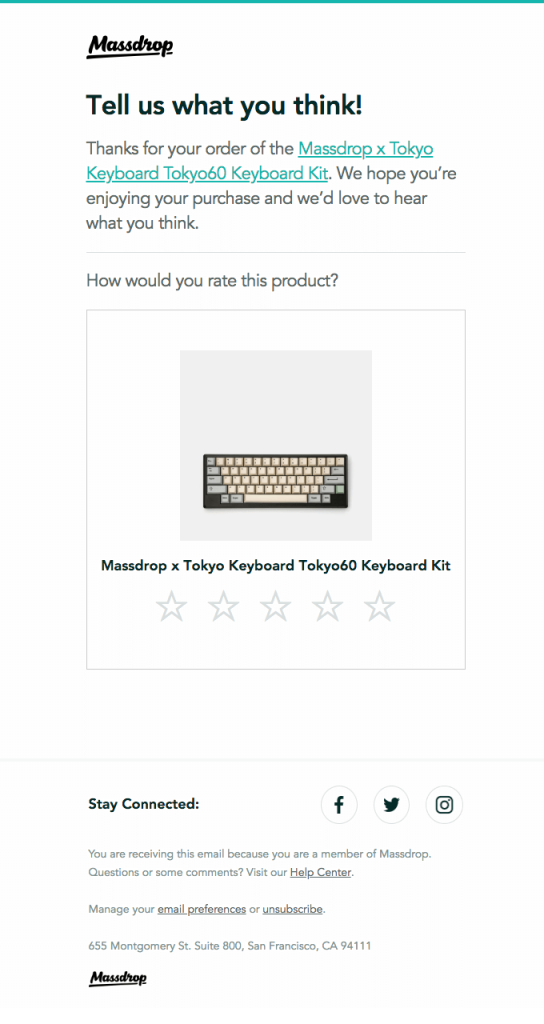 Retention stage emails
The above emails are for those customers who are active enough for repeated business. For those who became dormant after a purchase, emails can be sent to retain them and gradually turn them into loyal customers. Target the USPs that might greatly help them or show them features that they can gain by remaining loyal.
In the below email by Vimeo, they reminded the customers of the dormancy and offered a discount code to retain them better.

Advocacy stage emails
Word of mouth travels far and wider than emails. Humans are built to trust those who are close to them. Leverage the trust built by your customers to bring new customers for your business. While every customer of your business may not turn into a brand advocate but by studying your customer base and identifying key customers, you can send them emails promoting referrals in exchange for lucrative offers.
In the email below by Webflow, the customer is offered a faster access to beta version, provided they share the news. Additionally, they also promoted social sharing in order to boost sales as well as social exposure.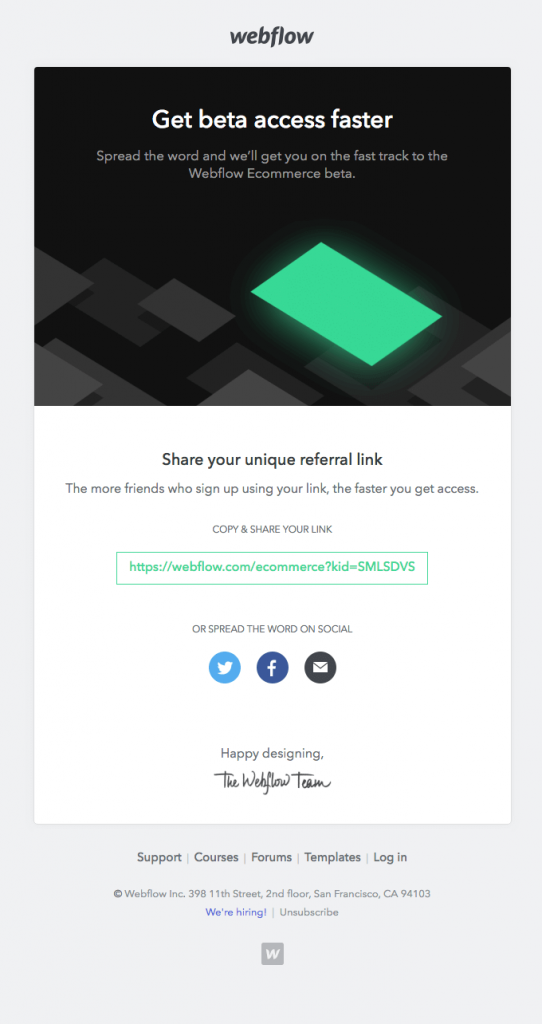 Similarly, in the email below by DigitalOcean, the customer is lured with an option to get rewards for them as well as their referral and this is observed to increase the sharing chances.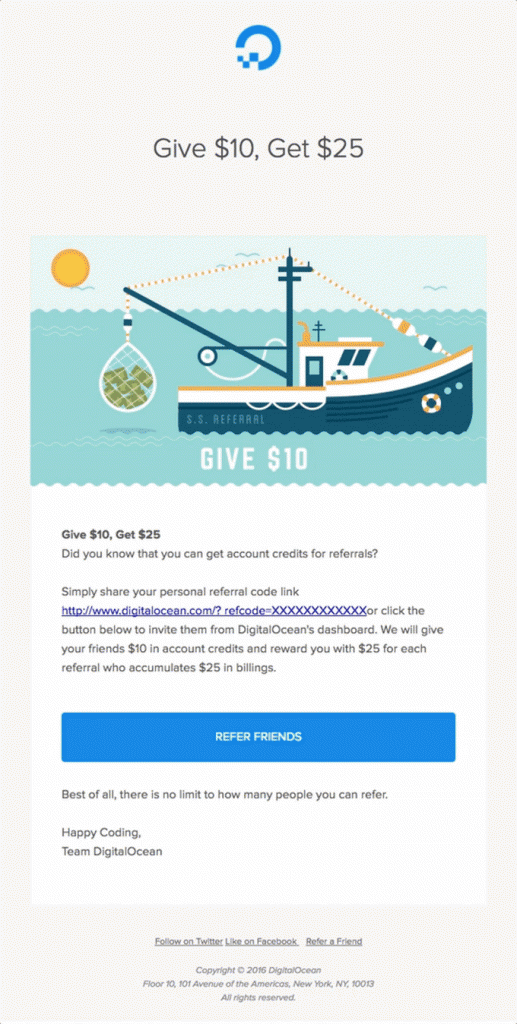 Takeaways
Add testimonials and links to relevant content for your lead nurturing emails to build trust.
Give a lucrative incentive for those prospects sitting on the fence in the purchase stage of their customer journey.
A glance through the subscribers' preferences can help you understand what kind of incentive might strike a tone with your subscribers.
Relationship building post purchase is crucial as it goes a long way. Ask for customer feedback to make them feel close.
Everybody loves to be loyal to those who appreciates the loyalty. Reward yours with loyalty bonuses
Encourage your customers to refer your brand. Offer referral advantages to lure.