Fuel Saint Patrick's Day Sales with 10 Amazing Email Inspirations
Themed holiday email marketing have always worked for businesses. Whether it's St. Patrick's Day or any other holiday, emails carry various offers and discounts that help people in making the most of the holidays as well as the discounts. But, for that an email should be tempting enough to thump the hearts. A different and out-of-the-box email appeals to everyone.
To create more persona in your emails, we have gathered some beautiful St. Patrick's Day creatives that will inspire you and leave you awestruck.
1) Papyrus
A simple yet crisp email from Papyrus that successfully spreads the joy of St. Patrick's Day. The email carries the St. Patrick's Day theme, but doesn't dissolve into it, as it also carries its own theme. The offer has been highlighted in the juxtaposed color which is able to steal the attention instantly. The CTA is visible clearly and tells the readers what to so.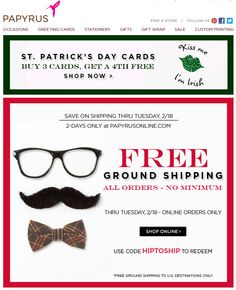 2) Life is Good
A great festive email from Life is Good. Though, this email carries the theme of Saint Patrick's Day, it is not limited to it as carries the monochromatic colors of the 'traditional' green which make this email more tempting. The overall design of the email is clean and subtle.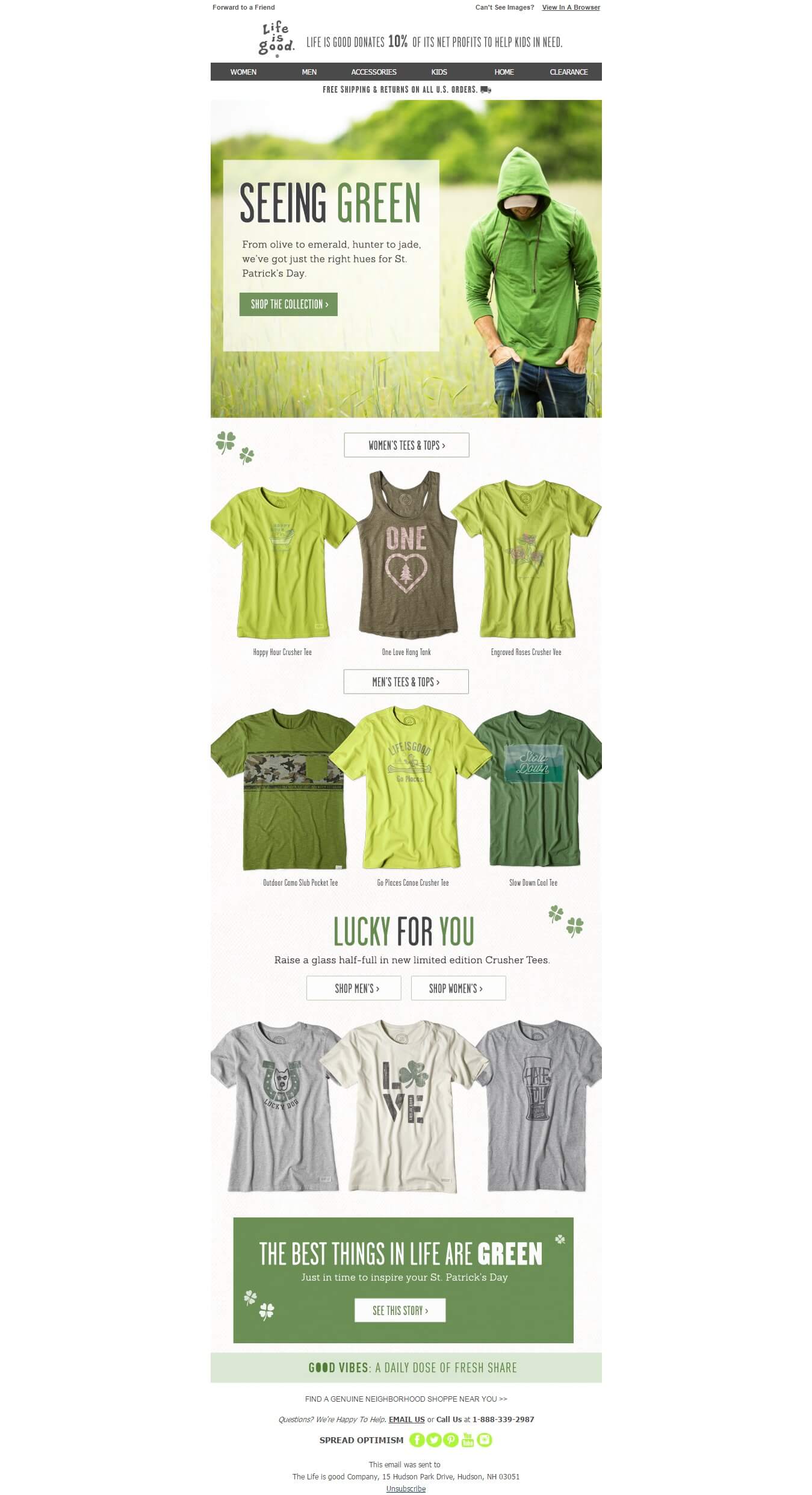 3) Ciaté
Ciaté on the other hand kept the theme of the newsletter identifiable by not making it green. However, they featured some of the products in their email that represents the St. Patrick's Day theme very well in the monochromatic way. Two different colored CTAs are present in this email to avail the best offer in the easiest way possible. Overall this beautiful yet chic email from Ciaté is definitely a charmer.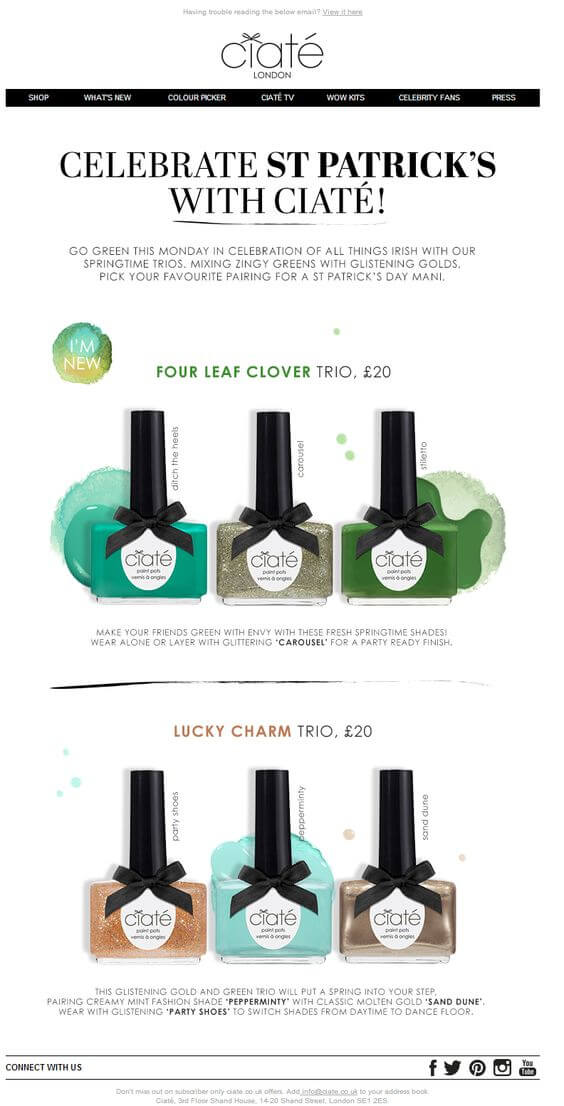 4) Blue Nile
Women love jewelry and what they love more is more jewelry. Blue Nile is spreading the joy of St. Patrick's Day in the best way possible by displaying more jewelry in their email with a discount. This email is wisely collaborated with metro trend to show more options and also kept the St. Patrick's Day theme in mind. "Find Your Green" CTA is both curiosity bringer and click generator and that's what we love about this email.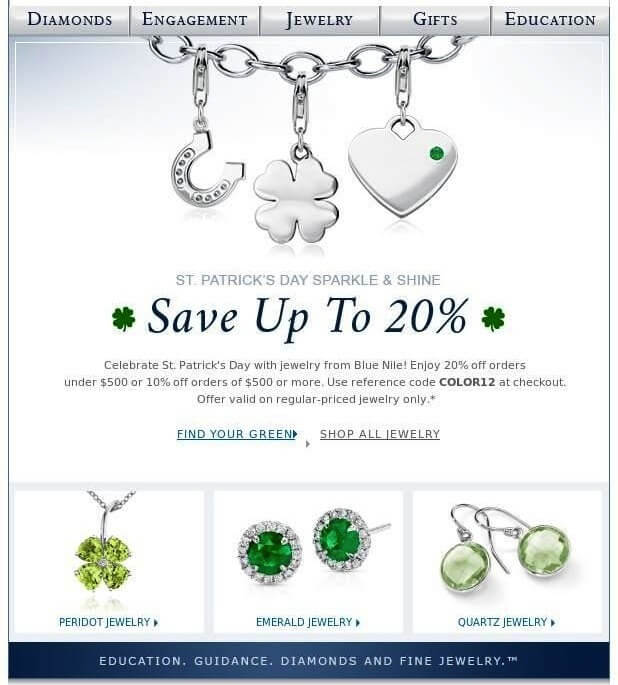 5) Deguisetoi
A very simple, subtle, and classy email from Deguisetoi that looks fantastic. Its crisp design is enough to win the hearts of the subscribers. They have successfully brought in the feeling of their brand in their offer and the CTA is clear enough to attain clicks.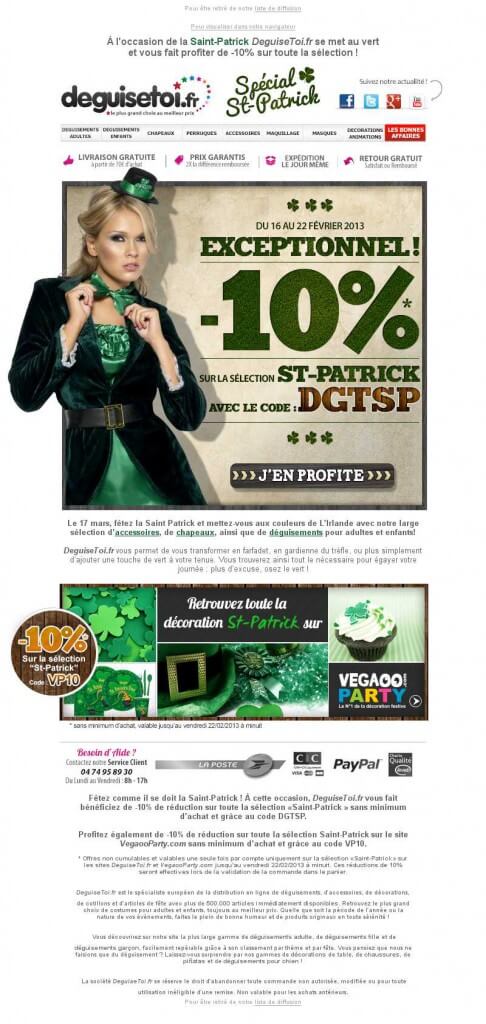 6) Maurices
Maurices successfully brings the St. Patrick's Day theme in one of their email template examples and it looks beautiful. A simple combination of green and white makes this email look even more stunning. The offers are highlighted appropriately and the CTA is bold enough to instigate the action.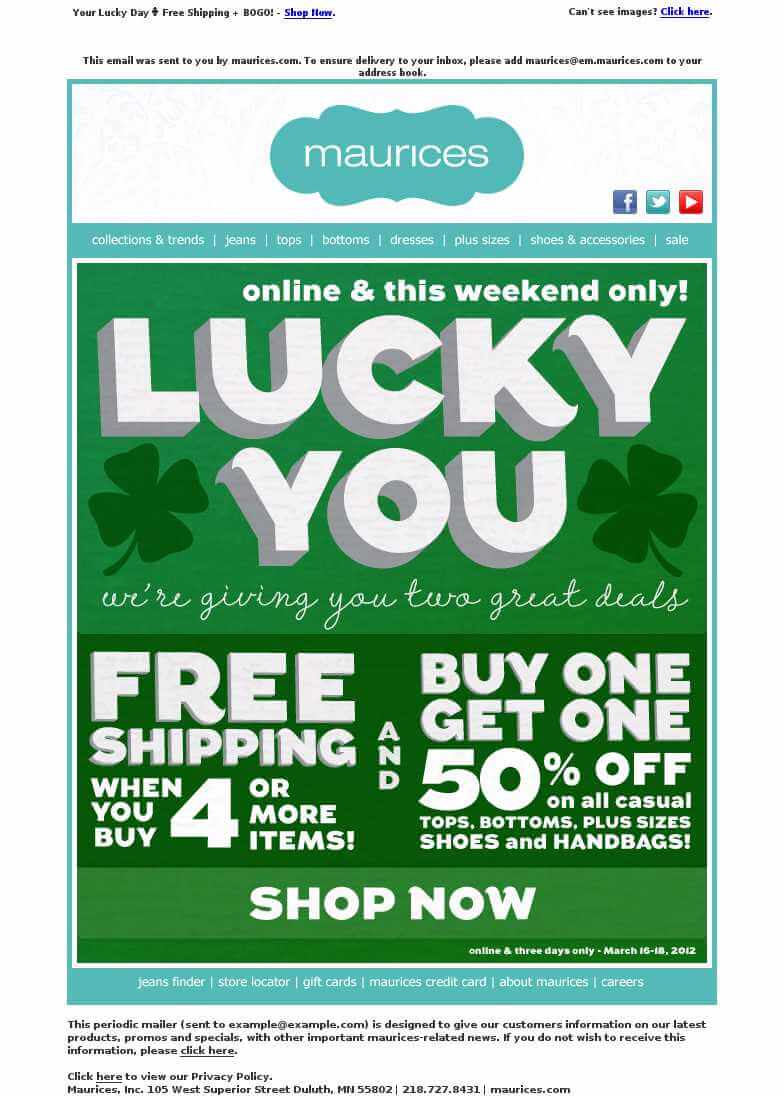 7) Prettyskin4less
Prettyskin4less too stuck to the St. Patrick's Day theme and have made the email go all green. Even the CTA gives the St. Patrick's Day feeling and is hard to resist. Both the brand's name and the offer have been highlight accurately. This email consists of a good amount of colors, image, offers, etc. and looks elegant.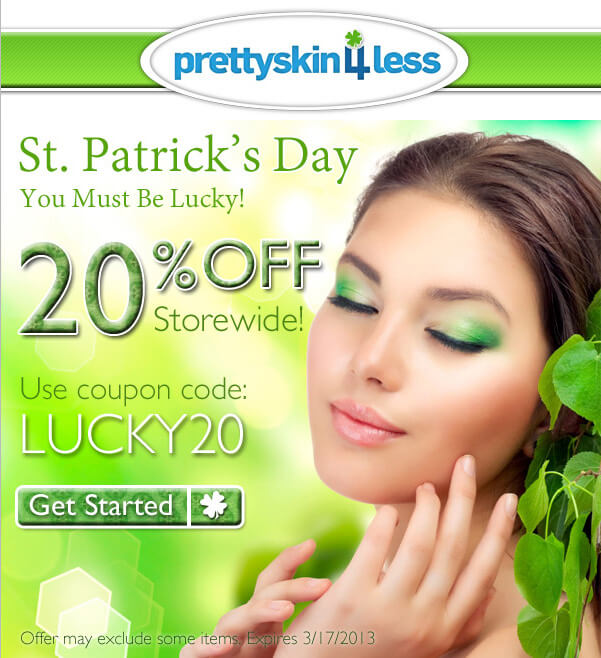 8) Simply Marketing Jobs
Where almost every email has brought the St. Patrick's Day theme in their emails, Simply Marketing Jobs on the other hand has kept it simple by sticking to their brand theme. Also, when everyone is trying to make their subscribers lucky, this email tries to break the cliché. A simple, practical and to-the-point email consisting of a great copy, green colored helpful CTAs, and simple design.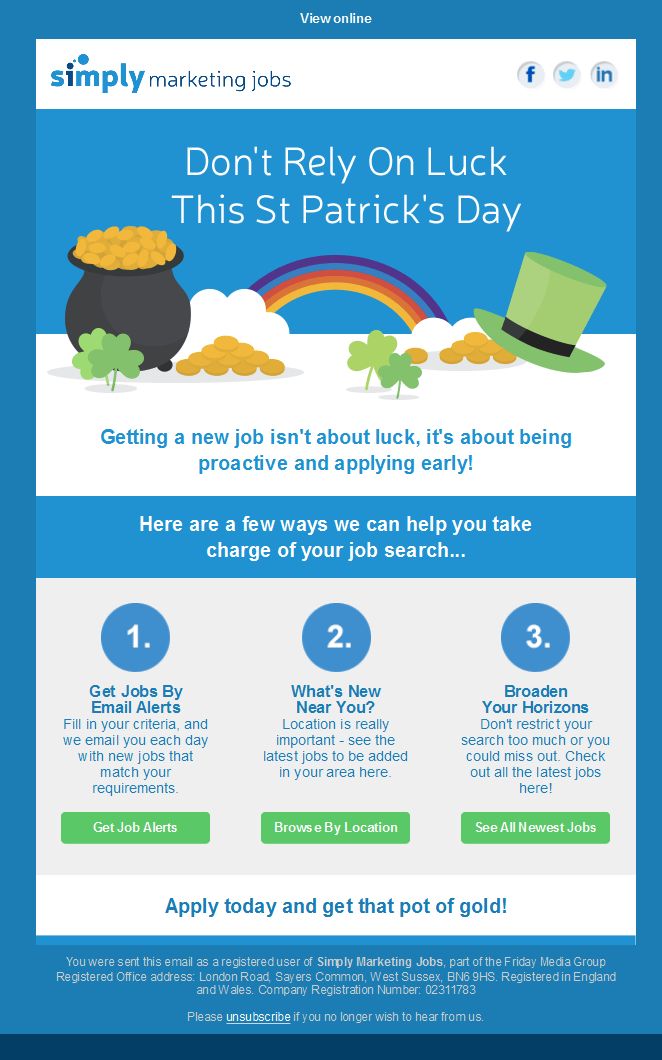 9) Zagg
People love to shop on St. Patrick's Day as they get ample offers to utilize and discounts to avail. Zagg's email here offered great discount on this holiday so people can make the most out of this offer. All the visible products are displayed in green and so is the CTA. The CTA is generic but catchy which is a great add-on.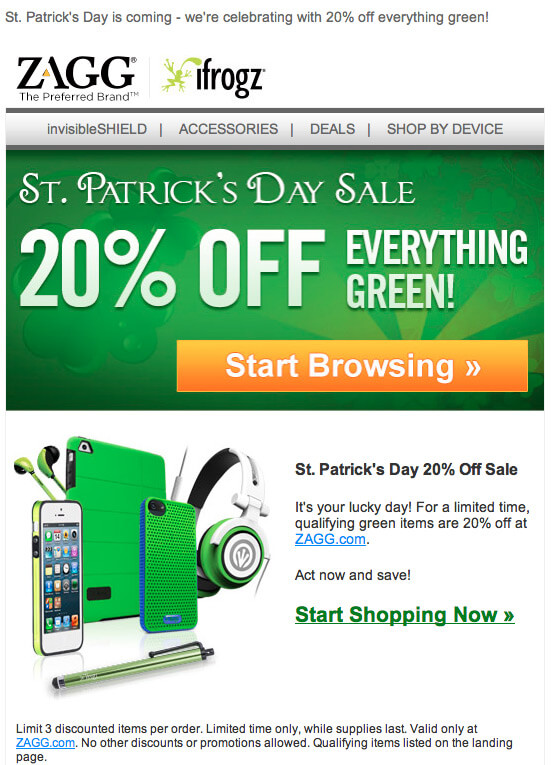 10) New Balance
A great, appealing, yet crisp email from New Balance (NB) that displays various shades of green. NB has successfully applied the St. Patrick's Day theme in their email and also kept it innovative by keeping the copy interesting yet brand representing. A closer look at the product gives the users the idea that how it will look. The multiple CTAs tell you what to do which makes it a keeper.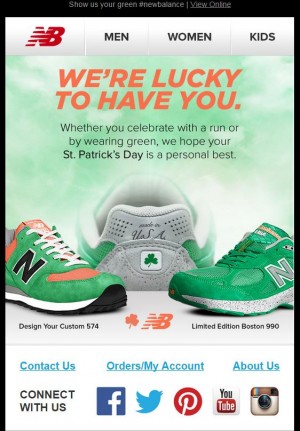 These were the top 10 beautiful St. Patrick's Day email inspirations that are worth your attention. If you wish to represent your brand this St. Patty's Day, then our experts can help in designing & coding heavenly emails. Visit our order now page to know more.