If you ask me "Which are the two key factors influencing the performance of your email campaigns?", I would say "Segmentation and Personalization".
Whenever you sit to strategize your email campaigns, segmentation is the first thing that must come to your mind.
The next should be personalization.
Many marketers use segmentation and personalization interchangeably.
However, there is a vast difference between these two terms.
Introduction to Segmentation and Personalization: Back to Basics
While segmentation refers to dividing the email subscribers based on their age, demographics, geographical location, and advanced parameters like past purchases or resources downloaded, personalization is about creating customized emails based on the segmentation parameters.
All these variables will help you in determining the customer personas and targeting them accordingly.
For example: If you are a food blogger featuring different recipes on your website, you can have segments based on the cuisine preferred by the readers. Accordingly, you must formulate your email marketing strategy. In other words, in case someone has expressed interest in Mexican and Italian cuisines, you must send out relevant emails featuring these cuisines.
I am sure that must have brushed up your fundamentals.
If you want to learn more about segmentation and personalization, you should definitely check out these articles:-
Importance Of Micro-Segmentation For An Edge Over Competitors
Email Segmentation Strategies For E-Commerce To Boost Sales
7 Ways To Slice Your CRM Database For Better Email List Segmentation
The Email Personalization Guide You'll Want To Bookmark
Every ESP and CRM tool has different approaches to segmentation and personalization.
Here, we will discuss how you can employ these two tactics in Marketo.
Let's start with segmentation.

Employing Segmentation in Marketo
Marketo gives you a simple way to carry out segmentation through their robust and user-friendly platform.
First of all, we shall learn how to create segmentation in Marketo.
Navigate to Database.
Go to the Segmentations Folder and right click to choose "New Segmentation".
Provide a name to the segmentation and select add segment. This will help you to create the permanent smart list segments in that particular segmentation.
Remember that you will not be able to move, edit, or delete the Default segment.
Now, you can start adding different segments and naming them. You can add up to 100 segments. Choose the criteria and filters required to complete the segment.
As your leads will be placed in the first segment that they qualify, place the segments in the right order. You can drag and drop the segments to change their order.
Click on Create.
Check the number of leads added in each segment.
Do not forget to click on Approve. You might have to wait for some time for the segmentation to reflect, according to the number of people in the database.
The status will change to "Approving" with a spinning wheel icon to inform the user that the approval is in process. After approval, the status will change to "Approved".

Note: After a segment gets approved, you will not be able to edit it. You can create a draft and get the segment reapproved. You will be able to see another folder named 'drafts'. You will only be able to edit segments of the draft but not approved segmentation.
Creating Complex Segmentation
The factors that govern the number of segments that you can create are:
The number of filters used
The types of filters
The complexity of the logic of your segments
As mentioned earlier, Marketo allows you to create up to 100 segments with the help of standard fields.
However, you can add different types of filters to create more complex segmentation.
In case your segmentation does not get approved and there is an error message, you can get in touch with the Marketo support team.
Next step is to define segment rules.
You can categorize your leads and customers into different groups by defining segment rules.
Here's how to do it:
Go to the Database.
Select the 'Segment' after clicking on 'Segmentation' from the tree.
Add filters after clicking on Smart List.
Related Reading:
Reinvent New Horizons Of Business Growth With Marketo's Smart Campaigns
Provide details for the filters.
Navigate to the People (Draft) tab to check how many people qualify to get added to the segment.
Click Approve from the Segmentation Actions.
You will be able to find the segments and the rules applied on the dashboard.
Note:
At present, segments are not supported by the 'In Past' and 'In Timeframe' operators on filters. This is because segmentations do not check for updates unless a change data value gets logged.
For things like formula fields and dates, such values will not be logged as they change automatically.
Also, date operators with relative data changes are calculated when the segments get approved rather than at the time of a Change Data Value activity.
The "SFDC Type" and "Microsoft Type" filters are not supported in segmentation smart lists at the moment.
Remember that your leads can qualify for various segments but they will belong to one of them according to the priority order set by you. In case a person does not qualify for any Segment, they will be added in the Default Segment.
Editing and Deleting Segmentation
To edit a segmentation, you must follow the below-mentioned steps:
First of all, you have to create a segmentation draft.
Go to the database and click on Segmentation Actions.
Select the 'Create Draft' option.
This will modify the Status to "Approved with Draft".
You will be able to see a 'Draft' folder in the segmentation.
Then, navigate to Segmentation Actions and click on "Edit Segments".
You will be able to "Add Segment", edit the existing ones, or delete the segments. Here, editing refers to renaming it or changing its order.
To delete the segment, you have to go to the segmentation and check the associations by clicking on "Used By".
For segmentations used by other assets, you must remove all those associations at first.
To remove associations, you either delete the assets or create alternatives for the ones using the segmentations.
Once you remove all the associations, click on Unapprove from the Segmentation Options.
Only after you unapprove the segmentation, you will be able to delete the segmentation.
Remember that you will not be able to recover the deleted segmentation.
Retrieving Analytics Based on Segmentation
A. To get your email performance report based on "Segmentation", go to the Marketing Activities (or Analytics).
Pick your Email Performance report. Drag the Setup tab over Group by Segmentations.
Select a couple of segmentations that you want to use to group your report and then click Apply.
When you click the Report tab, you will be able to see the email campaign performance based on the segmentations you have chosen.
B. In addition, you can also get the report by grouping people based on different segments like geographical location and person or company attributes.
For these reports, you have to go to Marketing Activities from your dashboard and select the person report from the navigation tree.
Double-click on the "Group People by" option from the Setup tab.
You will be redirected to a "Group People by" dialog from where you will be able to choose the segmentation criteria.
The difference between these two reports can be seen in the screenshot below: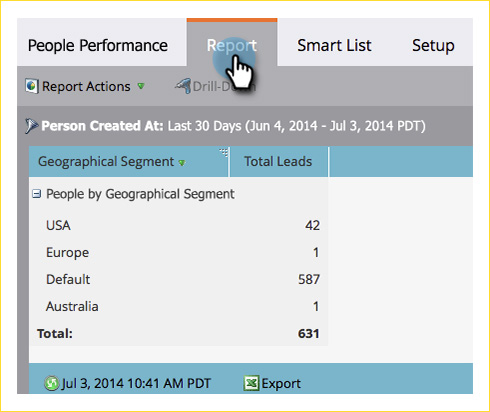 Using Segmentation to its Maximum Potential: Personalization
Segmentation allows you to personalize your emails and send out targeted email campaigns based on the subscriber's preferences and behavior.
Using dynamic content is the best way to employ email personalization in Marketo. You can use it to personalize your landing pages too.
After creating different segments, you will be able to add dynamic content blocks into your email (and/or landing page).
By doing so, you program Marketo that this field will change according to the recipient.
You can use snippets as dynamic content blocks in emails.

Let me show you how it works.
Just go to the Design Studio and click on New.
Pick "New Snippet" from the dropdown.
Fill in the required information and click on Create.
You can either add text, images, or tokens to your snippet.
To add text, you have to type in the HTML Version area of the Snippet Designer.
Format the text by using different tools provided by Marketo.
To use it in emails, go to the Text Version tab and select Copy from HTML.
Note that the text version will not support any formatting, images, or links.
For images or tokens, just drag and drop the required element and click on Insert.
After you are done, preview the Snippet. If it is good to go, you must Approve it to make it work.
Predictive Content for Emails
Predictive content works for Rich Media template, Content Recommendation Bar, and emails.
Here's how you can make it work
Go to the Smart List tab in your smart campaign.
Choose the right trigger and drag and drop it on the canvas. For instance, "Clicks predictive content".
Choose the right operator from the Name drop-down menu.
Define the trigger and add the Type constraint.
Pick the right source for the smart list. It can either be email, rich media, or content bar.
Let's discuss email here. Suppose a subscriber clicks-through the predictive content in your email. You can send out personalized triggered emails based on such engagement. For this, you should add the "Clicks link in email" trigger in the Smart Campaign. Choose your email and add the "Is Predictive" constraint. Define it as true and include other relevant filters. That's it.
Wrapping Up
Segmentation and personalization are like the couple that always goes hand in hand… or let's put it like they are the two wheels that help to run an effective email marketing strategy. 
Marketo offers exhaustive features to execute these tactics that might get a bit overwhelming to understand. We hope that this article will be useful to you and make things easier for you.
If not, you know who to turn to for help. 
Email Uplers has a bunch of enthusiastic Marketo experts who would love to assist you in every way they can. 
Contact us NOW>>