Email marketing is the most lucrative during the Holiday Season. And why not? It's a special occasion. But marketers often notice a dip in the email performance and business sales after the Winter break. Do you find yourself sailing in the same boat? Well, if you are also among the marketers who are trying hard to engage the subscribers during such slow phases, we have thought of some out-of-the-box email themes to build a stronger rapport with the subscribers and perk up the sales.
Curious? Let me explain.
Out-of-the-box or unconventional themes are offbeat occasions apart from the usual Valentine's Day, Mother's Day, Father's Day, Easter, St. Patrick's Day etc.
Reports suggest that messages sent with themes like Groundhog Day and Pie Day bring higher engagement rates when compared to the usual marketing emails. 
So, what are these Unconventional Occasions?
National Pet Day – 11th April
Earth Day – 22nd April
World Music Day, International Yoga Day – 21st June
Tax Day – 15th July
National Dog Day – 26th August
World Animal Day – 4th October
World Sandwich Day – 3rd November
These are some of the examples of unconventional themes. Besides, you can even leverage your brand's birthday or milestones like a million followers on social media or celebrate 1000 happy customers through an interesting email campaign.
Using Unconventional Themes to Their Maximum Potential
If you are planning to test the effectiveness of email campaigns for unconventional themes, it is important to adhere to some best practices. This will help to ensure that your emails get the kind of engagement you are looking for.
1. Determine its relevance to your industry
When you pick up a theme, you should make sure that it is relevant to your brand and the products or services you deal with. For example: If you are dealing with pet food items or themed toys, National Dog Day or Pet Day would be perfectly relevant for you. Sending emails on such days would not only bring a smile on the face of your subscribers but also amp up your sales.
2. Build an impactful communication strategy
As your subscribers might not always be aware that these days exist, it is a good idea to plan well in advance and build a campaign so as to pique the subscriber's interest and curiosity around them. You should think of an omnichannel marketing approach that would inform the subscribers about these unique holidays irrespective of the channel they use. 
3. Let the primary objective be "surprising" the subscribers
Rather than sending promotional emails with a special offer related to the respective occasion, it is better to send a greeting email that works as a pleasant surprise and spreads happiness. Tapping on the emotional appeal of the customers with the help of humor and goodwill can encourage them to engage with the brand or make the purchases.
4. Link your products with the theme (for promotional emails)
It is important to connect the theme with your brand so that the theme doesn't superimpose on your brand value. Here's an email from bareMinerals in which they have promoted shades of brown, taking into consideration National Coffee Day.
Some Unconventional Email Examples to Inspire You

1. National Dog Day
Canna Pet has sent a nice email on the occasion that incorporates a countdown timer and inspires the "fear of missing out". It has used a relevant visual image that every dog owner would be able to relate to. The minimalistic design makes the email a complete winner. Emails sent with this theme yielded an 18.6% conversion rate, 4 times the 5.2% BAU average for Q2 2018.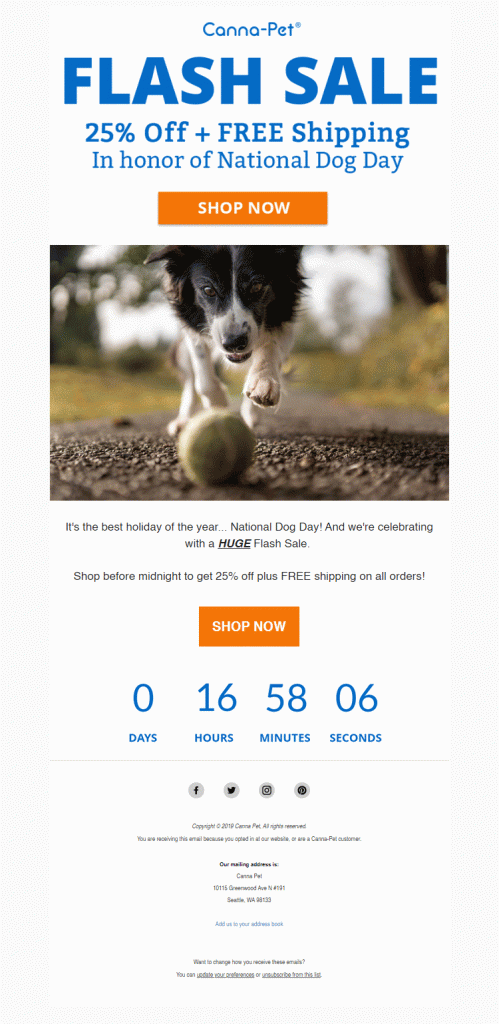 2. Tax Day
Tax Day is usually observed in the United States in the month of April every year and everyone is expected to pay income tax returns to the federal government. (In 2020, it is postponed to July 15 due to the coronavirus pandemic). It brought 14.3% click-to-open rate (CTO) in 2018, that is 55% higher than the 9.2% average CTA for BAU (Business-as-usual) emails.
It is not a very enjoyable day for people but Mud Pie has tried to make the occasion light with the headline "Tax Day Stinks". The CTA "Go Ahead, Make My Day" is inviting enough for any subscriber.
3. Oktoberfest
Oktoberfest is the world's largest Volksfest (beer festival and traveling funfair originated in Germany), observed in Munich, America, and Oceania every year from mid-September to the first Sunday of October. Emails sent for the occasion of Oktoberfest fetched a 22.2% open rate, 64% higher than the average open rate for conventional emails.
Here's an email from Park Seed that reminds the subscribers to make a purchase under the pretext of Oktoberfest Sale. The soothing visuals would surely nudge the subscribers to purchase from them.
4. Earth Day
Eddie Bauer has used a unique way of garnering maximum conversions and requesting donation on Earth Day. The color scheme of the email and its copy are in absolute sync with the theme. According to reports, these emails can bring a 4.3% conversion rate for marketers in comparison to the 3.7 percent conversion rate for conventional emails.
5. World Chocolate Day
Thorntons sends out a simple email that just wishes the subscriber "Happy World Chocolate Day" and lets them know about the coupon code for free standard delivery. It creates a sense of urgency by emphasizing on their limited time offer of "24 hours only"

6. Black Friday in July
Black Friday is, undoubtedly, the Holiday that brings in maximum sales for businesses. To reimagine the same sales opportunities in July, brands often send out "Black Friday in July" email campaigns.
The email by Best Buy works as an effective announcement email for Black Friday deals. It gives the customers another chance to celebrate Black Friday and they would surely love to make the most of this opportunity. No wonder, these emails generated a 16.6% open rate in 2018, compared to 13.5% open rate for BAU emails.

Wrapping Up
Have you tried sending such emails for your brand? If not, now is the right time.
If you are unsure where to start from, simply use your brand's birthday or any milestone that you have crossed. That will pave new avenues to start sending creative email campaigns that will cut through the inbox noise and keep your subscribers hooked.