[This post was originally published on 17th June 2021. It has been updated on 12th April 2022.]
For every dollar you invest in email marketing, you gain about $42 as ROI, which is substantial compared to social media marketing. In addition, emails are 40x more effective when compared to social media marketing.
But here's the catch. A tweet takes seconds, minutes, at the most an hour to strategize, think, compose, and post. An email, on the other hand, is a long-drawn process. It could take a week for just the design to be finalized. So, how do we make the lives of email marketers easier? The answer is modular email templates.
What is a modular email template?
A modular email template can be visualized as a Lego email. It has two primary segments: the module and the template. Modular content examples have several blocks, with each block dedicated for a specific purpose. These blocks can be changed depending on the type of emails you curate for each marketing campaign.
Each module is dedicated to solving a particular need such as a CTA, HTML text, video, etc. So, for example, you can use a module for your email header, one for your social media links, one for your footer, and so on for other content blocks.
A template is a set of modules patched together to create an email campaign. The template varies on factors like your client, customer segment, the goal of a marketing campaign, and so on. For example, you could have a particular template for your newsletters, whereas the template you follow for a transactional email would be different.
Here are modular content examples that show multiple modules added for different purposes. (The same applies to modular website design examples too.)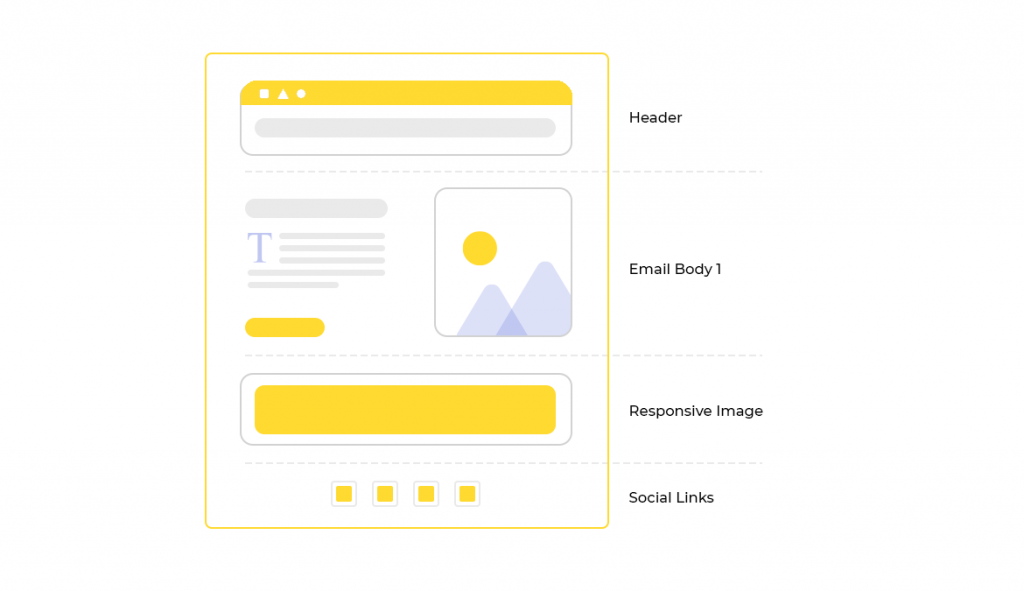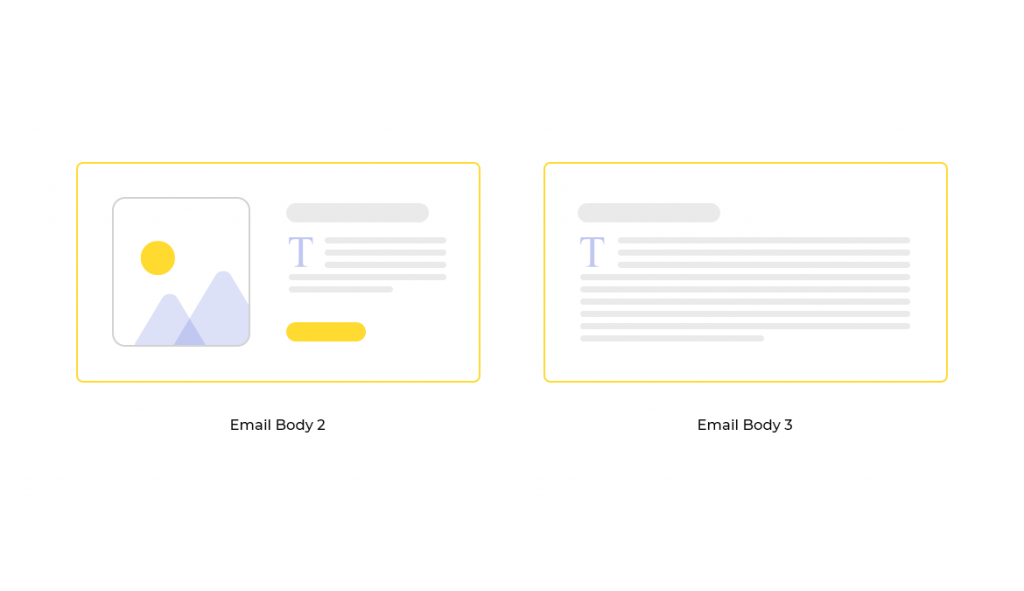 Why choose modular over traditional email templates?
While traditional templates have their benefits, modular email templates deliver 3 critical advantages over the former.
The flexibility that modular email templates allow is much beyond what traditional email templates can offer. For example, many conventional email templates primarily provide image-based segments. However, modular email templates have the right mix of components for images and live text, thereby providing more flexibility to personalize your emails. Just like you have the flexibility to add images, videos, or copies in your modular website design examples, emails also come with the same features.
Building an email is as simple as arranging blocks for specific use cases with a modular email template. This saves plenty of time in contrast with having to curate the entire email from scratch. Unfortunately, tweaking the layout of traditional email templates can be highly time-consuming and sometimes frustrating, as arriving at the perfect template is not feasible.
The basis of modular email templates is pre-designed modules. Each of these modules acts as a building block for the final email that is to be sent. As modules can be easily programmed in a modular template, there is an excellent scope for automation.
Benefits of Modular Email Templates
Here are the key benefits of going modular with your email templates.
While you begin marketing at scale, it all comes down to maintaining brand consistency. To maintain consistency, governance over your branding, messaging, and strategy is vital.
Modular email templates, being versatile, allow different departments and divisions of your organization to provide inputs while maintaining brand consistency. For example, you can lock in some aspects like your color palette to stay consistent throughout.
For example, Mashable maintained brand consistency through its recognizable header. The rest of the modules are also pretty simple to work with and yet make for a clean design.
There are hierarchies of modules in a modular email template. These hierarchies can be stacked on top of one another and can help you build emails irrespective of the content.
Broadly, there are 3 components: primary, secondary, and tertiary. Each of these can have any number of layers. For instance, you could have one layer in your primary hierarchy, four layers in your secondary hierarchy, and five layers in your tertiary hierarchy. You could fix certain layers and reuse them depending on the campaign.
Testing modular templates during different phases of marketing automation across various platforms can be challenging. However, rendering modular email templates can be performed quickly with many ESPs. This helps your team save time and promptly verify versions of the drafted email.
There are a few regulations and guidelines, such as GDPR and CCPA, that you are bound to follow. Not abiding can lead to penalties and fines. With a modular email template that is legally compliant, you can avoid such consequences. Modular email templates nullify all legal compliance complexities that typically arise from traditional email templates.
Simplified design process
As opposed to traditional email templates, modular email templates are easy to design. They are essentially building blocks that can be dragged and dropped as per your need. You can create a particular modular template for a specific category of campaigns. This eliminates the redundant need to design a template for every campaign.
Let's take a look at one of the best modular design examples used by Grammarly for their discount email campaigns. The design is clearly modular and, at the same time, attractive.
With a single modular email template, the costs incurred are significantly lesser than buying a single traditional template. The main reason being that a modular email template can be reused for all campaigns. New traditional email templates have to be purchased for every new campaign.
Duplicating and editing your templates is an easy task with modules. You can create versions and copies of your modules as a backup. Plenty of iterations are possible with modular email templates without any technical backlash.
How to adopt a modular email design?
Here's how you can make your life easier by leaps and bounds through modular email design templates.
1. Prepare use cases
Create segments for different types of marketing campaigns. Ask yourself these questions, to begin with.
What do my current emails look like?
Which areas of my current email strategy need work?
Which categories do my emails fall under: transactional, newsletter, one-time announcement, referral program, discounts?
How can my emails be divided into different modules?
Here are some categories of commonly divided modules.
Header
Footer
Hero
Text of the Body
Image in the Body
Spacers
Social Links
By identifying these categories and building use cases that apply to your business, creating a design strategy gets simplified.
2. Create a design strategy
Modular design examples consist of blocks and arranging them a certain way to suit your requirements. While beginning to strategize, ensure you touch upon the following sections:
Components that should be locked in, such as the brand color, logo, etc.
Brand specifications
Goal of the email
Elements that need to be emphasized
Mobile layout compatibility
Proportions of images and text
Sections that will be personalized
Build a design strategy for your brand to maintain brand consistency while also speeding up the automation process.
3. Build your modules
Once you complete strategizing your module, build them. Building them will help you gain insight into how well your strategy fits into practicality. Once you create a module, you could reuse it for various campaigns of the same cause.
4. Test
While you may have the urge to line up the module you built into your pipeline instantly, it is best to make an informed decision after testing. Ensure to A/B test your design to check the performance of each module. A/B testing can give you a detailed insight into what works for your users and what does not. While you may not get it right in the first go, it is essential to note the changes required to be made.
5. Iterate
Once you gain insight from your A/B testing, iterate as much as possible to arrive at the best outcome. Once you iterate, retest to recheck the performance. Repeat this process of testing and iteration as needed before launching the module into your pipeline.
In a Nutshell
While traditional emails serve the purpose of email marketing, they come with challenges such as inconsistency in branding, slow rendering, high costs, and creating new designs for every campaign. If all of these challenges can be solved and at a lower price, why wait?
Need a flawless modular design examples to up your email game? We can help.