Fathers take you to your very first concert. They are the ones who happily take part in the trending reels with you and dance in the background of your TikTok videos. Cool dads know the correct pronunciation of GIFs too.😄Dads are famous for a great sense of humor and probably share corny jokes to cheer you up when you are feeling low.
We miss out on appreciating all that they do for us. Although we do not need a "Holiday" to remember their love and acknowledge it, Father's Day is a good excuse to make the Head of the family feel special and let them know what they mean to us.
If you are an email marketer, you must be well aware of the ROI that email brings and the spending tendency of subscribers during such occasions.
What if you marry a flawlessly designed email with the perfect strategy of occasion-based marketing? Well, the result will be propelled sales and better brand visibility.
Another reason to invest in Father's Day email campaigns is that 2021 had turned out to be a banner year for all the dads out there. The spending hit more than $17.0 B, that was the spending hit in 2020. Isn't that a reason enough to invest in Father's Day email marketing campaigns?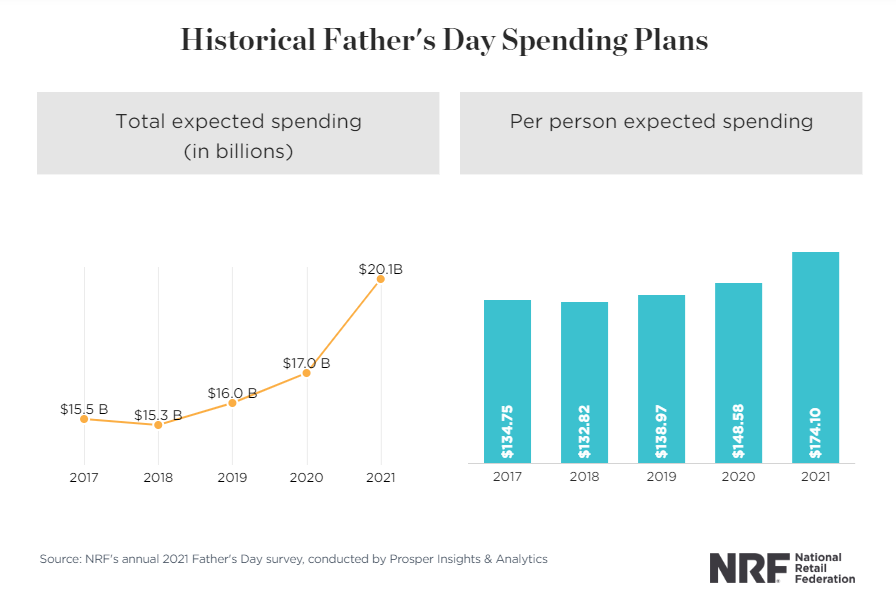 If you are wondering how to go about your Father's Day email strategy and propel your conversions during the occasion, here are some inspirations that will bowl you over.
Pre-script: Read till the end. There's an important point to note mentioned at the end.
1. Nuroco
Subject line: Father's Day Super Sale! 15% OFF on all products!
The hero image and headline of the email exude Father's Day vibes and connect with the subscriber at once. The CTA incorporates the coupon code for the Father's Day offer. The good part is that they have conveyed the offer in the subject line itself. In the following sections, they have included the images of the products on sale. They have highlighted the price too in the CTA itself. Amidst all the product promotions, they have shared a profound message about cherishing our dads, which will further persuade the subscriber to click through the CTA. The only thing that could have been better is the choice of colors in the hero image. The sub-headline in white font is not quite readable, which makes the email a bit inaccessible for all subscribers.

2. The-House.com
Subject line: Help Dad Look Rad With New Apparel For Father's Day
Many a time, marketers combine the Mother's Day, Father's Day, and Independence Day offers in their emails. It increases the likelihood for conversion by expanding the horizon for reasons of shopping. After all, some people only need an excuse to shop. This email by The-House.com primarily promotes the Father's Day offer with an attractively rhyming headline. Also, notice the fancy typography they have used to draw the reader's attention.
In the next fold, they have endorsed their 4th of July sale and promoted their $20 off every $100 spent. They have highlighted their "Pay at your own pace" feature in the email footer which will further assure the customer and convert them.

3. Mixtiles
Subject line: Happening TODAY only
The subject line is enough to create a sense of urgency and pique the subscriber's curiosity. When they open the email, they are greeted with a FOMO-generating flashy message "Last chance" and "Buy 2 Get 1 Free" offer. The engaging copy reflecting the essence of Father's Day and the animations displaying the art products will get the subscriber interested and prompt them to purchase.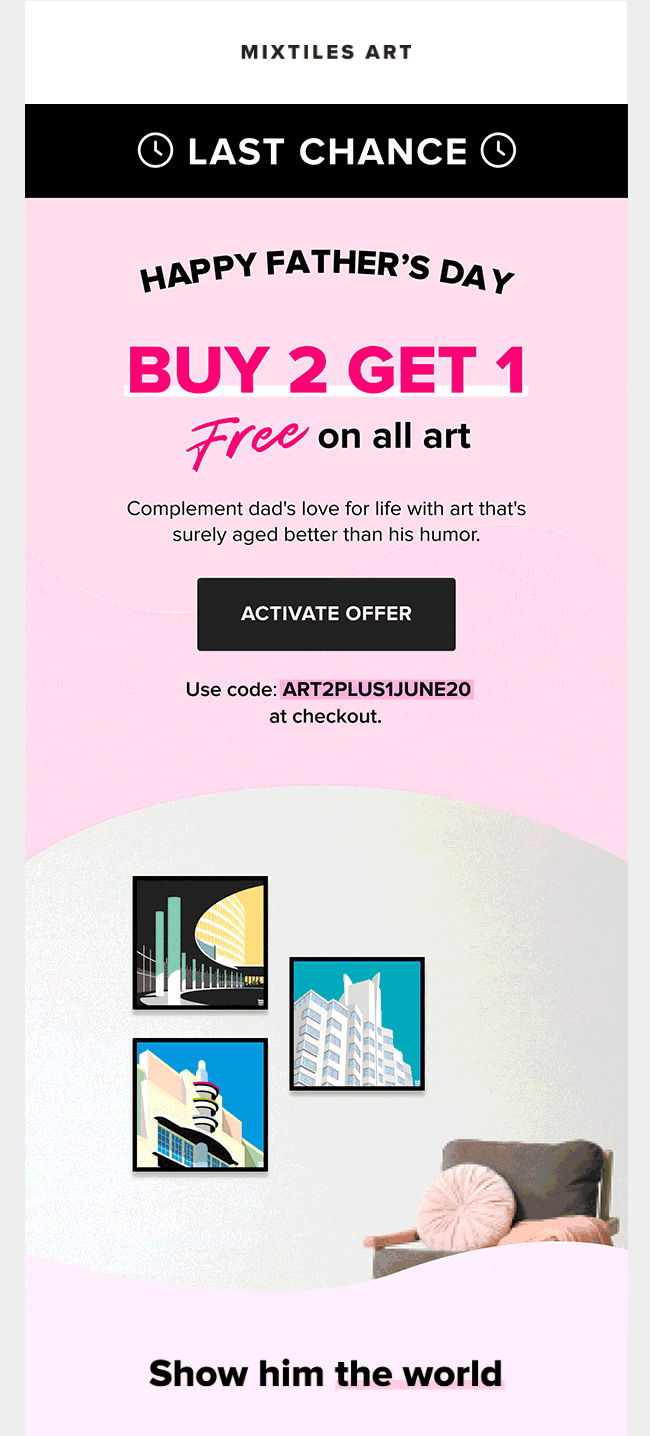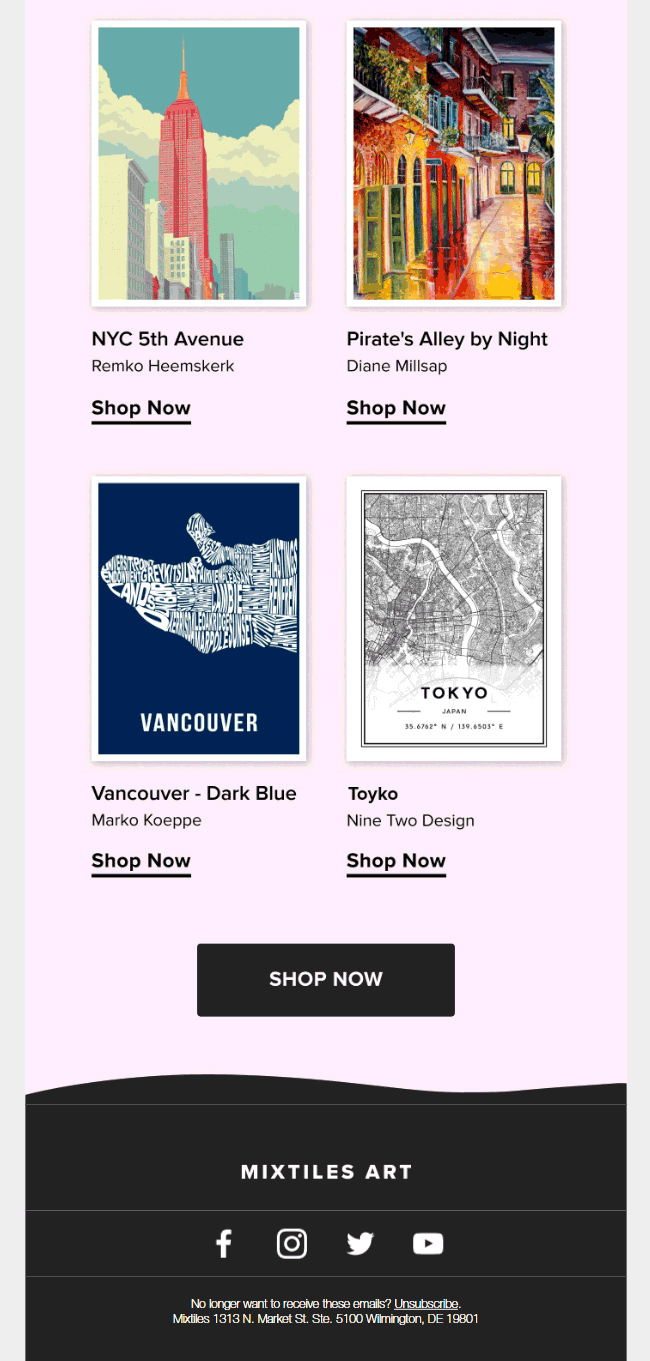 It is a good idea to have an individual CTA for every artwork, that takes the user to the respective product landing page. It will eliminate any additional steps and brighten the possibility of conversion. For instance: Clicking on the NYC 5th Avenue artwork will redirect the user to this landing page.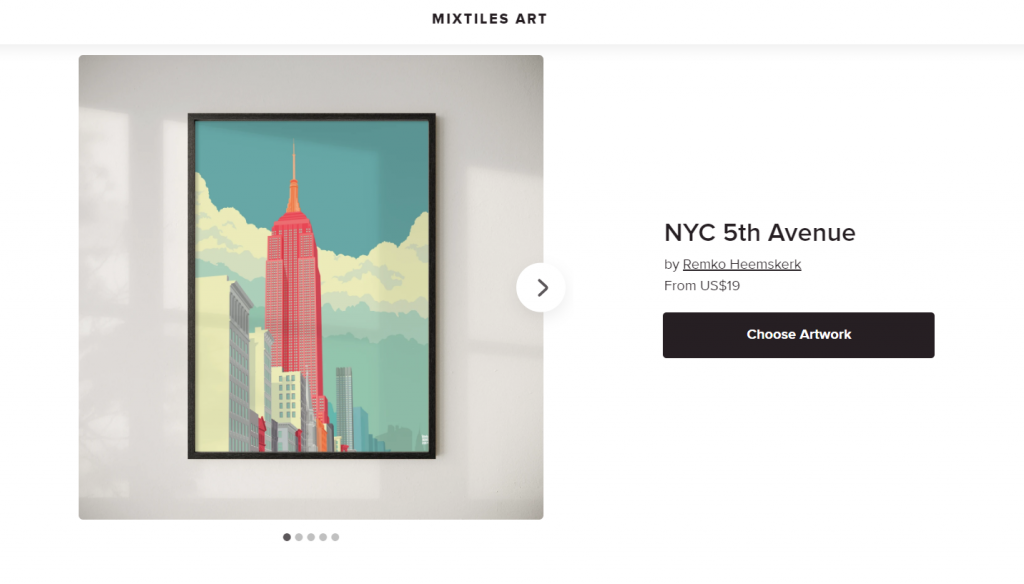 4. The Million Roses
Subject line: FATHER'S DAY PROMO EXTENDED! Don't Wait!
Your subscribers are busy and it is possible that they forget the special occasion of Father's Day. So, how about extending your Father's Day offer and getting conversions from the late risers? That's exactly what The Million Roses has done. The animated "Father's Day" typography along with the hero image collage will grab the subscriber's eyeballs. They have used a simple, yet persuasive copy to garner conversions for their 20% off sale. The subsequent fold has displayed three products along with the undiscounted price as well as the final value after the 20% off. It will encourage the users to make the purchase by instilling a feeling that they will have to pay more if they miss out on the offer.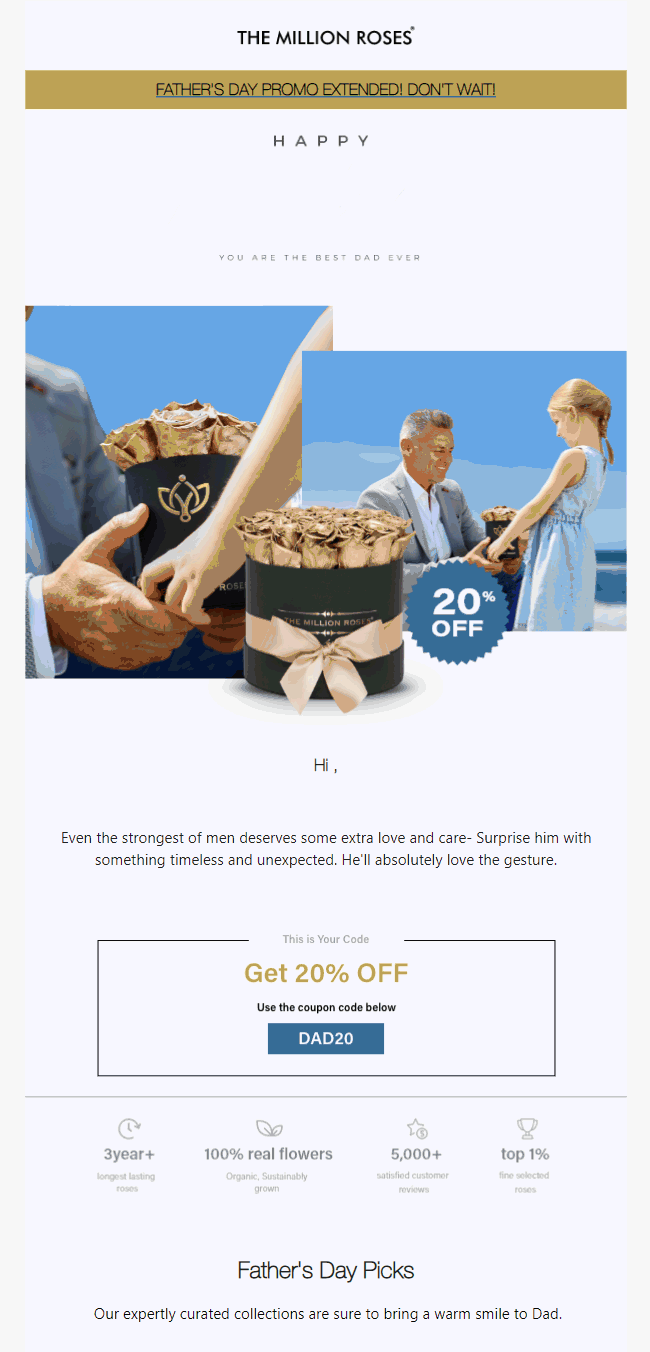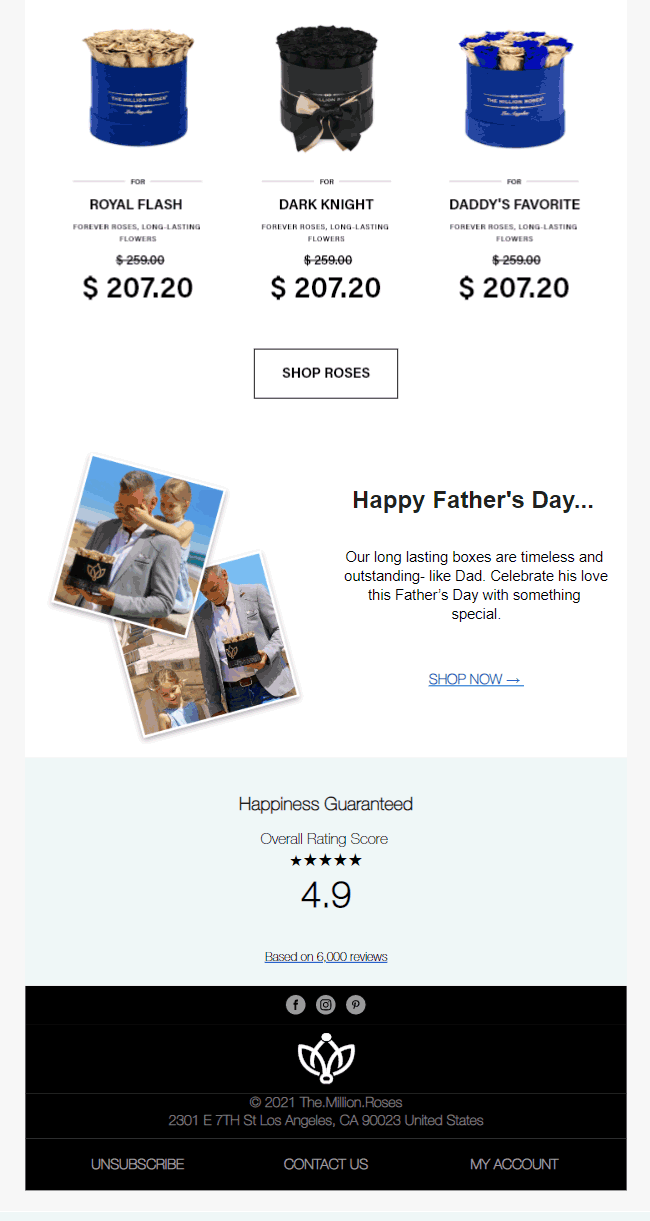 5. Memmo
Subject line: Happy *belated* Father's Day
No one complains about a late gift as long as it is useful and thoughtful. That's the message Memmo conveys through their Father's Day email. They have reinforced the fact that Father's Day can be any day to win conversions even after the day is over. The next fold displays their Father's Day bestsellers and inspires the readers to book "now". The email does not use any advanced design elements but the impeccable copy in the first fold is impressive enough to fetch conversions.

6. International Sports Sciences Association
Subject line: 2 MORE DAYS to save $4,828
The subject line "2 more days to save $4,828" will tap on the reader's FOMO as well as the "save money" instinct. On opening the email, the countdown timer strengthens this feeling even more.
Remember we had talked about gradients as a trend in email designs? The email has used this element in their CTA buttons. Overall, the email design does not have much to talk about but you can try out gradients and countdown timers in your Father's Day email campaign this year.

7. IDEAL OF SWEDEN
Subject line: Here's to all fathers!
Visual cues direct the readers to scroll through and read the entire email. Ideal of Sweden understands this psychology well, it seems. In the first fold, they have used a subtle Father's Day animation supported with a relevant and concise copy. To guide the subscribers to read further, they have used a downward arrow and displayed different gifts according to their father's personality. The last fold features some pictures from their Instagram and invites the users to tag them with @idealofsweden Instagram handle. It will help boost their social media visibility and get more followers organically.


8. Slate and Tell
Subject line: It's time to shop for dad!
If you want to see the power of white space, this email by Slate and Tell is the perfect example. The countdown timer and the offer right at the top of the email will contribute to driving instant conversions by letting the user know that they might miss out on the discount. Throughout the email, they have displayed their products with plenty of negative space around it. Doing so will keep the reader from getting distracted and help achieve conversions. Thus, the subscriber will not get bored of going through the entire email even though it is somewhat long to read.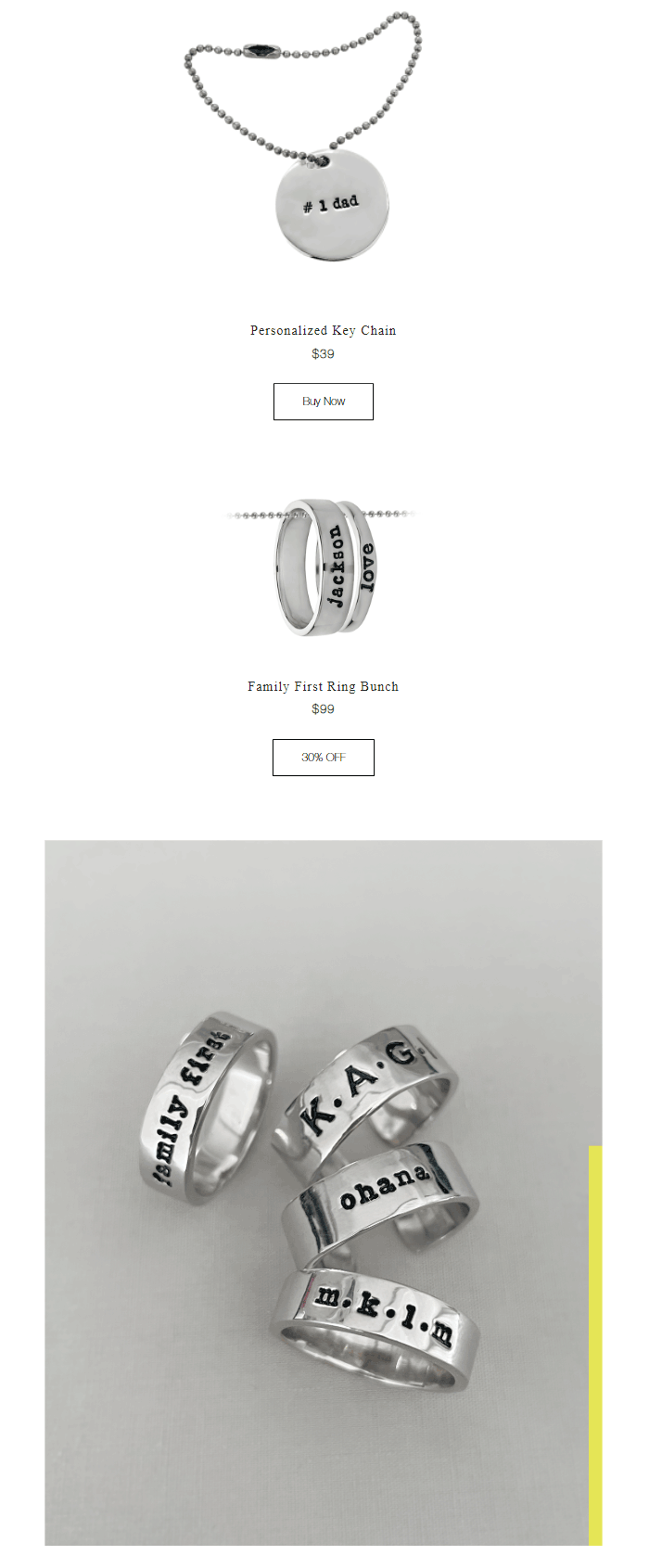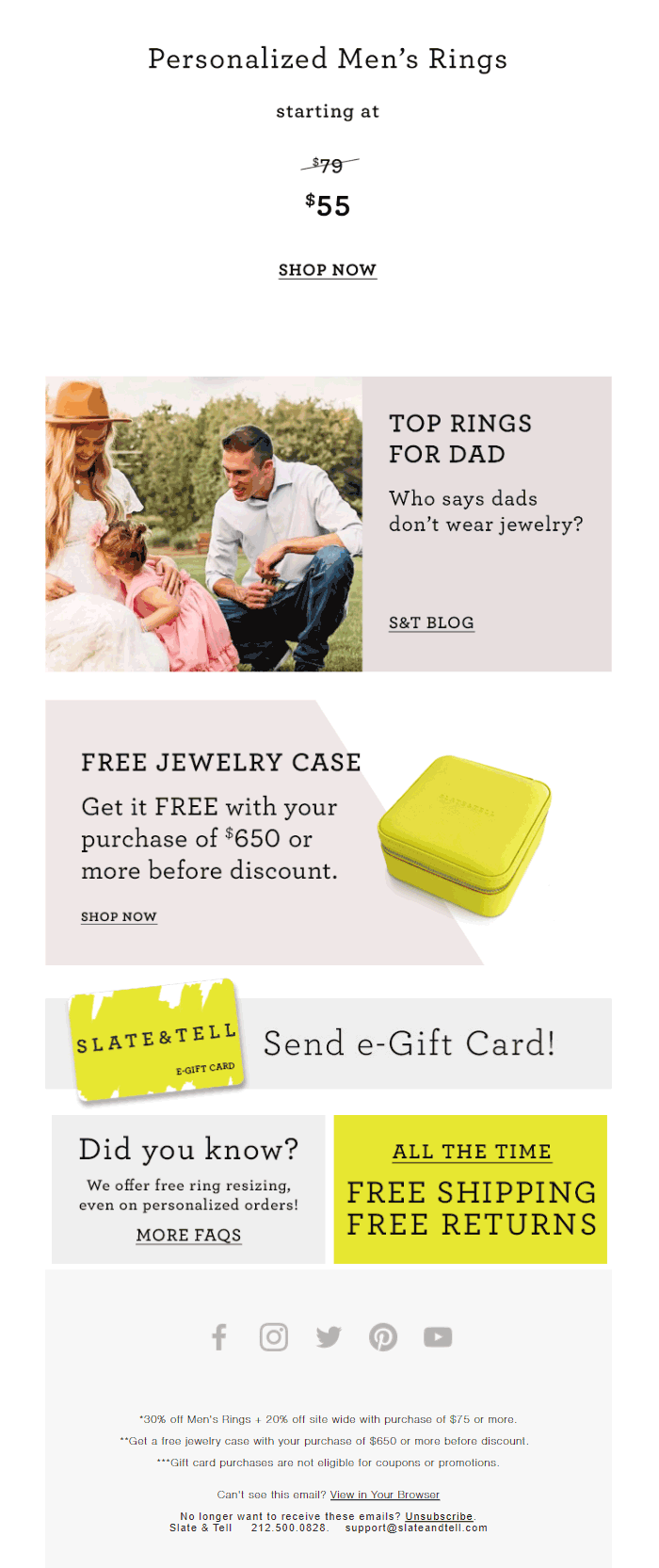 9. Minted
Subject line: Cards for moms, dads and grads!
Minted encourages the users to shop for greeting cards for Mother's Day, Father's Day, and Graduation Day. The hero image animation showing off their huge range of products will surely prompt the users to check their subscription greeting cards. You can plan your Father's Day campaign well in advance like they have sent this email in April itself. (Father's Day falls on 19th June in this year -2022)
Every section has a different CTA to make navigation easy for the readers and get more conversions.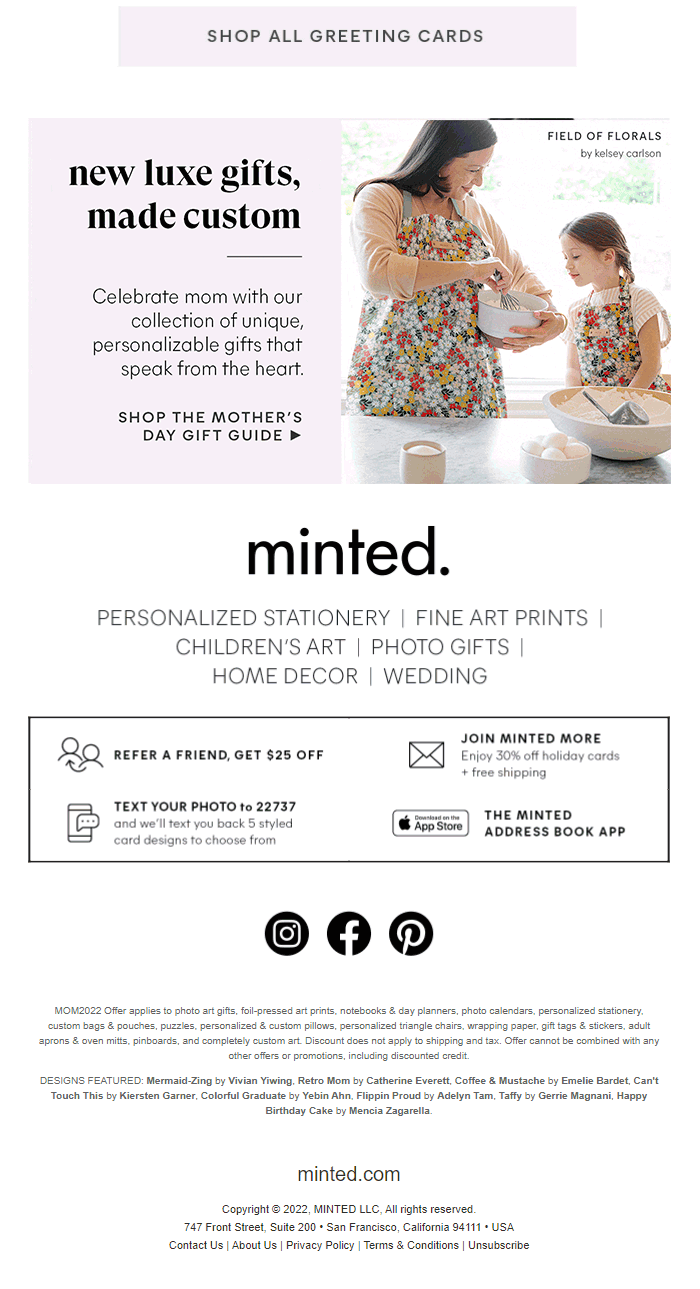 10. Letterfest
Subject line: Fathers Day email opt-out
Father's Day can be a difficult time for some people. Letterfest realizes this sentiment and therefore, they have sent an email that allows their subscribers to opt out of Father's Day emails. Such an empathetic approach goes a long way in retaining customers and building brand reputation. Besides, they have also promoted their Instagram handle and invited their readers to join their community on that channel. It will increase their follower count and enhance their social media presence.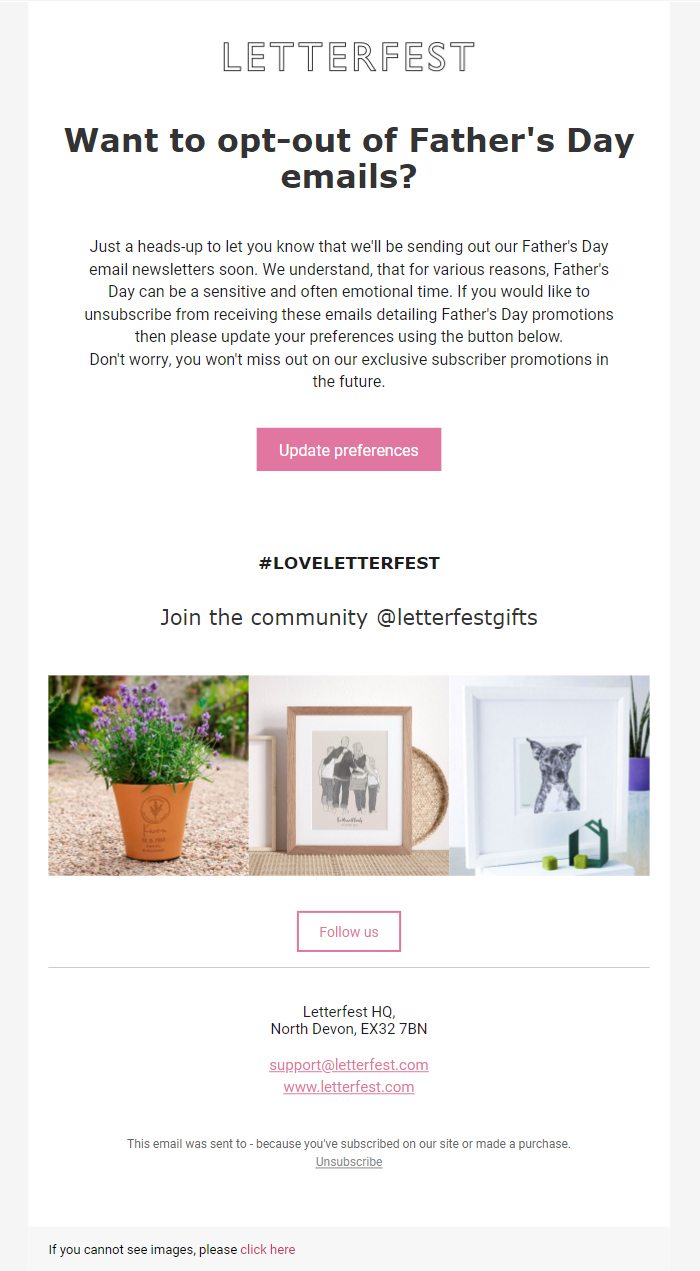 11. Michael Kors
Subject line: To Dad, With Love
Imagine you receive a gift message that lets you accept or exchange it for something better. Wouldn't it be the most pleasant gifting experience ever, both for the recipient as well as the gifter?
Michael Kors can make this dream come true with their GIFTNOW feature. They have used a minimalistic yet attractive email to promote this concept. They have displayed the various products you can gift your Dad with the help of a simple animation. Subsequent section shows how GIFTNOW works. The user can even learn more about the feature by clicking the "Learn more" CTA.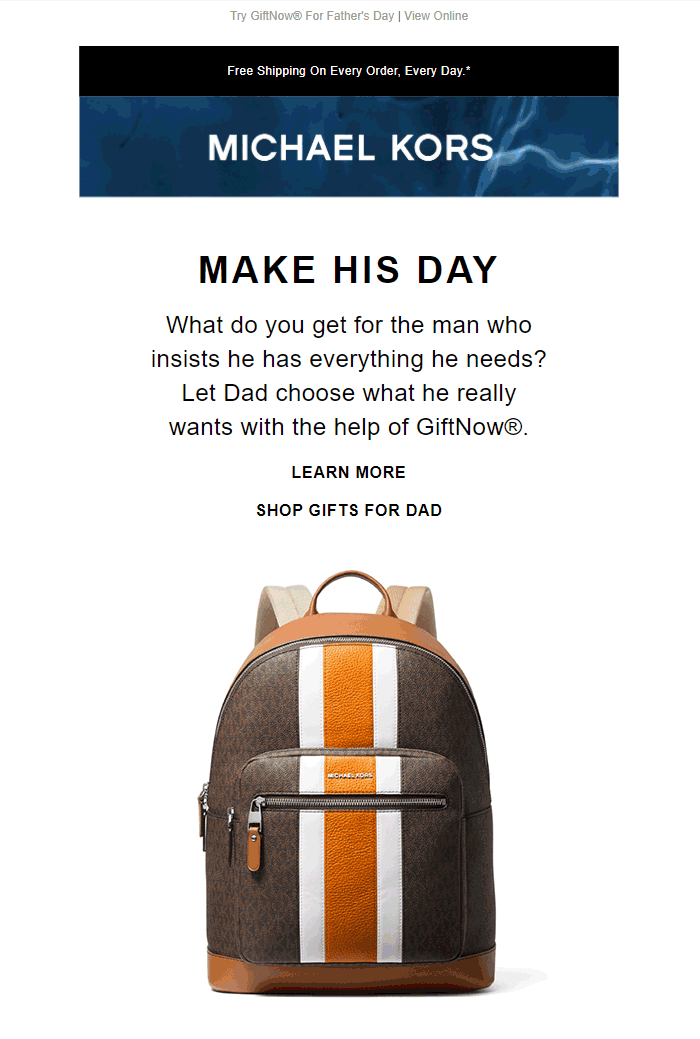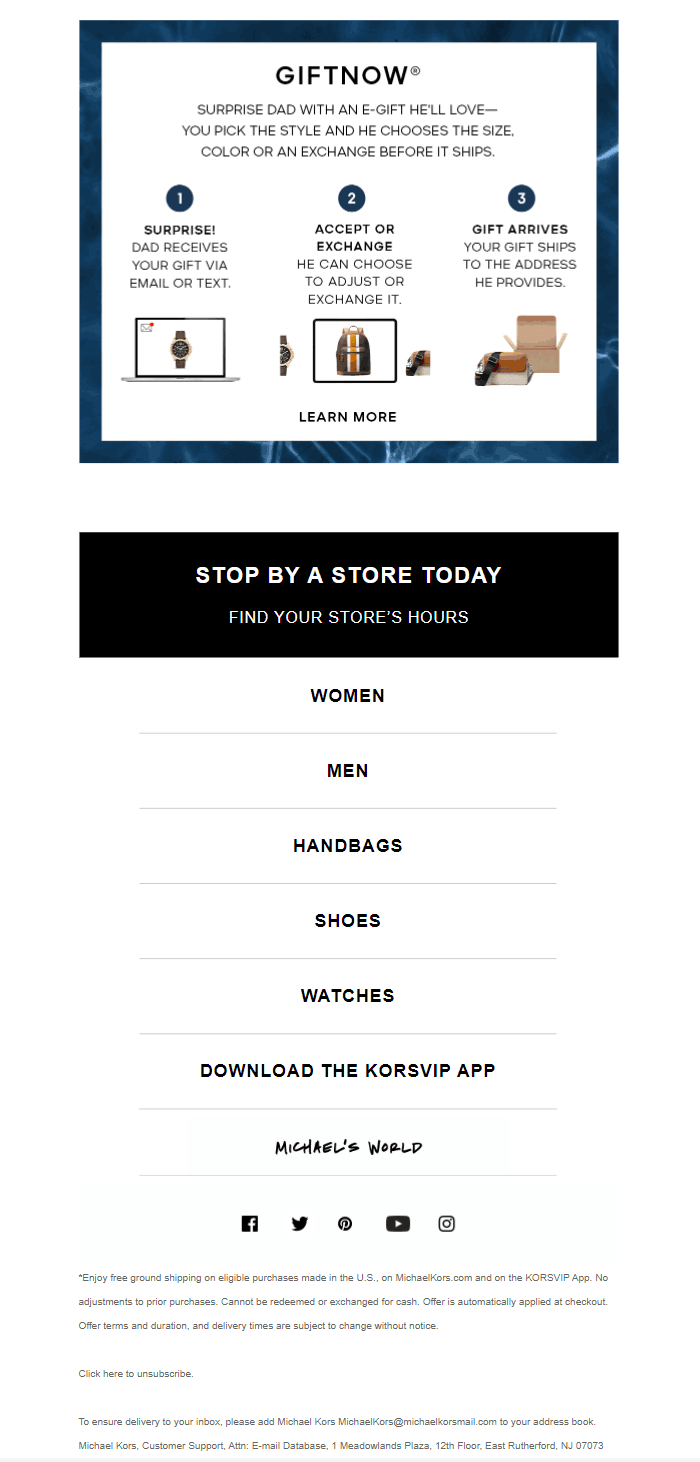 12. Burberry
Subject line: The Fathers Day Gift List
Burberry has curated their best gifts for Father's Day in their email. The animation in the hero image highlights all the lovely gifts that you can give your dad and how he can use it. In the next section, they have displayed some more products followed by a "Discover More" CTA button. Overall, it is a nice email that triggers the recipient's thought process and facilitates Father's Day conversions.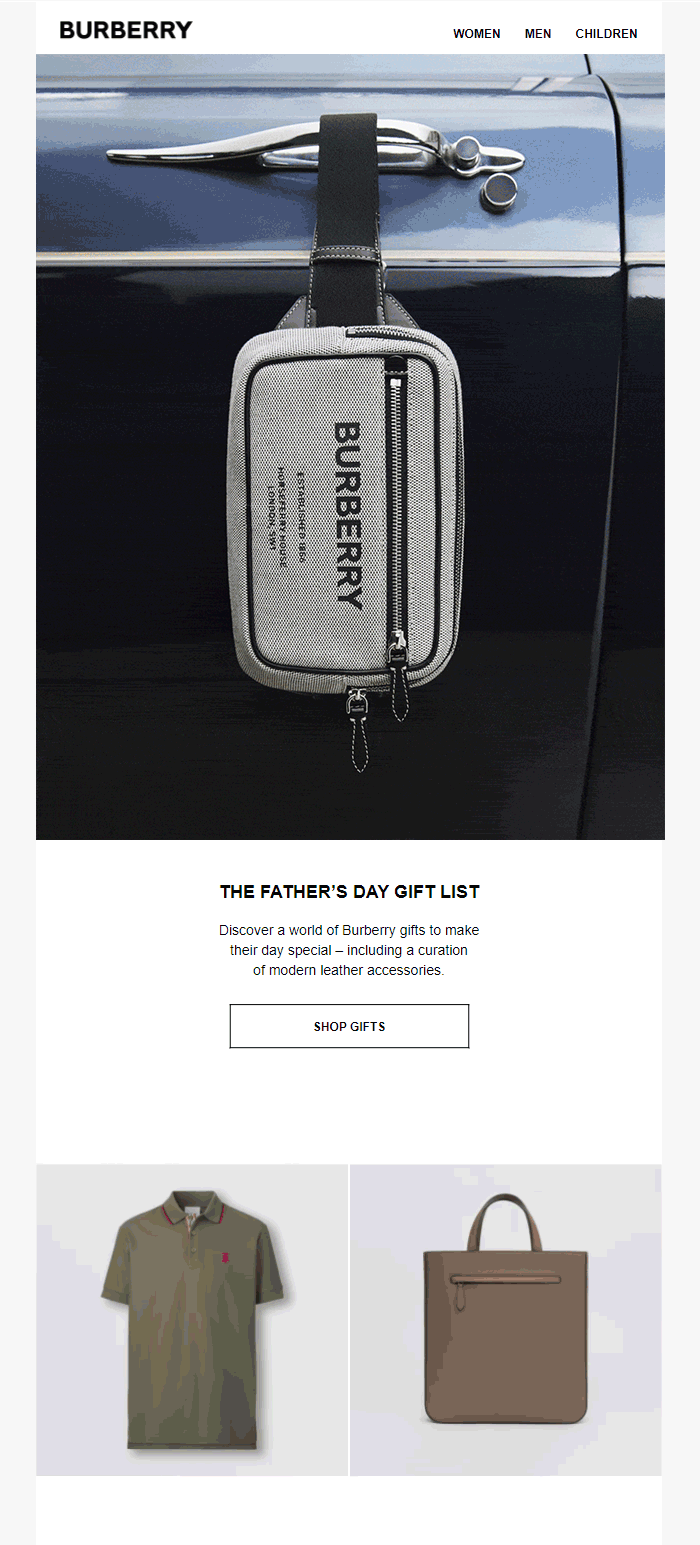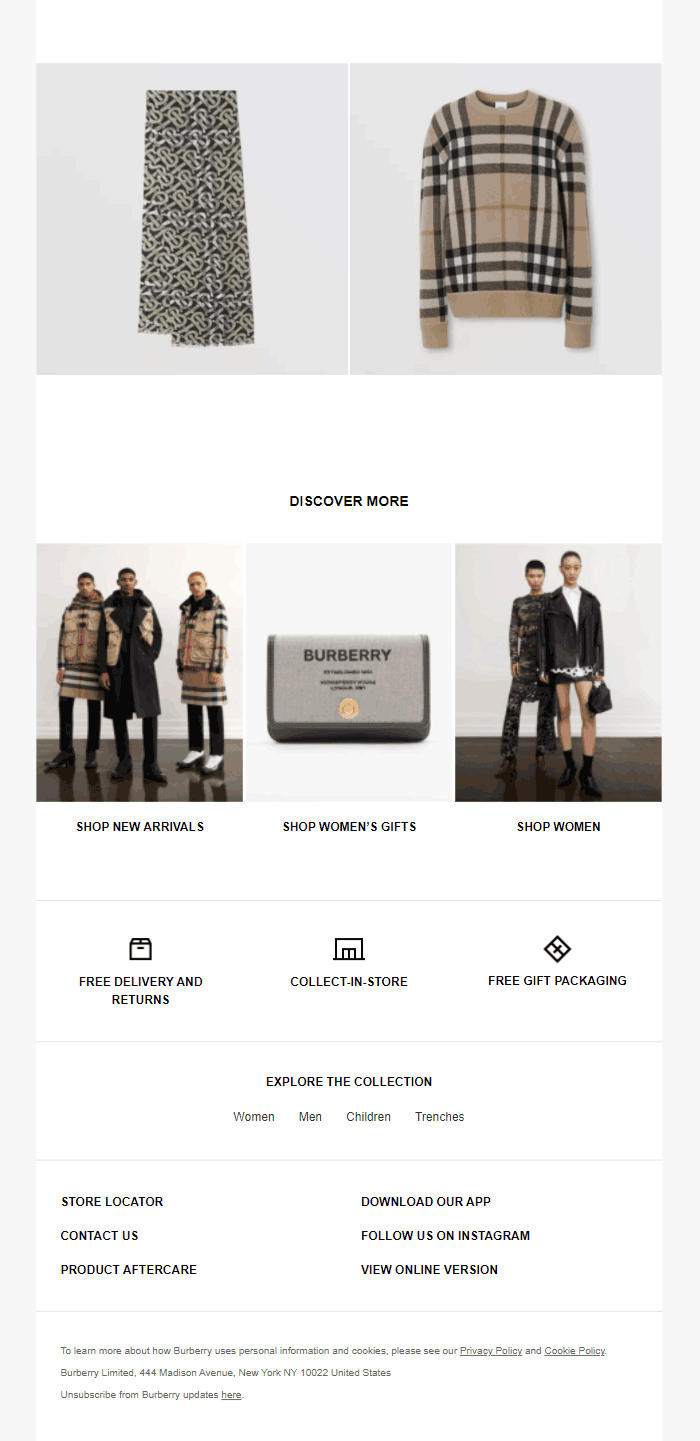 13. Tuft and Needle
Subject line: This ones for the dads.
Don't you ask people for their feedback before buying anything? Alternatively, you must be reading online reviews by existing customers. Right? The last-minute Father's Day email by Tuft and Needle includes a pretty image of father and son, an engaging copy, and product images to generate sales. However, what makes the maximum impact is Laurel's testimonial that talks about ease of delivery and comfort of their products. "Dads love us" is a good catch phrase to get people to buy.
14. Tastebuds
Subject line: What are you getting Dad for Fathers Day this year?
"Early bird" are the two magical words that can bring maximum conversions. More often than not, early bird discounts are most coveted by the disciplined category of people who like everything planned in advance. This email by Tastebuds uses the perfect combination of words and visuals to cajole people into buying Father's Day gifts. At the end of the email, they have used an animation to bring attention to their Gift now, pay later facility. So, if attractive images fail to convert the readers, the feature of paying later can surely do so. The white space around every CTA will give the reader's mind room to process whether they want to make the purchase or not.

15. Hallmark
Father's Day campaign!
Yes, you read it right. A profitable business is built through effective campaigns that worked and closed many deals. Whether it is moment marketing or occasion-based marketing or "BOGO offers", a campaign performs the best. Hallmark sends out a series of five emails for their Father's Day email. Take a look at all of them: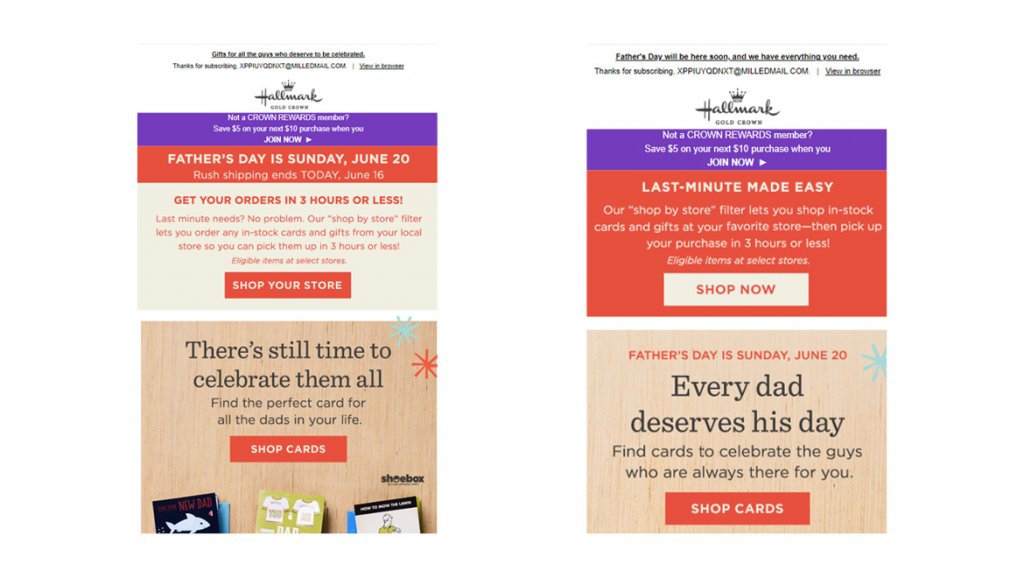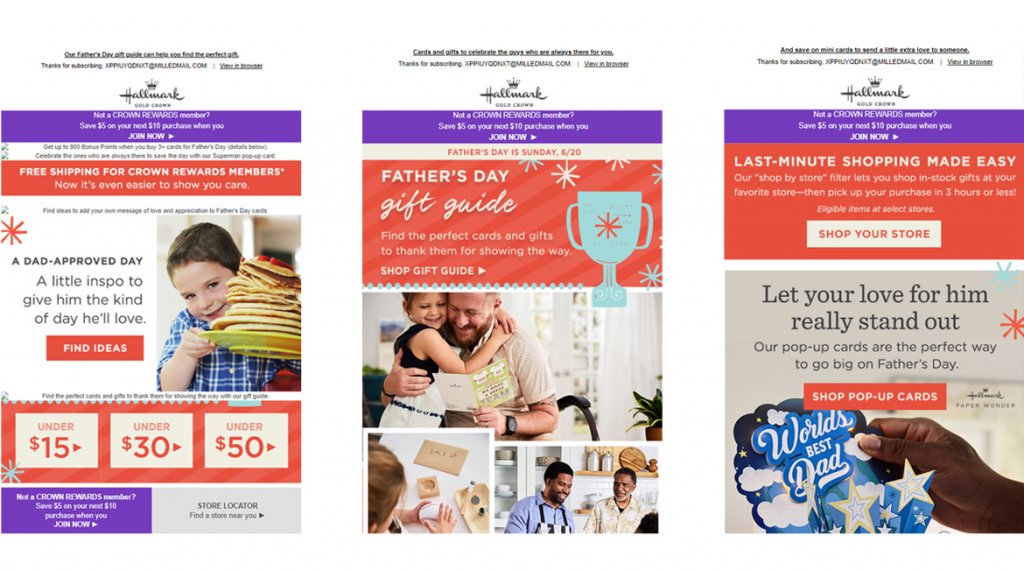 So, you see how they have planned the whole thing? Right from 7th June to 18th June, they have tried to stay at the top of the reader's mind and inbox. Each email follows a different, yet consistent messaging approach to get sales for the big day.
Wrapping Up
I am signing off with an important point (that I talked about at the outset).
This year, Father's Day falls on 19th June 2022 for the U.S.A, U.K, Asia, and most parts of the world. However, if you have subscribers in Australia and New Zealand, remember that it will be celebrated on 4th September 2022. Your customers look for inclusivity from the brands they follow, and they certainly wouldn't want you to mess up such dates.
On that insightful note, if you need help with your Father's Day email campaigns, do get in touch with us. We have got you covered.