7 Smart Ways to Use GIFs in Email Designs
While people are still debating over the pronunciation of GIFs (whether it should be G as spoken in the gate or the sound of G in giraffe), it has already got immensely popular in the realms of digital marketing. How these animated images have evolved over the past three decades is indeed remarkable. Be it websites, social media channels, or emails, GIFs make every communication more impactful and fun to consume.
Remember we talked about the advent of GIFs in emails in an article last year? In this blog, we shall go a step further and discuss some really smart ways of using GIFs in emails. 
1. Use it for creative branding purposes
Your logo is the face of your brand. You can use GIFs to personify your logo and add a personality to your emails. It will make your boring email visually attractive and enhance the brand recall for your customers.
Hollister has sent out a nice summer email with an animated logo alternating between Hollister and Carpe Now, which means "Seize This" to emphasize the offer.
The hero image also includes an animation that suggests that it is the final call to complete the purchase.

2. Demonstrate 'something' with an animation
Software as a Service (SaaS) or ecommerce industry – both can use animations to demonstrate the usage of a product or service with an explainer GIF. It would not only convey the message more effectively but also increase the likelihood of conversion. Explainer GIFs work as great substitutes for explainer videos as they do not make the email too heavy and can be accessed across all the major email clients. 
RepairSmith, a car repair and maintenance service provider, adapted their email communication in view of the COVID-19 pandemic and included a GIF to demonstrate their no-contact car repair initiative. Furthermore, it is a great idea to send it in the welcome email itself as it would assure the subscribers that they can count on RepairSmith even during this crisis. 

3. Hook the subscriber to your brand and tempt them (to buy)
Animated GIFs can be immensely helpful when you want to tempt your customer to purchase from you. Temptation instinct works particularly well for sectors such as ecommerce, food and restaurants, travel, and telecommunications.
Here are some great examples that would surely get the subscribers enamored of your brand and make them look forward to your emails or purchase from you.
a. White Horse
White Horse deals with a huge range of instant or readymade food products and spices. In one of the emails, they have shared how tacos can be a wonderful family meal and promoted the essential products that you would need to prepare it. The last section of the email works as a microsite that shares an easy recipe for homemade flour tortillas. It would surely make the recipient drool and purchase the products to relish the delicacy at home.
b. Detour Coffee Roasters
Detour Coffee Roasters has used a beautiful cinemagraph in the hero image of their welcome email to demonstrate coffee preparation. Besides the animation, the copy, the offer, and the CTA have been perfectly drafted to draw the subscriber's attention and prompt them to order or sign up.

c. Apple
Simplicity is the ultimate sophistication – Apple has literally lived by this quote. They have created a simple logo animation depicting gift wrapping in the header of the email, followed by the details on Friday offers.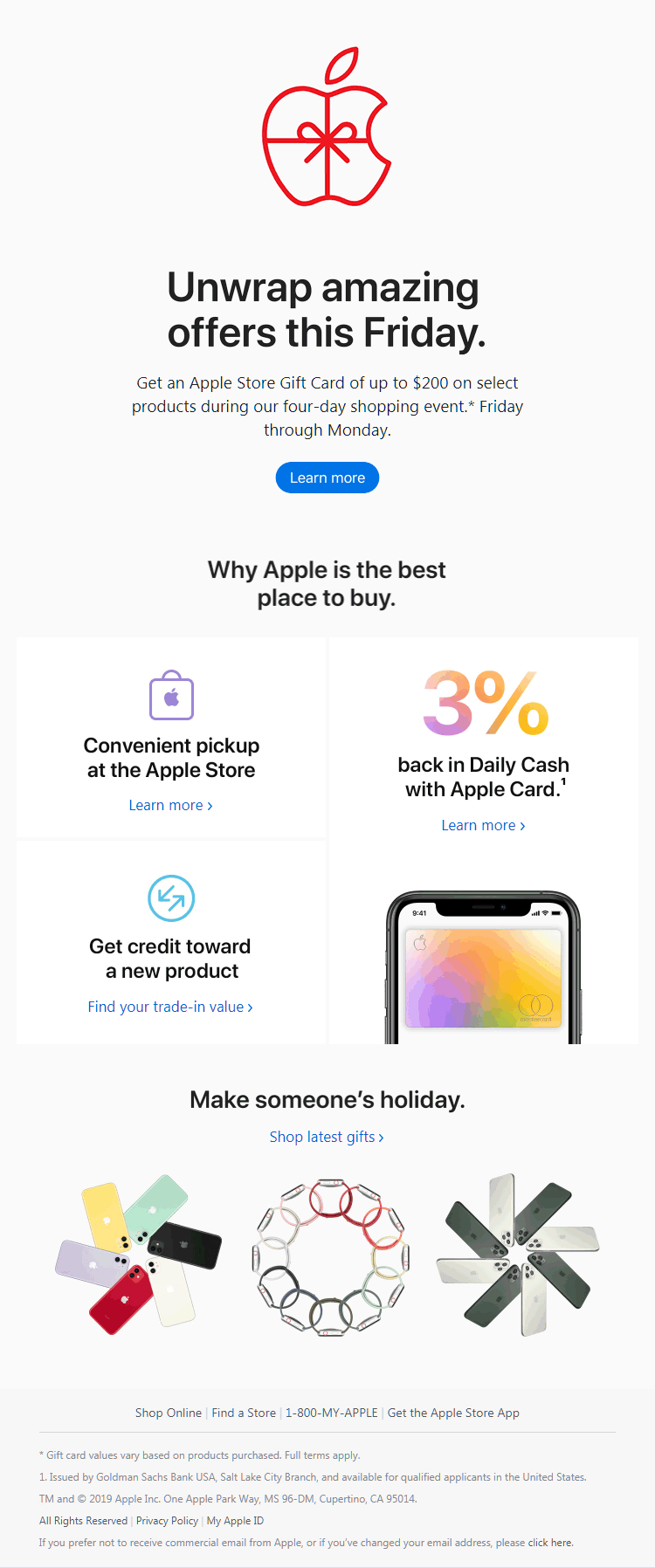 4. Leverage on "FOMO" with a GIF
With the help of GIFs, you can highlight important offers and their validity.
For instance, Made.in has used a blinking animation that underscores that the offer is valid for "THAT DAY" only. It will create a sense of urgency and fear of missing out on the subscriber's mind, thereby convincing them to avail the offer before it's too late.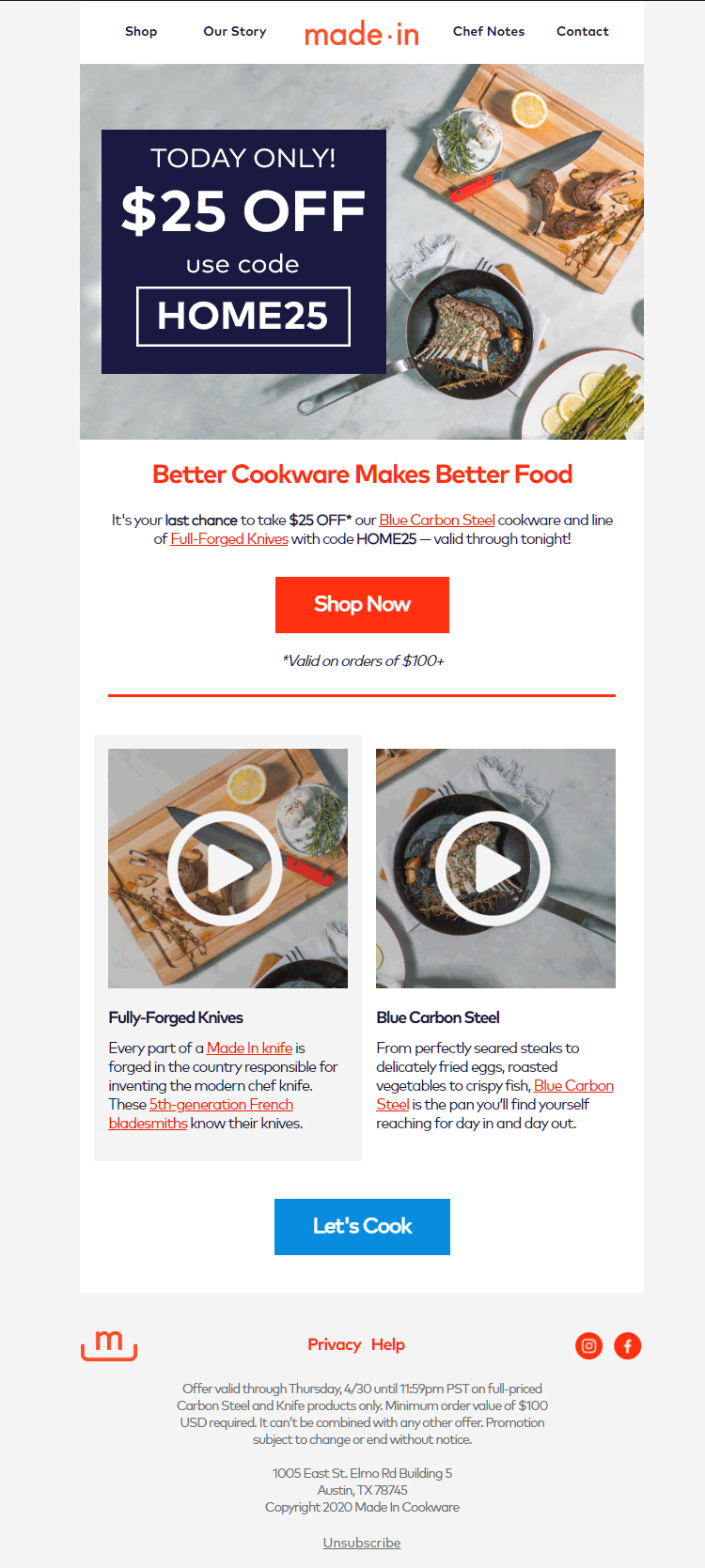 5. Tell a story
GIFs can be used to tell a story and engage your subscribers at a deeper level.
Moo has totally nailed this aspect by having a GIF in their email and continuing it on their landing page.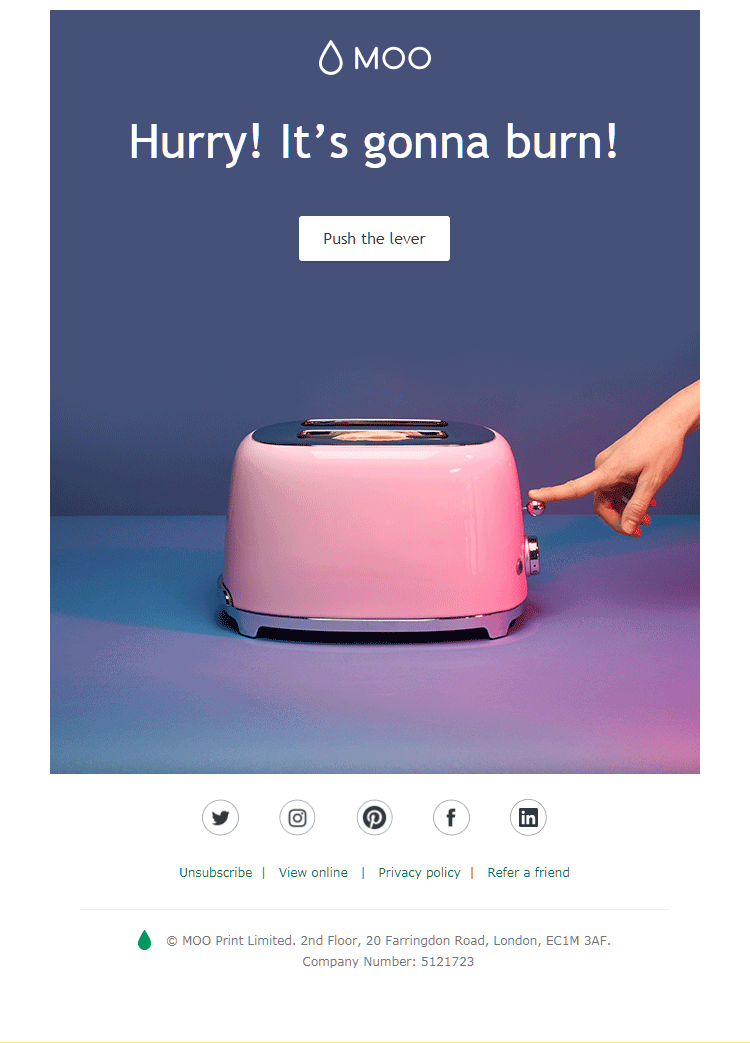 Isn't that a unique way of promoting 15% off on the orders? B2B companies or email marketers from the service-based industry can surely employ this idea in their emails.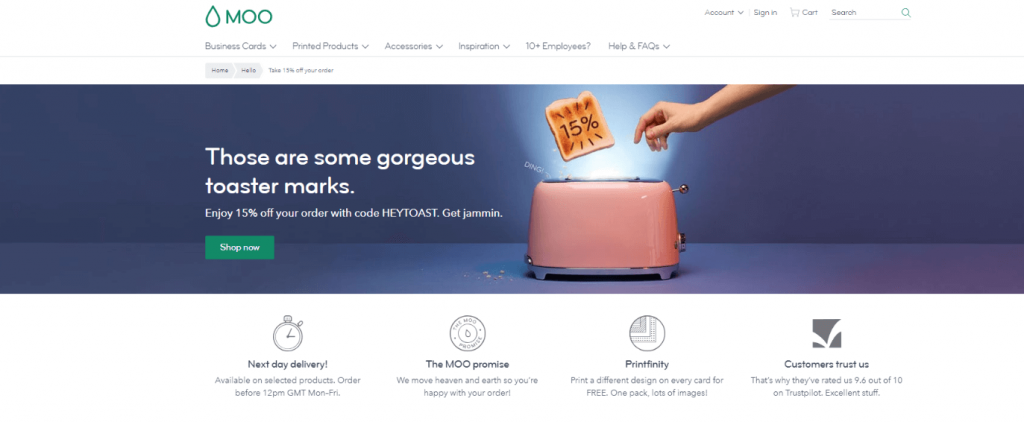 6. Create holiday vibes with the help of animations
GIFs are a great way to generate the festive vibes, like birthdays, anniversaries, or the Holiday Season.
Rather than having a static image, you can take the email experience to a new level by using GIFs.
Take a look how Wix celebrates the previous year with an innovative GIF animation.
7. Use APNGs to enhance the subscriber's experience
When compared to GIFs, APNGs boast of a higher resolution and better image quality. The best part is that it does not even affect the loading speed of the email by making it too heavy. If you are not too happy with GIFs, you can switch to APNGs. The only downside is that it needs special tools and expertise to create these animations.
It can be used in diverse industries to create a more profound impact through the emails.
Wrapping Up
GIFs have evolved and therefore, it has become imperative to add innovation to its usage. They have come a long way from being used merely in the ecommerce industry to display multiple products. Now, marketers have started using it in several out-of-the-box ways.
Have you used any clever hack to use GIFs in your emails? Do let us know in the comments below.