Does this GIF resonate with you? I am sure most email marketers will find it relatable for their marketing strategy.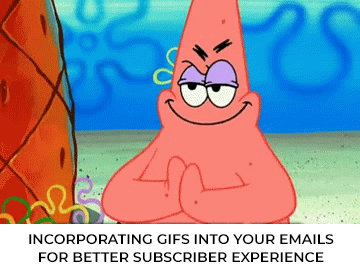 While people are still debating over the pronunciation of GIFs (whether it should be G as spoken in the gate or the sound of G in giraffe), it has got immensely popular with the entire email marketing fraternity. How these animated images have evolved over the past three decades is indeed remarkable. Be it websites, social media channels, or emails, GIFs make every communication more impactful and fun to consume.
56.6% of email marketers revealed that they are adding animated GIFs at least sometimes in their marketing emails. This figure makes sense because every next email that you open has some kind of animation in it. It might be a basic animation, but it's there!
Remember we talked about the advent of GIFs in emails in an article a couple of years ago? In this blog, we shall go a step further and discuss some really smart ways of using GIFs in emails.
1. Use It For Creative Branding
Your logo is the face of your brand. You can use GIFs to personify your logo and add a personality to your emails. It will make your boring email visually attractive and enhance the brand recall for your customers.
Hollister has sent out a nice summer email with an animated logo alternating between Hollister and Carpe Now, which means "Seize This" to emphasize the offer.
The hero image also includes an animation that suggests that it is the final call to complete the purchase.

If this looks too complicated to you, you can go for something as simple as Swiggy's email design.

Hims & Hers has used a creative animation to make an announcement that their products will now be available at Target. They have animated the hero image along with the logo and unveiled the logo of "Target". Take a look.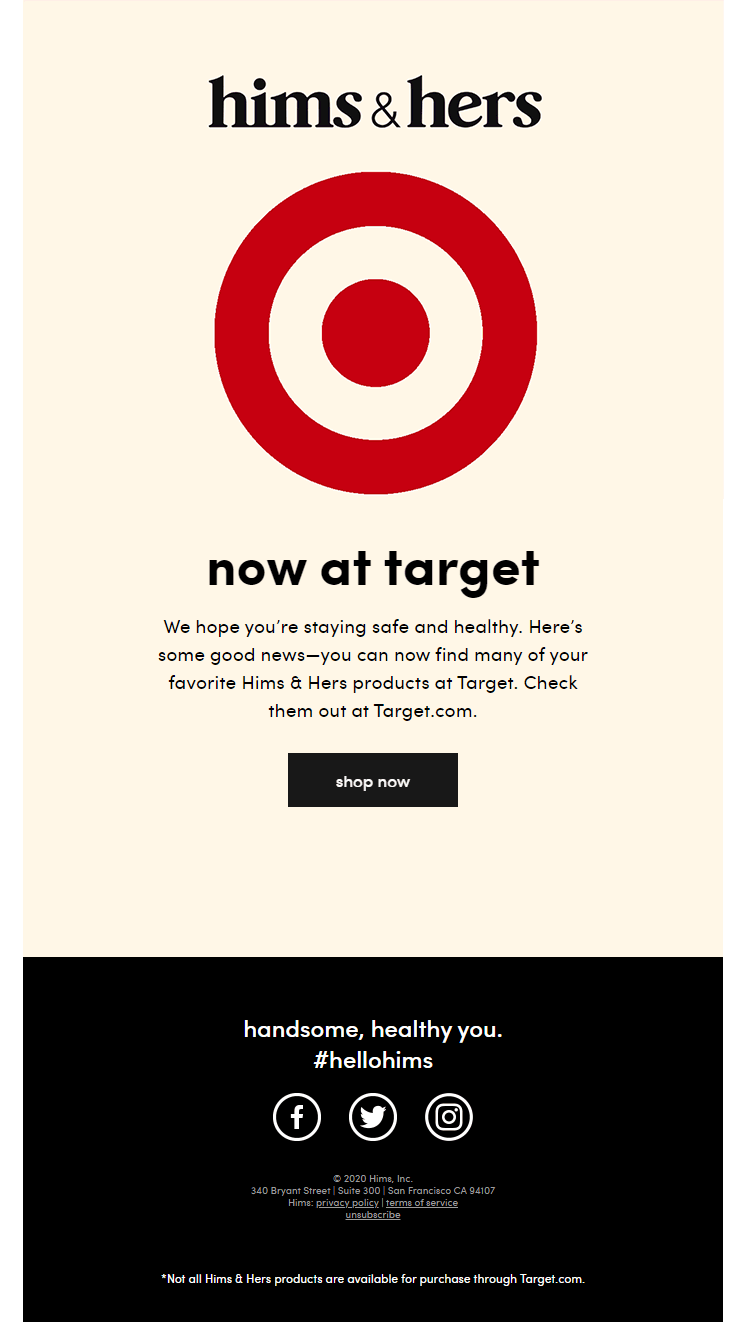 2. Add a subtle animation to grab attention
It is not always necessary to add complicated animations to leave an impact on the subscriber's mind. Remember that a great design is always about functionality as much as aesthetics. You can have a simple GIF to catch the subscriber's attention and promote your offer.
Here's how Toms has notified the users about the 75%Off Surprise Sale to mark the occasion of Christmas. The advantage of using such animations is that it will not distract your subscribers with any flashy imagery. Instead, they will be able to focus on the message that you are trying to convey. It strikes the perfect balance between communication and aesthetics.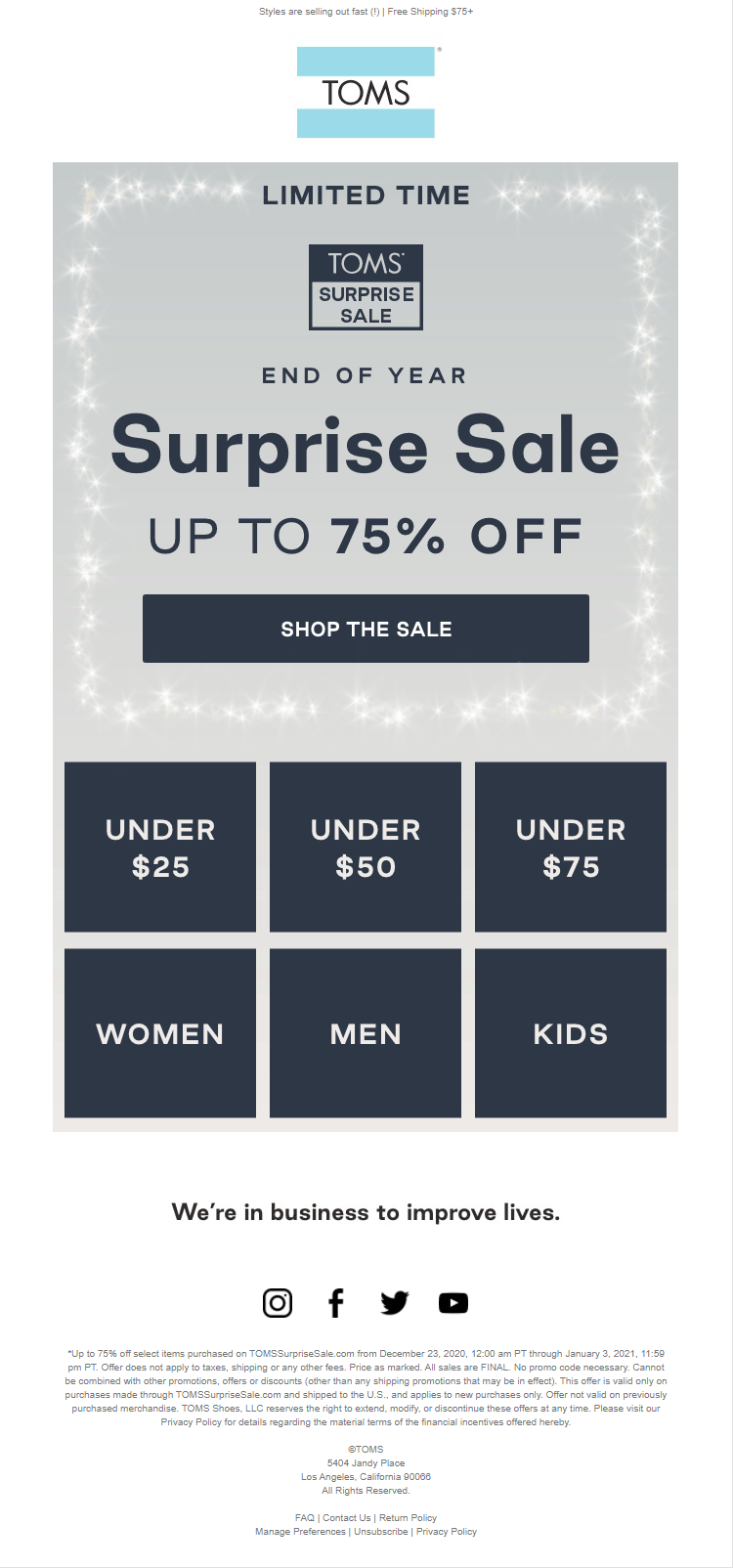 3. Create a pleasant illusion with animations
Inspire the subscriber's imagination by including an illusive animation that will make the email more visually appealing. You can definitely use a static image to create a sense of surreality but a GIF hits the subscriber differently. It creates "good inbox vibes" and gets people to convert.
As a kid, when I wanted my mom to say "yes" to something, I always approached her when she was doing something she really enjoyed, like listening to her favorite song. It always worked. These illusive animations can recreate the same scenario for you and your customers.
Here's what I mean.
Headspace has used an illusive animation that emulates the design trend of "parallax scroll". It is a simple GIF created without any complicated CSS animations but it will still manage to stand out in the subscriber's inbox. Ultimately, it will encourage them to take action and "meditate now".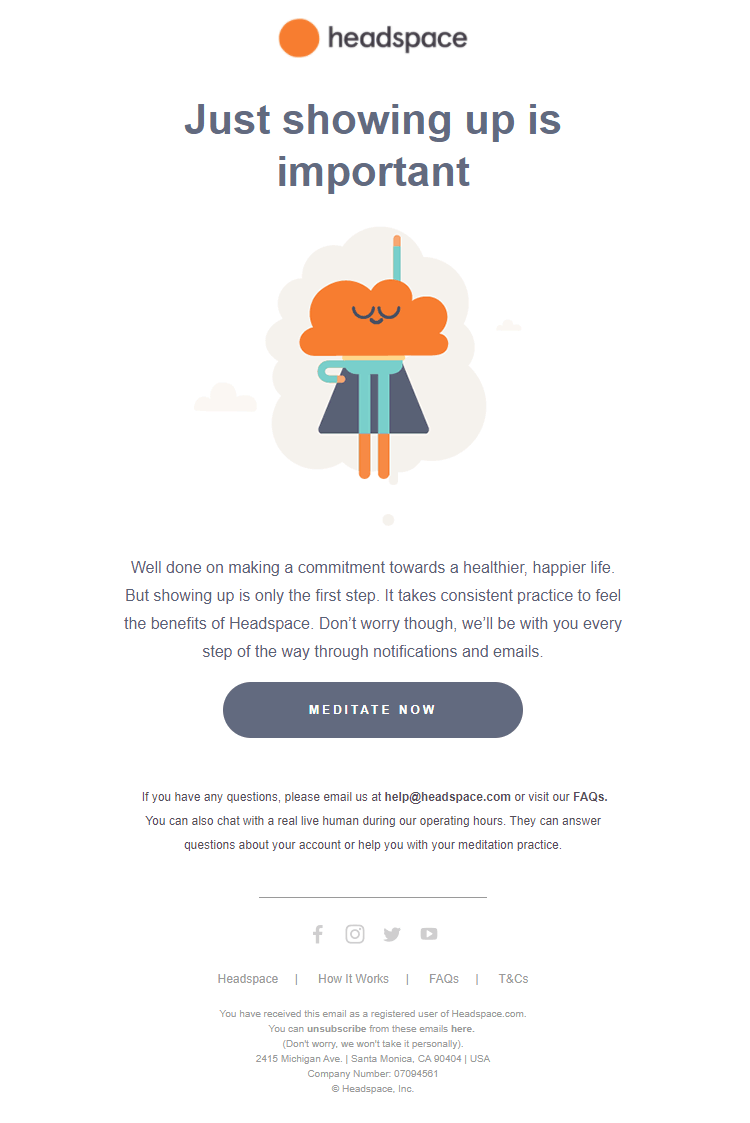 4. Illustrated GIFs are the way forward
Did you notice that cute illustration in the email by Headspace shared in the previous point? That brings us to the next point of using illustrated animations.
Whether you are a SaaS company or an ecommerce website, you can use illustrative GIFs to "show" your products.
Let me demonstrate how you can do this, with the help of an example.
Harry's has used animated illustrations throughout their email. The hero image is designed to relieve the stress that the subscriber might be experiencing. It is a great way to promote their nonprofit partners who are always ready to help people with their mental health.
In the subsequent folds, they have used animations to inform the reader about their services like free support, help for the young people from the LGBTQ community, and the screening to get started in the right way.

5. Experiment with animated gradients in the email background
Gradients are the latest trend in the world of email design and they are here to stay. They work like a paradox, which means that they retain a vintage feel while still imparting a new look to your email.
The beauty of this type of design is that it combines the power of rich media and the trend of gradients that is likely to pick up pace in the coming year.
Take a look at this email with a static gradient.
The email shared above reflects sincerity and a sense of empathy, which will effectively serve the purpose of the email.
The same brand adds animation to their Holiday email to match the festive vibes of the season and make the mood lighter.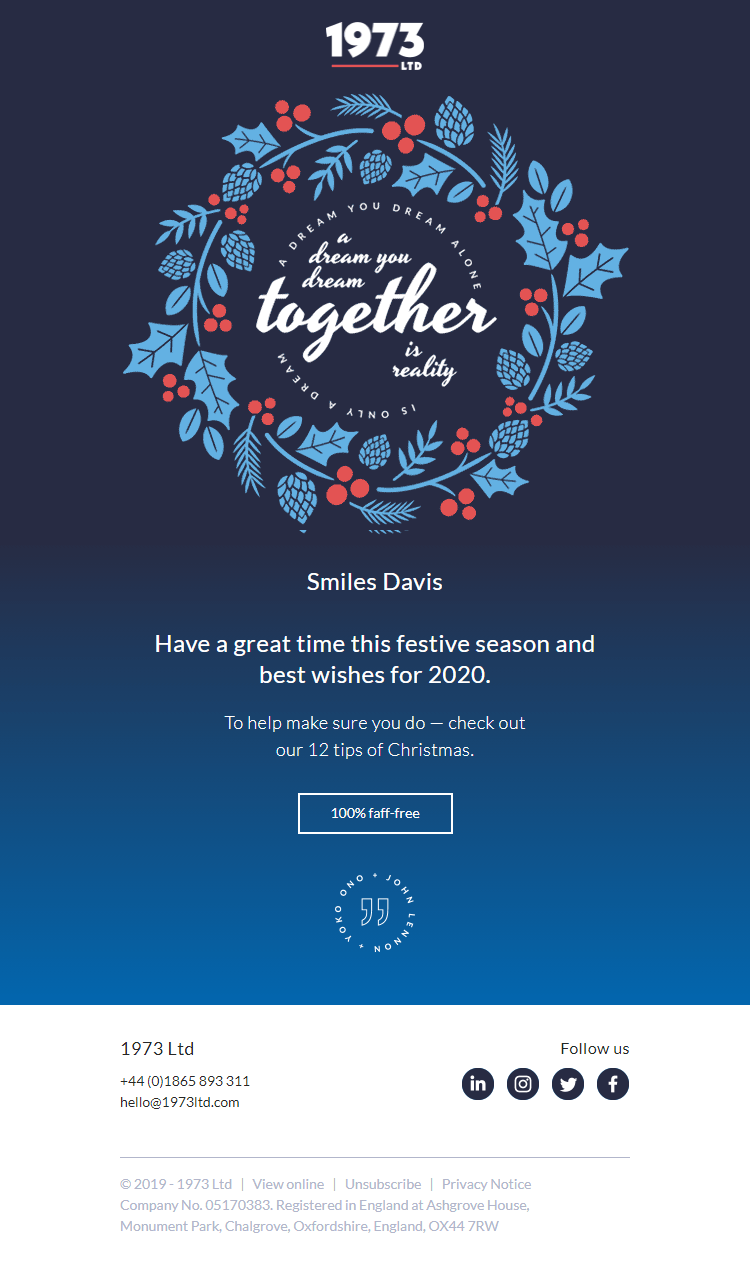 Now, here's an email by Shutterstock that uses an 'animated' gradient to promote their plugin.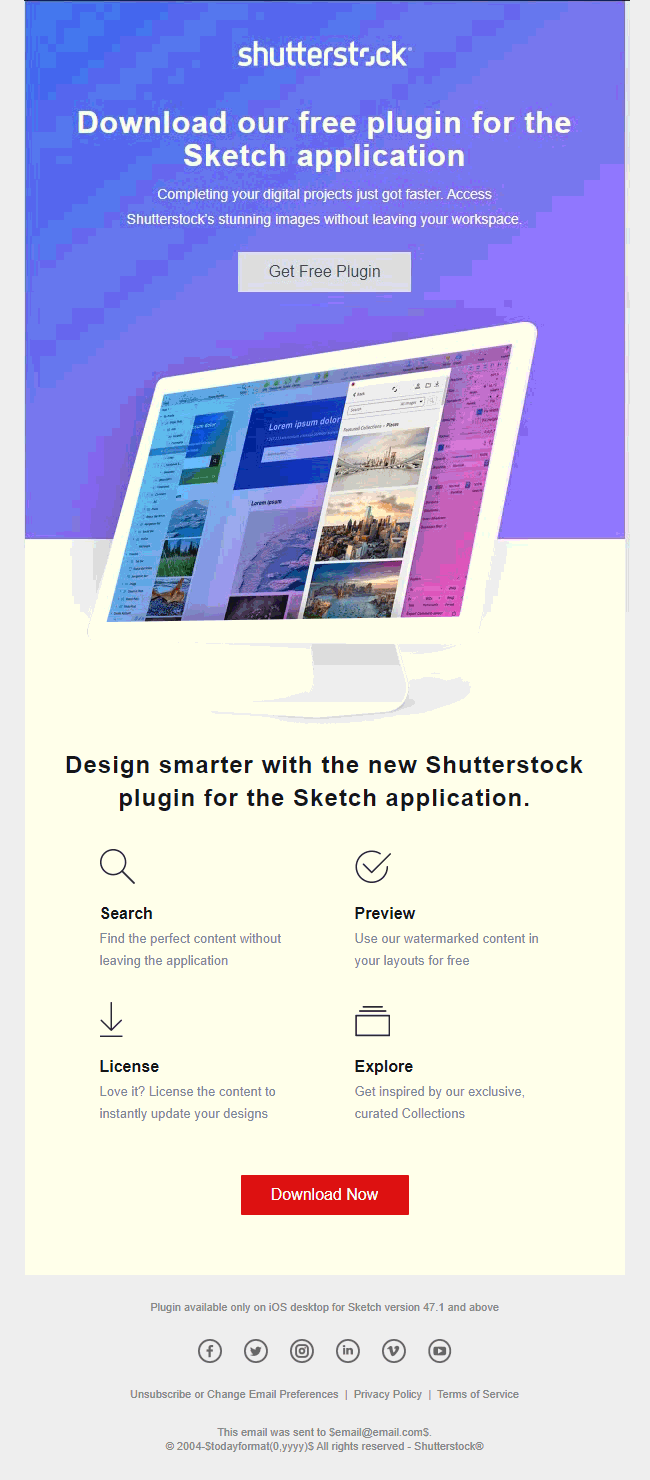 6. Experiment with 3-Dimensional Animations
The realm of email designing is constantly evolving and 3D image is one such trend that is getting immense popularity among the people
Now, how about combining the three dimensional images with animations?
Here's a comparison of how the entire look and feel of an email changes just by animating a static image.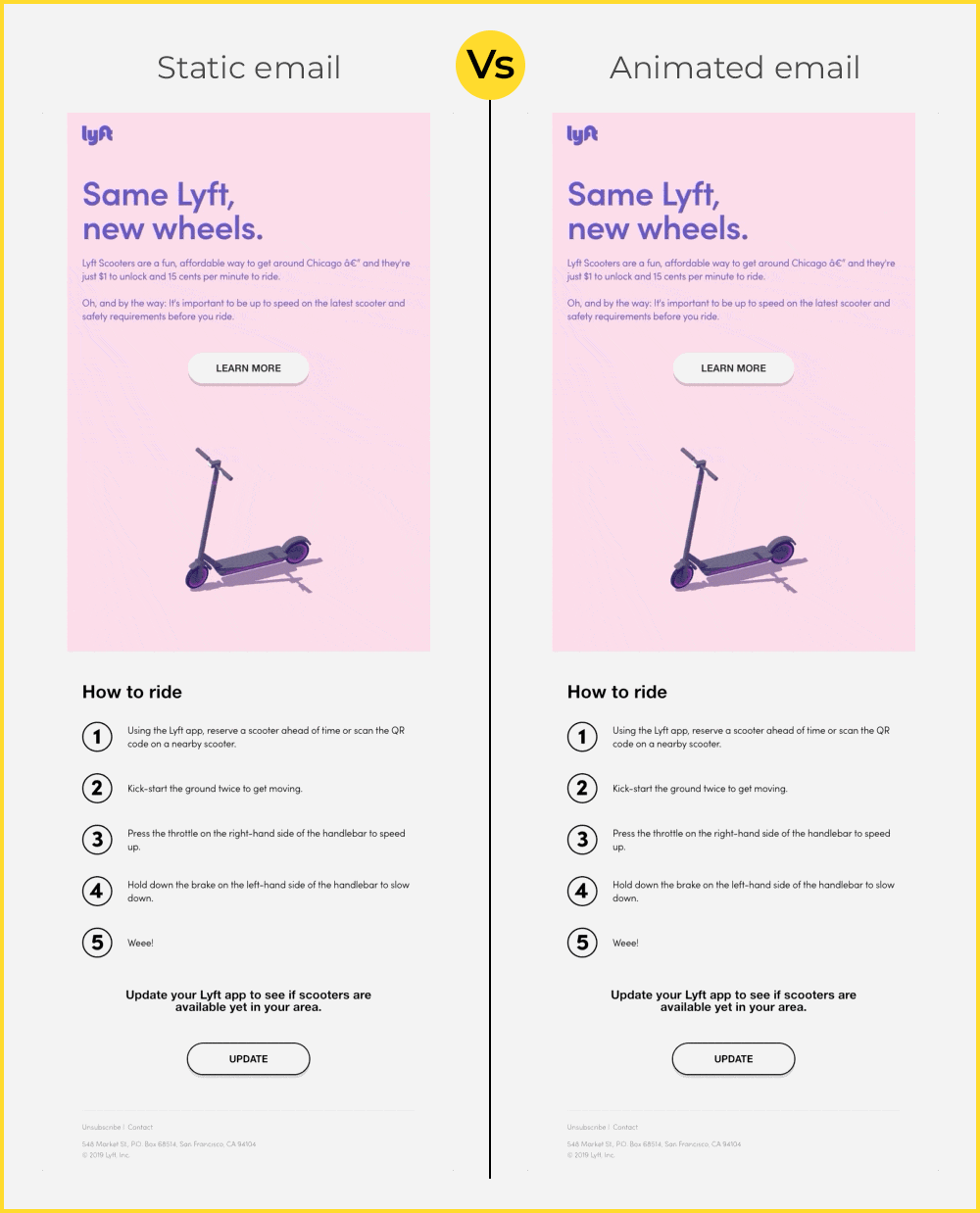 7. Animate your typography
Show, don't tell – That's the mantra for effective marketing. Now, how about doing both together? How about showing and telling all at once?
That's where animated typography comes into the picture.
Bold typography is trending in the world of email designs and adding animation to those words will take the subscriber experience to the next level.
See how Nasty Gal has promoted its New Year shop by playing with the typography. It will not only convey the message but also prompt the people to take action. 



If you are an ecommerce store, you might be having several products from different brands. To let your subscriber know about the huge variety of products that you have, you can take the route of GIFs.
mmerce store, you might be having several products from different brands. To let your subscriber know about the huge variety of products that you have, you can take the route of GIFs.
Bergdorf Goodman has used a sweeping effect for the brand names to catch the subscriber's attention and let him know about the range they can choose from.

8. Demonstrate 'product/service usage' With An Animation
Software as a Service (SaaS) or ecommerce industry – both can use animations to demonstrate the usage of a product or service with an explainer GIF. It would not only convey the message more effectively but also increase the likelihood of conversion. Explainer GIFs work as great substitutes for explainer videos as they do not make the email too heavy and can be accessed across all the major email clients.
RepairSmith, a car repair and maintenance service provider, adapted their email communication in view of the COVID-19 pandemic and included a GIF to demonstrate their no-contact car repair initiative. Furthermore, it is a great idea to send it in the welcome email itself as it would assure the subscribers that they can count on RepairSmith even during this crisis.
9. Tempt Them To Buy
Animated GIFs can be immensely helpful when you want to tempt your customer to purchase from you. Temptation instinct works particularly well for sectors such as ecommerce, food and restaurants, travel, and telecommunications.
Here are some great examples that would surely get the subscribers enamored of your brand and make them look forward to your emails or purchase from you.
White Horse deals with a huge range of instant or readymade food products and spices. In one of the emails, they have shared how tacos can be a wonderful family meal and promoted the essential products that you would need to prepare it. The last section of the email works as a microsite that shares an easy recipe for homemade flour tortillas. It would surely make the recipient drool and purchase the products to relish the delicacy at home.
Simplicity is the ultimate sophistication – Apple has literally lived by this quote. They have created a simple logo animation depicting gift wrapping in the header of the email, followed by the details on Friday offers.
Anthropologie has shown off their home favorites with the help of a GIF that reflects comfort and aesthetics. It will surely entice the readers to check out their products and make the purchase.    



10. Leverage On "FOMO" With A GIF
With the help of GIFs, you can highlight important offers and their validity.
For instance, Made.in has used a blinking animation that underscores that the offer is valid for "THAT DAY" only. It will create a sense of urgency and fear of missing out on the subscriber's mind, thereby convincing them to avail the offer before it's too late.
11. Tell An Intriguing Story
GIFs can be used to tell a story and engage your subscribers at a deeper level.
Moo has totally nailed this aspect by having a GIF in their email and continuing it on their landing page.
Isn't that a unique way of promoting 15% off on the orders? B2B companies or email marketers from the service-based industry can surely employ this idea in their emails.
12. Create Holiday Vibes With The Help Of Animations
GIFs are a great way to generate the festive vibes, like birthdays, anniversaries, or the Holiday Season.
Rather than having a static image, you can take the email experience to a new level by using GIFs.
Take a look how Paper Source has sent out a cute email to sync in the Valentine's Day vibes. (Inspired for Valentine's Day email designs, already?)

Your customers like feeling special. So, how about brightening up the email inbox and their day with the help of an animated birthday email, created exclusively for them?
You can take a look at this birthday email template by Nike.

13. Make some noise for cinemagraphs
Oh, how I love cinemagraphs! They bring a bright smile on my face whenever I see them. That explains my love for Instagram Boomerang, perhaps. Some boomerangs give a similar feeling.
They are animated GIFs, but somewhat different. While GIFs are essentially a small cut of a video or animation on a loop, cinemagraph makes a photograph come alive with the help of a seamlessly endless loop. A simple example of a cinemagraph is moving water ripples in the backdrop of an otherwise static photograph. It will take you back to a moment lost in time.
If you want to impart a supernatural feel to your email, cinemagraphs are the safest bet for you.
Detour Coffee Roasters has used a beautiful cinemagraph in the hero image of their welcome email to demonstrate coffee preparation. Besides the animation, the copy, the offer, and the CTA have been perfectly drafted to draw the subscriber's attention and prompt them to order or sign up.
Let me share two more examples of cinemagraphs to inspire you.
One is from Korres. See how they have used a beautiful cinemagraph to display their product.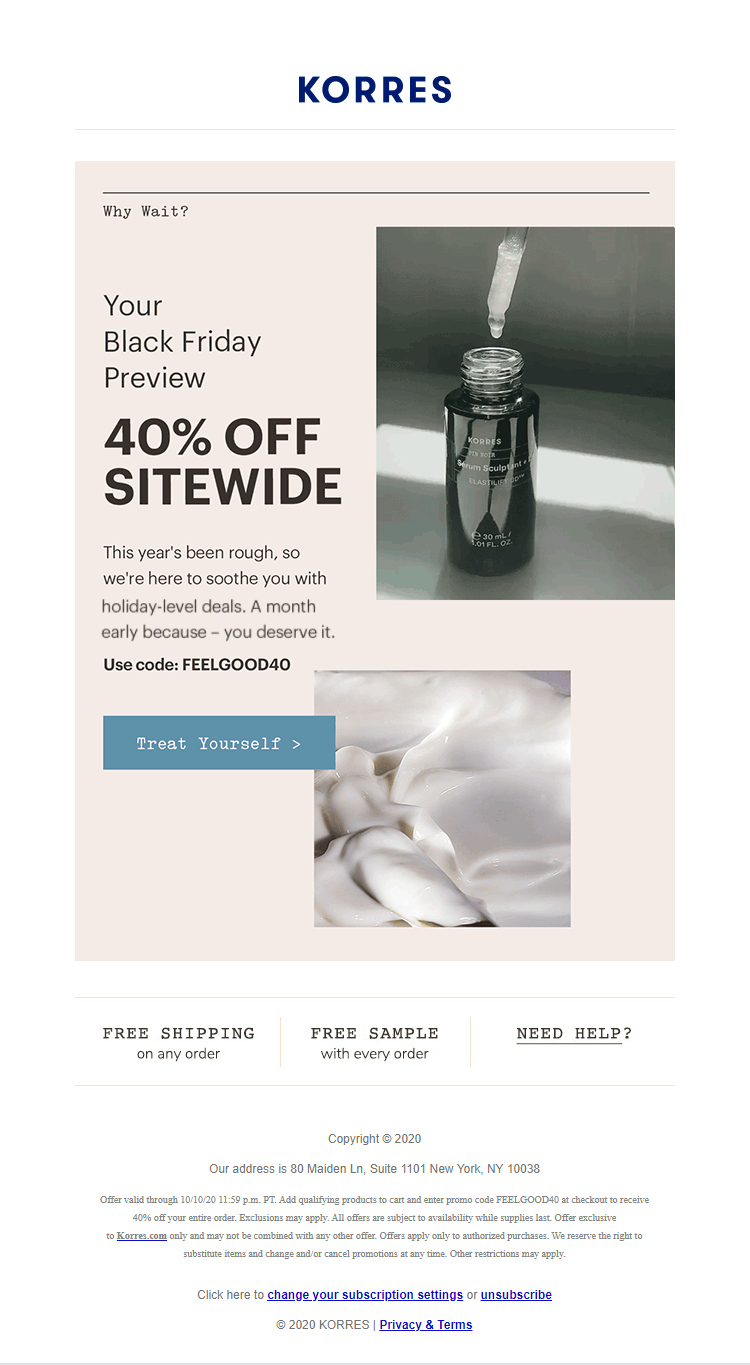 Another example is the email template from Uncommon Goods. They have used a cinemagraph to demonstrate their indoor S'mores fire pit.

Related articles:
14. Use APNGs To Enhance The Subscriber's Experience
When compared to GIFs, APNGs boast of a higher resolution and better image quality. The best part is that it does not even affect the loading speed of the email by making it too heavy. If you are not too happy with GIFs, you can switch to APNGs. The only downside is that it needs special tools and expertise to create these animations.
It can be used in diverse industries to create a more profound impact through emails.
Read more: APNG in Emails: Taking Animations to a New Level
15. Make the Email Humorous
You can use animation to make the subscriber smile. You can either make the animation funny or do something like Tough Mudder has done.
See how they have recreated a punny conversation in the form of an animated screenshot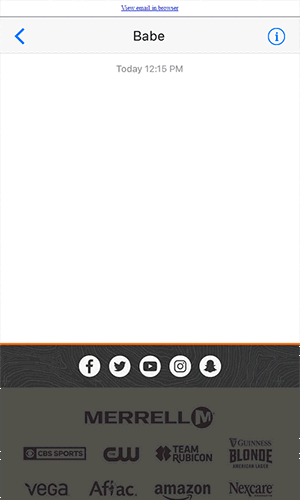 Wrapping Up
GIFs have evolved and it is therefore imperative to add innovation to their usage. They have come a long way from being used merely in the ecommerce industry to display multiple products and services by various industries. Now, marketers have started using it in several out-of-the-box ways.
Got any clever hack to use GIFs in your emails? Do let us know in the comments below.