Customers form the lifeline of your business, and if you want to strive for continuous improvement, it is imperative you stay on top of their pulse. And what's a better way of going about that than sending survey emails? With the introduction of MPP, survey emails have now become more important than ever to invite and gauge customer engagement. So, what exactly goes into crafting a compelling survey email? To answer that question, we've assorted a buffet of the choicest survey email inspirations out there.
But before we dig into these exclusive inspirations, let's understand some important things you need to remember while drafting a survey email.
Things To Keep In Mind While Crafting A Survey Email
Your survey email must have a clear objective. And for that, you need to have ample clarity yourself as to what you intend to achieve with the survey. You must have proper plans in place for using the data you will be gathering through it. Typically marketers send out surveys for the following reasons:

– To gauge consumers' reactions to their offerings
– To identify the possible obstacles a buyer might encounter in their journey
– To determine the most high-performing aspects of a campaign
Different segments of the audience interact with your business in different manners. Hence, it is important that you approach them all with targeted survey emails. For instance, the survey email you send to customers who purchase exclusively from your physical store has to be different from the one you send to your online customers. That's why you must segment your list and qualify your customers into different segments prior to sending out survey emails.
Offer incentives. They can increase your response rates by leaps and bounds. The opinions and insights provided by the survey participants are worth their weight in gold. The least you could do to return the favor and express your gratitude is to give them a reward. It could be a tangible gift, a gift voucher, or even a discount.
Builderfly
Subject line: Short Survey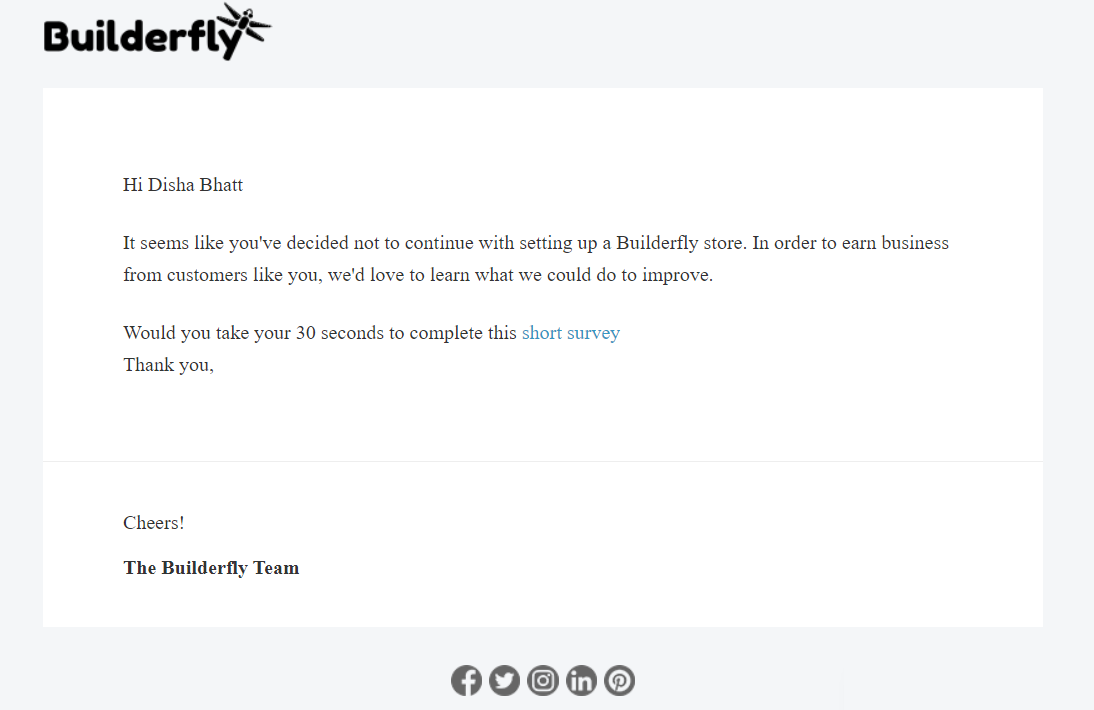 With survey emails, the best course of action, invariably, is to keep things simple and to the point. For inspiration, look no further than this email by Builderfly. With this survey email, Builderfly aims to reach out to all those customers who did not go forward with using their platform. And well, what's a better way of analyzing the underlying reason than obtaining the opinions from the horses' mouths themselves. Additionally, they've also mentioned the duration of their survey, which is an excellent move if you ask us. Often, people sign up for surveys only to end up frustrated by the unending barrage of questions that greet them. This way, they have a clear idea about the kind of time they'd need to invest. Subsequently, they can make a decision accordingly.
JustGolfStuff.ca
Subject line: OUR CEO Wants You to Be Brutally Honest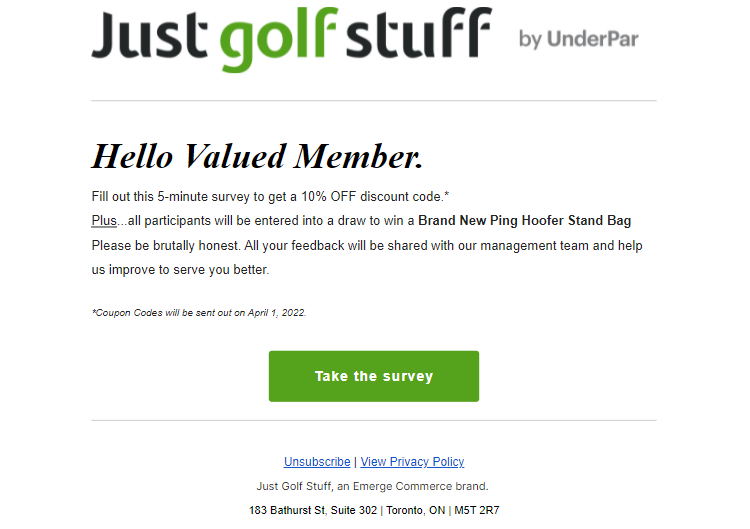 If you want your audience to take note of your survey emails, ensure you hit their inboxes with a catchy subject line, just as JustGolfStuff.ca has done over here. But, that's hardly the most redeeming aspect of this email. As said earlier, surveys require customers to invest their valuable time in your questions. And if they're getting nothing in return, they might just decide to look past it. So, take a cue from this example and don't shy away from offering an incentive. It can do a world of good to your response rates.
Grammarly
Subject line: Got a moment for a quick survey?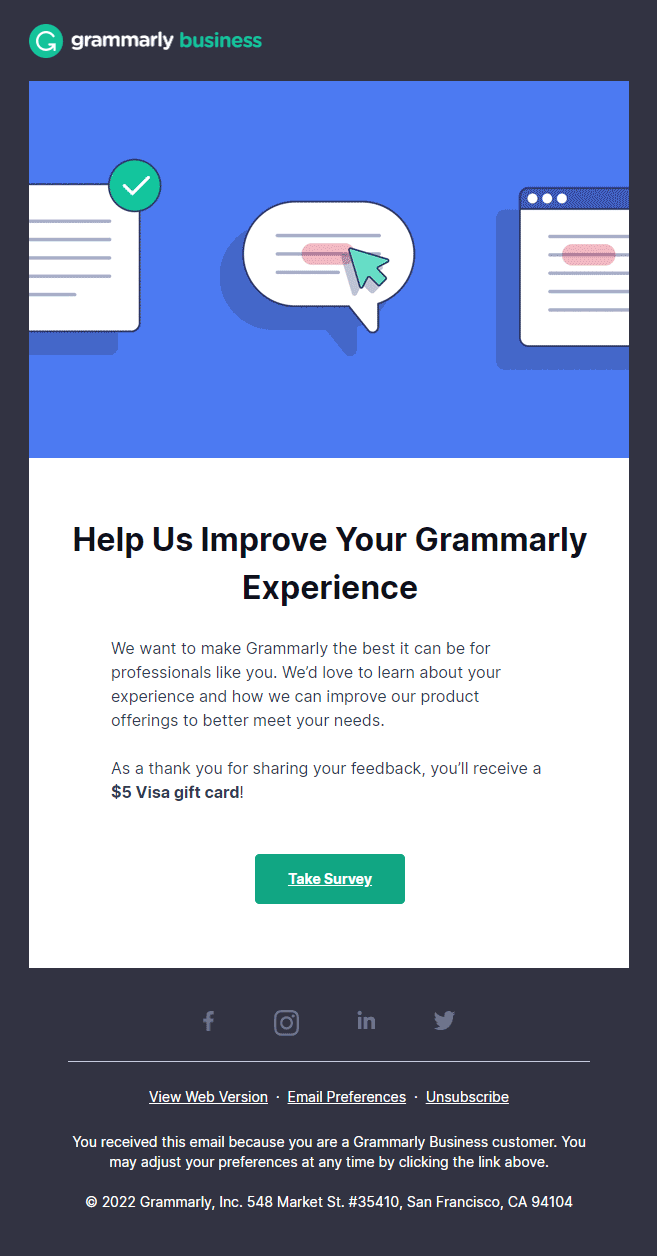 You know what's a surefire way of making your survey emails compelling? Make them visually enticing? Looking for ideas? Take a look at this email from Grammarly. Subscribers are greeted with this neat animated GIF that will surely hold their attention upon opening the email. Further, despite the lucid subject line, the folks at Grammarly have announced the objective of the email loud and clear in the headline too. To cap things off, the participants have been offered a neat $5 Visa gift card incentive!
Myntra
Subject line: Hello, We'd like to hear from you!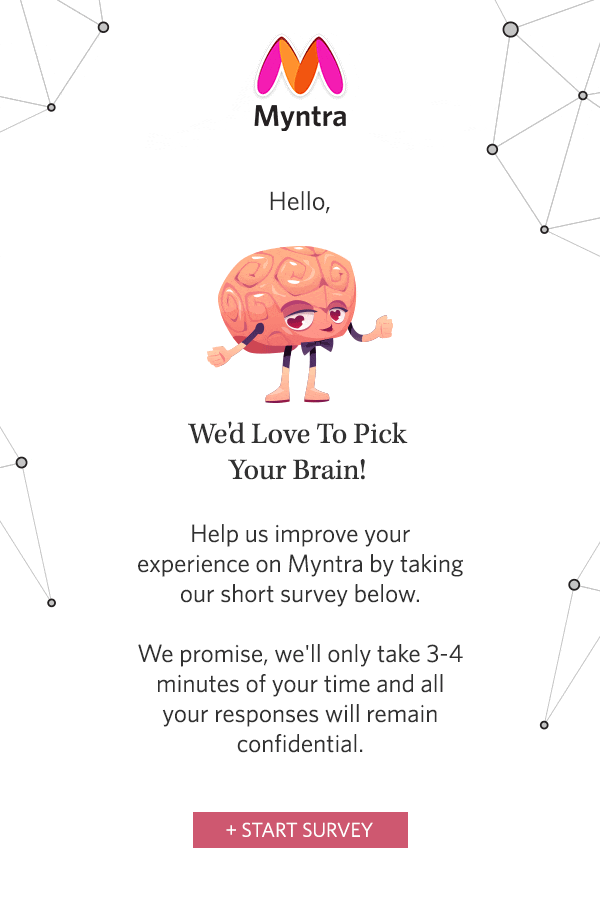 What's better than an animated GIF? One that is a literal extension of its copy. Yes, we're talking about this survey email from Myntra. Taking your customers' permission to pick their brains by using an illustrated anthropomorphic brain is an absolute winner in our books. Another thing that warrants our attention here is the explicit communication about maintaining the confidentiality of responses. It might appear as a small detail, but don't forget to include it in your copy; it goes a long way towards securing your customer's trust.
Target
Subject line: What did you think of your recent order #65006006500600?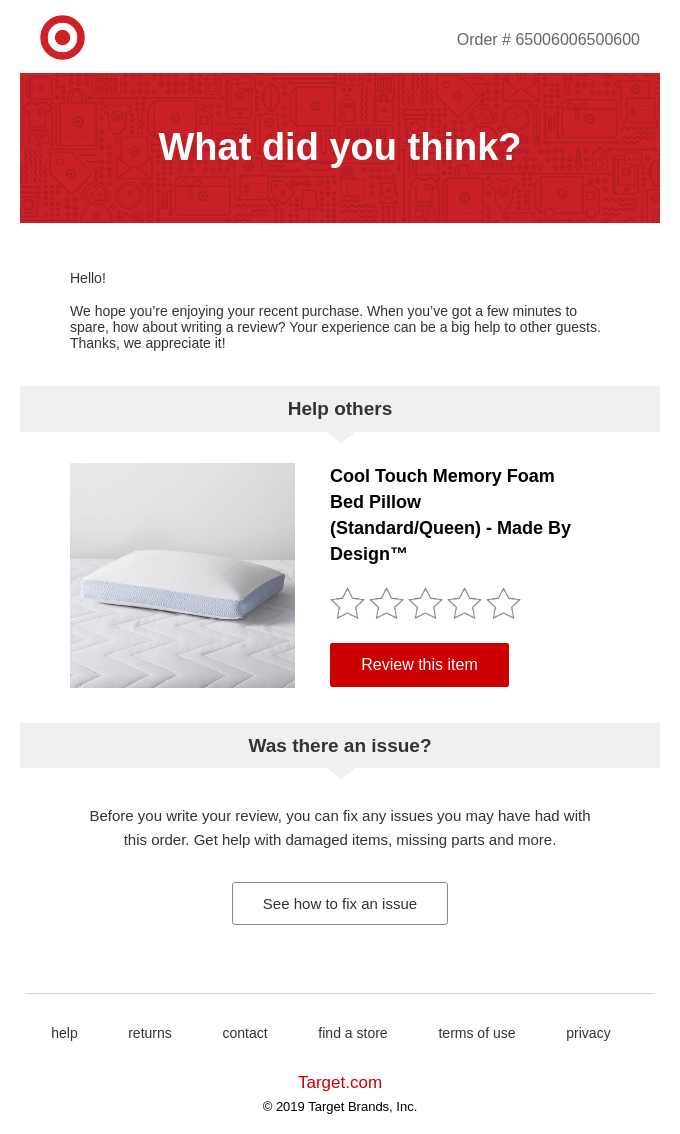 Customer feedback is invaluable- besides reflecting their sentiment, it arms you with a host of valuable insights that opens your eyes to the possible loopholes in your system. Hence, you should be quite meticulous about collecting it as well.
For instance, take a look at this email by Target. The best part about this is that it has a simple yet effective interactive element- the 5-star scale. What this does is, it allows the user to wrap up their review business within the email itself instead of redirecting them to a new page. The presence of such interactive elements bolsters subscriber engagement. Apart from posting their review, Target has also included a separate section that lets the customer address any issue they might have encountered with their order.
MarketingProfs
Subject line: Can I ask you a favor?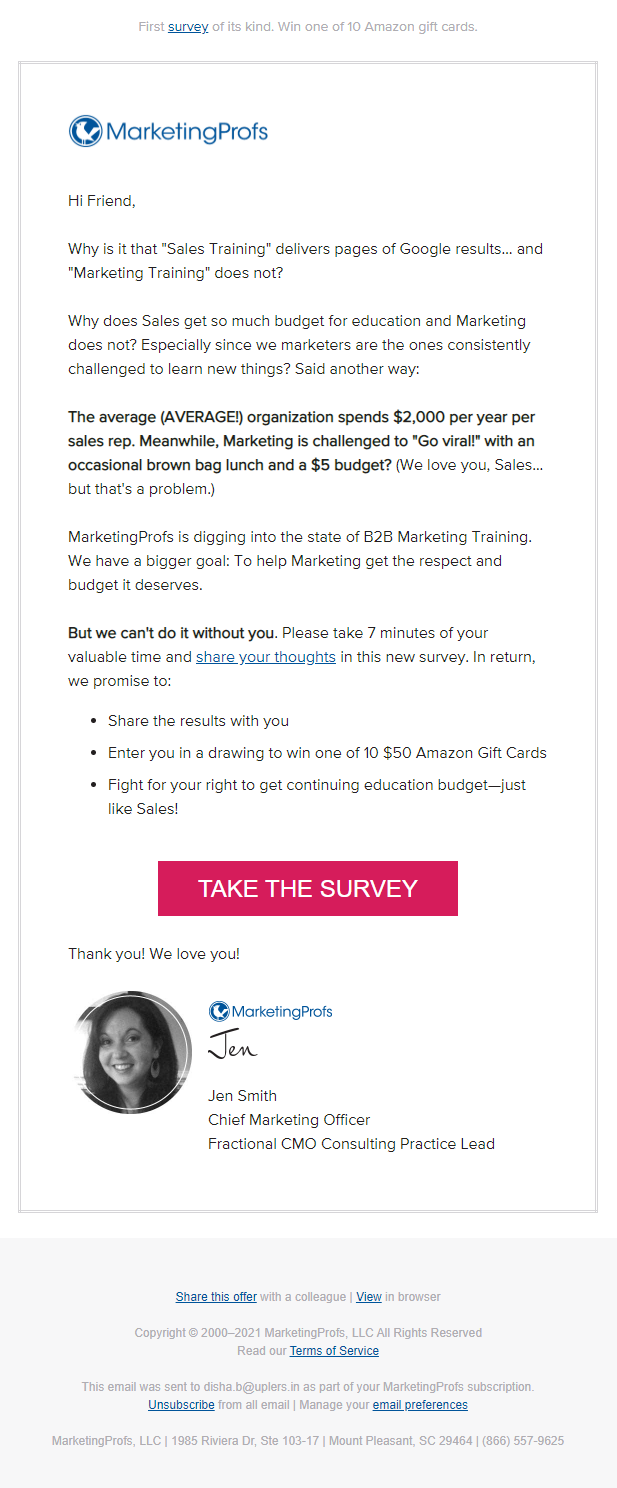 Before you send out your survey email, it is essential that you have a spotless understanding of your brand identity. For that is what will dictate the content, voice, and tone of your email copy. When you are a marketing resource firm like MarketingProfs, your surveys are bound to be more detail-oriented than others. Hence, you must take the time to abundantly fill your subscribers in about the context of your survey before inviting them to participate.
Our favorite part about this email? The non-tangible incentive in the form of promising to fight for the education budget. It doesn't just give an amazing human touch to this email but also makes the readers believe that they will be contributing to a veritable cause by participating in this survey.
Darzah
Subject line: We are crowdfunding to empower women

Don't think survey emails are just merely tools for gathering customer opinions and reviews; they are often used tactfully by non-profits to educate their subscribers on the scope of their campaigns, all the while inviting them to take part in the same.
If you're operating in the non-profit space, you have heaps to pick up from this example. The hero section contains an infographic that essentially summarizes the objective of the email. Next, the copy sheds more elaborate light on the campaign and clearly outlines the causes it aims to address. With humanitarian campaigns, the more details you provide your readers, the better your chances of securing their participation will be. Further, the email contains compelling CTAs (call-to-action) too.
hers
Subject line: here's the goop

We understand that this entry might be breaking the convention of this list, but we are only doing so because we feel it is necessary to discuss what this example illustrates- survey results. When people participate in surveys, in most cases, they eagerly look forward to the results as well. If you make your customers fill out survey after survey and not share the derived insights with them, after a point of time, they will stop responding (yes, irrespective of the incentives on offer). And while sharing the results, get a little inventive much like hers over here. It is tough to make people chew on cold numbers and figures. To pique the curiosity of your customers, you have to liven things up by highlighting how the same stats are making a difference in their lives.
Keep the copy humorous and witty as the team at hers, and your engagement will spike for sure. Lastly, it'll be unfair of us to wrap this description without acknowledging the soaring visual appeal of this layout. Punctuated with soft backgrounds and 2D illustrations, the email design is an absolute treat to the eyes.
Wrapping It Up
Planning and designing a survey campaign might be tough work at the outset, but once you find your groove and ace your formula, the rewards are virtually ceaseless. Take a leaf from the generous book of the examples shared above and solicit your customers' feedback with stunning survey emails!