Banner ads have come a long way from what they used to be. They were the first form of online advertising and have helped businesses to boost their traffic ever since. You can use it as an effective branding tool for your business and generate sales by attracting potential customers.
These ads are generally embedded on web pages and can be used to promote a product or service with a link to the advertiser's website. Banner advertisements are quite popular because they are affordable and measurable medium that can effectively enhance brand awareness.
Here's an example of a banner ad placed at the top as a leaderboard.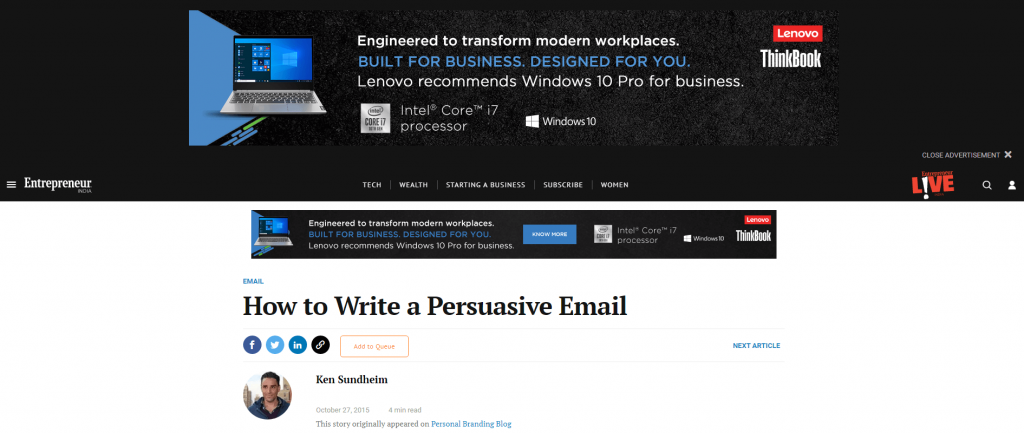 There are various types of web banner ads that marketers use according to their campaign requirements. Let's understand each of them in detail.
Static Banners
Fondly known as "the little black dress" of banner advertising for online media, static banners can get a bit difficult to use, considering the animated banners they are competing with. The results you get from a static banner ad depends a lot on its placement, copy, and design.
Advantages of Static Banner Advertisements
Static banners offer a pocket friendly medium of marketing online products and services.
If you are not sure of what would resonate the best with your target audience, static banner ads can be the safest bet.
Static banner ads look subtle as they do not have any unnecessary effects or animations. As a result, they do not give the impression of an advertisement. They are less distracting for the viewers, thereby encouraging the target audience to take action.
Behavioral marketing works the best with static banner ads as they deliver the relevant message only.
Such banners bring a higher click-through rate than animated banners as they typically sync in the editorial image or blog page.
Animated GIF Banners
GIF animation banners, as the name suggests, have a GIF file format through which a series of frames are displayed sequentially as individual images. They support 256 web safe colors which means that you should design these banners within the 256 color palette only. Consequently, your ad will render well across all devices. If you are using photographs in GIF animations, you should view it on a low-resolution monitor before it is used in a banner ad. Doing so is important as photographs contain a huge range of colors that may not make them look impactful in comparison to 256 color image.
Advantages of Animated GIF Banners
According to studies, using animations in banner advertisements increases the click-through rate by grabbing the viewer's attention.
GIFs are among the most popular file formats compatible with all the major web publishers.
Small businesses can benefit a lot from these banner ads as they are cost effective way to advertise their products or services.
GIF animations with an engaging copy can make the banner attractive for the viewers and entice them to know more about what you have to offer. It can be used to share a story that keeps the prospect hooked to your brand.
GIF animation banner can be enhanced with special effects as it uses the smallest possible web safe color palette.
You can control the timing of animated GIF frames.
HTML5 Banners
The most recent advancement in the world of banner designs is usage of HTML5. With these banners, you can add rich media and get more people to interact with your content. They have made banners so much more creative and visually aesthetic. If you want to get such a beautiful banner created for your brand, you can zero in your search on Uplers. We can create eye-catching banners for you in any format you like according to your requirements.
Advantages of HTML5 Banners
As these banners look innovative, they can drive higher subscriber engagement with improved click-through rate.
If you create these banners with the help of a Creative Management Platform (CMP), you will be able to know the viewer data and get an idea of how effective the designs are, with the help of heatmaps. Moreover, you will also be able to revise live banners by taking help of real-time updating.
HTML5 banners can draw the reader's attention even though he or she is using a mobile device.
Banners created with HTML5 can reach to a larger audience across diverse segments as these are dynamic creatives.
Flash Banners
Flash is a vector-based software program that is hardly used in the present times. Flash banner ads, despite having a lot of animation and special effects, are saved in small file sizes. The viewer will be able to engage better with the ad by running the mouse over it and click on the links as well. These banners are worth a mention because they received highest CTR when compared to other banner design types once upon a time.
Wrapping Up
Your banner ads depend on the kind of message you want to convey to the audience, whether you want to build your brand, share a story, or leave an impact on their minds with a powerful message. Consider the objective and then decide which banner ad would work the best for you.